The information on this page was provided by the law school.

Official Guide to LLM, Master's, and Certificate Programs
315 South Plymouth Court, Chicago, IL 60604, United States
---
Introduction
UIC John Marshall Law School was founded in 1899 and is located in the heart of Chicago's legal district. In addition to the Juris Doctor, the law school offers advanced degrees, the Master of Laws (LLM) and Master of Jurisprudence (MJ). For an LLM program, applicants must have acquired a JD or equivalent degree, whereas MJ applicants need only have a bachelor's or equivalent degree. The LLM and MJ programs are administered by specialized program centers, whose directors are leaders in their fields of study. Whatever your professional goals may be, we can help you design a course track that will meet your needs and career trajectory, and help you distinguish yourself in today's legal market.
The law school offers advanced degrees in
Employee Benefits—John Marshall offers the only advanced-degree Employee Benefits programs (LLM and MJ) in the nation;
Information Technology and Privacy Law;
Intellectual Property Law;
International Business and Trade Law;
Real Estate Law—John Marshall offers the only advanced-degree Real Estate Law programs (LLM and MJ) in the Midwest;
Tax Law;
Trial Advocacy and Dispute Resolution; and
US Legal Studies (for practicing foreign attorneys).
Online degrees (no classroom component required) are available at eCourses.JMLS.edu in
Employee Benefits (LLM and MJ),
Estate Planning (LLM and MJ), and
Intellectual Property Law (LLM and MJ).
Chicago is a world-class city full of dynamic opportunities for legal professionals and international visitors, making it a perfect location for continuing education. UIC John Marshall Law School is located in the heart of downtown Chicago and is conveniently close to government offices and county, circuit, and federal courthouses. The law school is close to station stops on seven different elevated and subway train lines. We are also only a short walk or cab ride from Union Station and downtown Metra stations.
Law School Enrollment
Total law school enrollment: 1,319
Physical Facilities
UIC John Marshall Law School consists of three interconnected buildings on the north side of the downtown block between State Street and Plymouth Court. The main entrance is on Plymouth Court, adjacent to the Chicago Bar Association (CBA) building.
We have a philosophy of continual improvement. Recently we have upgraded classrooms and the library; created two new courtrooms; purchased a building; developed central, unified space for our community legal clinics; and undertaken a major renovation. We are dedicated to students' comfort and security, as well as to providing the utmost in education-based technology.
Technology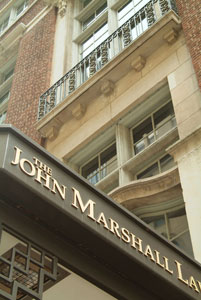 Since 2009, John Marshall has been on the cutting edge of educational technology, with more than 70 online courses available and three fully online LLM degrees, all of which feature robust multimedia content and interactivity. All students have access to high-speed wireless Internet in the classrooms and across the campus, networked printing that enables printing from devices across the campus, and free access to technology support. The school also provides access to a robust collection of online research tools and ebooks that can be used by students anywhere they have an Internet connection.
Housing
John Marshall students live everywhere throughout the Chicagoland area. UIC John Marshall Law School does not provide student housing, but you will find that many students live in the same neighborhoods that are a short commute from the law school. We establish online communities to help facilitate housing options, where you can connect with other admitted students, find out where they plan to live, and even find a roommate. We have made arrangements with a few local housing facilities that have worked out well for students. To learn more about housing, read our publication, A Guide to the City as a Campus (PDF), and contact
Jaime Marie Newsom
Assistant Director
Admissions
UIC John Marshall Law School
315 South Plymouth Court
Chicago, IL 60604
Phone: 312.427.2737, ext. 123
Email: jnewsom@jmls.edu
Application Information
Application Deadlines for ALL Programs
Fall: August 1
Spring: December 1
Summer: May 1
NOTE: MJ in Real Estate—Fall Deadline: June 10
Required Application Documents
Transcripts: Request official academic transcripts from all colleges and universities attended. MJ applicants need a bachelor's degree, whereas LLM applicants need a Juris Doctor. The transcripts must be official, signed or stamped by the registrar, and include the degree conferral date. Transcripts must be mailed directly from the registrar's office to the Graduate Admissions Office.
Submit your most recent résumé.
Statement of Purpose, including your reasons for wishing to study in the graduate program and your career goals after completion.
Writing Sample (Only for MJ Applicants): Acceptable samples are a published article, risk assessment paper, executive summary documenting a project or a decision point, exam paper, or research paper.
International Supplemental Documents (Only for International Students): Documents include credit evaluation, English proficiency exam, etc.
Letters of Recommendation: International students are required to send at least one letter of recommendation from an academic or professional source. (Letters of recommendation are optional for domestic students.)
Specialty Programs
Employee Benefits:

UIC John Marshall Law School

offers the only Graduate Employee Benefits Programs in the nation, taught by experienced tax and employee benefits practitioners, including former IRS attorneys. You will gain a solid foundation in retirement planning, welfare benefits, and executive compensation. You will learn to combine practical business applications with theoretical legal concepts to deal with today's employee benefit problems. Both LLM and MJ programs are available for interested professionals. Additionally, degree candidates can earn their employee benefits degree online through eCourses distance education—anytime, anywhere.
Estate Planning: Our Graduate Estate Planning Programs are designed for those interested in developing an expertise in the estate planning arena. Graduates of these online-only programs will be prepared for a variety of different career options, including (but not limited to) working in law firms, wealth management concerns, financial planning groups, trust departments, insurance companies, and fundraising divisions of universities and other nonprofit organizations.
Information Technology and Privacy Law: John Marshall's Graduate Information Technology and Privacy Law Programs were among the first in the nation to recognize the need for programs specializing in information technology, and remain today among the few programs that include a focus on privacy. Our LLM and MJ programs examine the influence of technology and privacy on all areas of law and practice from the practical, as well as the scholarly, perspective. Our flexible year-round course schedule and dynamic, up-to-date curriculum allow students to gain broad exposure to IT and privacy law and policy applicable to any area of practice, or focus on a specialized area such as transactional law, global commerce, litigation, criminal law/law enforcement, corporate and IT management, consumer privacy, or corporate privacy and security.
Intellectual Property Law: John Marshall's intellectual property program offers an extensive selection of courses in all areas of patent, copyright, trademark, and trade secret law as applied to technology, business, arts, entertainment, media, sports, and international trade. Both LLM and MJ programs are available for interested professionals. Additionally, degree candidates can earn their IP degrees online through eCourses distance education.
International Business and Trade Law: John Marshall provides an exciting opportunity for US and international students to study international business and trade law in Chicago, one of the world's great commercial cities. Our LLM in International Business and Trade Law draws upon the rich resources of Chicago's legal, banking, and international business and trade communities to provide a practical learning environment for dealing with the many challenges of global business. Students are given a strong, practice-oriented foundation in the rules, regulations, and legal approaches underlying international economic law. We offer students an experienced US and international faculty, extensive course offerings, and an externship with a law firm or corporation. The program can be completed in two semesters.
Real Estate Law: John Marshall's Graduate Real Estate Law Program offers the only post-JD graduate degree in real estate law in the Midwest. It addresses the law and practice demands of the increasingly complicated commercial real estate industry. In addition to the more traditional areas of real estate acquisitions, finance, construction, and commercial leasing, our LLM for attorneys and MJ for non-attorney industry professionals emphasize the transactional skills of negotiations and drafting. Students take the basics as required courses and are able to concentrate in finance, development, and sustainability by completing courses in bankruptcy, environmental aspects of real estate, income tax, public finance and energy law, natural resources, and historic preservation. Our programs offer you the opportunity to learn the law in the context of real-life practice from nationally recognized full-time professors and adjuncts, many of whom are involved in transactions at the forefront of real estate law and are active members of the ABA Section of Real Property, Trust and Estate Law, and the American College of Real Estate Lawyers.
Tax Law: Among the nation's oldest tax programs, John Marshall's Graduate Tax Law Programs provide a practical grounding in all major areas of taxation and specialized expertise in particular areas. Our programs stress a transactional approach and deal with actual problems encountered in the practice of tax law. Experienced practitioners teach courses in areas such as corporate taxation, partnership taxation, estate and personal financial planning, foreign taxation, and civil, criminal, and tax procedure. Both LLM and MJ programs are available for interested professionals.
Trial Advocacy and Dispute Resolution: John Marshall's LLM in Trial Advocacy and Dispute Resolution prepares degree candidates to become highly skilled advocates. Our program immerses the degree candidate in skills training that otherwise is not acquired through the traditional classroom setting. Each course has been carefully crafted to deliver a fully integrated approach to the skills development sought after by advocates and employers alike, with a focus on current application of technology in the courtroom, the formation of effective trial strategies, and a high level of competency in all aspects of dispute resolution. The faculty is composed of experienced litigators and judges who are knowledgeable in all areas of trial work, abreast of current trends, and committed to providing John Marshall degree candidates with up-to-the-minute instruction.
US Legal Studies: John Marshall's LLM in US Legal Studies provides a flexible program of study for foreign lawyers who wish to deepen their knowledge of specific areas of US law. The program can be completed in two semesters. Students take several required courses and then select the remaining credits from the JD curriculum or other LLM curricula (e.g., Information Technology and Privacy Law, Intellectual Property Law, and International Business and Trade Law). International students are able to develop customized courses of study that will meet their own interests and career goals.
Student Services and Organizations
John Marshall helps to foster a strong sense of community among students by supporting more than 40 active organizations that engage in social awareness, community service, legal discussions, and social activities. Student groups for every professional, cultural, and political interest exist to expand and enhance your John Marshall experience.
Career Services
UIC John Marshall Law School's Career Services Office (CSO) is committed to helping students and alumni in their job searches and career planning. The CSO provides career counseling to all currently enrolled JD, LLM, and MJ students and graduates. Each CSO professional possesses a JD or master's degree (some have both), in addition to significant training and expertise in career counseling for today's legal market. Additionally, the CSO works closely with the associate dean for professionalism and career strategy, a retired Illinois Appellate Court justice who brings more than 40 years of legal experience and extensive connections to the John Marshall community. In addition to career counseling, the CSO provides
review of application materials
interview preparation
mock interviews
career programs
networking receptions
judicial clerkship assistance
weekly newsletters
résumé collections
federal work-study
on-campus interviews
job postings
job search resources
a comprehensive job search guide
books
handouts
introductions to practitioners
The CSO offers appointments and programs until 6:00 pm Monday through Thursday to accommodate students who take classes in the evening. Additionally, all students and alumni have access to the CSO's online resource center (Symplicity) 24 hours a day. We encourage students and alumni to take advantage of the full range of services that the CSO offers.