The University of Akron School of Law
The information on this page was provided by the law school.

Official Guide to LLM, Master's, and Certificate Programs
---
Introduction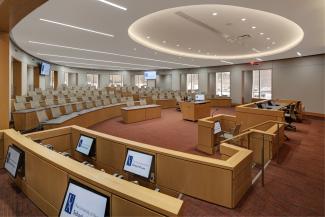 The University of Akron School of Law Center for Intellectual Property Law & Technology is nationally respected and renowned for
Providing one of the most comprehensive IP programs in the country—over 20 courses in IP Law
Offering a Certificate in Intellectual Property—signifying completion of focused IP studies to employers
Offering a Non-JD Certificate in Intellectual Property—for those not seeking a JD degree, but who want to learn IP law
Course credit with a United States Patent and Trademark Office trademark clinic every semester (including summer)
Hosting distinguished speakers, including regular Lunch & Learn speakers to discuss career insights with the student body
The annual Akron Law IP Scholars Forum—gathering IP law professors from around the country
The Oldham Lecture Series on current IP issues
Annual Akron Law IP Symposium—a Midwestern IP conference leader for over 20 years
Our Intellectual Property Advisory Council—Akron Law's advisory board of IP leaders from around the globe
The University of Akron School of Law's nationally renowned Intellectual Property (IP) program has been recognized for the breadth of its curricular offerings as well as for its support of the United States Patent and Trademark Office Trademark Clinic, its externships, and its IP student organizations. 
The IP Center and student-run Intellectual Property and Technology Law Association host regular activities throughout the semester and summer. Annual activities with local IP attorneys include the Oldham lecture series and annual symposium, and student-run events include monthly Lunch & Learns, where local IP counsel (most of whom are Akron Law graduates) come to the school for lunch with students and discussions on career paths and planning.  Recent Lunch & Learn speakers include chief IP counsel from Smucker's, PolyOne, Proctor & Gamble, Gojo, and numerous local IP law firms.
Akron Law's Intellectual Property Advisory Council (IPAC) is composed of three dozen IP professionals and experts seeking to advance Akron's IP curriculum, foster relationships with businesses and law firms, and assist Akron Law IP students with their careers.  Members of the Akron Law IPAC include federal district court and appellate judges and chief IP counsel from Bridgestone, Goodyear, Smucker's, PolyOne, and numerous international law firms in North America and Asia.
Why Akron Law
The excellent legal education, affordable tuition, low student debt, and strong placement rates offered at Akron Law make us one of the best value law schools in the nation as well as one of the best value law schools in Ohio for IP law career plans. Located in the heart of downtown Akron and just 45 minutes south of Cleveland, the University of Akron is a comprehensive research and teaching university with degree programs to the doctoral level. Founded in 1870, UA has celebrated more than 140 years of academic excellence and is a top international research institution. The university has received both state and worldwide recognition for patents granted. 
The Akron School of Law was founded in 1921 and merged with UA in 1959. More than 7,000 students have graduated from the law school. Akron Law alumni practice throughout the United States and abroad. With strong bar passage and employment rates, flexible degree options, brand new state-of-the-art facilities, and global connections, Akron Law prepares its students for success in the modern legal world.
Admission
Non-JD/LLM applicants should submit an application form, cover letter, and résumé for admission into the LLM program. You must also register for LSAC's LLM Credential Assembly Service (LLM CAS) before the file may be sent to the Admissions Committee. 
JD/LLM applicants can apply before entry to law school or after their first year of law school (recommended). It is possible to complete the joint JD/LLM in three years for full-time JD students and four years for part-time JD students. For more details on admission, please see our website.
IP Student Activities and Leadership
As an IP LLM student, like a JD student, you can participate and run for leadership positions in the Akron Law IP Technology Law Association (IPTLA), serve as a fellow in the law school's IP Center, and attend numerous activities on campus with practicing IP attorneys. The IP Center offers numerous continuing legal education events on campus that gather hundreds of local IP attorneys each semester.
C. Blake McDowell Law Center Building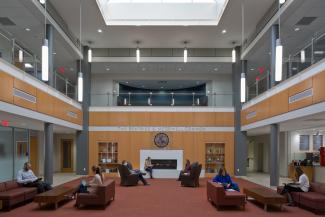 Unveiled fall 2017, the C. Blake McDowell Law Center offers students a beautiful backdrop to their legal studies. The major renovation included the addition of state-of-the-art technology, numerous student study spaces, practice areas for our award-winning mock trial and moot court teams, and a modern law library. Additionally, a new wing features the 125-seat Brennan Courtroom. The McDowell Common features a central student area, complete with café and a fireplace.
Akron Law students have access to the law school building, law library, and other new facilities across campus. The just-completed $200-million New Landscape for Learning campus improvement program resulted in a new Student Union, Student Recreation and Wellness Center, Student Affairs Building, academic buildings, and parking decks. Approximately 30 acres of new green space were added to the campus to create a more park-like setting. The law school is within one block of the National Inventors Hall of Fame and the federal court is only five blocks away. Although the law school is in the downtown Akron area, the campus is bordered by grassy areas, decorative plantings, and fountains. It is also 10 minutes away from Ohio's only national park.
Career Planning and Placement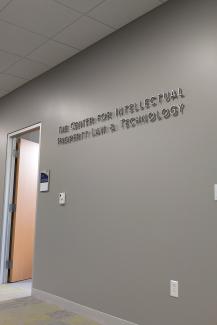 The Akron Law Career Services office is well-versed in the unique résumé and job application procedures IP law students require. The director of the IP Center and the assistant dean for career services counsel IP law students on résumé writing, job searching, interviewing skills, and preparing for entrance into the legal profession. Law students participate annually in the national Patent Law Interview Program (PLIP), and the school organizes preparation sessions throughout the academic year for PLIP material and interview preparation as well as patent bar studying. 
Akron Law students receiving either an IP LLM or IP Certificate have a job placement rate of 100 percent in the last five years.
Akron's extensive IP law alumni database enables the IP Center to assist students with networking opportunities nationwide. The office assists in the placement of students in IP-law-related positions during summer sessions and upper-division years. Graduates receive placement assistance, on request, throughout their careers. Akron's reputation for excellence in intellectual property law education and high bar passage rate facilitate competitive placements for students and graduates in all areas of practice. Please see Career Services at Akron Law for placement statistics and more information about our services.
Tuition, Fees, and Financial Aid
Please visit Tuition and Fees for current information.
Visiting Akron Law
Please schedule an appointment to visit the Akron Law campus, attend an IP class, take a tour, or meet with our IP faculty and an admission representative. Prospective students may request additional information from the Akron Law IP Center website. For those unable to visit Akron Law, our representatives can also be met on the recruitment road each fall and send some recent interview videos of discussions with current Akron Law IP students and distinguished alumni.
Contact Information
For additional information, please visit Intellectual Property academics and admission, or contact:
The University of Akron School of Law Admissions
Phone: 330.972.6364
Email: lawadmissions@uakron.edu
Please consult the admissions website for our national recruitment schedule.