University at Buffalo School of Law, The State University of New York
The information on this page was provided by the law school.

Official Guide to LLM, Master's, and Certificate Programs
---
Introduction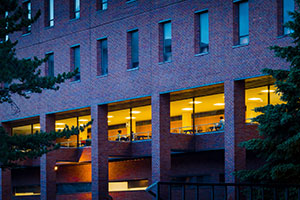 One of the oldest law schools in New York State and the only law school in the State University of New York (SUNY) system, the University at Buffalo School of Law draws on more than 130 years of experience and innovation in legal education. The School of Law is situated on the flagship campus of a premier research-intensive public university—the University at Buffalo (UB). UB is among the most internationalized universities in the United States, providing numerous programs and services to support its diverse student body. The School of Law shares this commitment and welcomes students from wide-ranging backgrounds into its vibrant and collegial community, making the law school stronger and better able to view our changing world through a multicultural lens.
With the school located on an international border, students may experience cross-border legal issues both inside and outside the classroom. As New York State's public law school, UB School of Law has a mission to promote justice and to cultivate socially responsible leaders in all areas of practice and fields of scholarship.
Advanced law students come to Buffalo to work closely with leading scholars in many areas, including cross-border business transactions and trade, criminal law and procedure, environmental law, labor law, constitutional law, civil litigation, tax, human rights, immigration law, intellectual property, and more. They come to work in clinical programs that make a difference in local communities and teach lawyering from the ground up. They come to immerse themselves in the language and foundations of US and New York law. And they come to join a community that shares their enthusiasm for ensuring justice and fairness in the global practice of public and private law.
Programs
We offer five programs for students who already have a first degree in law.
The Advanced Standing Two-Year JD for Internationally Trained Lawyers Program allows professionals who already have a first degree in law to earn a JD in two years rather than three. It provides a more thorough immersion experience in US law and legal education than a one-year LLM program can provide. Admitted students take the first-year curriculum and are part of the incoming JD class. In the second year, students take mostly electives in research, classroom instruction, and experiential learning.
The Doctor of Juridical Science is the law school's most advanced degree. It makes full use of our creative and interdisciplinary faculty to prepare students for careers as law professors, judicial and other public offices, as well as high-level policy positions in international organizations. In their doctoral dissertation, the successful JSD student will produce an original, innovative piece of scholarship that makes a contribution to our understanding of law. The JSD degree can typically be completed within three years – one year in residence of full-time study with coursework, followed by a period of research and writing (generally an additional one to two years).
The General LLM Program provides professionals with the flexibility to create a highly specialized course of study that draws on our excellence in research, classroom instruction, and experiential learning. LLM students have access to nearly all of the courses offered at the law school and can spend their time focusing primarily on the wide range of subjects offered each semester (including those students who need an LLM to become eligible to sit for the New York bar exam). Students can also engage in research, working closely with a member of our faculty on a master's thesis or an independent study. And they can take advantage of the many opportunities to learn law and the legal profession through our pioneering clinical programs, externships, and judicial clerkships. Admitted students receive one-on-one academic advisement in the selection of their courses to help them navigate through our substantial range of course offerings and practical learning opportunities.
The Criminal Law LLM Program builds on the University at Buffalo School of Law's strength in the interdisciplinary study of criminal law and the work of the Buffalo Criminal Law Center. Our Criminal Law LLM was the first of its kind in the United States and continues to be one of the only such programs. This program has attracted lawyers and professors from all over the world who intend to teach, do policy work, or serve as prosecutors or judges in their home jurisdictions. Criminal Law LLM students are advised by Professor Luis Chiesa, an internationally known criminal law scholar with extensive experience in Spain and Latin America.
Our innovative Cross-Border Legal Studies LLM Program, one of the first of its kind in the United States, recognizes the increasingly global nature of legal practice and the need for skilled attorneys to guide clients through their cross-border interactions. Located just 20 minutes from Canada, the United States' largest trading partner, the School of Law is uniquely situated to provide students with exposure to cross-border legal issues both inside and outside the classroom. A strong network of alumni based in Buffalo, New York, and Ontario, Canada, engage in a wide range of cross-border legal practice, including trade, tax, immigration, real estate, and corporate and transactional work. These practitioners serve as community partners in the program and informal mentors to LLM students throughout the course of their studies. In addition, each student is assigned an academic advisor to provide one-on-one guidance throughout the program.
Application Information
Applicants across all programs must apply through LSAC. Advanced Standing Two-Year JD applicants will apply through the JD portal, and applicants for the LLM and JSD will apply through the LLM portal. Within the application, you select the program to which you wish to apply. Applicants must submit a personal statement, résumé or CV, two letters of recommendation, and transcripts. JSD applicants will also need to supply a research proposal. Nonnative speakers of English must provide language test score results. We look for scores of 90 on the TOEFL IBT and 7.0 on the IELTS. Applications are reviewed on a rolling basis.
Applying to law school is a significant undertaking, and the most successful candidates are those who prepare well in advance. Securing transcripts from universities and favorable letters of recommendation from professors and employment supervisors can take time. Your personal statement should be carefully written to make the case for why you are right for the program to which you are applying. If you are a foreign-trained lawyer and you're thinking about taking the New York bar exam, you should consider requesting an eligibility determination at the same time as you apply to LLM programs. This way, you only request documents from your school once. Give yourself time to prepare the best possible application for admission.
Faculty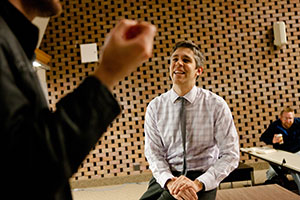 In addition to having broad and deep experience in a variety of practice contexts, our faculty is one of the most interdisciplinary in the United States. Approximately 30 percent of our faculty members hold PhD degrees in other fields. In total, 41 percent of our faculty members hold research doctorates, a figure surpassed by only a handful of other law schools in the United States. Our student-to-faculty ratio is 6.3:1. We are fortunate to have a close-knit community with amazing and engaged professors in a law school small enough that students, staff, and professors have a genuine opportunity to get to know one another.
Career Services and Development
The Career Services Office (CSO) cultivates key relationships with faculty, alumni, and others who play an important role in the professional future of its students. Through student interview programs, career panel discussions, and one-on-one counseling, CSO staff help students prepare for a successful and satisfying legal career. Students and alumni have access to LOCK, a state-of-the-art online platform that is used by students, employers, and the CSO staff to post employment and other opportunities, shepherd job applications and résumés to employers, schedule on-campus interviews, and provide access to a tremendous bank of resources on skills from résumé writing and revision to interviewing. An extensive international network of alumni participate in mentoring programs that provide professional advice and guide students throughout their law school career.
Tuition and Scholarships
JD and LLM Programs: Resident tuition for the 2021–2022 academic year was $25,410 plus fees. Nonresident tuition for the 2021–2022 academic year was $30,250 plus fees. Especially strong admitted students are considered for merit scholarships.
JSD Program: Resident tuition for the 2021–2022 academic year was $11,310 plus fees. Nonresident tuition for the 2021–2022 academic year was $23,100 plus fees. Merit scholarship consideration is not available for JSD students.
Law School Enrollment
Housing
The University at Buffalo is located in the town of Amherst, a suburb of Buffalo, and one of the safest cities in America. Buffalo is New York State's second largest city, with a diverse blend of communities and a remarkably low cost of living. University at Buffalo School of Law students live both on and off campus. On-campus apartments offer air-conditioning, on-site laundry, university police patrols, campus shuttles, free cable and high-speed Internet, and other benefits. Law students have typically lived in apartments in Creekside and Flickinger (which provides family housing for students bringing spouses and children), and there are designated areas for law students in Flint Village.
There are also several apartment complexes not affiliated with the university very close to campus that provide convenient shuttle services to the law school. Many students choose to live off campus in apartments both near campus and in the downtown area, including the hip Elmwood Village, Allentown, and Hertel Avenue neighborhoods.
Charles B. Sears Law Library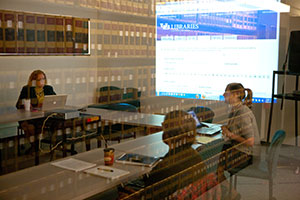 Named for the Honorable Charles Brown Sears, a distinguished New York judge and supporter of the law school who served as American presiding judge at one of the Nuremburg trials, the Charles B. Sears Law Library occupies six floors in the center of the University at Buffalo School of Law. The services and research collections—spanning more than 600,000 volumes and microform equivalents plus a wide array of online resources in legal and cross-disciplinary subjects—are carefully tailored to meet the research instruction needs of students. Our beautiful facility, often referred to as "the heart of the law school," provides a comfortable, modern setting that is very conducive to the study of law.
Contact Information
For additional information, visit Advanced Standing Two-Year JD Program, LLM Programs, and JSD Program, or contact
University at Buffalo School of Law
Office of Admissions
309 John Lord O'Brian Hall
Buffalo, NY 14260-0001
USA

Phone: 716.645.2907
Fax: 716.645.6676
Email: law-admissions@buffalo.edu