University of Colorado Law School
The information on this page was provided by the law school.

Official Guide to LLM, Master's, and Certificate Programs
---
Introduction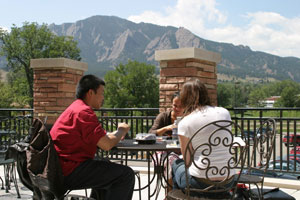 The University of Colorado Law School was established in 1892. The first woman graduated with the first graduating class in 1894. The first students of color entered in 1897. The law school became a charter member of the Association of American Law Schools, organized in 1901. And, the school has been on the American Bar Association's list of approved law schools since the list's first publication in 1923. Building on a history of progressivism, inclusivity, and service, Colorado Law's academic specialties include Indigenous Persons and Native American Law, Human Rights, and Public Service Law. We also offer specializations in Natural Resources and Environmental Law, Entrepreneurship and Business Law, Intellectual Property, and more.
Colorado Law LLM students benefit from access to the programming, courses, and a law school culture originally designed for our JD program. With a class size of roughly 20 to 25 LLM students, inclusion, access, and community are integral to the LLM experience. Our students have extraordinary credentials and life experiences. In addition to being intelligent, congenial, hardworking, and entrepreneurial, our students are engaged with the community. A plethora of active student organizations and rich externship opportunities (yes, LLM students are eligible to apply for externships at Colorado Law), and a robust Public Service Pledge program enable our students to foster Colorado Law's tradition of service.
Our faculty are leaders in their fields and are committed to helping Colorado Law students develop the legal knowledge, critical thinking, writing, and problem-solving skills necessary for professional success. A deliberately low student-to-faculty ratio of 9.9 to 1 enables meaningful engagement between faculty and students, giving students abundant opportunities to develop deep, substantive expertise and long-lasting professional relationships.
Our staff is devoted to helping students and alumni succeed. From the moment our students commit to attending Colorado Law and throughout their professional careers, we provide unwavering personal and professional support. Our admissions office welcomes students to the Colorado Law community, and our student affairs office provides support for students as they develop their professional identities and skills. Our career development office helps students secure and retain rewarding employment. Those unsure about their field of interest can rely on our wealth of career exploration opportunities and resources.
Our alumni represent Colorado Law in a variety of professional settings and fields across Colorado and nationwide. They thrive in a variety of professional domains: national law firms, regional law firms, government organizations (both at the federal and state levels), business organizations (often utilizing their legal skills in business roles), and public-interest organizations. Not only do our alumni thrive professionally, but they also enthusiastically work with current Colorado Law students in a number of key ways that foster students' career success.
In addition to benefiting from Colorado Law's positive and inclusive law school culture, our LLM students are also members of the greater University of Colorado-Boulder community and have the opportunity to participate in the holistic US university experience, including access to our state-of-the-art recreation facilities, university athletics, and student organizations.
Nestled between the Denver metropolitan area and the Rocky Mountains, Colorado Law is located in Boulder, an eclectic town noted for its unparalleled natural beauty and consistent rankings as one of the top US cities for safety and security, art, health, well-being and happiness, quality of life, culinary culture, inclusion, entrepreneurialism, access to outdoor sports, and more.
But, there is much more to Boulder than our geography and rankings. An emphasis on education has made Boulder one of the most educated cities in the United States. This environment has attracted numerous technology-based firms and Fortune 500 companies into the Boulder-Denver area, and Boulder's inclusion in the greater Denver metropolitan area has helped to establish the greater Denver-Boulder area as one of the top-ranked metropolitan areas for economic and population growth. Boulder's inclusive and educated community, eclectic culture, 300 days of sunshine, economy, access to the Rocky Mountains, and safe neighborhoods have made it one of the most unique and desirable cities in the United States for both students and professionals. Colorado Law LLM students do not just benefit from attending a top-notch US law school, they also benefit from a culture and a community that embraces a well-rounded approach to life that endorses the balance needed to succeed as individuals, academics, and professionals.
Physical Facilities
Wolf Law Building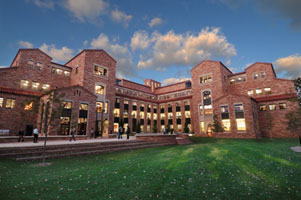 Colorado Law is located on the University of Colorado-Boulder's main campus and enjoys the best of both worlds: a world-class legal education and access to the plethora of student resources housed in a university's main campus. Our home is the Wolf Law Building, which was built in 2006 and boasts
LEED "gold" certification, from construction to operation, including 88 percent renewable energy and electricity, 40 percent water-use reduction, 59 percent regionally manufactured materials, 12 kWh rooftop solar array, and electric car recharging stations;
technologically advanced wireless networking, videoconferencing,

video-recording

capabilities for distance learning, and digital signage;
student commons with café, fireplace, and patio, study and interview rooms, individual lockers and mailboxes, and a courtyard with a barbeque;
suites and offices for research centers, clinics, student organizations, journals, and all faculty; and
a large courtroom and a teaching courtroom with video recording for mock trial practice and clinical training.
William A. Wise Law Library
The William A. Wise Law Library is the most comprehensive law library in the 12-state Rocky Mountain region, one of the largest in the country, and also serves as a selective federal government depository. Our library includes 40 instructional student lab computers, five group-study rooms, 445 seats, distributed computing stations, and over 765,000 volumes in all formats.
Recreational Facilities
LLM students enjoy access to CU-Boulder's recreation services, or more commonly referred to as THE REC. THE REC offers a variety of high-quality, convenient, innovative, and inclusive ways to help you connect with yourself and your campus community. THE REC is a LEED Platinum (highest-ranking sustainable design) facility with over 300,000 square feet of recreation and fitness activity space, including an ice-skating rink, indoor rock climbing, team sports, yoga, a recreational pool, basketball courts, and so much more.
Of course, CU athletics are enjoyed in both the fall and spring semesters and help to provide for a holistic US university experience. Students are eligible to purchase a CU Sports Pass at an economical price. The CU Sports Pass enables students to obtain tickets to all regular-season home sports events, including football, basketball, soccer, volleyball, baseball, and softball.
Off-Campus Housing
Approximately 95 percent of Colorado Law students live off campus and have a vast number of choices when it comes to housing. Boulder's manageable size, biking community, and public transportation system negates the need for international students to procure a motor vehicle and enables students to easily commute to campus throughout the year. All CU-Boulder students have free access to Boulder public transportation, and most international students elect to live near a Boulder bus stop.
Student Services and Organizations
Colorado Law has an extensive list of student organizations and student journals, and all LLM students are both encouraged and welcome to join and participate in any of Colorado Law's formal programming.
LLM Programs/Areas of Specialization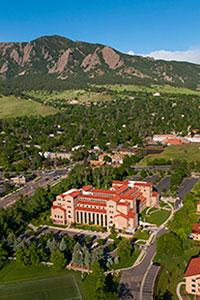 Colorado Law offers LLM programs for law graduates and professionals in six areas:
Entrepreneurship and Business Law: Colorado Law enjoys nationally recognized teachers and scholars in business law with significant experience in transactional practice and corporate and securities litigation. Our classes in traditional subjects such as corporations, securities law, and mergers and acquisitions are enhanced by the law school's focus on startup companies. Colorado Law students learn all the basic business law building blocks that other top programs offer, but their experience is enriched by our location in one of the nation's hubs for innovation and startup businesses.
Indigenous Peoples Law: Colorado Law has a long history of research and teaching in the law of indigenous peoples. With the arrival of Dean Jim Anaya, a former UN Special Rapporteur on the Rights of Indigenous Peoples and Nobel Peace Prize nominee, the law school is expanding its research and teaching in this area. Faculty and students are engaged in projects with indigenous groups, the United Nations, other intergovernmental bodies, national governments, NGOs, and companies throughout the Americas and the world. Research and teaching in this area also connects with Colorado's strengths in other areas, such as international law, natural resources, and intellectual property.
Intellectual Property, Technology, and Telecommunications Law: Colorado Law students enjoy a broad range of courses and scholars active in a fast-growing and changing set of fields, including intellectual property, Internet law, computer crime, cybersecurity, information privacy, telecommunications, fintech, and regtech. Boulder and the metro Denver area are technology and telecommunications hubs. The Silicon Flatirons Center connects students to leaders in intellectual property, telecommunications, and technology.
International Law and Human Rights: Colorado Law continues to build on its tradition of public international law. Faculty have expansive research, course offerings, and projects in this field, with a particular emphasis on human rights. Dean Anaya looks to grow the faculty and the law school's relationships with intergovernmental institutions, such as the United Nations and Inter-American Commission on Human Rights.
Natural Resources, Energy, and Environmental Law: Nationally recognized for its environmental law program, Colorado Law gives students the tools to impact laws and policies in a range of fields including oil and gas, mining, ecosystem management, air and water quality, and public and private land management. Students take advantage of the programming of the school's flagship Getches-Wilkinson Center, multiple national laboratories in the area (including the National Renewable Energy Laboratory), and a diversified energy and mining economy featuring natural gas and mining firms, from small startups to large multinational corporations.
US Law for Foreign Lawyers: The US Law for Foreign Lawyers concentration is a flexible program that provides students with a foreign law degree the opportunity to focus on a particular area of study or gain a broad foundation in US law by taking courses in a variety of areas. Students take both basic and advanced courses.
Application Information
Applications are accepted on a rolling basis between late October and April 15. All completed applications received prior to April 15 will receive priority review and ad hoc considerations for scholarship offers (no additional application necessary). All applicants are required to apply via LSAC. Application information and instructions can be accessed on our website.
Contact Information
Additional information is available on the Master of Laws program website or by contacting
Jimmy J. Ilseng
Director of International Programs
University of Colorado Law School
Wolf Law Building, 401 UCB
Boulder, CO 80309
USA

Phone: 303.735.7056
Email: llm@colorado.edu