University of Hawai'i at Mānoa | William S. Richardson School of Law
The information on this page was provided by the law school.

Official Guide to LLM, Master's, and Certificate Programs
---
Introduction
The William S. Richardson School of Law at the University of Hawai'i at Mānoa is exceptional for its commitment to pluralism and diversity as well as to excellence in scholarship and teaching. We train students to "think like a lawyer" while equipping them with practical skills. The Law School offers outstanding teaching by a talented and very accessible faculty. We have about 300 students, who are among the most ethnically and racially diverse in the nation, and we draw applicants from over 120 undergraduate schools throughout the United States. As the only law school in the state of Hawai'i, we also benefit from close ties to the state and federal judiciary, the downtown legal community, and international connections in the Pacific. We offer a broad range of courses in business and commercial law and are especially strong in the areas of environmental law, Pacific-Asian Legal Studies, and Native Hawaiian rights. Every year our January term offers specialized courses taught by distinguished visiting scholars from across the United States and abroad, and our Jurists-in-Residence program provides students with the opportunity to meet with justices from the US Supreme Court or from international and foreign courts.
Location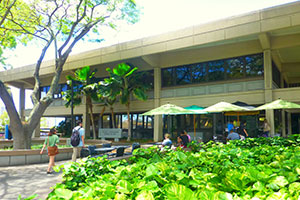 The Law School is located on the campus of the University of Hawai'i at Mānoa, the flagship of the University of Hawai'i system, in the beautiful Mānoa valley on the island of O'ahu. The university is a major research institution, founded in 1907 and known nationally and internationally for its programs in Asian and Pacific studies, oceanography, marine biology, and astronomy, as well as in law, business, and medicine. Over 20,000 students are enrolled in the university, representing all 50 states and more than 70 countries.
Hawai'i is a spectacularly beautiful place in which to work and study. Hawai'i also offers the opportunity to live in a multicultural environment rich in the traditions of many peoples; its ties to Asia are especially strong. Migration from Japan, China, the Philippines, Korea, Vietnam, and the South Pacific has added to our strong multiethnic tradition and has helped to create a wonderfully diverse population. Everyone who visits here feels right at home. Honolulu offers amazing outdoor activities, from surfing to hiking to golf and soccer. There is also a wide variety of ethnic restaurants and markets, and a host of traditional cultural activities and festivals that take place throughout the year. Hawai'i's cultural and artistic traditions are also well represented in local art museums and galleries, and in recent years Hawaiian music and dance have enjoyed a broad renaissance throughout the islands.
The Faculty
Our faculty members are recognized nationally and internationally for their scholarship, which they combine with extensive real-world experience, and for their public service, both in the state of Hawai'i and beyond. Committed to teaching as well as to research, they remain exceptionally accessible and supportive of students. The Law School has an extremely favorable student-faculty ratio (8:1), which results in small classes and close interaction between teachers and students.
LLM Program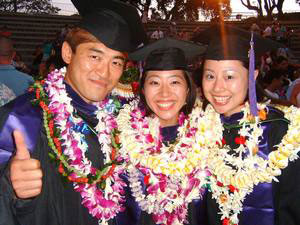 The Master of Laws (LLM) program is a one-year course of study open to students who wish to gain a broader understanding of US and international legal issues—something that is increasingly necessary in today's globalized law practice. The LLM program begins in late August and requires completion of a total of 24 credit hours during two semesters of residence. All students enroll in our special Introduction to American Law course, which will help enhance their legal English and research skills and their understanding of American legal culture. Students are otherwise free to choose their program of study, which may include first-year courses and special seminars. We also permit students to count up to six credits in the university's other graduate schools towards an LLM degree. LLM students take all their regular courses with our JD students and have ample opportunity to interact with them.
Eligibility
Applicants to the LLM program must hold a law degree (or its equivalent) from a recognized law school or (if they do not hold a law degree) be admitted to the practice of law in their jurisdiction.
New York State Bar Examination Courses
Starting in the 2012–2013 academic year, LLM students planning on taking the New York State Bar Examination must be sure to take certain courses to be eligible. These include Introduction to American Law, US Legal Practice, and Professional Responsibility. We offer these courses to our LLM students, who can study for the New York State Bar Examination while in Hawaii.
LLM Specializations
As our student, you may take courses in a broad range of subjects or concentrate your study in one of our areas of excellence and earn a specialization as part of your LLM degree. We now offer LLM specializations in seven major areas of interest:
Transfer to the JD Program
LLM graduates who perform well in our LLM program may apply to transfer to our JD program. We consider your performance at the Law School and do not require you to take the LSAT to apply. If you are admitted, you may also be able to transfer credits from the LLM towards a JD degree, which may enable you to complete your JD degree within two years of finishing your LLM degree.
Advanced JD Program
Our two-year Advanced JD program provides foreign law graduates with the best preparation for bar admission and for the successful practice of law. Advanced JD students are full members of our Law School community. Students admitted to the accelerated JD program receive the same degree as other JD students and are eligible to take the bar examination in all US jurisdictions, if they meet the other requirements for admission.
SJD Program
The new SJD (Scientiae Juridicae Doctor) program involves intensive research and writing a dissertation under the supervision of a UH Law faculty member. The SJD requires one year in residence at the Richardson Law School, with seminars and courses to support students in preparing their dissertation proposals and launching their research. The goal is for students to submit finished dissertations by the end of their third year of candidacy.
While the SJD is primarily intended for those who teach or hope to teach law outside the United States, it's also aimed at those involved in policy work in research institutes and government organizations. It has often been requested by foreign-trained law scholars who are earning an LLM and who wish to continue their legal studies here.
Student Life
Our Law School is known for its 'ohana (family) atmosphere, and we offer a friendly, supportive environment in which to pursue your legal studies. We encourage our international students to participate in Law School life, and student organizations enthusiastically include LLM students in their professional and social activities. The Law School has a very full schedule of special talks and presentations, including the Asia law talks and the environmental law colloquia, annual lecture series, workshops, works-in-progress, and other legal presentations. We also offer special social and professional events for international students, including an island tour, court and law firm visits, lunches, and dinners with our faculty and graduates—and a hike up Diamond Head crater with our law school dean to enjoy the beautiful panoramic view of the ocean, mountains, and Waikīkī Beach.
Career Development
The LLM program office is dedicated to assisting our students in career development. We strive to provide resources and opportunities for our LLM program students to explore their postgraduation options. While most LLM students return to their home countries, some elect to take the bar examination in New York or California. Still others choose to work via the Optional Practical Training visa. We assist our students in pursuing these and other career goals. In addition to individual counseling, we offer career services programs, including résumé and cover-letter writing, skills workshops, and opportunities to network within Hawai'i's legal community.
Contact Information
For additional information about the University of Hawai'i at Mānoa | William S. Richardson School of Law's LLM program, please visit the International Programs website, or contact
Spencer Kimura
Director
LLM Program
2515 Dole Street
Honolulu, HI 96822
USA

Phone: 808.956.9038
Fax: 808.956.5569
Email: lawllm@hawaii.edu