University of Maryland Francis King Carey School of Law
The information on this page was provided by the law school.

Official Guide to LLM, Master's, and Certificate Programs
---
Introduction
The University of Maryland Francis King Carey School of Law (Maryland Carey Law), located in downtown Baltimore, was established in 1816 and began regular instruction in 1824. It is the third-oldest law school in the nation, but its innovative programs make it one of the liveliest and most dynamic today. The University of Maryland campus is located within blocks of courthouses, government agencies, restaurants, and entertainment venues. Home to the University of Maryland's professional schools in law, medicine, nursing, pharmacy, social work, and dentistry, the Baltimore campus is undergoing a renaissance of its own. Newly built student housing; a state-of-the-art student center with a lap pool, workout rooms, and space for intramural competition; a row of new restaurants; and two major theaters have brought a vibrancy to the neighborhood, which is just blocks away from the well-known Inner Harbor area. A campus shuttle and free city bus make getting to other Baltimore neighborhoods easy and convenient.
Baltimore's proximity to other major East Coast cities is another plus. Students can easily travel by train to Washington, DC (40 minutes); Wilmington, DE (40 minutes); Philadelphia (1 hour); or New York City (2.5 hours). Baltimore/Washington International Thurgood Marshall Airport is less than 10 miles from the law school building and is accessible by light rail. It is, for many, the preferred airport in the Washington, DC, area. Maryland Carey Law has taken advantage of this location to become an integral part of the Baltimore–Washington legal and business community.
Physical Facilities
The University of Maryland Baltimore comprises seven professional and graduate schools, including the University of Maryland Francis King Carey School of Law. Maryland Carey Law and the Thurgood Marshall Law Library occupy a beautiful facility with more than 170,000 square feet of space on the University of Maryland Baltimore campus. The facility has a Ceremonial Moot Courtroom, a courtyard, a café, and office space for student attorneys participating in the clinical law program. The Thurgood Marshall Law Library offers the law school community a wide array of print and electronic resources that are essential for legal research in today's world. Classrooms feature the latest in educational technology, and wireless Internet access is available throughout the law school. Also on the University of Maryland Baltimore campus is the SMC Campus Center, which houses the University Recreation and Fitness center, Seven Scholars University Store, Wellness Hub, and much more.
Fayette Square and Pascault Row are the two options for on-campus housing. Fayette Square is a gated community with a 24-hour courtesy desk located one block from Maryland Carey Law. Fayette Square offers furnished private studios and one-, two-, three-, or four-bedroom apartments. Pascault Row, also located within walking distance of Maryland Carey Law, offers private studios and one- or two-bedroom apartments in the restored historic residences. Both options are located in Baltimore City, just minutes from the Inner Harbor, Oriole Park at Camden Yards, M&T Stadium, Lexington Market, and so much more.
LLM Program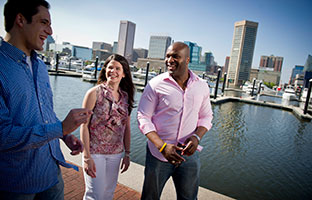 Maryland Carey Law's LLM program is designed for individuals who hold a first degree in law (JD, LLB, or equivalent) and who wish to pursue further studies. The program's flexibility makes it appealing to both domestic and international law graduates. Our LLM candidates include graduates of US law schools who wish to examine a particular area of the law in more depth and lawyers from outside the United States who want to enhance their knowledge of US law or concentrate on specific areas of US law.
Maryland Carey Law offers a full-time LLM program, intended to be completed in one academic year, and a part-time program, to be completed within 36 months of initial enrollment. Maryland Carey Law LLM candidates work closely with a faculty advisor to design a customized course of study. Maryland Carey Law LLM students can take a broad range of courses or they can specialize in any number of areas, including
Business Law: The curriculum is designed with a global perspective that is integrated into practical and extracurricular experiences, including opportunities to write for publications in cooperation with the Association of Corporate Counsel. Students have opportunities to learn from and work alongside national leaders on contemporary business issues in Maryland, as well as in Washington, DC; Delaware; and New York.
Clinical Law: Consistently recognized among the nation's top clinical law programs, Maryland Carey Law's program was the first in the country to receive the John Minor Wisdom Award, the American Bar Association's highest public service honor. Each year, over 200 students work alongside more than 20 faculty members on real cases, providing over 140,000 hours of free legal services to the community. Candidates choosing this track have the opportunity to work closely with the faculty, learning to supervise JD students in their clinical work.
Constitutional Law: Basic courses focus on the separation of powers and relationships between and among the branches of government, the allocation of power between the states and the federal government, the principles that govern judicial review of governmental action, and the constitutional principles that govern the relationship between the individual and the state. Advanced courses focus on particular groups of cases, on constitutional interpretation, and on comparative aspects of constitutional law.
Crisis Management: This program covers such topics as defining crisis management, identifying threats and response procedures (e.g., in the context of terrorism, natural disasters, and public health emergencies), recovery and mitigation endeavors, federalism and jurisdictional issues, and assisting vulnerable populations and other disenfranchised communities, as well as current and proposed legislation, policies, and regulations that impact crisis management. The curriculum is complemented by access to the University of Maryland Center for Health and Homeland Security, which melds academic and practical expertise for individuals who wish to become proficient in the law and policy of crisis management.
Cybersecurity: This program includes the following topics: defining cybersecurity, identifying threats and actors, Internet governance and jurisdiction, cyber-crime, and data breach, as well as current and proposed cybersecurity legislation, policies, and regulations. Students have the opportunity to gain valuable experience because Maryland is home to leading governmental cyber agencies such as the National Security Agency, US Cyber Command, the National Institute of Standards and Technology (which sets cyber standards), and the National Cybersecurity Center of Excellence.
Environmental Law: For more than two decades, Maryland's nationally recognized environmental law program has trained environmental lawyers in government and nonprofit, corporate, and private-practice settings, all with a strong focus on the increasingly important role of international policies, practices, and treaties in determining global environmental quality.
Health Law: Our nationally recognized Law and Health Care program combines education and research on emerging medical, health, policy, and legal matters. The program has special strengths in medical ethics, interdisciplinary scholarship, and the legal issues raised by the intersection of health and new technologies. With the resources of a major health sciences and research university, our program offers many interprofessional opportunities.
Intellectual Property: Our program covers a broad range of subjects in the field, both domestic and international, and includes information privacy and technology law, as well as more traditional aspects of intellectual property. With the explosion of ways in which information can be created and transmitted, and the emergence of "big data" as an area requiring attention, intellectual property is an

ever-expanding

field.
International and Comparative Law: The rapid rise in global economic integration and intergovernmental cooperation, as well as an increasing complexity of international business transactions, have created new legal challenges, ranging from commercial matters to human rights. The International and Comparative Law program prepares lawyers to meet these challenges with a deep understanding of other countries' cultures, as well as their legal systems.
For more information on these programs, please visit LLM Program, or contact us at llm@law.umaryland.edu.
LLM Application Information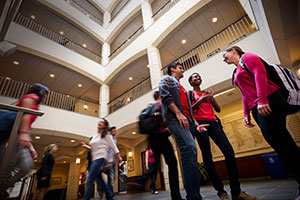 Please see LLM Admission and Application. Below is a brief overview of the application process.
Application deadline: July 1, but will consider later applications as long as space is available in our program.
Application fee: $70
The following materials must be submitted through your LSAC LLM Account:
Application form
Two letters of recommendation: Recommenders should include instructors under whom you have studied or with whom you have worked closely during college or graduate study. If you have not had recent contact with such individuals, you may submit letters of recommendation from employers who can attest to your intellectual, analytical, writing, and (if necessary) English language abilities.

Please do not

submit letters of recommendation from personal friends and relatives, as they will not be given weight in the admission process.
All undergraduate and graduate transcripts: Applicants must request undergraduate and graduate transcripts and have them submitted directly to LSAC.
Statement of scholarly intent: Applicants are required to submit a statement of scholarly intent. We recommend that you use the statement of scholarly intent to address why you are interested in obtaining an LLM degree, provide a detailed description of the area of legal study you intend to pursue, and list the courses in which you have an interest. The personal statement should be no longer than 1,000 words, double-spaced, and must be typed and not handwritten. (Upload your personal statement as an attachment to the application form.)
Additional application materials:
Résumé or curriculum vitae
TOEFL/IELTS score: Applicants for whom English is a second language or not their primary language must take the Test of English as a Foreign Language (TOEFL) or the International English Language Testing System (IELTS). English proficiency is proven by an official TOEFL score of at least 600 on the paper-based test or 90 on the Internet-based test, an official IELTS score of at least 7, previous attendance at a US institution, or proof that English is the applicant's native language. Request that scores be sent directly to LSAC. LSAC has arranged with the Educational Testing Service (ETS) to receive your TOEFL score. Please provide LSAC's institution code (8395) when requesting that your score be sent to LSAC. LSAC has also arranged with IELTS to receive scores. LSAC will only accept scores from IELTS electronically. You must request that your score be forwarded to LSAC for electronic download. (Note: TOEFL and IELTS scores are valid for two years.)
Free Application for Federal Student Aid (FAFSA)
Application for In-State Status Classification
Tuition and Fees
Please see Tuition and Auxiliary Fees for LLM tuition and related expenses.
Financial Aid and Scholarship Awards
Need-based financial aid information is administered by the university's Office of Student Financial Assistance and Education.
Merit-based scholarships are administered by the Office of Admissions. All accepted applicants are automatically considered for merit-based scholarships. There is no separate application form. As applicants are selected for merit scholarship consideration, they are contacted by the Office of Admissions.
Student Services and Organizations
Maryland Carey Law offers over 40 student organizations. All LLM students are invited and encouraged to participate in various student organizations.
Career Development
The counselors in the Career Development Office (CDO) offer many services to LLM students to assist with job searches and skill development. The CDO provides LLM students with individual career counseling, including job-search strategies, résumé and job-search correspondence, and interviewing and networking skills. The counselors can also provide LLM students with avenues to research career opportunities, discuss offers and hiring protocols, and make sound decisions throughout the process.
Additional Information
The LLM program is not designed as a bar preparation program for international students; however, it is possible to meet many jurisdictions' bar eligibility requirements through our LLM program.
Bar admission requirements vary in each jurisdiction. International students wishing to prepare for the Maryland Bar Exam can choose from among such courses as Business Associations, Commercial Transactions, Constitutional Law, Contracts, Criminal Law, Criminal Procedure, Evidence, Family Law, Legal Profession, Property, and Torts. For students interested in pursuing this option, our academic advisors will guide you appropriately.