The information on this page was provided by the law school.

Official Guide to LLM, Master's, and Certificate Programs
Andrew M. Coats Hall, 300 Timberdell Road, Norman, OK 73019-5081, United States

Visit School Website

---
Introduction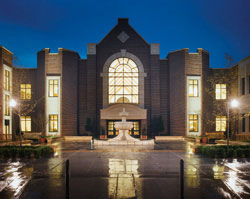 The University of Oklahoma College of Law was founded in 1909. The College of Law was then, and remains, the only state-supported law school in Oklahoma.
The College of Law is fully accredited by the American Bar Association and is a member of the Association of American Law Schools. Thanks to a recent $20 million expansion and renovation, the College of Law has state-of-the-art classrooms and technology. Take a virtual tour of the College of Law.
Application Details
Students who wish to apply to the program are asked to complete the online application through the OU Law website.
Contact Information
For additional information, please visit About the LLM Program, or contact
University of Oklahoma College of Law
300 Timberdell Road
Norman OK 73019
USA
Phone: 405.325.6603
Email: llm@law.ou.edu