The information on this page was provided by the law school.

Official Guide to LLM, Master's, and Certificate Programs
Andrew M. Coats Hall, 300 Timberdell Road, Norman, OK 73019-5081, United States
---
Introduction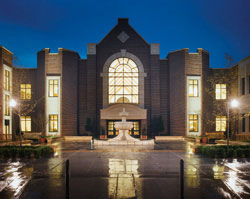 The University of Oklahoma College of Law was founded in 1909. The College of Law was then, and remains, the only state-supported law school in Oklahoma.
The College of Law is fully accredited by the American Bar Association and is a member of the Association of American Law Schools. Thanks to a recent $20 million expansion and renovation, the College of Law has state-of-the-art classrooms and technology. Take a virtual tour of the College of Law.
Law School Enrollment
The Law Center is home to approximately 500 students, 38 full-time faculty members, numerous adjunct professors, administration staff, support personnel, the LLM program, a legal clinic, and the Law Library.
Physical Facilities
Library is open 102 hours per week: Monday through Thursday, 7:00

am

–11:00

pm

; Friday, 7:00

am

–8:00

pm

; Saturday, 8:00

am

–8:00

pm

; and Sunday, 10:00

am

–11:00

pm

Recently renovated building with a wide variety of study spaces, including four multimedia study rooms with large LCD monitors, Blu-ray players, and DVD recorders, and six standard study rooms
Comprehensive research collection of electronic and print resources with access to more than 20 online services and special collections in native peoples law, energy law, and Oklahoma law
Seven full-time librarians (four with JDs) and five full-time staff members
Free wireless access at law school and throughout campus
A state-of-the-art collaborative learning center
Housing
Information about on-campus housing for graduate law students can be found at the Housing and Food website. Graduate student housing is available within a five-minute walk of the law school. Additionally, information about off-campus housing opportunities can be found at About the LLM Program.
LLM Programs/Areas of Specialization
Experience a unique combination of LLM courses available only at the University of Oklahoma College of Law that allow students to define their expertise and demonstrate extensive knowledge in a chosen subject area. Students complete classes on campus in beautiful Norman, Oklahoma, and can choose from three specializations: Energy and Natural Resources, Indigenous Peoples Law, or US Legal Studies (for foreign-educated lawyers).
OU Law provides LLM students with outstanding opportunities:
Learn from world-class faculty and Juris Doctor students
Benefit from small class sizes and a personalized experience in these highly selective programs
Attend guest lectures, field trips, social events, and networking opportunities
Receive credit for related courses offered by other OU departments
Master of Laws in Energy and Natural Resources
The LLM in Energy and Natural Resources program is designed for lawyers practicing energy law who want to further their specialization or for lawyers that want to transition into an energy law practice. This 24-credit-hour program exposes students to the legal aspects of the entire energy life cycle—including courses on oil and gas contracts, upstream, midstream, downstream, water law, and our recognized How to Drill a Well course. With many energy and natural resources companies headquartered in Oklahoma, OU Law sends a large number of graduates into energy-related fields and practices every year. OU Law programs prepare students to be leaders in energy and natural resources law and policy, assisting in the sustainable development of all forms of energy and natural resources in an environmentally responsible manner.
The LLM in Energy and Natural Resources can be completed in one year of full-time study or two years of part-time study.
Master of Laws in Indigenous Peoples Law
The LLM in Indigenous Peoples Law program is designed for lawyers practicing Native American or Indigenous Peoples law who want to further their specialization or for lawyers who want to transition into an indigenous peoples law practice.
Located in the heart of the original Indian Territory, OU Law provides an ideal environment for the study of Native American law and issues concerning indigenous peoples. Oklahoma contains nearly 40 tribal nations and the second-largest Native American population in the United States. Given their presence and the history of the region, Indian law affects virtually all areas of legal practice, making it a vibrant and growing field.
The LLM in Indigenous Peoples Law can be completed in one year of full-time study or two years of part-time study.
Master of Laws in US Legal Studies (for Foreign-Educated Lawyers)
The US Legal Studies specialization allows foreign-educated lawyers to gain a general education in US law and legal issues. Students are encouraged to tailor the curriculum to fit their individual needs, and courses may be selected to help the student prepare for taking a bar exam in the United States. Courses within the US Legal Studies specialization may include Civil Procedure, Contracts, Constitutional Law, Criminal Law, Property Law, and Torts, among others.
The LLM in US Legal Studies can be completed in one year of full-time study.
Application Details
The LLM programs from the University of Oklahoma College of Law are very selective. The programs have two starts per year, August and January, and applications are evaluated on a rolling-admission basis.
Students who wish to apply to the program are asked to
complete the online application (either through the OU Law site or LSAC);
submit an official transcript from all postsecondary institutions previously attended and any graduate institution attended;
write and submit a personal statement of your career goals and reasons for applying to the program; and
submit a letter of recommendation.
International students seeking a student visa may require additional documentation.
All of this information will be considered as part of the application. Students do not need to submit any test scores, although foreign applicants may be required to submit scores from the Test of English as a Foreign Language (TOEFL) to demonstrate proficiency in English sufficient to successfully complete the program.
Applicants must also submit a copy of their passport and a copy of their US visa (if already living in the United States). In addition, financial documentation to verify financial resources is required.
The application fee for the program is $50, and tuition and fees are estimated at $34,359.
Student Services and Organizations
The OU College of Law is home to numerous student organizations including the Energy and Resources Law Students Association, Association of International Petroleum Negotiators OU Student Chapter, Native American Law Students Association, Black Law Student Association, and Organization for the Advancement of Women in Law.
Location
The University of Oklahoma College of Law is located on a beautiful campus in Norman, Oklahoma. Norman is located approximately 30 miles from Will Rogers World Airport in Oklahoma City, Oklahoma, and 180 miles north of Dallas, Texas. Norman was rated a top city for livability in a recent magazine survey. Nearby Oklahoma City, the state's capital, is considered one of America's most affordable cities, offering residents a high quality of life.
Career Services
The Office of Career Development (CDO) at the University of Oklahoma College of Law is dedicated to the success of Oklahoma law graduates after their formal education. CDO assists students with their individual employment searches and offers numerous services, including a Lunch and Learn series. Topics include immigration law, tribal law, corporate governance, work/life balance, oil and gas, alternatives to the practice of law, and more.
Contact Information
For additional information, please visit About the LLM Program, or contact
University of Oklahoma College of Law
300 Timberdell Road
Norman OK 73019
USA
Phone: 405.322.5338
Email: llm@law.ou.edu