University of Pennsylvania Carey Law School
The information on this page was provided by the law school.

Official Guide to LLM, Master's, and Certificate Programs
---
Introduction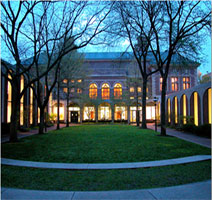 Penn Law, an Ivy League graduate school, traces its origins to a series of lectures delivered in 1790 by James Wilson, a signer of the US Declaration of Independence and US Constitution. Today, it continues as a world leader in legal education with world-class faculty, who are both celebrated scholars and devoted teachers. Penn Law's unique culture of collegiality allows students to feel welcome and supported, encourages them to take risks, and maximizes their academic, professional, and personal experience. The intimate size (about 750 JD students and 115 LLM students) facilitates close relationships between faculty and students and among the JD and LLM students.
Penn Law's LLM Program is over a century old and recognized among the best, attracting foreign-trained attorneys from around the world. The program is a rigorous 10-month, full-time course, beginning with an innovative 5-week, 5-credit summer program, which provides an academic grounding in the US legal system, with numerous social, cultural, and professional opportunities. After the summer, LLM students take classes alongside upper-level JD students. Penn Law grants a generalized LLM, where students customize their curriculum from our extensive course offerings, allowing for exploration and the option to focus on a specific area of law.
Penn Law LLM students are also eligible to enroll in the Wharton Business and Law Certificate program, a custom-designed program for Penn Law LLM students taught by Wharton faculty and industry experts selected for their teaching skills, subject expertise, and ability to offer applied concepts and examples to participants. All LLM students may participate in this program, which runs concurrently with the LLM program.
Extracurricular Offerings, Student Life, and Career Services
In addition to outstanding academic programs and speakers, Penn Law offers a rich array of professional, extracurricular, and social programming. As an integral part of the program, the LLM Public Service Program provides students with important opportunities to develop their professional skills while learning more about the communities that exist beyond the walls of Penn Law. It also supports students seeking to satisfy the New York Bar pro bono requirement. In addition, LLM students can participate in clinical programs focusing on Entrepreneurship, Intellectual Property and Technology, International Human Rights and Immigration, and Mediation.
At Penn Law, LLM students have the opportunity to get involved with JD students in student groups ranging from the Penn Soccer Club to organizing academic conferences. They can also participate in the Journal of International Law, the Asian Law Review, and the Journal of Constitutional Law.
Penn Law's Career Planning & Professionalism Office (CPP) has a dedicated LLM career counselor, who organizes programs designed specifically for LLM students, including networking and interview skills programs, job-search training, and an attorney mentor program. CPP also offers individual counseling sessions to assist LLM students in crafting personalized job-search strategies. Penn Law LLM students are welcome to participate in the International Student Interview Program (ISIP), hosted in New York City each January.
Furthermore, Penn Law markets our LLM students to the legal community. However, be advised that while our LLM students find exceptional positions abroad, the US legal market has yet to fully embrace LLM graduates, and opportunities—especially for permanent positions—are quite limited.
The Law School Facilities and University of Pennsylvania Campus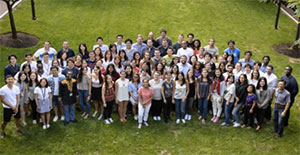 Penn Law is a close-knit community within a large university. Penn Law's campus is state of the art, with four fully interconnected buildings surrounding a lush, green courtyard. The Law School is located on a 250-acre Ivy League campus adjacent to the city center with access to extraordinary amenities, including several gyms, many libraries, museums, theatres, and student centers. On any given day, there are multiple lectures and events within the Law School and countless others across campus. Moreover, Penn Law's interdisciplinary approach provides substantive relationships with our sister schools across campus.
Housing and Living in Philadelphia
Philadelphia features charming residential neighborhoods, a booming restaurant scene, robust art and theatre life, excellent shopping, and great sports teams, all centrally located and served by public transportation. Philadelphia offers professional students an affordable, accessible, and exciting lifestyle with easy access to New York City and Washington, DC.
Although on-campus housing is available to all students, most LLM students opt for one of the diverse, safe, and attractive off-campus housing options, ranging from rooms in historic houses to modern high-rise apartments.
Admission and Financing Your Education
All applications and supporting materials must be submitted through LLM.LSAC.org by December 15. We will consider requests for deadline extensions on an individual basis.
Please visit Graduate Programs for compressive information about
Other Graduate Degree Programs
Masters in Comparative Law (LLCM) program—a one-year course of advanced study for students who have already earned their LLM degree.
LLM/MFS—a dual-degree program in International Finance and Law offered jointly by Penn Law and Sciences Po in Paris.
What Penn Law LLM Students Say About Their Year with Us
The way Penn Law integrates the LLM program made me able to connect with my classmates from around the world as well as with the American students. The collaborative and supportive atmosphere brought me deep friendships and made this year unforgettable.

—Ruben Lemmens, LLM '17
Because of my background in international law and international arbitration, I did not imagine that the WBLC would be such an enriching experience. After a year of Corporate Finance, Private Equity, and Global Strategic Management, I have come to realize that the business skills this unique program has given me are not only extremely useful in my field of specialization but also highly appreciated by employers.

—Eugénie Caroit, LLM '17
Philadelphia is really the best of both worlds: the quality restaurant scene of a big city and the friendly and welcoming neighborhoods of a small one. Living in Philadelphia was for me both fulfilling and harmonious.

— Christos Ierna, LLM '17