The information on this page was provided by the law school.

Official Guide to LLM, Master's, and Certificate Programs
727 East Dean Keeton Street, Austin, TX 78705, United States
---
Introduction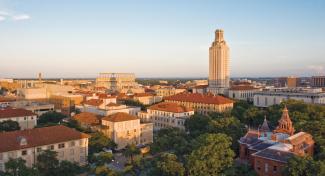 Lawyers from all over the world come to The University of Texas School of Law (Texas Law) to expand the breadth and depth of their legal knowledge and invest in a valuable postgraduate degree—an internationally recognized Master of Laws. The LLM program is diverse, selective, and small. LLM students from foreign countries and the United States are fully integrated into the academic life of the Law School, learning side by side with JD students. The LLM class is global in reach, with 35 students from 25 different countries in the Class of 2020. In fact, The University of Texas at Austin is home to over 7,500 international students and scholars, and the rich diversity on our campus is essential to our success as a learning community.
The LLM program is flexible and allows each student to design an individual course of study tailored to their academic and professional interests. Students complete most courses at the Law School and can also complement their legal coursework by taking courses in departments and schools across campus.
Eligibility Requirements
The LLM program requires applicants to have a first degree in law (JD or LLB). 
Special Note
LLM applications are available starting on September 1 and are due by March 1 for priority consideration. 
To be considered for an internal scholarship, applicants are encouraged to submit their application for admission to the LLM program as soon as possible after September 1. 
Financial Aid
Admitted LLM students who are US citizens or permanent residents are eligible to apply for Federal Student Aid. Students may qualify for Federal Student Aid for the 24 credit hours required to obtain the LLM degree. Federal regulations will now permit students to borrow funds in excess of the total amount of the attendance budget. Additional information is available on the Texas Law Financial Aid Office website.
International LLM students must have sufficient funding to finance the full course of study through personal resources or government or private funding. International LLM students are ineligible to apply for Federal Student Aid. Since internal scholarship opportunities are limited, international LLM students should apply for financial aid and scholarships from their home countries. For assistance in locating sponsoring organizations, contact EducationUSA or the US Embassy or Consulate in your home country. Additional information is available on our Scholarship Opportunities page.
Law School Enrollment
Total law school enrollment (all degree students): 1,250 (approximate)

Total LLM enrollment: 50 (approximate)

Full time: all

Part time: none
Physical Facilities
Texas Law is situated on the northeast quadrant of main campus, a short walk to museums, two recreation centers with pools, and the football stadium. Law school facilities include two courtrooms; study lounges; state-of-the-art classrooms; a café; and the Tarlton Law Library, one of the largest academic law libraries in the world. 
Tarlton Law Library
The Tarlton Law Library and Jamail Center for Legal Research offer course support, student guides, legal research, and student services. Students have access to a past exams database, course reserves, an exam prep guide, a study aid guide, legal writing titles, and CALI. Additionally, students have access to research guides, a team of dedicated law librarians (all of whom have JDs), Bloomberg, Lexis, Westlaw, seminar papers, and law review notes. 
Other Facilities
7 museums and centers with more than 17,000 works of art

17 libraries with 10 million+ volumes

8 recreational sports facilities both on and off campus with over 500,000 square feet of indoor and 40 acres of outdoor activity space

8 performance venues

Numerous restaurants and cafés
Housing
No single housing solution exists for The University of Texas at Austin's graduate student population, but these resources may help you find a place to call home—whether you want an apartment close to the university with an easy commute or a house in the suburbs with a yard for the kids.
Should you need help in determining where to live off campus, the Graduate School and the Graduate Coordinator Network did a survey of where students live. The summary offers a brief description of Austin's various neighborhoods as well as an idea of what's nearby. You can find more information on the Graduate Student Housing: Main Report.
The University Apartments, located off campus on Lake Austin Boulevard, are in high demand. The waiting list is long, so be sure to apply early. Shuttle bus service is available from the University Apartments' three complexes—Brackenridge, Colorado, and Gateway—to campus, making the commute easy. You can find more information on the Graduate Student Housing: Main Report.
LLM Program Concentrations
The Law School offers a single LLM degree with six different concentrations. The six concentrations provide students the opportunity to complete specified courses and obtain a certificate of specialization in:
The US Law for Foreign Lawyers Concentration provides a basic understanding of the US legal system to professionals who received their first law degree from a foreign law school. Students in this general concentration can focus on a particular area of law or take courses in a wide variety of subjects. Students with a foreign law degree are eligible for all five concentrations. Students with a JD are eligible for all concentrations except the US Law for Foreign Lawyers Concentration.
Student Services and Organizations
The Office of Graduate & International Programs (GIP) and the Student Affairs Office (SAO) help LLM students achieve their academic and extracurricular goals. Throughout the year, GIP and SAO organize study breaks, work closely with student organizations to plan events, and hold academic support and advising sessions. The experienced staff is available for counseling on academic and personal matters. For example, in the fall, GIP organizes a series of workshops to help LLM students with writing cover letters and résumés as well as interviewing skills. In the spring, GIP coordinates a free bar strategy success course to assist LLM students in preparing for the bar exam.
The University of Texas at Austin has 1,300+ student organizations. There are 40+ student organizations in the School of Law. Texas Law also offers an unbeatable set of student-run journals. They publish important scholarship about the legal system, and everything they print is selected or written by their student members.
Career Services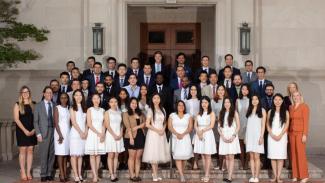 We're dedicated to helping all students at the law school, including those who are working toward their LLM degree. Comprehensive career resources, including information about the job-search process, interview programs for foreign-trained LLMs, résumé and cover letter tips and samples, and interviewing advice can be found in the Applying and Interviewing Handbook for Foreign-Trained LLMs.
As an LLM student, you are welcome to meet with a career counselor to discuss your job search, have your résumé (CV) and cover letters reviewed, practice interview skills, and take advantage of the many resources that the CSO has to offer. You are also encouraged to attend CSO panels, workshops, and networking opportunities throughout the year, including the Foreign-Trained LLM Job Search and Résumé & Cover Letter Workshops in September.
It is important to know that most employers who recruit at Texas Law are primarily interested in recruiting students in the JD program and only a few interview LLM students. Nevertheless, LLM students have access to Job Bank on Symplicity. Additionally, for those interested in finding legal jobs in the United States and abroad, please visit GoinGlobal – International Job Search. The site features 38 Country Career Guides, 53 City Career Guides for the United States and Canada, corporate profiles, and more than 16 million internship and job listings within the United States and around the world.
If you would like to make an appointment to meet with a career counselor, please contact us at 512-232-1150 or cso@law.utexas.edu.
Additional Information
A top law school noted for its affordable tuition, Texas Law boasts a network of graduates 23,500-strong—whatever you want to do, wherever you want to do it, there will be a Texas Law alum ready to help. Additionally, we have an unbeatable set of 16 clinics, 12 programs and centers, and 40 student organizations that round out law students' legal education. Finally, we're in Austin, the Live Music Capital of the World, the second fastest growing city in the United States, and the second best city for liberals to live. Boasting 400 live music venues, 100 barbecue restaurants, 200 miles of urban hike and bike trails, and 300 sunny days each year, Austin is the best place in the world to be a law student.
Contact Information
Additional information is available on the Master of Laws Program website, or by contacting
Mauricio Pajón
Director of Admissions
LLM Program
University of Texas School of Law
727 East Dean Keeton Street
Austin, TX 78705
USA
Phone: 512.475.9328
Email: llm@law.utexas.edu