The University of Texas School of Law
The information on this page was provided by the law school.

Official Guide to LLM, Master's, and Certificate Programs
---
Introduction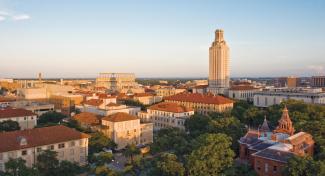 Lawyers from all over the world come to The University of Texas at Austin to expand the breadth and depth of their legal knowledge and invest in an internationally recognized Master of Laws. The LLM Program is diverse, selective, and small, with a maximum of 25 spots for each incoming class. LLM students from foreign countries and the U.S. are fully integrated into the academic life of the Law School, learning side by side with JD students. The LLM class is global in reach, with students from 15 different countries in the Class of 2023, including 4 Fulbright students.
Additionally, we have an unbeatable set of clinics, programs and centers, student-run journals, and student organizations that round out law students' legal education.
Here is a sneak peek video of our amazing city and beautiful campus, and a little taste of what it is like to be part of our Texas Law community. At The University of Texas, we say "What Starts Here Changes the World" – and this is where it all begins.
Eligibility and Application Requirements
The LL.M. Program requires applicants to have a first professional degree in law. Applicants with a foreign law degree can check the Law School Admission Council LL.M. Eligibility Chart for degree requirements by country to see if they are eligible for our program. The LL.M. Program does not accept applications from graduates of distance learning and online law programs or U.S. J.D. programs not approved by the American Bar Association. The LL.M. Program currently has 25 spots for each incoming class.
LLM applications must be submitted through the Law School Admission Council (LSAC). The application opens on September 1 and is due by March 1 for priority consideration.
All applicants must register for the LLM Credential Assembly Service (LLM CAS). Additionally, applicants with a foreign law degree must register for the International Transcript Authentication and Evaluation Service (ITAES).
Financial Aid
Admitted students are automatically considered for internal scholarships, and a separate application is not required. The LL.M. Program offers scholarships in amounts ranging from $500 to a limited number of Nonresident Tuition Exemption waivers each year.
Internal third-party scholarships offered by our scholarship partners exclusively for admitted and current students require a separate application and have their own internal deadline. The class becomes full very soon after the March 1 priority deadline. Do not wait until March 1 to apply, especially if you plan to apply for internal third-party scholarships with deadlines before March 1.
For more information, visit Scholarship Opportunities.
Physical Facilities
Texas Law is situated on the northeast quadrant of campus, a short walk to 8 museums, 2 recreation centers with pools, and a football stadium. Law School facilities include 2 courtrooms; study lounges; state-of-the-art classrooms; a café; and the Tarlton Law Library, one of the largest academic law libraries in the world.
Tarlton Law Library
The Tarlton Law Library and Jamail Center for Legal Research offer course support, student guides, legal research, and student services. Students have access to a past exams database, course reserves, an exam prep guide, a study aid guide, legal writing titles, and CALI. Additionally, students have access to research guides, a team of dedicated law librarians, Bloomberg, Lexis, Westlaw, seminar papers, and law review notes.
Other Facilities
7 museums and centers with more than 17,000 works of art
17 libraries with 10 million+ volumes
8 recreational sports facilities both on and off campus with over 500,000 square feet of indoor and 40 acres of outdoor activity space
8 performance venues
Numerous restaurants and cafés
Housing
No single housing solution exists for the Texas Law student population, but these resources will help you find a place to call home—whether you want an apartment close to the Law School with an easy commute or a house in the suburbs with a yard for the kids or dogs.
We recommend LL.M. students live as close as possible to the Law School. The Law School address is 727 East Dean Keeton St, Austin, Texas 78705. Download a UT campus map. The Law School consists of 3 buildings: Townes Hall (TNH), the Connally Center (CCJ), and Jesse Jones Hall (JON).
Searching for housing can be challenging. The Off-Campus Living Resources website offers information on housing and roommates, resources, safety and transportation, and Austin events. The Off-Campus Housing Marketplace website offers information on listings, roommates, subleases, resources, renter education, help with a landlord issue, and parking. Join the Texas Law Housing-Living in Austin Facebook group. Its purpose is to assist Texas Law students find/lease/sublease housing.
UT students can ride CapMetro buses (Austin's regional public transportation provider) for free with their UT student ID card. If you plan to take the bus to campus, download the CapMetro app to make sure you live close to a bus stop and know when the next bus is coming.
Those who wish to drive to campus must purchase a parking permit. We are located in the heart of Austin, so parking is a challenge. Most lots are on the outskirts of campus, but UT Shuttles can get you to your campus destination with ease. UT Students can ride UT Shuttles for free with the UT student ID.
LLM Program Concentrations
The University of Texas School of Law offers a single LLM degree with six different concentrations. Each degree concentration provides students with the opportunity to complete specified courses and obtain a certificate of specialization in that concentration. The LLM Program is flexible and allows each student to design an individual course of study tailored to their academic and professional interests. Our LLM concentrations are:
The U.S. for Foreign Lawyers concentration is a flexible program that provides students with a foreign law degree the opportunity to focus on a particular area of study or gain a broad foundation in U.S. law by taking courses in a variety of areas. Students with a foreign law degree are eligible for all six concentrations. Students with a U.S. JD are eligible for all concentrations except the one in U.S. Law for Foreign Lawyers.
Student Services and Organizations
The LLM Program helps LLM students achieve their academic and extracurricular goals. Throughout the year, the LLM Program organizes study breaks, works closely with student organizations to plan events, and holds academic support and advising sessions. The experienced staff is available for counseling on academic and personal matters.
The Law School Is home to the Texas Law Review and 12 specialty journals that vary greatly in legal, political, and social perspectives. As an example of impact, the Texas Journal of Oil, Gas, and Energy Law has an impressive readership that reaches beyond academia, circulating among attorneys and energy industry professionals.
Student organizations at Texas Law run the gamut of interests, from the Chicano/ Hispanic Law Students Association and the Entertainment and Sports Law Society to Assault and Flattery (a theater group) and the Women's Law Caucus. There are 44 student organizations to choose from.
Career Services
The Career Services Office at The University of Texas School of Law is dedicated to helping all students at the law school, including those who are working toward their LLM degree. Comprehensive career resources, including information about the job-search process, interview programs for foreign-trained LLMs, resume and cover letter tips and samples, and interviewing advice can be found in the Applying and Interviewing Handbook for Foreign-Trained LLMs.
International Student Interview Program
OPT Policy and Procedure
Bar Exam Eligibility Requirements by State
LLM Panel Recordings
As an LLM student, you are welcome to meet with a career counselor to discuss your job search, have your resume (CV) and cover letters reviewed, practice interview skills, and take advantage of the many resources that the CSO has to offer. You are also encouraged to attend CSO panels, workshops, and networking opportunities throughout the year, including the Foreign-Trained LLM Job Search and Resume & Cover Letter Workshops in September.
It is important to know that most employers who recruit at Texas Law are primarily interested in recruiting students in the JD program and only a few interview LLM students. Nevertheless, LLM students have access to Job Bank on Symplicity. Additionally, for those interested in finding legal jobs in the United States and abroad, please visit GoinGlobal – International Job Search. The site features 38 Country Career Guides, 53 City Career Guides for the United States and Canada, corporate profiles, and more than 16 million internship and job listings within the United States and around the world.
Additional Information
Sign up for a live virtual admissions information session. You will need a computer or mobile device and an internet connection to access virtual sessions. You must also download the Zoom app and create a Zoom account.
Contact Information
Additional information is available on the LLM Program website or by contacting:
Natalie Shields, LL.B.; LL.M.
Senior Program Coordinator
LLM Program
University of Texas School of Law
727 East Dean Keeton Street
Austin, TX 78705
USA
Phone: 512.475.9328
Email: llm@law.utexas.edu