University of Virginia School of Law
The information on this page was provided by the law school.

Official Guide to LLM, Master's, and Certificate Programs
---
Introduction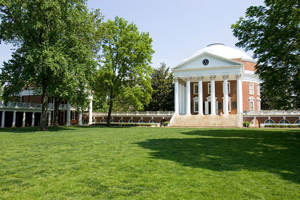 Founded by Thomas Jefferson in 1819, the University of Virginia School of Law is the second-oldest continuously operating law school in the nation. Consistently recognized among the top law schools, Virginia is a world-renowned training ground for distinguished lawyers and public servants, instilling in them a commitment to leadership, integrity, and community service.
Virginia is justly famous for its collegial environment that bonds students and faculty, and student satisfaction is consistently cited as among the highest in American law schools. UVA Law has been recognized as a leader in providing a high quality of life as well as some of the best professors, classroom experiences, and career prospects for its students. LLM students not only get to know other LLM students from all over the world, but also the JD students and our outstanding faculty as well. The same faculty—leading scholars and acknowledged experts in all aspects of public and private law—teach LLM and JD students. At Virginia, law students share their experiences in a cooperative spirit, both in and out of the classroom, and build a network that lasts well beyond their time here.
For foreign law graduates, the LLM program is designed to provide both a broad introduction to American law and legal theory, and advanced training in specialized areas of law that are relevant to the individual student's planned career in private practice, academics, or public service. Because Virginia offers more than 270 courses each year in an array of topics, students in the program also have wide latitude to plan courses of study that are tailored to their individual interests and career objectives.
By maintaining a small and highly selective program of about 50 students, the Law School ensures a supportive atmosphere. LLM candidates take classes alongside JD students, allowing participants to fully engage in the community.
Located just two hours southwest of Washington, DC, and featuring a metropolitan population of more than 230,000, Charlottesville has attracted national accolades for its ideal marriage of urban amenities and gorgeous natural setting.
Physical Facilities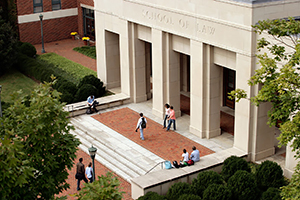 Surrounded by inviting gardens and an elegant, tree-lined lawn, the Law School reflects Jefferson's conviction that locating an intellectual community within a beautiful environment fosters learning and personal growth.
With more than 22,000 students and a faculty of more than 2,100, the University of Virginia has been recognized as among the nation's top public universities since 1984. The university's diverse intellectual life is open to law students.
The Law School is located on North Grounds, about a mile from the UVA campus and next door to the Darden Graduate School of Business and the North Grounds Recreation Center. The Law School has a full-service dining room that is available for lunch during the school year.
The three-floor library includes 813,778 volumes and volume equivalents (as of June 2016).
Housing
The university offers housing for graduate students, for both single students and families. Many students choose to live in off-grounds housing that is within walking distance of the Law School. Admitted students will be provided with a list of housing options, and the Graduate Studies Office will facilitate interaction with current students on housing options.
Scholarships
The Law School provides a limited number of scholarships to incoming LLM students. As funds are limited, awards are typically only provided to a few outstanding applicants each year. Scholarship awards are made after admission decisions are made. The cost of living in Charlottesville is extremely low, and should be taken into account when planning budgets for the academic year.
Student Services and Organizations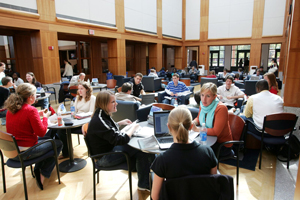 Virginia Law is enriched by the scope of student organizations, extracurricular activities, and the community spirit that permeates student life. Opportunities include 10 student-run academic journals, 67 interest-centered organizations, student self-governance (both Law School and university), and a vibrant range of social and athletic activities. In addition, the university and local community are both large enough to offer something to meet anyone's interests and small enough to make active participation compatible with a student's rigorous academic schedule.
Virginia values its reputation as a school that produces graduates who are skilled in law and balanced in life. It encourages students to enjoy their legal studies, to expand intellectually and personally, and to join the thousands of successful alumni who recall their law school years with warmth and enthusiasm.
Career Services
The Office of Career Services provides full service assistance to LLM students in their search for positions during Optional Practical Training (OPT), as well as long-term assistance in private practice, public service, or academic careers. Students also have the opportunity to participate in the Overseas-Trained LLM Interview Program coordinated each year by the Columbia University School of Law and cosponsored by the University of Virginia School of Law and the law schools at the University of Chicago, Columbia University, Harvard, the University of Michigan, Stanford, and Yale.