Washington University School of Law
The information on this page was provided by the law school.

Official Guide to LLM, Master's, and Certificate Programs
---
Introduction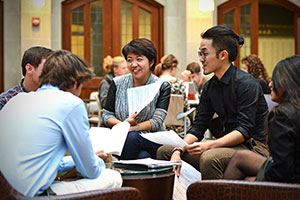 Washington University School of Law is one of the top law schools in the United States and offers students an outstanding legal education in an intellectually challenging and collegial environment. WashULaw has created flexible graduate law programs (LLM and Master of Legal Studies) to help international lawyers, US-trained lawyers, and other professionals take the next step in their careers. Students are able to customize a curriculum that meets their specific goals. As part of a world-renowned teaching and research university, WashULaw is an integral part of the campus and university life, and graduate students are encouraged to participate fully in the academic life of the law school and the university.
WashULaw professors are recognized for excellent teaching and scholarship and are highly accessible to our students. LLM students have the opportunity to enroll in upper-class courses and study with leaders in their field to develop new skills and refine legal specialties. WashULaw offers residential programs on campus in St. Louis, Missouri, or students may study from anywhere in the world with our online programs (@WashULaw).
Graduate Law Degree Programs—Residential Programs
LLM for International Lawyers: The LLM for International Lawyers is designed for lawyers trained outside the United States to increase their knowledge of US law in order to practice more effectively in today's global legal environment. This program consistently has students with a first degree in law from over 20 countries studying on campus, and students have the opportunity to select from a wide array of courses. The program is open only to international lawyers. As part of this LLM program, students have the opportunity to earn a certificate in a specialty area. Certificates are currently available in Dispute Resolution, Business and Corporate Law, and International Law.
LLM in IP and Technology Law: The IP/TL curriculum allows students to study introductory and advanced intellectual property law under the guidance of leading scholars and practitioners in the field. Students also participate in practical skills courses taught in small groups by teams of experienced intellectual property lawyers. This program is open to both US and international lawyers.
LLM in Taxation: The LLM in Taxation program provides comprehensive and specialized training to lawyers and law school graduates who plan to specialize in tax law. Our full-time faculty and leading practitioners in the field offer specialized, practical training and individualized attention in small class sizes. This program is open only to US-trained lawyers.
LLM with a Concentration in Negotiation and Dispute Resolution: The Negotiation and Dispute Resolution concentration track of the General LLM prepares practicing lawyers to further their careers as effective and skilled negotiators, advocates, mediators, arbitrators, diplomats, ombudspersons, practitioners, policymakers, and business leaders. Our students and graduates are successful in local, national, and international arenas. This program is only open to US-trained lawyers.
LLM—General Masters in Law: WashULaw offers US-trained lawyers the opportunity to study intensively any substantive area and create their own concentration. This degree is ideal for lawyers who wish to develop or deepen an area of specialization or to refresh legal skills after an absence from practice. Students have the flexibility to create their own curriculum. This program is only open to US-trained lawyers.
LLM (Two-Year Program with Legal English Focus): The Two-Year Master of Laws (LLM) for International Lawyers at WashULaw is designed for law students with outstanding academic and professional achievements who have not yet reached a sufficient level of English language proficiency to get the full benefits of studying at an American law school. Students take intensive legal English classes and blend in traditional law courses as language proficiency improves.
Other Graduate Law Degree Programs
Master of Legal Studies (MLS): The Master of Legal Studies (MLS) program is a graduate program designed for nonlawyers in fields where an understanding of the law would enhance their careers. Students in the MLS program may choose to study the legal system broadly or may choose to pursue a focused course of study in a particular area. As part of the MLS program, students have the opportunity to earn a certificate in a specialty area. Certificates are currently available in Dispute Resolution, Business and Corporate Law, and International Law. The MLS program is open to both US-trained professionals and foreign-trained professionals.
LLM/JSD (Juris Scientiae Doctoris): The JSD program is designed for attorneys pursuing a career in academia, policy, or scholarly legal research. The JSD program requires two years of residency on campus and typically takes an additional year or more to complete. Students complete coursework sufficient for an LLM in the first year and complete a dissertation as a requirement of graduation.
Online Graduate Law Degree Programs—@WashULaw
LLM in US Law (for Foreign-Trained Lawyers): The @WashULaw Master of Laws (LLM) program is a dynamic online LLM program offered by WashULaw. Taught by highly respected faculty, this program is designed to help the next generation of attorneys achieve their career goals and learn skills to succeed in the rapidly changing field of international business.
Master of Legal Studies (MLS) for Nonlawyers: The online MLS at @WashULaw is designed for professionals who can benefit from legal training but do not wish to practice as attorneys. Designed for nonlawyers, the MLS improves students' understanding of US law and explores the relation between law and various disciplines. MLS students participate in classes with the online LLM students.
@WashULaw Online Technology: Delivered through state-of-the-art online technologies, @WashULaw courses effectively integrate live classroom sessions with streaming video and self-paced content. In live classroom sessions, Washington University law faculty and @WashULaw students "meet" at prearranged times for coursework discussions, study groups, and face-to-face, office-hour meetings. The self-paced content offers students high-quality, faculty-designed coursework; highly produced video content; and an interactive social technology platform that allows students to chat, study, and join communities with fellow classmates and professors 24 hours a day.
The Washington University School of Law Experience
WashULaw is located on the campus of Washington University in St. Louis, home to world-renowned academic and research programs and a globally diverse academic community. For law students, opportunities in St. Louis to interact with practicing lawyers and members of the judiciary are plentiful. The St. Louis metropolitan area is home to three federal courts, numerous state and local courts, and both St. Louis City and St. Louis County government centers. As home to three of the country's leading financial institutions and a fast-growing entrepreneur and startup community, St. Louis is also one of the largest centers in the US for the finance services industry.
Recently named one of the best campuses in the United States, Washington University is an excellent place to study. The neighborhoods surrounding Washington University put students in close proximity to desirable housing, bookshops, coffee shops, cultural institutions, sports, restaurants, and more. Forest Park, one of the nation's great urban green spaces, is across the street from campus. WashULaw is located in a park-like setting on the Washington University campus, just steps from everything the region has to offer.
Contact Us
Please contact Rachael Johnson at
Washington University School of Law
Graduate and International Programs
One Brookings Drive
Dept/CB 1120
St. Louis, MO 63130-4899
Phone: 314.935.3346
Fax: 314.935.7961
Email: gradlaw@wustl.edu