Willamette University College of Law
The information on this page was provided by the law school.

Official Guide to LLM, Master's, and Certificate Programs
---
Introduction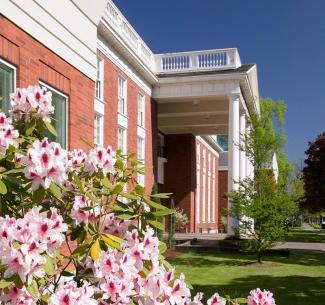 Located on the West Coast in Oregon's capital city, Salem, Willamette University College of Law is situated in the epicenter of Oregon state law, government, and business. It emphasizes small class sizes, excellence in teaching, and a high level of faculty-student interaction.
With a student-to-faculty ratio of 11:1 and selective enrollment of about 300 students, Willamette boasts an intellectual intimacy unmatched by most law schools in the United States. As a community, Willamette's faculty and staff are committed to the advancement of knowledge through research and scholarship, to diversity, and to public service. Willamette law students should expect to be challenged, to defend their opinions, to think and rethink their ideas, and to leave with a heightened respect for themselves and confidence in what they can do.
Physical Facilities
The College of Law is housed in two buildings on the beautifully landscaped 80-acre campus of Willamette University: the award-winning Truman Wesley Collins Legal Center and the Oregon Civic Justice Center. The law school facilities have a prime location across the street from the Oregon State Capitol complex, affording Willamette students unparalleled opportunity to interact with lawmakers, judges, and state administrators.
The school offers all the cutting-edge amenities a student would expect from a top law school. Bright, modern classrooms provide comfortable, professional environments for learning and studying. Located inside the Collins Legal Center, Rick's Café serves coffee, tea, and meals.
Law Library
The J.W. Long Law Library anchors the north end of the Collins Legal Center. The library provides ample space and comfortable surroundings to support quiet study, collaborative work, class presentations, and research. The library offers students a robust collection of electronic resources as well as essential legal materials in print. Reference librarians are centrally involved in legal research instruction in the classroom and are available for individual assistance in person and online. Both the Collins Legal Center and the law library are accessible to law students 24 hours a day, 7 days a week.
Because of its central location in the heart of Oregon's capital, Willamette law students can walk to Willamette University's Mark O. Hatfield Library, the State of Oregon Law Library, the Oregon State Library, and the Oregon State Archives.
University Facilities
LLM students have access to all facilities of Willamette University's vibrant campus. The newly renovated Sparks Athletic and Recreation Center houses a swimming pool, state-of-the-art weight rooms, gymnasiums, and locker-room facilities. The Hallie Ford Museum of Art is the third largest art museum in the state, with a particular focus on historic and contemporary regional artwork from the Northwest and traditional Native American baskets. The G. Herbert Smith Auditorium hosts the Oregon Symphony's performances in Salem. The Mary Stuart Rogers Music Center offers state-of-the-art acoustics for small performances of jazz, choral music, chamber music, and recitals. The campus also provides intramural sports, cultural offerings, student organizations, and special events and lectures.
Location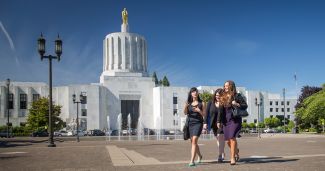 Willamette University is situated in downtown Salem, Oregon, in the Pacific Northwest region of the United States. The West Coast is a safe and welcoming place for international students, and Willamette strives to maintain a tolerant, inclusive atmosphere for students from all backgrounds.
Salem is home to a large, active legal community that readily employs and actively mentors Willamette law students. This historic riverfront city offers all the amenities of a larger city, but has successfully maintained its hometown charm. A welcoming and affordable city, Salem boasts a vibrant downtown area, beautiful city parks, popular community theaters, great pubs and cafés, fine dining, a comedy club, numerous coffeehouses and microbreweries, and a wide range of small boutiques and department stores.
Salem is surrounded by award-winning vineyards and orchards that support countless wine and food festivals. The city is only a short drive from numerous beautiful state parks that provide wilderness hiking, fishing, camping, and winter sports. The desert is a little farther east, and Oregon's spectacular coast is an hour's drive to the west. Portland is just 45 minutes to the north, offering easy access to national sporting events and premier music and art venues.
Housing
Some on-campus housing is available for law students, and extensive housing opportunities exist near campus, across the city of Salem, and throughout the Willamette Valley. Some law students also live in the Portland metropolitan area and commute to campus. Upon request, the College of Law Office of Admissions can help prospective LLM students with housing options.
LLM Programs/Areas of Specialization
LLM in Dispute Resolution
The Dispute Resolution program provides understanding of the theoretical, policy, and ethical issues in dispute resolution, as well as practical skills gained through hands-on experience in small claims court and externships.
The program consists of 24 credits, including fundamentals such as Arbitration Theory and Practice and specialty subjects such as Cross-Cultural Dispute Resolution.
Founded in 1983 and among the best dispute resolution programs in the country, the program offers a nationally acclaimed faculty of teachers and scholars, as well as CDR Senior Fellows who are expert dispute resolution practitioners.
LLM in Transnational Law
Our interdependence in today's world highlights the vital significance of transnational and international law. Preparing lawyers who will meet the challenge of an increasingly globalized legal profession has become a hallmark of legal education at Willamette University College of Law.
The LLM program in Transnational Law teaches students the fundamentals of international law and dispute resolution, international business transactions, comparative law, private international law, and, for foreign lawyers, US law. International lawyers also will have the opportunity to prepare themselves to take an American state bar exam where available.
The Transnational Law program consists of 25 credits. Students can select from a broad range of classes in law and business, such as international trade, corporate finance, commercial law, taxation, and negotiation. Students also have the opportunity to take classes at Willamette's Atkinson Graduate School of Management.
LLM Application Information
The Admission Committee determines admission to the LLM program. The committee reviews each application individually, ensuring the fair appraisal of each applicant's file. Offers will be extended to eligible applicants on the basis of several factors, including law school record; proof of English proficiency, if relevant; written recommendations; professional accomplishments; and expected commitment to the LLM program.
When to Apply
Applications are accepted and reviewed on a rolling basis. For best consideration, it is recommended that you apply by June 1 for fall admission (August start) and by November 1 for spring admission (January start).
Please contact the Office of Admissions with any questions:
Phone: 503.370.6282
Email: llm-admissions@willamette.edu
How to Apply
Application Form
Apply Through LSAC: LSAC maintains an approved electronic application to Willamette's College of Law. Your application fee is waived when you apply online.
Willamette Online Application: Apply through Willamette University's online portal.
Application Materials and Requirements
Degree requirements: All LLM applicants must have a JD from an accredited American law school or its equivalent from a foreign law school. Foreign nationals must also meet the requirements listed on our International Applicants page.
Official law transcripts must be sent with degree conferred. If transcripts are not in English, a certified English translation must accompany the original. Please use LSAC's LLM Credential Assembly Service (LLM CAS) for transcript translation and evaluation.
Application processing fee: There is no fee for any application submitted electronically.
All transcripts or other academic records must be official documents bearing the registrar's signature or the institution's seal. If these records are not in English, a certified English translation must be submitted together with the originals. Please use LSAC's LLM CAS. WES also offers these types of transcript evaluation services.
Letters of recommendation: Two letters of written recommendation (must be in English or accompanied by a certified English translation) must be submitted with your LSAC LLM CAS report.
Personal statement: Applicants must submit a written statement discussing their qualifications and intentions for pursuing a graduate degree from the College of Law. The statement must be in English.
Résumé: A résumé is a required component of a completed application. Please attach one to your electronic application. The résumé is not a substitute for the personal statement.
Additional Requirements for International Applicants
Foreign nationals must meet the following additional requirements:
Applicants must demonstrate their English language proficiency

(PDF)

to satisfy immigration policies.
Applicants must be able to show they have sufficient resources to fund educational and living expenses for the one-year LLM program and provide the following:

a completed Statement of Financial Responsibility form
official bank verification of funds (written in English), showing that you and/or your sponsor have sufficient resources to cover your educational and living expenses for the one-year LLM program
a photocopy of the name/photo page of your passport showing your image and the correct spelling of your name

All appropriate documentation must be sent by admitted students and received and approved by the College of Law before the school will send them an I-20 (Application for Student Visa).
Contact Information
For additional information, please visit Willamette's LLM website, or contact
Leah Straley
Associate Director of Admissions
Willamette University College of Law
245 Winter Street SE
Salem, OR 97301
USA

Phone: 503.370.6282
Email: llm-admissions@willamette.edu