William & Mary Law School
The information on this page was provided by the law school.

Official Guide to LLM, Master's, and Certificate Programs
---
Introduction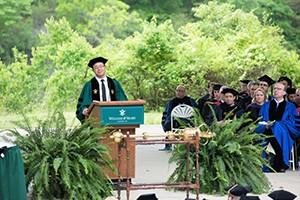 William & Mary Law School is the nation's oldest law school, established in 1779 at the request of Thomas Jefferson, who would later become America's third president. Located in Williamsburg, Virginia, William & Mary combines wonderful historic roots, a strong national reputation, and a wealth of programs for a very competitive price. The Law School is concerned with students' intellectual development as well as with developing their character and values as constructive citizens who will contribute to society. With an enrollment of approximately 636 JD and LLM students, the Law School is small enough for people to know one another by name and large enough to have a strong influence for learning and scholarship. William & Mary is located a few blocks from Colonial Williamsburg and within a short driving distance from Richmond, Norfolk, and Washington, DC.
Each year, our LLM program welcomes law school graduates and legal professionals from around the world for two or three semesters of study of the American legal system. Students come together for a short introduction to the program prior to the start of fall or spring semester classes and then enroll in courses and seminars from the JD curriculum that fit their interests.
The curriculum is enriched by the Institute of Bill of Rights Law, a privately funded organization. The institute's central focus is scholarship and education on freedom of speech and of the press, with interests also in legal history, legal writing, and professional responsibility. The Law School also houses the technologically advanced McGlothlin Courtroom and the Center for Legal and Court Technology. Classes will be taken with JD students. LLM students may also take some seminar courses, which have smaller class sizes and are discussion-based. Other special programs include the Election Law Program, the Human Security Law Program, the Property Rights Project, and the Program in Comparative Legal Studies and Post-Conflict Peacebuilding.
Physical Facilities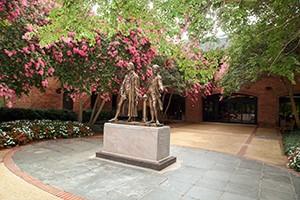 William & Mary Law School is located within walking distance of the main campus and the historically restored Colonial Williamsburg area. The Law School's facilities include the Wolf Law Library, McGlothlin Courtroom, large and small classrooms, faculty offices, a career center, a student lounge, clinics, and administrative offices. The entire building is Wi-Fi compatible, and students have 24-hour access.
The Wolf Law Library's collection of more than 400,000 volumes and its service-oriented staff provide an excellent setting for study and research. Legal materials are available in all formats, including an extensive treatise collection covering all areas of law. Features of the library include cutting-edge technology, two reading rooms offering ample views of the outdoors, six lounges, abundant seating with Internet access, 12 group study rooms, two computer labs, a rare book room, and a game room.
The McGlothlin Courtroom is among the nation's most technologically advanced trial and appellate chambers. The courtroom is designed to permit trials with multiple remote appearances and web-based evidence, and offers students hands-on training in the use of state-of-the-art courtroom technology. It has a variety of features, including major court record systems, evidence presentation technologies, assistive and foreign language interpretation technologies, and critical infrastructure technologies.
Law students also have access to the main campus facilities and services. The Student Recreation Center offers a wide range of athletic facilities, including a fitness center, pool, climbing wall, and basketball courts. Tennis enthusiasts will enjoy playing in the McCormack-Nagelsen Tennis Center located next door to the Law School.
Housing
On Campus: Apartment-style housing is available at the Lettie Pate Whitehead Evans Graduate Complex, better known as the Gradplex. Adjacent to the Law School, the Gradplex has two-, three-, and four-bedroom apartments furnished with all the basics. The apartments include a kitchen, living/dining area, and one or two bathrooms. Rent varies depending on the number of bedrooms, but includes all utilities, cable TV, and high-speed Internet access. Convenient to the Law School, the Gradplex is also a short walk to Colonial Williamsburg. A bus stop at the Gradplex entrance provides access beyond historic Williamsburg to other shopping and entertainment areas. About 20 percent of the Law School student body lives at the Gradplex. Apartment-mates may be students from any of the various William & Mary graduate programs. The Gradplex does not accommodate families or married couples.
Off Campus: Students may choose to live off campus in homes, apartments, or condos in the community. The Williamsburg area has an abundance of neighborhoods that comprise single-family, condo, and apartment living. Local newspapers and realty companies offer resources for both purchasing and renting. The Apartment Guide may be useful to locate appropriate living accommodations. Off Campus Partners maintains a database of area landlords seeking renters and a database of students seeking roommates.
LLM Program in the American Legal System
This full-time, two- or three-semester program offers law graduates trained outside the United States the opportunity to study the American legal system. In the two-semester program, students may choose from a broad variety of courses offered as part of the JD degree program. For those opting for the three-semester program, upon completing the third semester, they will receive their LLM degree with a designation that they have specialized in one of six subject-matter areas. Our program offers a fall semester or a spring semester start.
Eligibility for the LLM Program
Applicants must have earned a basic law degree, such as a BL or LLB, from a fully accredited college or university located in a country outside of the United States, or have been qualified to practice law in a foreign country. Applicants whose native language is not English, or who did not earn a law degree from an institution whose instruction is in English, must take the Test of English as a Foreign Language (TOEFL) or the International English Language Testing System (IELTS).
The minimum desirable TOEFL score is 90 (Internet-based total).
The minimum desirable IELTS score is 6.
How to Apply for Admission to the LLM Program
Applicants may apply for either fall or spring, but not both terms in the same year.
Fall application available: September 1
Fall application deadline: March 1
Spring application available: July 1
Spring application deadline: November 15
Official undergraduate transcripts with English translation are required.
Official English Language test scores should be submitted.
Complete information for applying to the program may be found at the Apply for Admission to the LLM Program website.
Legal Advantage Program
The Legal Advantage Program is an optional four-week summer course. It is designed to provide international students an introduction to the study of American law and to provide intensive English language training with a special emphasis on legal communication. William & Mary LLM students who take and pass this course will earn two credits toward their LLM degree and meet the New York Bar Examination's requirement for coursework in American Legal Studies.
Contact Information
For additional information about William & Mary's LLM program, please visit the LLM Degree website, or contact:
William & Mary Law School
International Programs Office
PO Box 8795
Williamsburg, VA 23187-8795
USA

Phone: 757.221.3787
Fax: 757.221.3261
Email: llmadm@wm.edu
Student Services and Organizations
Academic advising, academic support, counseling, and health services are available to students. The Law School and main campus of William & Mary host many scholarly programs, prestigious speakers, and cultural events for students to enjoy. A variety of extracurricular activities are offered at the Law School, including service groups, educational organizations, and other organizations. These groups offer ski trips, winery tours, homecoming tailgate parties, and semiformal dances, as well as the opportunity to learn from top experts at the annual Supreme Court Preview and other major conferences. Visit Student Life for information on student organizations that reflect the diverse interests of the student body.
Williamsburg, Virginia
Williamsburg offers a unique blend of small-town hospitality and big-city amenities. Whether you're a history buff, a lover of the great outdoors, an avid shopper, or a connoisseur of good food, this is the place for you.
While Williamsburg boasts all the comforts of a college town—chain restaurants and retail stores, coffee shops, and movie theaters—it also has charm you won't find anywhere else. Family-owned restaurants serve both local and exotic cuisine, and a weekly farmers' market features locally grown produce. The Student Bar Association's Bar Review programs will introduce you to the city's nightlife, from pints with friends to live music performances to karaoke nights. You can stroll along historic Duke of Gloucester Street, two blocks from the Law School, and enjoy lunch outdoors. Or, you can travel down Richmond Road to peruse the bargains offered at our outlet mall. Students ride for free on Williamsburg-area transit buses, and it's a short trip to the city's shopping areas, as well as local attractions like Busch Gardens.
Whether you're up for kayaking on the James River, biking on nearby trails, or golfing at any of the area's more than dozen golf courses, you'll find that Williamsburg's mild climate beckons everyone outdoors.
Guidebooks often refer to the area as the Historic Triangle. Just a short walk from the Law School, Colonial Williamsburg has been restored to appear as it did when it served as Virginia's capital. A short drive down the Colonial Parkway will take you to Yorktown, the scene of the Revolutionary War battle that triggered the British surrender, and to Jamestown, the site of the first permanent English settlement in the New World. All this and more makes Williamsburg a great place to live and study. Visit Our Town—the 'Burg! for more information.