LSAC Chief Diversity Officer, Angela Winfield, believes that people learn more when they listen than when they talk. This is important because the legal education community is currently considering, debating, and striving to understand issues and challenges that will impact not just the future of our legal education system, but the soul of our country and the direction it will take for decades to come.
With her core belief in the value of listening before talking, Angela is reaching out to individuals and organizations to better understand their diversity, equity, and inclusion concerns, challenges, opportunities, and recommendations regarding the legal education pipeline. Angela fervently believes that our success is bound together and that she needs your voice, your stories, and your input to inform which impact areas will make a real, tangible, and positive difference for both marginalized and minoritized individuals interested in pursuing legal careers as well as for the legal industry and justice system as a whole.
In September Angela will begin the six-month LSAC DEI and the Law Listening Tour that will take her across North America. To request that Angela visit your organization, please complete the request form below.

"We will not rest until every person who has the potential to succeed in law, regardless of their identity, is given the opportunity and resources to do so."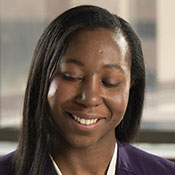 Angela Winfield
Chief Diversity Officer, LSAC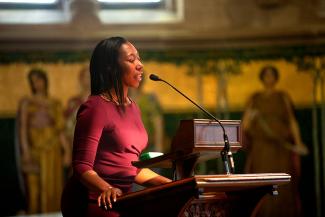 Listening Tour Schedule
Northeast Region
September 13 to 17, 2021:
NJ, NY, PA
Great Lakes Region
September 20 to 25, 2021:
IL, IN, MI, MN, OH, WI
Far West and Northwest Regions
October 4 to 8, 2021:
AK, CA, HI, NV, OR, WA
Southeast and Midsouth Regions
October 18 to 22, 2021:
AL, DC, DE, FL, GA, KY, MD, MS, NC, PR, SC, TN, VA, WV
Northeast Region
November 1 to 6, 2021:
NJ, NY, PA
Far West and Mountain West Regions
November 8 to 13, 2021:
AZ, CA, CO, HI, ID, MT, NM, NV, UT, WY
New England Region
February 7 to 11, 2022:
CT, ME, MA, NH, RI, VT
Even if you do not see your region listed above, or if you are interested in scheduling a visit on a different date, we encourage you to complete and submit the form below. We will contact you to learn more once we receive your information.
Submit a Request for Visit
If you would like to start the conversation about how your institution or organization can engage with the listening tour, please complete the form below.
Please note: We cannot guarantee that Angela will be able to visit your location or attend your event.
If you have issues accessing this form, please contact LSAC at accessibility@LSAC.org or 215.968.1393 and we will work to ensure access to the form is promptly provided.