Discover Law at LSAC.org
September 11, 2018
On September 12, discovering law will be much easier. That's when LSAC's new, completely redesigned LSAC.org debuts. The new site will be easier and more intuitive to navigate for all users, with better presentation of streamlined content, less dense text and more photos and videos, and optimized usability on phones and other devices. And, the site will feature a new Discover Law page with all the information prospective students need to get started on their path to law.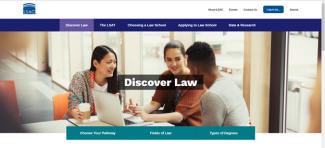 You may be familiar with LSAC's DiscoverLaw.org website, which for many years has been the web destination for resources supporting diversity in legal education and the legal profession. The new location for diversity resources will be found in the Discover Law menu on the new site. Students from racial and ethnic backgrounds that are underrepresented in legal education and the law will find additional resources alongside the information all prospective law students need, so that everyone can do all of their research at one convenient web address.
On social media, the DiscoverLaw.org handles will also change:
Twitter: @LSACDiversity (formerly @DiscoverLaw)
Instagram: @LSACDiversity (formerly @lsacdiscoverlaw)
Facebook: LSACDiversity (formerly @LSACDiscoverLaw.org)
Our goal is to improve the online experience for everyone who visits LSAC.org, whether you're a prospective student, an admission professional or faculty member, a prelaw advisor, a law school dean, a researcher or member of the media, or a member of one of the many organizations that provides essential resources for legal education. Please visit LSAC.org on September 12, take a look around, and let us know what you think about our new site. You can reach us at website-feedback@LSAC.org.
About the Law School Admission Council
LSAC's mission is to advance law and justice by encouraging diverse and talented individuals to study law and by supporting their enrollment and learning journeys from prelaw through practice.