On the Passing of a Giant in Legal Education and Justice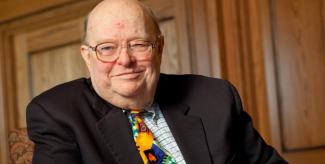 Rennard Strickland, a giant in law and legal education, died on January 5, 2021, at the age of 80. The loss to his decades of students, mentees, and admirers (if not devotees) is heartbreaking; the loss to legal education may never be recovered. 
Among Rennard's many contributions as a professor and dean, he was a devoted mentor, a fierce advocate for equity, and an enthusiastic sharer of what sometimes seemed to be encyclopedic knowledge. Among Rennard's countless career achievements, he served as a professor and as the dean of four law schools – the University of Tulsa, Southern Illinois University, Oklahoma City University, and the University of Oregon. Rennard was a visiting professor at Harvard, Florida, and Syracuse. He may also have been the only legal educator to have held the top leadership roles at all three of legal education's allied organizations – the Law School Admission Council, the Association of American Law Schools, and the American Bar Association Council. 
I join everyone who knew Rennard in mourning his passing.
Rennard was proud of his Osage and Cherokee heritage, and he worked tirelessly to advocate for Native rights. He authored, co-authored, edited, and co-edited 47 books and 208 articles, essays, and book chapters. Courts and scholars frequently cited his work as revision editor-in-chief of "Cohen's Handbook of Federal Indian Law," which is considered to be the authority on the subject. Rennard's career achievements are too numerous to catalogue in this blog, but our Board Chair, Kevin Washburn, who counts Rennard as a deeply influential mentor, notes that, "The achievement that Rennard found most gratifying was helping others along on the journey. He helped many of us see that legal education offered a lot of different opportunities to contribute and to serve, and he nudged younger scholars, Native and non-Native alike, to pursue and travel those paths." 
It was my privilege to have met and worked with Rennard in many contexts through our shared time in legal education. It is illustrative of his vibrant personality and outsized impact that, after many years, my memories of Rennard are vivid, colorful, and filled with meaning.
In the early 1990s, I had just begun teaching law and everyone had heard of Rennard Strickland. I jumped at my first opportunity to meet and hear him. And, really, I don't exaggerate when I say that listening to him that day had a profound impact on how I began to understand the possibilities for contributing to legal education.
That day, Rennard began his remarks with a Native American blessing and then wove a fascinating tapestry of law, art, literature, culture, and personal stories that lit up the room. I have never been as affected by a "law talk." Rennard's way of being a law professor was a revelation, lighting a pathway for bringing one's whole self into the classroom, scholarship, and leadership. His way of being both powerful and kind, critical of law yet also hopeful for its promise of justice, and so evidently in love with learning, was inspiration for me and so many others. 
Thank you, Rennard, for sharing you with us. Rest in peace and power, our dear friend.