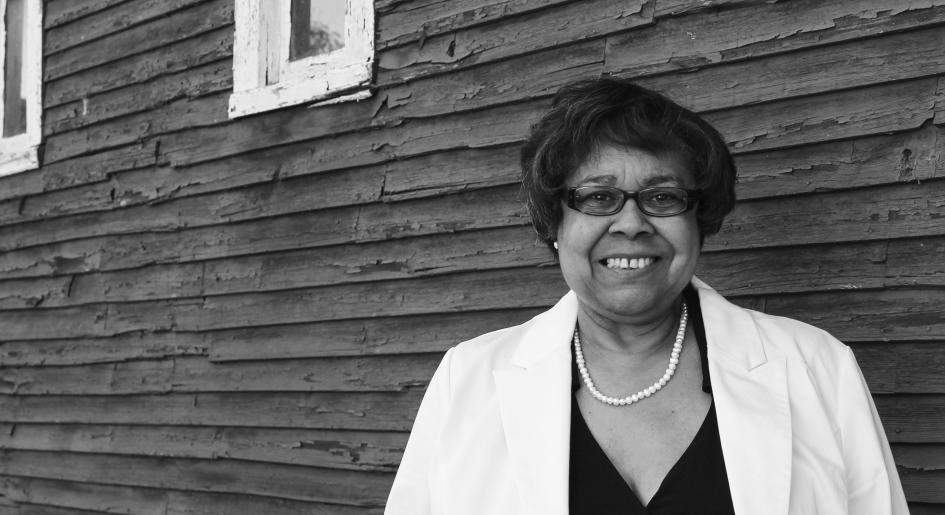 Q&A: From Dr. King to a Law Career, a Lifetime of Fighting Injustice
This week's holiday honors the memory of slain civil rights pioneer Dr. Martin Luther King Jr., but Shirley Jefferson's memories of him, and the movement for which he fought, are much more personal. Born in segregated Alabama, she marched and protested with Dr. King, integrated her high school, and developed a lifelong commitment to fighting injustice as a lawyer. Shirley now is the associate dean for student affairs and diversity, along with being an associate professor, at Vermont Law School, her alma mater.
I was honored to speak with Shirley recently about her background, her memories of a pivotal time in American history, and the role the legal system can play in fighting racism and prejudice.
Kent Lollis: Shirley, thank you so much for taking the time to speak with me. Tell me a little about your background and how you ended up at Vermont Law School.
Shirley Jefferson: I was born in Selma, Alabama, in 1953 — a year before Brown v. Board of Education. I was the third of nine children; my father was a truck driver, and my mother was a stay-at-home mom. I remember growing up wondering why we were treated so badly because of our color. Everything was separate in Alabama — schools, neighborhoods, restaurant entrances — and our schools sometimes didn't have water or heat. It was just unfair. So, I learned at an early age that my race meant a lot.
My involvement with the civil rights movement started with my teachers, who helped encourage black people to vote. I then became active in going to protests and meetings, and I met Dr. King, John Lewis (who now is a congressman), and Hosea Williams. I saw the violence on Bloody Sunday, and later, I marched from Selma to Montgomery with Dr. King. I was chastised for doing so by my father, who had been cautioned by his boss, who was white, that his kids should not take part in the movement, or he would be fired.
I went to segregated schools until my senior year of high school, so I integrated my high school in 1971, when I was 17. After I graduated, I went to Baltimore and worked, then moved over to Washington, D.C., and attended Southeastern University. After that, I got a letter from Vermont Law School, asking if I wanted to attend. I had a rough first year there, but I had a professor, Gil Kujovich, who saw something in me and helped me along the way. I ended up graduating and passing the bar, then practiced law before coming back to Vermont Law School in 1999 — first as alumni director and admissions counselor, and now as associate dean. I've been teaching Race in the Law for 14 or 15 years now. It's been a journey.
KL: When did you know you wanted to be a lawyer?
SJ: The moment that I realized I wanted to fight injustice and become a lawyer, I had already gone through things that made me realize that the only way I was going to be able to help black people, and help this country, was by being a lawyer. I didn't know how I was going to do it, but I knew it was what I needed to do. I had to go through some personal changes, and go through the hurt and the struggles and the discrimination, to reach that point, and once I reached that point, I just knew it was what I was going to do.
KL: Why is it so important to have people of color involved in the legal system?
SJ: All of us bring our viewpoints to the table, and we all learn from each other. This society is still segregated: White people mostly live in their neighborhoods, and people of color live in theirs. The only way you're going to get a chance to know each other is by working with each other, living with each other, and going through the struggles together.
Also, different people, because of their different character and backgrounds, see issues differently. It takes a whole collection of people with different knowledge, ideas, and types of legal expertise to be able to serve the whole society. You need different viewpoints, so diversity is crucial.
KL: What does your school do to promote diversity in the legal profession and ensure it enrolls diverse classes?
SJ: I talk to a lot of students at Historically Black Colleges and Universities, and also smaller colleges where the classes are mostly white — because social economics is a part of diversity, too. We try to proactively recruit students from underserved groups, and once we recruit them, knowing they might need extra resources to succeed in law school, we have a great support system that gives them those resources and allows them to get acclimated to law school. Some schools "talk the talk," but we want to make sure our students get to know each other across lines of social economics, orientation, gender, race, and so on. We want our classes to just be a rainbow of diversity.
KL: You marched with Dr. King. What were your impressions of him then, what are your memories of that time in history, and what should people know about Dr. King and his impact on our society?
SJ: I remember going to his church, singing those freedom songs, and hearing him talk about how we were going to be fighting for our freedom. It was so beautiful. I also remember having blacks, whites, Christians, Muslims, Jews, and others all coming together for one cause, and what a good feeling that was. It was just unimaginable. It made you feel willing to give your life for what you were fighting for — that if you didn't go out there and do those things, there was no reason to live. It gave me a reason to keep fighting.
That movement shaped my whole life. It was such a beautiful feeling, and I'm so thankful I was a part of it. Fighting so that other people could be free made you feel like a human being, and that your life had meaning.
KL: What can we do to fight the racism and prejudice that still exists in our society?
SJ: We have to put all of our prejudice aside — implicit bias, microaggressions, all of it. We have to be kind and mindful of each other and who we are, and know that inside all of us, there's good. No matter what a person's view might be, don't attack the person. Get to know each other. More than anything, we have to talk and communicate.
I grew up seeing what this country had done to black people, but I forgave this country a long time ago, right here at this law school, because I had to. This is a good country. It gives people opportunity when no one else will. We have to move forward, forgive each other, and learn how to help each other. I've seen this country at its worst and at its best, and above all, I believe in the power of people.