The information on this page was provided by the law school.

Official Guide to Canadian JD Programs
Allard Hall, 1822 East Mall, Vancouver, BC V6T 1Z1, Canada

Visit School Website

---
Introduction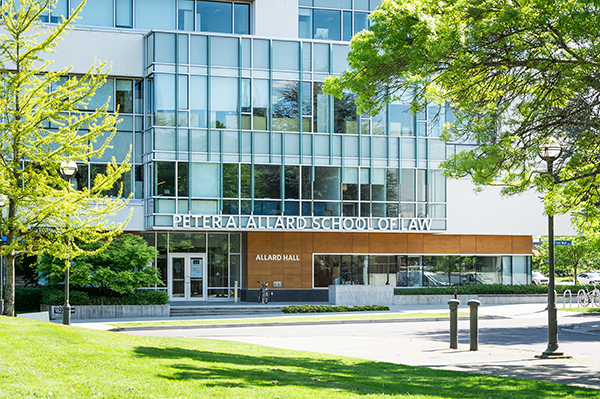 Law school is a gateway, not just to the legal profession, but also to many leadership roles in society. For over 70 years, the Allard School of Law at the University of British Columbia has educated leaders in both the community and the profession. Our incoming students join a distinguished family of graduates that have excelled in all areas of law and government and have made a significant impact on some of today's most pressing issues around the world. The Allard School of Law offers a variety of degree programs, including:
Juris Doctor (JD)
Juris Doctor/Master of Business Administration (JD/MBA)
Master of Laws (LLM)
Master of Laws—Common Law (LLM CL)
Master of Laws in Taxation (LLM Tax)
Doctor of Philosophy in Law (PhD)
The Allard School of Law is committed to recruiting outstanding teachers and scholars who are leaders in their fields of research. With 54 full-time professors, we are home to a remarkably dynamic, accomplished, and diverse group of faculty who produce innovative and influential legal research. Many are globally recognized for their groundbreaking work in numerous areas of law, including business law, international law, environmental and natural resources law, and Aboriginal legal issues, to name a few.
The Allard School of Law is housed in Allard Hall. Equipped with the latest technology, expanded classroom and research facilities, and a state-of-the-art library, the building serves as a vital academic hub for both students and the legal community.
The school offers a joint legal-education program between the Allard School of Law and the University of Hong Kong and the Allard School of Law. The Allard School of Law also has an agreement with Melbourne Law School, The Univeristy of Melbourne, that will allow eligible JD students at either law school to enroll in an LLM program at the partner institution in lieu of their final term or semester of JD study. Participating students will receive JD and LLM degrees in three and a half years of full-time study.
Hallmarks of the school's curriculum are an expansion of the range of subjects taught in the first year, less reliance on 100 percent final exams, diversification of evaluation methods designed to accommodate a broader range of learning styles, and small classes. First-year classes are taught in groups of approximately 45–50, allowing students to have more direct contact with instructors and more opportunities for detailed feedback. Studying at the Allard School of Law means being part of a community that encourages diverse perspectives in a learning environment that is collaborative and inspiring. For a full list of programs and courses, please visit our website.
The University of British Columbia is situated in a parklike campus of over 1,000 hectares on a forested peninsula overlooking the Pacific Ocean and coastal mountains. A short drive from downtown Vancouver, the university is easily accessible by public transit. Vancouver is one of the world's most spectacular cities, bordered by beaches and mountains and boasting a temperate climate year-round. With a population of more than two million, Vancouver is taking on increasing importance as an international, cultural, economic, and educational centre.
Enrollment/Student Body
1,562 applicants
191 enrolled first-year class 2017
579 total full time (JD)
28 total part time
25 LLM, 43 PhD, 29 LLM CL, and 15 LLM Tax
53 percent women
11 provinces/territories and numerous countries represented in the total student body
Over 100 universities and colleges represented
Faculty
152 total
54 full time
98 adjunct
11 percent ethnic minority
Library and Physical Facilities
Hours: 80 hours per week; Mon.–Thurs., 8:30

a.m.

–10:00

p.m.

; Fri., 8:30

a.m.

–6:00

p.m.

; Sat.,
10:00

a.m.

–6:00

p.m.

; Sun., 10:00

a.m.

–6:00

p.m.

A full range of electronic journals and databases
4 full-time librarians
6 full-time staff
More than 300 seats
30 computer workstations and free wireless network
Asian law materials
Curriculum
92 credits required to graduate
Approximately 100 courses available
Degrees available: JD, JD/MBA, LLM CL, LLM, LLM in Taxation, PhD
An orientation program introduces students to the faculty, other students, lawyers and the judiciary, and the start of their study of law as an academic discipline.
The first year is composed of a set of required courses and activities. Second- and third-year courses are chosen from a wide range of options. Both the faculty and the Allard Law Students' Society provide a number of lectures of special interest during the year.
Special Programs
The Allard School of Law offers both strength and depth in private law. Private law is a rich field for theory as well as practice, and members of the faculty are noted for giving full scope to both aspects in their teaching and research.
The Centre for Asian Legal Studies offers courses in Japanese, Korean, and Chinese law for both graduate and undergraduate students. The centre is involved in a number of projects funded by agencies, including the Social Sciences and Humanities Research Council of Canada, the United Nations, the Asian Development Bank, and the Global Environment Facility.
The Centre for Feminist Legal Studies is known across Canada and internationally for its strength in teaching and research on social justice for women. Feminist approaches are integrated within the curriculum and inform teaching methodologies.
The Allard School of Law has an international reputation for excellence in environmental and natural resource law. Faculty members are leading scholars in many areas of environmental law. Students have the option to graduate with a specialization in Environmental and Natural Resource Law.
The Indigenous Legal Studies program has the largest number of Aboriginal law students and offers the most courses in First Nations legal studies of any Canadian law school; the Allard School of Law is recognized as a leader in Indigenous legal education in Canada.
The specialization in Law and Social Justice recognizes students who focus part of their legal studies on areas related to the use of the law to achieve social justice.
The Allard School of Law offers a lively, diverse, and vibrant community encompassing established scholars, junior academics, and students in many disciplines. Regular lectures by nationally and internationally known scholars and experts enhance learning at the law school.
The Allard School of Law is home to the Centre for Business Law, which provides a robust, interdisciplinary, and empirical research environment for research and scholarship in business law and finance policy that is focused on both domestic and international comparative law. Our faculty are leading scholars in many areas of business law. Students have the option to graduate with a business law concentration.
The Allard School of Law is fortunate to offer a variety of clinical and practical course offerings for upper-year students. The programs are open to students entering their second or third year, and application is necessary. Clinics include the RISE Women's Legal Centre, the International Justice and Human Rights Clinic, the Indigenous Community Legal Clinic serving urban indigenous clients in Vancouver's Downtown Eastside, a judicial externship where students serve as interns to the judges of the BC Provincial Court, and the Innocence Project, which provides postconviction review in response to claims of wrongful conviction.
The graduate program offers specialized curricula for Master of Laws (by thesis and coursework or by coursework alone) and doctoral (PhD) students. For more information, please visit Graduate Degree Programs.
The Allard School of Law has student-exchange agreements with over 30 law schools around the world including, among others, schools in Australia, Europe, Mexico, South Africa, the United States, Japan, and Thailand. There is a faculty exchange with the University of Melbourne.
Admission
Degree from a recognized university or a minimum of three years toward such degree required
Application deadline—December 1
All applications received by deadline date are considered
LSAT required
We will accept the January LSAT, however, we strongly encourage applicants to take the LSAT prior to the January test date. An applicant who wishes to rely on the January LSAT score may diminish his or her chance of gaining admission due to the delayed review of his or her file.
Multiple LSAT scores, highest used
Oldest LSAT score accepted—October 2013
Median GPA—83 percent
Median LSAT score—166
Application fee—$91.55
The GPA and LSAT are weighed equally and the personal statement is factored into the review process. Applicants in the regular category may ask for special consideration due to various factors affecting their academic record. There is a discretionary category that takes into account factors such as disability or special needs, financial disadvantage, membership in a historically disadvantaged group, and any other factors that the applicant wishes the Admissions Committee to consider. There is also an Indigenous category for Aboriginal applicants and a part-time program for a limited number of applicants.
Student Activities
The University of British Columbia Law Review and the Canadian Journal of Family Law, refereed journals, are published twice annually by student editorial boards. The Canadian Journal of Family Law was the first academic journal in Canada to devote itself to the promotion, development, and articulation of issues in the field of family law.
The Allard School of Law's student organization is called the Allard Law Students' Society; in addition, there is an elected Faculty Council Student Caucus (FCSC), which participates in faculty committees and governance.
Students at the Allard School of Law have shown a high level of achievement in provincial, national, and international moot court competitions.
The Law Students' Legal Advice Program and Pro Bono Students Canada provide extensive legal aid services to the public on a volunteer basis.
Expenses and Financial Aid
Tuition for domestic students starting first year in the JD program in 2018/2019 is $387.24 per credit ($12,391.68 for first year and $11,617.20 for each of second and third year—note that the amount for upper years can vary depending on how many credits are taken in each year). For international students, it is $1,079.43 per credit ($34,541.76 for first year and $32,282.90 for each of second and third year). First year is 32 credits and upper years are typically 30 credits each. Tuition and fees are subject to change.
Student fees—approximately $880 per year
Estimated additional expenses—$13,000 (books and supplies, accommodations and food, transportation, miscellaneous)
Performance scholarships and need-based bursaries are available; need-based and mixed need-performance minority scholarships are available
Financial aid available
Career Services
The Allard School of Law's Career Services Office (CSO) is staffed by two full-time professionals, one part-time professional (all lawyers with a diversity of practice experience), and one administrative support person who provides advice and information to students pursuing a range of career goals. The CSO runs a variety of programs to prepare students for summer positions, articling, clerking, and nontraditional career options. The CSO provides personalized career counseling, interview preparation, résumé reviews, and mock interviews, in addition to presenting speaker panels and workshops on career options and paths. The CSO hosts career fairs for law firms and public interest organizations and facilitates on-campus recruitment visits by firms from across Canada and the United States. Graduates of the Allard School of Law secure employment across Canada, in the United States (primarily New York), and around the world in law firms and public interest organizations, or with legally related industry or government organizations.
Historically, more than 90 percent of Allard School of Law graduates seek articling positions after graduation, and between 91 and 99 percent of students have reported securing an articling position.