Dalhousie University Schulich School of Law
The information on this page was provided by the law school.

Official Guide to Canadian JD Programs
---
Introduction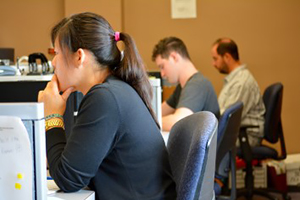 Attending the Schulich School of Law at Dalhousie University goes beyond choosing one of the most prestigious and comprehensive legal educations in North America. In the tight-knit Schulich Law community, it's easy for students to make personal and professional connections—connections to friends, connections to faculty, and connections to an extensive network of diverse, accomplished alumni.

Founded in 1883, the Schulich School of Law is the oldest university-based common law school in Canada. Located in the beautiful maritime city of Halifax, Nova Scotia, the school is grounded in the vision of the school's first Dean, Richard Chapman Weldon, who believed lawyers had a responsibility to contribute to their communities' well-being. The school's consequent dedication to volunteerism, as well as public and community service, is proudly known today as The Weldon Law Tradition.

To read more, please see our viewbook.
Student Body 2017
Applicants: 1,300+
Full-time students: 506
Part-time students: 9
First-year class size: 167
Gender balance: 50/50
Students from outside Nova Scotia: 71%
Students receiving financial support from the law school: 60%
Average age of incoming students: 25
Graduate degree holders: 29
Provinces/territories represented: 11
Faculty
At the Schulich School of Law, students have the opportunity to learn from our esteemed faculty: committed teachers who care deeply about giving students an outstanding legal education; dynamic researchers with rich local, national, and international networks and profiles; and advocates who make a difference in the service of human and public policy problems.
40 full-time faculty
58 part-time or adjunct faculty
18 full-time female faculty
2 full-time minority faculty
Alumni
A degree from the Schulich School of Law ensures recognition and respect in all Canadian common-law jurisdictions. Our graduates work all over the world as judges, government officials, entrepreneurs, professors, journalists, lawyers, and heads of international organizations. Notable alumni include:
Programs
Schulich Law offers a wide variety of course and program options. To be admitted to one of our combined degree programs, students must satisfy the entrance requirements for both the JD program and the master's degree.
Graduate Studies
Home to a vibrant intellectual community of 20–30 aspiring professors and jurists, graduate students at Schulich Law can pursue:
Graduate students have exclusive use of the new GradPad located on the 4th floor of the Sir James Dunn Law Library. The bright, open area boasts plenty of natural light, a workroom (11 person capacity), 6 graduate offices (16 person capacity), and study space. The law school's GradPad is open 24/7 with access via the law library during open hours and via the law school during closed hours.
Indigenous Blacks & Mi'kmaq Initiative
The Indigenous Blacks & Mi'kmaq (IB&M) Initiative at the Schulich School of Law was established in 1989 to increase representation of Indigenous Blacks and Mi'kmaq in the legal profession. The initiative provides eligible students with financial and other support, develops scholarship in the areas of Aboriginal law and African Canadian legal perspectives, and promotes the hiring and retention of graduates.
Areas of Expertise
Marine & environmental law
Law & technology
Health law & policy
Business and tax law
Food law
Human rights law
International law
Legal ethics
Restorative justice
Institutes
Marine & Environmental Law Institute
The Marine & Environmental Law Institute (MELAW) directs the academic specialization for the Marine & Environmental Law Program (MELP). Schulich Law is internationally recognized for excellence in marine and environmental law teaching and research and has one of the world's most extensive course offerings in marine and environmental law. In addition to its publication activities, the institute provides advisory services to agencies around the world.
Law & Technology Institute
The Law & Technology Institute fosters interdisciplinary undergraduate and graduate studies alongside Dalhousie's Faculty of Computer Science and Faculty of Management. Core curriculum and course offerings include Biotechnology, Internet law, Privacy Law, Electronic Commerce, Intellectual Property, and the Commercialization of Research.
Health Law Institute
Schulich Law's interdisciplinary Health Law Institute works alongside Dalhousie's Faculties of Medicine, Health Professions, and Dentistry. The Institute is committed to the advancement of health law and policy—and the improvement of health care practice and systems—through scholarly analysis, professional education, and public service. Numerous grants and awards have allowed Institute members to focus on cutting-edge topics such as research involving humans; end-of-life treatment, policy, and practice; and public health emergencies.
Curriculum
93 credits required to graduate; 162 courses available.
First Year
The first-year program is compulsory and includes an orientation course that introduces students to four fundamental perspectives on law: the comparative, the historical, the philosophical, and the professional; an introduction to legal ethics; and indigenous and aboriginal law in context.
Second Year
In the second year, students supplement two required courses with electives of their choosing.
Third Year
In the third year, students supplement one required course with electives of their choosing. Third-year students have the opportunity to pursue a one-semester exchange at a partner institution in Canada, the US, Singapore, Europe, or Australia. Read more about available exchanges in the Student Exchange Information Booklet.
Experiential Learning
The Schulich School of Law program connects you to the reality of how law is practiced and how it can be used to create change, and it gives you a taste of life as a legal professional. Students can receive academic credit and gain practical legal experience through Dalhousie's Legal Aid Service, one of the oldest clinical internship programs in Canada. The clinic emphasizes the development of professional skills and the refinement of substantive and procedural knowledge in a real-life context. Students can also take part in more than a dozen placement, clinical practice, and advocacy skills courses.
Mooting
Written and oral advocacy exercises in the first year help students prepare for the compulsory second-year moot. Spread out over the fall and winter terms, the moot counts for 0.5 credits per term. Students can choose to participate in competitive moots in their second and third years with students from law schools across North America.
Internships
Many Schulich Law students seek summer internship work with firms, NGOs, think tanks, businesses, governments, and charities to gain valuable skills and work experience. Students can seek funding for their internships by visiting the Schulich School of Law's Career Development Office (CDO).
Student Services and Professional Development
Students can find a job placement or articling position with support from the Schulich School of Law's in-house Career Development Office. The CDO has resources to help students and graduates seek permanent jobs, summer jobs, and other law-related employment. Assistance with résumé writing is available, as well as general career counseling and information about graduate legal studies and scholarships. Students can also find information about alternative or public interest careers here.
Library
The Sir James Dunn Law Library's print and digital collection supports the teaching and research interests of Schulich faculty and students. The International Law and Maritime and Environmental Law collections are particularly strong and attract scholars from all around the world. Emphasis is also placed on works that support the research initiatives of Schulich Law's three institutes.
Hours: Monday–Wednesday, 8:00

a.m.

–10:45

p.m.

, Thursday, 8:00

a.m.

–8:00

p.m.

, Friday, 8:00

a.m.

–4:00

p.m.

, Saturday,

noon

–5:45

p.m.

, Sunday,

noon

–10:45

p.m

. Hours are extended during exam periods.
Five professional staff, five support staff
280,000 volumes
Electronic access to all major Canadian and American legal databases and more than 2,500 electronic journals and ebooks
Learning commons and discussion rooms plus 30 individual workstations
Computer lab with 25 workstations and printers
Wireless access throughout the building
Student access to printers, scanners, and a digital microfilm reader
Adaptive technology workstation for students with disabilities
Facilities
Dalhousie University is internationally known as one of North America's most welcoming universities. Founded in 1818, Dalhousie is one of Canada's oldest universities, attracting more than 18,500 students from around the world. Located on Canada's East Coast, the university blends world-class academic programs with leading-edge research.
Situated on one of the finest urban campuses in Canada, the newly renovated Weldon Law Building has four bright, spacious floors. The building sits on the main Studley campus of Dalhousie University and is across the street from Dalhousie's main Student Union building and Dalplex athletic facility.
Student Activities
All law students are members of the Law Students' Society, which arranges guest speakers, appoints representatives to faculty committees, and organizes social events. It also oversees the publication of The Weldon Times, The Dalhousie Journal of Legal Studies, and the annual yearbook. Students have access to more than 30 legal student societies, as well as sports and other social opportunities through Dalhousie.
Application Checklist
Minimum of two years of university
LSAT score (if multiple LSATs are taken, only the highest score is considered)
University transcripts
$70 application form
Two letters of reference
Personal statement indicating why the applicant wishes to attend law school and what qualities he or she believes they will bring to Dalhousie
Applications
The Schulich School of Law offers admissions on a rolling basis. Schulich Law's two application deadlines are November 30 (for consideration for scholarships) and February 28.
Applications are reviewed by a committee of faculty and student members. Most offers of admission are made on the basis of the information in the student's application. In some circumstances, however, the admissions committee may require applicants to sit for an interview. Interviews take place in May and June and in recent years have been conducted in Halifax, Toronto, Calgary, and Vancouver.
Most applicants have obtained an undergraduate degree before they begin law school; however, those with two completed years of university courses will be considered for admission if their academic standing is exceptionally high. Achievements in extracurricular and employment activities are an asset for all applicants. Candidates who, despite economic, cultural, racial, or ethnic disadvantages, have made exceptional contributions to the community or who have shown exceptional capacity to respond to challenges may be given special consideration.
Special consideration is also given to applicants who are members of Nova Scotia's Black or Mi'kmaq communities. Native applicants who are not eligible for the Indigenous Black & Mi'kmaq Initiative, and whose previous academic background does not meet the admissions standards, are eligible to apply for admission to the Schulich School of Law through successful completion of the ILC Summer Program at the University of Saskatchewan's Indigenous Law Centre.
Tuition and Fees
Law school tuition per year, including student-related fees:
Full-time: $18,694.36
Part-time: $10,920.42
To use our budget calculator, find forms, and get more information, visit the Dal Admissions Money Matters page.
Scholarships and Financial Aid
Each year, the Schulich School of Law awards more than $2 million dollars in scholarships and bursaries to students. More than 60 percent of our students receive funding, and our goal is to have the most generous scholarship and bursary program of any law school in Canada. Below are some of the entrance scholarships we offer:
Arthur Allister MacBain Memorial Scholarship: $20,000/yr (renewable)                  
Law Foundation of Nova Scotia Scholarship: 4 @ $16,000/yr (renewable)
Schulich Entrance Scholarship: 3 @ $16,500/yr (renewable)
Schulich Entrance Scholarship: 10 @ $13,200/yr (nonrenewable)
J Gerald Godsoe Scholarship: $10,000/yr (renewable)
Alistair Fraser Entrance Scholarships: numerous @ $1,000–$5,000 (totalling $63,000 and awarded at time of admission)
Al Meghji and Diana Belevsky Scholarship in Law: $15,000/yr (renewable)