The information on this page was provided by the law school.

Official Guide to Canadian JD Programs
Ignat Kaneff Building, 4700 Keele Street, Toronto, ON M3J 1P3, Canada

Visit School Website

---
Important Information for Applicants to Ontario Law Schools
Introduction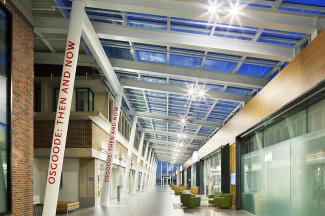 Osgoode Hall Law School offers a rigorous, diverse, and forward-looking curriculum that prepares students for the widest range of careers in law. We encourage critical thinking and provide a combination of theoretical perspectives and practical, hands-on knowledge through our unparalleled experiential programs. A degree from Osgoode Hall Law School is an internationally recognized credential that opens doors not only in the legal profession, but in government, public service, business, nongovernmental organizations, and academia.
Osgoode is the oldest law school in Ontario and among the largest common-law law schools in Canada. The Law School's size allows for an exceptionally diverse and innovative curriculum, which enables students to choose an academic program substantially tailored to their own academic interests and career aspirations. Osgoode has an internationally renowned full-time faculty and a tremendous array of talented adjunct faculty members from the Toronto bench and bar. Few law schools in the Commonwealth can compare to Osgoode's faculty in terms of the quality of their research and the influence that research has had, and continues to have, on the directions taken by the law, public policy, and legal scholarship. Thoughtful, articulate, and scholarly in their approach to teaching and research, our faculty make the study of law a meaningful engagement with relevant and challenging issues.
Osgoode Hall Law School is part of the 600-acre York University campus, located in the northwest area of metropolitan Toronto. The Law School's modern, student-focused building complements the highest quality in legal education and student experience. Osgoode is home to the largest law library in Canada, which offers a superior resource for students and faculty alike.
School tours are available by contacting recruitment@osgoode.yorku.ca.
Enrollment/Student Body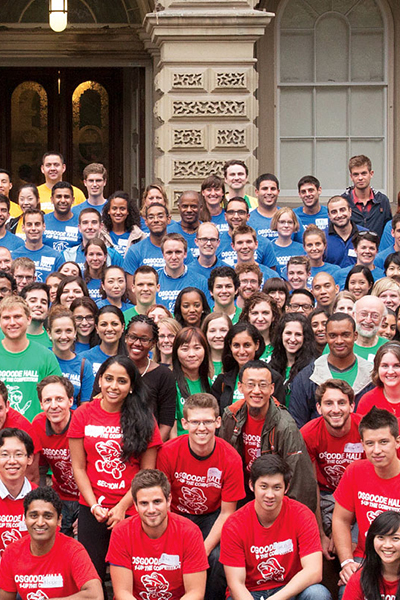 Please note that all numbers below refer to the 2017 admission cycle.
2,873 applicants
646 first-year offers
301 enrolled first-year class
52 percent female
Faculty
More than 210 total faculty members, including 60 full-time
52 percent of full-time faculty are women
Curriculum
Degrees available—JD, JD/MBA (Schulich School of Business), JD/MES (Faculty of Environmental Studies), JD/MA in Philosophy (Faculty of Liberal Arts and Professional Studies), JD Common Law/LL.B (Civil Law) (with the Université de Montréal), LLM, PhD
The most extensive and innovative clinical education offerings of any law school in Canada
Exceptionally broad and diverse array of upper-year seminars and lectures
International exchange and summer abroad opportunities
Numerous paid local and international summer internship opportunities
Unique public interest requirement allowing for meaningful engagement with surrounding communities
Osgoode offers a rich academic curriculum taught by dynamic and renowned professors. There are numerous programs and activities in which students can participate over and above the regular academic program.
The basic teaching unit for the first year is a group of 75 students. Students take five courses during each of two semesters. Many first-year classes are offered in a combination of large lectures and smaller groups of about 25 students, which allows students to engage in discussion and get to know their classmates and faculty better. The second and third years of the program offer students an opportunity to design a course of study suited to their particular interests and career aspirations. In addition to choosing from a broad array of lectures and seminars spanning traditional to cutting-edge law, students may earn credit for participation in intensive or clinical programs, competitive moot or skills competitions, international exchange or summer abroad programs, individual supervised research, and approved graduate level courses in another faculty. Osgoode also offers four optional curricular streams (International, Comparative and Transnational Law; Litigation, Dispute Resolution, and the Administration of Justice; Labour and Employment Law; and Tax Law). In designing their upper-year course of study, students must meet the following graduation requirements:
completion of a minimum of 60 credits over the second and third years
satisfaction of the second- and third-year research and writing requirement
completion of the praxicum/experiential learning requirement
40 hours of unpaid public interest legal work as part of Osgoode's innovative Public Interest Requirement
In accordance with the common law program approval requirements of the Federation of Law Societies of Canada, students must also satisfy the Principles of Canadian Administrative Law requirement. This requirement is satisfied through the first-year curriculum.
Experiential Education
In 2012, Osgoode Hall Law School became the first Canadian law school to open an Office of Experiential Education. The function of this office is to provide high-quality, innovative and diverse experiential opportunities for students throughout their time at Osgoode. Experiential learning enables students to obtain a solid foundation of professional skills required to practice law and a keen appreciation of how the theory of law applies in practice. It further allows students the opportunity to identify areas of interest and meet mentors and potential employers.
Nineteen different clinical and intensive programs are currently available for students to choose from. These programs vary in terms of both subject matter and program models, offering students considerable flexibility in how they structure their Osgoode experience. The current programs include:
Osgoode also has an extensive mooting and lawyering skills competition program. Each year our students participate in close to 20 different competitions across Canada and internationally. Students can receive academic credit for participation in these programs.
In addition to programs available for academic credit, the Office of Experiential Education also facilitates a variety of extracurricular programs offering students the opportunity to gain lawyering skills outside the classroom. Some of these include Osgoode's chapter of Pro Bono Students Canada and the Family Law Project, Law in Action within Schools (LAWS), the IP Osgoode Innovation Clinic, and the Justice and Corporate Accountability Project. Participation in these as well as many other programs can satisfy the Osgoode Public Interest Requirement.
Combined Degrees
Osgoode Hall Law School offers three four-year joint-degree programs—JD/MBA degree with York University's Schulich School of Business; JD/MES degree with York's Faculty of Environmental Studies; and a JD/MA (Philosophy) degree with York's Faculty of Liberal Arts and Professional Studies.
Osgoode and the Université de Montréal, Faculté de Droit, have established a program whereby students can receive both the Osgoode degree in common law and the Montréal degree in civil law within four years. An Osgoode JD graduate is given two years advanced standing toward the Montréal civil law degree and, on successful completion of one year of study in civil law at Université de Montréal, will be awarded the Montréal LL.B (Civil Law) degree.
International Opportunities
International experience has become increasingly valuable for law students pursuing diverse career paths. Osgoode students have the benefit of participating in numerous Osgoode and York international sponsored exchange programs during the academic year. Students have visited numerous countries across five continents, such as Australia, India, Singapore, France, Ireland, Italy, England, the Netherlands, Finland, Germany, Scotland, and Japan.  There are also summer study-abroad programs available in Italy, Malaysia, Germany, and Israel.
In addition, Osgoode offers a variety of funded summer internships both in Canada and abroad. These programs provide students with another opportunity to put their legal knowledge into action. The current internships, funded by Osgoode and external donors at $10,000 per student, include:
Public Interest Internships
Betcherman Feminist Legal Internship (1 internship)
Debwewin First Nation Jury Review Internship (3 internships)
Lisus Social Justice Internship (1 internship)
Ian Scott Public Interest Internships (10 internships)
John Plater Health Law Internships and James Kreppner Health Law Internships (6 internships)
Victor Environmental Law Internships (2 internships)
Hennick Business Law Internships
CAMH Corporate Internship (1 internship)
McCarthy Tetrault LLP Business Law Internships (5 internships)

FirstService Residential Internship
Investment Industry Regulatory Organization of Canada (IIROC) Internship
Mount Sinai Hospital Internship
Ontario Securities Commission (OSC) Internship
World Bank Group (Washington, DC) Internship
Osgoode students may also pursue opportunities through the International Legal Partnership, a student-directed, nonprofit, nonpartisan organization providing legal assistance around the world.
Osgoode Public Interest Requirement (OPIR)
In 2007, Osgoode became the first Canadian law school to adopt an innovative law-related public interest service requirement as a condition for graduation for all Osgoode students. Students must complete 40 hours of unpaid law-related work in the public interest throughout their time at Osgoode. Through OPIR, students have an opportunity to observe law in action in an expansive range of practice settings. OPIR engages students in active reflection on the obligation of the legal profession to foster the public interest and contribute to access to justice.
Research
Osgoode Hall Law School is regarded as one of the world's top law faculties for excellence and leadership in research. We are home to a number of research centres and institutes and have other key partnerships that produce innovative research, attract visiting scholars, host events, and publish blogs. The following research centres and institutes are housed at Osgoode:
Canadian Forum on Civil Justice
Institute for Feminist Legal Studies
Intellectual Property Law & Technology Program (IP Osgoode)
Jack and Mae Nathanson Centre on Transnational Human Rights, Crime and Security
Jay and Barbara Hennick Centre for Business and Law
Winkler Institute for Dispute Resolution
Other research partners include:
Law Commission of Ontario
National Network on Environments and Women's Health
Ontario Legal Philosophy Partnership
York Centre for Public Policy and Law
Osgoode Hall Law School Law Library
Over 700,000 bound volumes and volume equivalents—largest law library in Canada
Staffed by professional librarians, qualified in law as well as librarianship
Open more than 80 hours per week, with extended hours before and during exams
Seats more than 400, with 12 group-study rooms
Wireless Internet throughout, with ready access to all major legal databases
Training for online legal research
The Osgoode Hall Law School Law Library is a leader in the innovative provision of information and services relating to Canadian law and law in context. It is the largest law library in Canada, with extensive holdings in all areas of law. The purpose-built Canada Law Book Rare Book Room contains the world's largest collection of historical (pre-1900) Canadian legal texts and primary sources, and a significant collection of early English and American law books. These outstanding print collections, of international calibre, are supplemented by a growing range of online and digital resources, including HeinOnline, LexisNexis, Lexis Advance Quicklaw, and WestlawNext Canada. There are also many country and topic-specific resources that provide researchers with in-depth access to the laws of the United States, Australia, India, China, and the Caribbean; international law and institutions; and United Nations treaties and documents. With a full complement of professional law librarians, the library offers a complete range of services to students and researchers to match the quality of its outstanding resources. The Osgoode Digital Commons is the institutional repository of the intellectual output of the Law School, including faculty research, scholarship and publications, journals and research centres, videos and images, and other digital initiatives.
Osgoode Technology
Osgoode is committed to being the leading Canadian law school in the use of information technology and boasts a technology infrastructure that supports the traditional classroom and collaborative social spaces. Osgoode has a comprehensive E-Exam program, permitting students to use their laptop or school desktop computers to write their exams. Faculty and students are invited to pilot emerging technologies to address the rapid pace of change in digital learning tools.
Osgoode Chambers—Student Residence
Osgoode Chambers provides law students with the opportunity to live among other law students and graduate students. Located across the street from the Law School in the award-winning Passy Gardens housing complex, Osgoode Chambers offers furnished bachelor and one-bedroom townhouse suites in a courtyard setting. Every suite is self-contained with a kitchen and bathroom, and wireless Internet access is provided. Laundry facilities are centrally located. The York University campus has 24-hour security as well as the "Go Safe" escort program and public transit, including the subway.
Incoming first-year Osgoode students who firmly accept Osgoode's offer of admission, and apply prior to June 15, are guaranteed accommodation at Osgoode Chambers for the full three years of study as long as they hold a continuous 12-month lease. Suites are allocated on a first-come, first-served basis beginning in May.
Student Activities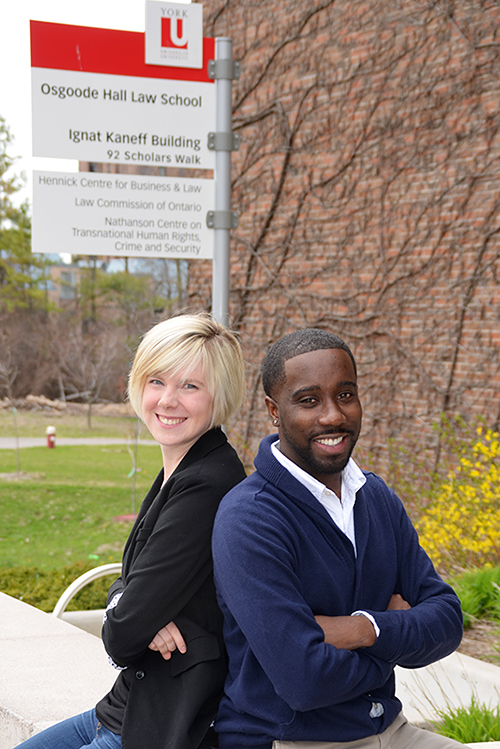 Osgoode Hall Law School offers students a wide variety of extracurricular activities. Osgoode is particularly proud of its students' many international and national successes in mooting and lawyering competitions. The Law School enters competitive appellate moot and trial advocacy mooting competitions every year, as well as client counselling and mediation competitions. They involve issues of civil, criminal, and constitutional litigation; international law; federal administrative law; and corporate-securities law.
The Osgoode Hall Law Journal, overseen by the student and faculty Board of Directors, is published four times a year and the Obiter Dicta is a weekly student newspaper published throughout the year. These, along with the many other cocurricular and extracurricular activities, are primarily driven by enthusiastic and dedicated Osgoode students who share common interests in any number of social, cultural, political, and athletic clubs.
Osgoode students make key contributions to the operational and administrative policies of the Law School. The Legal and Literary Society (founded in 1876) is the official student government of Osgoode Hall Law School and is responsible for coordinating and funding the numerous professional, athletic, social, and extracurricular activities at Osgoode. The Student Caucus represents and promotes student welfare and interests on Osgoode's Faculty Council.
With over 40 student clubs and organizations, there is a tremendous array of opportunities for students to become involved in the Osgoode community.
Financial Support
Approximate tuition and fees—$26,246 for tuition; $997 for ancillary fees (2018–2019 fees will be confirmed in the summer of 2018)
Available Osgoode financial aid—more than $5 million annually
Osgoode attracts the best and brightest students and strives to ensure that our JD program is accessible to people from diverse backgrounds. To that end, Osgoode awarded more than $5 million in financial support in 2017–2018 and intends to do the same in future years. In 2018–2019, Osgoode anticipates awarding upwards of $3 million in bursaries alone to students with demonstrated financial need. In addition, Osgoode offers a wealth of entrance and upper-year scholarships, prizes, internship funding, and more. Osgoode also has a substantial exit award program aimed at reducing graduating debt load, particularly for those pursuing careers in social justice.
In keeping with its commitment to ensuring the accessibility of law school, Osgoode has established the first Income Contingent Loan Program at a Canadian law school. Through this pilot program, each year seven students will have their tuition fully covered through a combination of bursary and loan funding. The loan portion will become due two years after graduation and is repayable over 10 years on an income-contingent basis.
The Law School's financial assistance program also includes on-site financial support, advice, and programming.
For additional information, please visit our Financial Services webpage.
Career Development
Osgoode Hall Law School graduates are practicing law across Canada and the United States, as well as pursuing a variety of nontraditional career paths. The Career Development Office is staffed by eight professionals, including experienced lawyers, wellness counsellors, and a student coordinator. The office provides individual career coaching, weekly drop-in hours, résumé review, mock interviews, job postings, programs and workshops, and extensive resources and reference materials. It also hosts events to connect students and prospective employers. The office provides assistance to students in their search for both summer and articling positions, annually hosting summer and articling job fairs, public interest law information fairs, and on-campus interview programs for employers from Toronto, New York, and Eastern and Western Canadian law firms.
Student Success and Wellness
At Osgoode, we understand the important relationship between academic success and personal wellness. The Student Success and Wellness Program, the first of its kind at a Canadian law school, is designed to be an accessible, safe, and confidential support service for Osgoode students navigating challenges or seeking to further develop their personal and academic potential while at law school.
Our Student Success and Wellness Counsellors are experienced professionals in both counselling and law, and offer individual advising and counselling, health consultations, mental health awareness education and wellness programming, including weekly yoga classes, exclusively for Osgoode students.
Supports for Indigenous Students
Osgoode has made it a priority to increase Indigenous representation at the Law School and proactively seeks to support its Indigenous students.
Our full-time Coordinator, Indigenous & Reconciliation Initiatives provides mentorship, support and advice to Indigenous Students with regard to financial aid, career development and academic matters. The Coordinator also serves as a liaison with Osgoode's Indigenous alumni, conducts outreach to Indigenous communities and organizations, and works to promote Indigenization within the Law School.
Osgoode's Office of Student Financial Services is committed to helping Indigenous students become aware of all available sources of funding, including Osgoode scholarships and bursaries for Indigenous students, and external financial aid such as that available through Indspire.
The Law School is home to the Osgoode Indigenous Students' Association (OISA), which provides a supportive community base for Indigenous students. OISA fosters a culturally appropriate learning environment, promotes awareness of Indigenous legal issues, and organizes events.

York University also has a student-run service organization, the Aboriginal Students' Association, that supports Indigenous students and their interests. As well, the Centre for Aboriginal Student Services is a gathering place designed to meet the needs of York's Aboriginal community.
Office of the Associate Dean (Students)
As part of our commitment to students' academic success, Osgoode dedicates a full-time professor to students' issues and curriculum. The Associate Dean (Students) supports the transition into law school for first-year students and provides resources and support to encourage the academic success of all students. 
Services and Accommodations for Students with Disabilities
Osgoode is committed to providing an accessible and equitable environment for all law school applicants and students. In conjunction with York University's Counselling and Disability Services, Osgoode offers a variety of services and accommodations for students who face challenges because of physical, medical, sensory, mental health, or learning disabilities.
If you are an applicant with a disability and require accommodations during the recruitment and admissions process, please contact admissions@osgoode.yorku.ca to let the Admissions Office know.
Admission
Application Categories
Academic Requirement
Minimum three full years (90 credits) of a bachelor's degree program at a recognized university.

This is important.

Please Note: If you have received advanced standing toward your degree for a substantial number of credits completed through distance studies or at an institution that is not accredited, please contact the Admissions Office to discuss your eligibility.)

Applicants with less than three full years of a bachelor's degree program at a recognized university may apply if they are at least 26 years old and have a minimum of five years of nonacademic experience.
LSAT Requirement
Highest score used
Oldest score accepted is June 2014
Application Information
Application deadline—November 1
Application available—August
Application fee—$100
Osgoode Hall Law School's historical and contemporary leadership role in diversifying and reshaping the legal profession is second to none. Our admission policy identifies a diverse and exceptional group of students with a commitment to excellence, demonstrated through academic achievement and other contributions to society. Together with our renowned faculty and dedicated staff, these students form a vibrant intellectual community that contributes to Osgoode's international reputation for leadership in legal education, thoughtful and creative scholarship, and the promotion of social justice.
Our holistic admission policy and procedures stress excellence and equity. We look for strength in academic abilities, varied experiences, and sustained engagement. We consider academic and LSAT results, significant achievements, and the ways in which barriers created by social inequality can stand between students with a demonstrated intellectual capacity and a legal education. Our policy encourages students to identify any barriers that they face in seeking entry into the legal profession. In creating each class, we look for those who can demonstrate not only intellectual achievement, but also a passion for learning and service. We welcome applications from individuals who exhibit, through the length and quality of their nonacademic experience, an ability to successfully complete the JD program.
Our admission policy moves away from the traditional process of selecting a class based on a number-crunching exercise. We do not apply a weighting or formula but rather consider each application file holistically. Factors that may be considered include:
university program of study and performance
work/nonacademic experiences and achievements
extracurricular activities
community involvement/engagement/leadership
communication skills
overcoming adversity and systemic barriers
Law School Admission Test score(s)
English language proficiency
Osgoode is concerned that members of First Nations, Inuit, and Métis do not have substantial representation in the legal profession and, accordingly, strongly encourages applications from such individuals through our Indigenous application category. Students wishing to be reviewed as an Indigenous candidate must provide documentation that corroborates their identification and connection with their Indigenous community. More specifically, documentation corroborating service, involvement, or leadership within their community, on Indigenous issues, or within Indigenous circles, will be strongly considered during the review of their file. In our experience, those markers of solidarity and ability to be supportive of others within their community correlate with academic and extracurricular success in law school. The committee's decision to admit a candidate ultimately depends on its judgment of the candidate's ability to successfully complete law school. The Admissions Committee strongly endorses the Native Law Centre Summer Program at the University of Saskatchewan prior to entering the Law School.
2017–2018 Applications/Enrollment
Applicants in the 2017 cycle: 2873
Offers made to 2017 cycle applicants: 646
Fall 2017 total enrollment: 908 students
First-Year Class (entering 2017) profile:

Total students registered: 301
52% female, 48% male
11% from outside Ontario
13% over age 30
80% have a 4-year undergraduate degree
15% have a graduate degree
For more information about our 2017 entering class, see our 2017 Entering Class Survey.