The information on this page was provided by the law school.

Official Guide to Canadian JD Programs
Admissions Office, Room 301, Macdonald Hall, 128 Union Street, Kingston, ON K7L 3N6, Canada

Visit School Website

---
Important Information for Applicants to Ontario Law Schools
Introduction

The compact campus of Queen's University borders on Lake Ontario and is within walking distance of downtown Kingston. Located midway between Toronto and Montreal, Kingston has a population of about 123,000. The beauty of its historic buildings, lakefront location, vibrant downtown, and proximity to the world heritage site of Fort Henry have made it a popular destination for students and tourists. Macdonald Hall is fully accessible and home to the Faculty of Law. For more information about Queen's University and the city of Kingston, please see our Visitor Information page and the Queen's and Kingston page.
Lederman Law Library in Macdonald Hall—all levels accessible by elevator
150,000 volumes and equivalents
Access to a wide array of electronic legal resources, including LexisNexis Quicklaw, Westlaw Canada, Litigator, and Hein Online, as well as numerous other legal resources
2.5 full-time librarians
Wireless Internet access
The library is highly regarded for its extensive reference holdings and electronic databases. The extremely knowledgeable library staff provide a full range of responsive client services and programs. The law librarians teach introductory and advanced-level courses in legal research for the JD and graduate LLM and PhD degree programs. Connected to the Law Library is the Learning Commons, a dedicated study and meeting space for law students.
Faculty
38 full time
54 sessional lecturers
42 percent of full-time faculty members are female
3 Queen's Legal Aid
3 Prison Law Clinic
1 Business Law Clinic
1 Elder Law Clinic
1 Family Law Clinic
Our faculty members have garnered prestigious awards for excellence in teaching, are frequently called upon to give expert opinions to the media, and have been recognized for their research through prominent national and international research grants. For more information about the achievements of our faculty members, please see Faculty and Research.
Academic and experiential opportunities
Five legal clinics
Castle programs
International exchanges and internships
Commitment to excellence in teaching
Student development and support
Dedicated career development
Leading placement rates
Generous financial support
Legendary community spirit
The full-time JD program is three years in duration; the part-time program must be completed within six years. Prescribed first-year courses provide a traditional introduction to the study of common law. In 2015–2016, Introduction to Legal Skills was launched to inculcate the skills required for the practice of law and success in law school, covering academic integrity, case briefing, legal research, legal writing, interviewing, negotiation, drafting of documents, and client management. This course also offers an introduction to foundational knowledge related to the study of law, including the court structure and an introduction to the professional and ethical responsibilities of lawyers.
First-year students are placed in small sections of approximately 25 students for one of their first-year courses and paired with each of the other first-year sections in the other first-year courses.
Upper-year requirements (required courses in Civil Procedure, Business Association, Legal Ethics and Professionalism, a substantial term paper requirement, practice skills, and advocacy requirements) have been established to develop students' competencies in legal research, legal writing, practice skills, advocacy skills, legal ethics, and professional responsibility. In their second and third years, students tailor their course selections to their interests and needs, choosing electives from the broad upper-year curriculum, which continues to evolve in both core and emerging areas of law. Our strategic plan places emphasis on increased globalization of curriculum content, enhanced opportunities for experiential learning, and increased strength in business law.
The first-year and upper-year program and course information can be accessed on our website.
Special Programs
Clinical Opportunities
All five of our clinics are colocated in an accessible office space in downtown Kingston.
Experiential Learning
Family and Children's Law Placements gives students the opportunity to gain academic credit, experience, and insight into the practice of family law through seminars and placements coordinated by Professor Nicholas Bala, a recognized expert in the field.
Clinical Externships are open to upper-year students to work one day a week for an academic year at Legal Aid Clinics in Kingston, Belleville, and Cobourg.
Federal Government Internships are open to upper-year students to work one day a week for a term at a legal services office within the Department of Justice, Government of Canada.
Moots and Advocacy are fundamental elements of legal education, and Queen's Law values the art of oral and written advocacy. Queen's participates in 18 competitive moots or alternative dispute resolution competitions each year. Queen's participates in the International Jessup, Vis, and ELSA moots.
Queen's Law Journal was founded in 1968 and is a fully refereed scholarly journal with an international readership. Students gain experience as volunteers or receive academic credit in legal research, critical analysis, and scholarly writing while assisting in the production and management of a major publication.
Canadian Labour and Employment Law Journal gives four upper-year students the opportunity to earn academic credit as editors of the foremost journal in Canadian labour and employment law.
Pro Bono Students Canada at Queen's offers a number of community placement projects, where law students provide free legal services to local organizations.
Queen's Law is a leader in preparing law students for today's international environment. Studying and interning abroad provides students with the opportunity to develop cross-cultural competencies that are increasingly relevant in the legal system. Taking advantage of the wide array of international programs available to Queen's students equips them with highly transferable critical skills for the practice of law.
Queen's Law has targeted interdisciplinary studies as a strategic priority to prepare law students for the complexity of modern-day transactions, policies, and legal processes.
JD/MBA—4-year program, two options for early completion in 3.5 years
Graduate Diploma in Business and JD—4-month summer program that allows for 6 upper-year JD cross-credits. This can be undertaken in the summer before starting JD or in the summer after first-year JD
JD/MA (Economics)—3-year program
JD/Master of Public Administration—3.5-year program, early completion option in three years possible
JD/Master of Industrial Relations—3.5-year program, early completion option in three years possible
Civil Law/Common Law—1-year combined degree program in partnership with University of Sherbrooke, Quebec (Admission of graduates from other Quebec Civil Law programs considered)
The Student Services Office staff are here to support students and help facilitate their success in the JD program. We want you to enjoy your time at Queen's Law and encourage you to explore all the opportunities available to you, both academic and co-curricular, while pursuing your degree. There are many things students may do with the law degree, and it is our job to assist students so that they are able to use their degree to pursue their dreams and launch a fulfilling career.
Recruitment & Outreach
Supporting recruitment & outreach efforts to attract highly qualified and skilled applicants and help foster a strong Queen's community that makes Queen's Law a first choice amongst applicants.
Course Planning & Support
Providing administrative assistance with academic registration, course selection and other program-related academic and facility supports including lockers, room bookings, course scheduling, grades and awards.
Educational Engagement
Providing in-house support to faculty to increase student engagement in legal education and promote lifelong learning for students through a strong foundation in law and the pursuit of justice.
Exchanges & Experiential Learning
Providing administrative supports for opportunities to enhance the learning experiences through international exchanges (including the BISC program), internships, clinical placements and clerkships.
Career Development
Offering programming, counselling, extensive resources & networking opportunities to help launch successful legal and law-related careers.
Education & Equity
Addressing student academic and wellness needs through support, assistance programming and referral.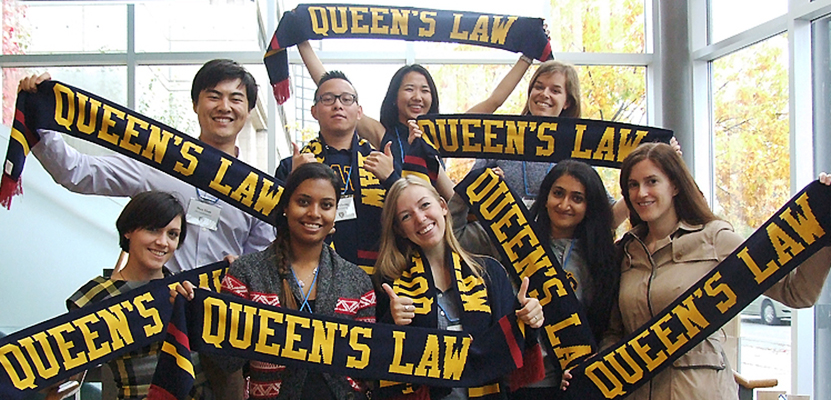 Queen's Law is a vibrant and collegial community, with a longstanding commitment to an inclusive and accessible legal education. We believe that the legal profession must always strive to reflect the diversity of the Canadian society it serves. As well as having dedicated scholars, our law school is involved in community service and outreach, charitable fundraising, student club activities and student government. Macdonald Hall buzzes with activity from dawn to dusk—and often beyond—with clubs, special events, sports, and cultural activities.
Queen's Law has a long history of philanthropic efforts and charitable events. New initiatives are launched every year to increase outreach and support to the greater community. Some events have developed into proud traditions, which new students take on with renewed excitement and creativity each year.
Housing
Law students usually live off campus, but can consider John Orr Tower or An Clachan Apartments managed by Queen's. Alternatively, Queen's Community Housing can help students connect with affordable rental properties throughout Kingston through the Accommodation Listing Service. The Student Community Relations Office strives to assist students with community-related matters including support with off-campus housing issues.
The JD domestic tuition for 2017–2018 is $19,246 (2018–2019 tuition will be posted on Office of the University Registrar); international student fees are much higher.
Estimated additional expenses, assuming off-campus living, range from approximately $7,730 to $11,400 (rent, utilities, books, food, travel, telephone, and personal expenses).
Applicants are considered for merit-based scholarships throughout the admission cycle without a separate additional application. After registration, further scholarships are available upon application.
Faculty of Law Admission Bursaries are available upon application during the admission cycle and assessed on the basis of demonstrated financial need.
The Career Development Office staff provide professional, relevant and timely services to help students make informed career decisions. They advise students about summer, articling and long-term employment opportunities available and ensure students have the skills and support to reach their individual goals.
How the Career Development Office assists students:
Comprehensive career management planning
Unlimited individual counselling sessions
Seminars and workshops on a range of topics
A broad network of alumni
A tradition of peer support
Opportunities to meet employers from a variety of cities
Comprehensive print and online resources
Most students have secured articles by graduation, and on average 75–85% of students have secured articles by the beginning of third year.
Application is made through the Ontario Law School Application Service (OLSAS) by November 1 for first-year admission, and May 1 for upper-year admission.
All applicants must have completed successfully a minimum of three years of full-time undergraduate studies in a degree program at a recognized post-secondary institution that provides an academic environment and education that prepares students for potential success in advanced study at Queen's. The admission policy requires that admitted students have strong aptitude for legal reasoning demonstrated by academic ability and good potential for success in studies at the postgraduate level.
Important considerations are educational achievement demonstrated through excellence in undergraduate and graduate studies and aptitude for legal reasoning and analysis demonstrated through a strong LSAT score. The highest score is used for the admission decision.
Holistic Review—The Admissions Committee reviews the following material for evidence of intellectual curiosity, avid interest in law, social commitment, reasonable judgment and insight, leadership potential, teamwork skills, creative ability, innovative endeavours, self-discipline, time-management skills, and maturity:

quality of personal statement
letters of reference
employment history
extracurricular achievements
community service

June 2013 is the oldest LSAT score accepted for the 2018–2019 admission cycle; January LSAT score is the latest accepted in each admission cycle. Consideration will be given to students who write the March LSAT, but there is a risk that fewer spots may be available in the class by the time the March LSAT scores are released.
Categories of Admission

General Category: Competitive applicants should have at least an "A–" average (GPA 3.7) in the top two years of their undergraduate degree program, along with an LSAT score of at least 157.
 
Access Category: We are committed to enhancing diversity in legal education and the legal profession. To this end, the Faculty encourages applications from candidates whose backgrounds, qualities or experiences allow them to make unique contributions to the law school community, the legal profession and society in general.

We will consider the following factors, disability, educational and financial disadvantage, membership in a historically disadvantaged group, age, life experience, any other factor relating either to educational barriers you faced, or to your ability to enrich the diversity of the law school community and the legal profession.

Competitive applicants should have at least "B+" average (GPA 3.3) in the top two years of their undergraduate degree program along with an LSAT score of at least 154.
 
Aboriginal Category: Applications will be considered based on your interest in, and identification with, your Aboriginal community, as well as other factors, including academic performance, results of the LSAT, employment history, letters of reference, and a personal statement.
 

Queen's Law seeks to attract students from different regions of Canada, from a diverse range of academic backgrounds and careers, and from various ethnic, racial, cultural, and socioeconomic backgrounds.
Student Body/Enrollment/Applicant Profile
First-year applicants in 2017 cycle: 2,737
200 is the expected enrollment for first-year class