The information on this page was provided by the law school.

Official Guide to Canadian JD Programs
350 Victoria Street, Toronto, ON M5B 2K3, Canada

Visit School Website

---
Important Information for Applicants to Ontario Law Schools
A Different Kind of Law School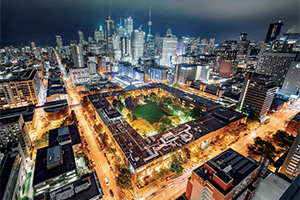 At Ryerson University, our tradition is innovation. Situated in Canada's largest urban area and financial centre, we are known for our dedication to meeting societal needs through career-relevant education and practical learning. In recent years, a focus on entrepreneurship has been added to our academic teaching and research to better prepare students to meet evolving societal needs. The Lincoln Alexander School of Law at Ryerson University builds on this distinctive history. We received preliminary approval of our program by the Federation of Law Societies of Canada (FLSC) in 2017. On the basis of this approval, we opened our doors to the first cohort of students in September 2020. Like all common law programs in Canada, with either full or preliminary approval, the Ryerson JD program will be subject to the FLSC annual review process. A law program that is compliant with the National Requirement will be eligible for full program approval only once it graduates, or is about to graduate, its first class. 
In addition, the Law Society of Ontario (LSO) unanimously approved the designation of our JD program as an Integrated Practice Curriculum (IPC). That means students who graduate from Ryerson Law will not be required to article or complete the Law Practice Program to be licensed as lawyers.
The 4 Pillars
Ryerson Law is built on four main pillars:
Innovation and entrepreneurship
Increasing access to legal education and legal services for Ontarians and Canadians
Equity, diversity, and inclusion
Sound academic grounding with innovative pedagogy
Ryerson's proven track record in innovation includes the legal field, thanks to our Law Practice Program (LPP) and the Legal Innovation Zone (LIZ). The LPP was established by the Law Society of Ontario as a pathway to licensing. It was awarded to Ryerson because of our unique approaches to innovation and experiential learning. The LPP combines an innovative practical training component and a hands-on work placement. Over a thousand candidates have benefited from the new opportunities this pathway has created, with excellent post-completion employment results.
The world's first legal tech incubator, LIZ supports innovative companies making significant improvements in the delivery of legal services through smarter, faster, and better approaches. It takes advantage of the expertise of Ryerson's flagship start-up incubator, DMZ, and adds a legal focus. It has already seen the incubation of 26 start-ups while offering its innovation services to outside organizations.
Ryerson University is uniquely positioned to attract diverse students to our programs and contribute to greater inclusion in the legal sector. Equity, diversity, and inclusion are among Ryerson's core values: 55% of Ryerson students identify as racialized.
Ryerson Law also builds on many other areas of expertise at the University. Numerous faculty across Ryerson's Ted Rogers School of Management and Ryerson's Criminology Department hold advanced degrees in law and conduct legal research, and experienced law school administrators already work at the university.
We may be a new law school, but we are building on our strengths!
Enrollment/Student Body
Fall 2021 JD Projected Enrollment – 150 full-time 
Fall 2020 JD Admissions
1953 applicants
171 enrolled first-year class
 
Ryerson University Overall Enrollment
198,000 alumni worldwide
44,000 full-time graduate and undergraduate students
62 undergraduate programs
55 PhD and Master's programs
MBA regarded as one of the top business programs in Canada (Canadian Business)
DMZ at Ryerson regarded as one of the top university-based incubators in the world (UBI Global, 2018)
Faculty
Ryerson Law's faculty for our inaugural year includes cross-appointed legal scholars already employed as faculty members at Ryerson and newly hired faculty members.
Ryerson Law's distinctive teaching model also makes heavy use of legal practitioners in all courses taught in both the first and second years of the curriculum.
Curriculum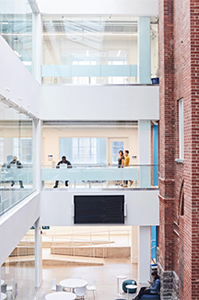 The overriding purpose of Ryerson Law's Juris Doctor program is to train lawyers who can adapt to new trends by concentrating on practice-readiness in all of its forms. To do this, we will leverage Ryerson's distinctive strengths as a hub for entrepreneurial innovation, and a leader in equity, diversity, and inclusion to develop a fresh educational perspective that combines theory, skill, and practice.
Our innovative curriculum has been developed in consultation with the legal profession, the business community, and community organizations. Based on this input, we have a mandatory curriculum in the first two years, together with a mandatory professional placement in the third year. A primary goal throughout the curriculum is to shape practice-ready and future-ready talent to take on a broad range of possible opportunities.
Year 1
All first year courses are mandatory. Ten will incorporate faculty-taught lectures and practitioner-taught breakout sessions. These courses will cover everything from contract and constitutional law to legal research and writing, professionalism and ethics, and Indigenous law. In addition, students will participate in two week-long intensive courses, one laying the foundation for professional development and success by engaging in career planning, networking, and mentoring. The other provides an opportunity to explore some of the technologies and innovative business practices that can help lawyers succeed in the age of the consumer.
Year 2
This year will feature 10 mandatory modules cotaught by faculty members and practitioners, with lectures in the mornings and practitioner-supervised, practice-oriented projects in student "firms" in the afternoons. Topics covered in the modules will include business law, family law, social and legal innovation, intellectual property and privacy, estate law, and access to social justice. Students will also participate in two mandatory intensive courses, one focused on business finances and the other on coding.
Year 3
In the third and final year of the program, the cohort will be divided into two groups who will spend alternate terms in professional placement and coursework in five elective areas, with these elective courses each taught by a single faculty member or practitioner. The placements will offer the chance for students to apply legal knowledge. Typical placements will include law firms, sole practitioners, governmental organizations, nongovernmental organizations, corporations, and not-for-profit organizations. Students will also participate in a mandatory intensive course on emotional and cultural intelligence.
Library
Ryerson's Law Library is an innovative, student-centred facility that supports the JD program's teaching, learning, and research needs in multifaceted ways. Its collection reflects the program curriculum, and the library has sufficient staff to provide services that support the pedagogical and research requirements of both students and faculty. The Law Library is integrated into the overall learning experience of students. It builds on the traditional academic skills and knowledge that have always been at the heart of legal education by helping to develop:
 An ability to use innovative and entrepreneurial approaches to develop better legal solutions — including an awareness of how modern business techniques and technology can lead change
The interpersonal and leadership skills necessary to lead and succeed, whether working in teams, with other disciplines, or across jurisdictional boundaries
The skills needed to work nationally and globally, both inside and outside the legal profession
Residence Options
On-campus Ryerson Residence Buildings: If you are interested in living on campus, check out one of our newest residence buildings, HOEM. HOEM offers a suite-style residence experience with 2-, 3-, and 4-bedroom units, with a 12-month lease. Spaces are available for graduate and law students. Apply for on-campus housing by June 3, 2020.
Off-campus Housing Options: Connect with our off-campus housing office to learn more about housing options available, including one-on-one support in finding a unit.
Student Services and Career/Professional Development
Ryerson Law's Student Services provides students with a broad range of support they may need throughout law school including financial counseling, academic advising, health and wellness resources, personal counseling, and accessibility services. It is also a focal point for co-curricular, extra-curricular, and experiential opportunities. Our Mooting program provides students with the opportunity to dive into a broad range of advocacy skills required within the profession. Our Mentorship Programs support students through their law school journey, whether they are looking for upper year mentors, or mentors working within the field. Student clubs and government are another way for students to get involved and engaged with each other, and with the profession. And finally, our community clinics allow students to engage and experience a broad range of legal issues and provide opportunities for learning and experiences in real world settings.
The Lincoln Alexander School of Law at Ryerson University also offers career development services from the first year, engaging students in reflection and career planning from the very beginning. Our career services provides group and individual support to students as they participate in their program, with support both towards securing their Third-Year Placement, as well as career guidance regarding summer, licensing, and other work opportunities.
Tuition
Full-time domestic tuition fees for 2020/21 are CDN $21,168 plus ancillary and related fees.
Scholarships and Financial Assistance
Ryerson Law is committed to diversity and inclusion and to building a robust scholarship and bursary program. Substantial awards are in place for students with financial need from historically underrepresented groups, or who demonstrate an aptitude for business and entrepreneurship.
We strongly encourage applications from a broad range of experiences, and invite students to visit our Scholarships & Awards page for further details.
Domestic students in Ryerson's JD program are eligible for the Ontario Student Assistance Program (OSAP). Please visit our Fees & Financial Assistance page for more details.
In addition, students are encouraged to consider professional student lines of credit with their financial institution of choice.
Admissions
The Lincoln Alexander School of Law at Ryerson University seeks to create a vibrant and diverse academic environment. To ensure that our student body represents the fullest possible range of social, economic, ethnic, and cultural perspectives in our society, the Admissions Committee considers many factors. All files are reviewed holistically, without minimum GPA or LSAT requirements.
The committee takes into account all of the following:
All post-secondary studies
The best LSAT score
Personal statement (School Submission)
Reference letters 
Resumé and the OLSAS Autobiographical Sketch
The completion of an online interview
Application Categories
Academic Requirements
Admission consideration requires a minimum of 3 years of study completed at a recognized university in a program leading to a degree. 
Applicants with Fewer than Three Years of University 
We encourage applications from candidates who can demonstrate, through non-academic experience, including employment, community involvement and other life experiences, the ability to complete our program successfully.
You are eligible to apply if both of the following conditions are met:
You have not attended university or have completed fewer than 3 years of university (as of June 1 of the admission year).
You have a minimum of 5 years of non-academic experience after secondary school (as of September 1 of the admission year).
LSAT Requirement
Highest score used
Oldest score accepted is June 2016
Strongly recommended that applicants write the LSAT by November 2020, and the latest score accepted is January 2021
Documentation
Note that the following documentation is required to support an application:
Official transcripts from the postsecondary institutions attended
Official LSAT score(s)
Personal statement
Confidential letters of reference
Résumé or curriculum vitae
Online interview
Proof of English-language proficiency (if applicable)
It is an applicant's responsibility to ensure that all documentation is submitted by the published deadlines.
Application Information through the Ontario Universities Application Centre (OUAC)
Application deadline: November 1
Application available: August 20
Application fee: $200