The information on this page was provided by the law school.

Official Guide to Canadian JD Programs
Murray Fraser Hall, 2500 University Drive NW, Calgary, AB T2N 1N4, Canada

Visit School Website

---
Introduction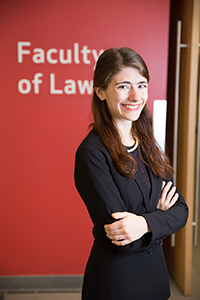 The University of Calgary is a living, growing, and youthful institution that embraces change and opportunity. We have been named North America's Top Young University five years running, and we've done it by pushing our limits, challenging ourselves to do better, and seeking knowledge—wherever that journey takes us.
Energy-Innovation-Impact
UCalgary Law's strategic plan, Energy-Innovation-Impact, is an embodiment of our strengths, our values, and our aspirations. Founded in 1976, UCalgary Law has developed a reputation for innovation and teaching excellence, particularly in legal skills training and the integration of professional and academic goals. This is exemplified in our ground-breaking Calgary Curriculum.
UCalgary Law is an integral part of both a city and province that have become world leaders in the resource and energy sector and that have developed significant high-tech industries. Our faculty are national and global leaders in natural resources, energy, and environmental law (NREEL). Our award-winning law blog, ABlawg, focuses on up-to-the-minute developments in Alberta and Canadian law. Our students continue to be exemplars of the values of leadership and social commitment that have been at the foundation of our school's ethos more than 40 years ago.
Calgary is Alberta's largest city with a population of 1.4 million. It's situated at the confluence of the Bow and Elbow Rivers and nestled in the Foothills of the Rocky Mountains. Calgary is home to the most corporate head offices per capita in Canada, with which UCalgary Law enjoys strong relationships. It is a diverse and welcoming city with more than 30% of its population made up of visible minorities from over 240 ethnic origins. Calgarians are renowned for our active lifestyle. We take full advantage of one of the most extensive urban pathway systems in North America and our enviable proximity to the Canadian Rockies for snowboarding, skiing, hiking, and mountain biking, as well as for rest and quiet reflection. You will love living in Calgary and learning at UCalgary Law!
Enrollment/Student Body
129 enrolled first-year class 2017
378 total full time
26 average age of first-year class
Library and Physical Facilities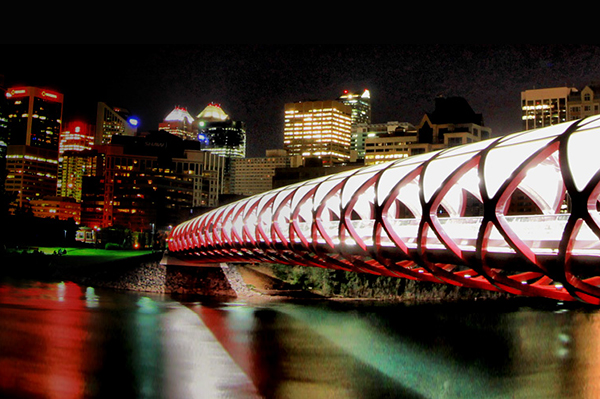 Bennett Jones Law Library
Offers a mix of quiet study and collaborative work spaces, including 12 group workrooms
350 study seats over three floors
In-person and virtual research assistance provided
Research-quality collection of print and electronic materials from Canada and other common law countries
Special Collections Room contains the Ernest S. Watkins Rare Book Collection
Classroom Facilities—Highlights
Bennett Jones Lecture Theatre—used for our largest lectures and visiting speakers
Norton Rose Moot Courtroom—state-of-the-art, complete with elevated judges' bench and video recording equipment
McCarthy Tetrault Skills Room—and one companion skills room, used for mooting and other exercises that take advantage of the built-in video equipment to record and play back student performances
Borden Ladner Gervais Classroom—and two companion classrooms provide natural lighting, built-in power for laptops, comfortable seating, projector, book reader, blackboard, and white board. These classrooms are a favorite for learning and teaching
Student Spaces
Brian and Stephanie Felesky Student Lounge—situated outside third floor classrooms
Dentons Canada Student Centre—a secure space accessed by valid student card, equipped with appliances necessary for meal storage and heating, recreational opportunities such as foosball, and a place to store your skis on a Friday before heading to the mountains
Student Lockers—situated on first floor of Murray Fraser Hall
Graduate Student Study Centre—provides grad students with a place to work and study and includes individual lockable storage units
Curriculum
The Calgary Curriculum places UCalgary Law at the forefront of innovation in North American legal education. In brief, the Calgary Curriculum ensures that our students achieve a deep theoretical understanding of the law and legal principle, together with the ability to apply their learning to real-world situations. UCalgary Law knows that our students must be prepared to join a constantly changing and challenging legal services market, and for professional opportunities that extend beyond traditional legal practice. Our mission is to prepare our students for the profession they will be joining, not one that existed in the past.
The first-year core program is required. Second- and third-year curriculum consists of a combination of required courses as well as a range of elective courses.
First Year
Intensive courses at the beginning of the fall and winter semesters will give students an understanding of the foundations of law and justice
A new Legislative course focused on drafting and interpreting legislation
Second and Third Years
Legal practice courses such as Legal Practice and Technology, Legal Practice: Innovation, Legal Project Management, Business Meetings (Parliamentary Practice), Crisis Communications for Lawyers, and Leadership for Lawyers
Clinical course offerings such as the Business Ventures Clinic, Criminal Law and Policy Lab Terrorism Law and Reform, Human Rights Clinic, and Criminal Law Clinic (The Innocence Project) are just some of our popular clinical course offerings
Graduate Studies
The Faculty of Law offers graduate work leading to an LLM degree. The focus of the graduate program is the area of natural resources, energy, and environmental law (NREEL). The Faculty is pleased to announce the addition of a new thesis-based, general LLM program.
Joint Programs
International Energy Lawyers Program (IELP)
Established in 2012, International Energy Lawyers Program (IELP) is a joint JD/JD program with the University of Houston Law Center that allows students to earn both Canadian and American law degrees in four years. Upon program completion, students are able to apply for admission to the bars in both Canada and the United States, and with skills and knowledge in energy law, will be highly employable across North America. In addition to the regular degree studies, the IELP is structured to facilitate internships in the energy industry and includes course offerings exclusive to IELP students such as the Denton's North American Energy Law Study Tour, which includes visits to Ottawa; Washington, DC; and Houston.
Combined JD/MBA
Offered by the Faculty of Law and the University of Calgary's Haskayne School of Business, the Juris Doctor (JD)/Master of Business Administration (MBA) program combines and integrates legal studies and graduate management education, offering tremendous opportunity for students interested in careers in corporate law specialties, management consulting, business, or entrepreneurial endeavors.
Combined JD/MPP
Offered by the Faculty of Law and the University of Calgary's School of Public Policy, the Juris Doctor (JD)/Master of Public Policy (MPP) program combines the study of law and public policy across a wide spectrum, including resources and the environment, economic and social issues, and international policy, and involves areas such as taxation, regulation, public finance, and policy development and implementation. The program prepares students for careers in public and not-for-profit organizations and in the private sector, which requires coordinated legal and policy expertise to affect and navigate an increasingly complex world.
Special Programs—Clinics
UCalgary Law covers many clinical courses to allow students to put their knowledge to work in real-world situations, from business and environmental law to tax law and pro bono legal assistance. Our current clinics are:
Student Legal Assistance
Business Venture Clinic
Intellectual Property Clinic
Public Interest Clinic (the PIC will incorporate the work of the Environmental Law Clinic and the Constitutional Law Clinic)
Tax Court Assistance Program
Criminal Justice Clinic
Human Rights Clinic
Provincial Court Clerkships
For more information, see our clinic opportunities.
Special Programs—Practice Innovation: Aspire Legal Access Initiative
The Aspire Legal Access Initiative represents an exciting step in our commitment to experiential learning and preparing lawyers for the future. It will involve graduates serving a two-year term, during which they will complete their articles, and their first year as a practicing lawyer. During that period, in addition to professional legal training, they will be given formal instruction in areas such as business planning, legal project management, marketing, and human resources, so they are truly prepared for the practice of law. The Incubator will embrace a technology-based, "paperless office" approach to practice. Visit www.aspirelegal.ca.
Special Programs—Research
Canadian Institute of Resources Law (CIRL)—the leading national center of expertise on legal and policy issues relating to Canada's natural resources. 
The Faculty of Law and CIRL work together to develop the best ideas and actions in teaching, research, and community outreach in our specialization in natural resources, energy, and environmental law. CIRL takes a broad view of the fields of natural resources, energy, and environmental law to include industry-related business law, trade law, domestic and international law, dispute resolution, and both theory and practice. 
Alberta Civil Liberties Research Centre (ACLRC)—incorporated in 1982 and is affiliated with the University of Calgary. The Centre is a nonprofit organization dedicated to promoting awareness among Albertans about civil liberties and human rights through research, publication, and education. It is housed on the second floor of Murray Fraser Hall.
Canadian Research Institute for Law and the Family—a nonprofit, independent partnership between the Faculties of Law and Social Work at the University of Calgary. The major goals of the Institute are to undertake and promote interdisciplinary research, education, and publication on issues related to law and the family.
Admission
10 full-course equivalents toward a bachelor's degree program required for admission
Application deadline—November 1
Supporting document deadline—March 1
LSAT required—highest score is considered for statistical purposes; multiple scores considered for admission; scores are valid for 5 years
Application fee—$125 Canadian citizen/Permanent resident; $145 international (subject to change)
In selecting the most promising students each year, the Admissions Committee considers many factors. These include the student's academic performance, Law School Admission Test score and writing sample, references, evidence of maturity, work experience, community involvement, and extracurricular activities, as well as the Statement of Interest made on the application form. Please see comprehensive admissions information.
There is no prescribed prelaw course of study. Students whose program of study is still in progress might consider including courses that stress the appropriate and creative use of the English language and those that provide an opportunity to develop and test the powers of analysis and critical thinking.
Student Activities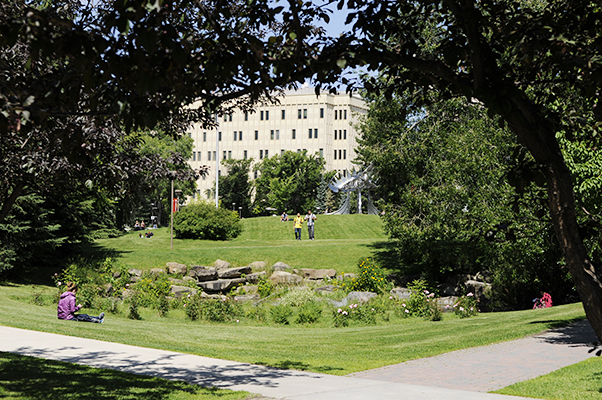 The Student Law Society (SLS), the official student association of the Faculty of Law, represents the interests of students in the JD program. Representatives are elected annually by the student body. This group provides an important social network to the student body by sponsoring many social and sporting events as well as the annual Law Show. SLS is also an important vehicle through which students can affect and effect policy and administrative decisions regarding the entire faculty.
Alberta Law Review—published quarterly by the Alberta Law Review Society, a nonprofit group of law students from the University of Alberta and the University of Calgary. The objective of the Alberta Law Review is to promote legal research and scholarship, and to provide a forum for the discussion of contemporary legal issues.
Mooting—UCalgary Law has a robust mooting program and our students have enjoyed highly successful outcomes in national and international competitions in mooting, debating, and negotiation. In 2016 UCalgary Law won the Canadian competition of the Philip C. Jessup International Law Moot Court Competition, the world's largest moot court competition.
There are active local chapters of the National Association of Pro Bono Students, Legal Education Action Fund, and Association of Women Lawyers in addition to local law student organizations such as the Business Law Association, Diversity and Law Society, Environmental Law Society, and Rural, Energy, and Agricultural Law Students' Society, OUTlaw, Black Law Students' Association, International Law Association, Sports and Entertainment Law Society, Negotiation Club, and a club for parents of young children.
There is a law student paper, the Moot Times, and many students actively participate in Student Legal Assistance (SLA) and our BLG Business Venture Clinic (see Special Programs—Clinics), as well as the Student Ambassador Program.
The Q Centre (SU Centre for Sexual & Gender Diversity) located in MacEwan Student Centre is a safe, comfortable, and inviting space for the LGBTQA+ community at the University of Calgary. Featuring a library and peer support services, the program coordinators and volunteers plan events and direct clients to relevant resources. Guests are welcome to hang out and socialize. The Faculty has an active chapter of OUTlaw, and students, staff, and faculty proudly march in Calgary's Pride Parade.
The Native Centre located in MacEwan Student Centre offers academic programs and culturally based services and engagement opportunities while providing a welcoming and supportive learning environment for FNMI students.
Expenses and Financial Aid
Tuition and fees—$13,700
Estimated additional expenses—$1,900 (books and supplies)
Burnet, Duckworth & Palmer LLP—$60,000 Entrance Scholarship, the largest of its kind in Canada, $20,000 in first year, and is renewable in second and third year
Financial aid available
Student Services
Career and Professional Development
The UCalgary Faculty of Law's Career and Professional Development Office (CPDO) enjoys a deservedly strong reputation. The CPDO acts as a liaison between our students and the wider legal community in Calgary, across the country, and around the world. UCalgary Law is proud of our stellar articling placement rate reporting consistently (in both good and challenging economic times) as one of the highest in Canada and speaking to the high caliber of Calgary Law graduates as well as the dedication of the professional staff that make up our CPDO team.
The CPDO has developed a number of initiatives to prepare students for summer internships, articling, and clerking, as well as more nontraditional career paths. These initiatives include résumé-writing workshops and review, mock interviews, and feedback in preparation for the interview process, as well as hosting speaking panels and workshops on a wide variety of career options. The CPDO also hosts networking events with a diverse range of employers, on-campus interviews, and firm tours for students interested in markets outside of Calgary, as well as overseeing the popular annual Tory's LLP Business Etiquette Dinner. The CPDO provides career counselling, support, and information to current UCalgary Law students regarding various practice areas and a wide variety of career options.
Academic Success and Personal Well-Being
The UCalgary Faculty of Law has a Director, Academic & Student Services (the "Director"). The role of the Director (a former practicing lawyer) is to further the academic mission of the law school and contribute to the well-being and overall success of students. The Director provides academic advice, including general faculty and university advice, and specific advice on program and course selection and academic success to all students in the JD program, including dual-degree students (Houston) and joint-degree students (JD/MBA, JD/MPP), as well as incoming and outgoing international exchange students and incoming and outgoing Letter of Permission (LOP) students. Guidance is provided in establishing individual student goals and objectives and feedback is provided with respect to student plans. The Director also provides personal support and is able to refer students to a variety of resources aimed at promoting the well-being of law students, including an on-site psychologist, a campus Wellness Centre, and other community resources.