Western University, Canada
The information on this page was provided by the law school.

Official Guide to Canadian JD Programs
---
Important Information for Applicants to Ontario Law Schools
Introduction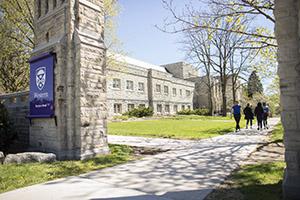 Western University, founded in 1878, is one of Canada's top research-intensive universities. It delivers the "Western Experience," an exemplary learning experience that engages the best and brightest people, challenging them to meet ever-higher standards in the classroom and beyond. Our main campus, considered to be Canada's most beautiful, spans 400 acres and provides an idyllic environment for our community of scholars. From our home in London in the heart of southwestern Ontario, and outward across every continent, Western prepares future leaders to succeed. With a population of approximately 400,000, London offers both a "big city" experience and the safety of a smaller community. Affectionately known as the "Forest City" due to its numerous trees and over 200 public parks, London has an extensive trail system that runs along the Thames River right onto Western's campus, for walking, running, biking, or inline skating.
Western's Faculty of Law offers a three-year Juris Doctor degree as well as combined graduate and undergraduate degrees in several disciplines. Western Law's focus on business law in the global environment is unique among Canadian law schools. As Canada's premier business law school, our vision of business law is multidimensional, encompassing a wide range of economic, public law, and social justice perspectives. Indeed, our strength in business law complements our nationally and internationally recognized strengths in many other areas, including international law, torts, insurance law, intellectual property, constitutional law, and legal ethics.
For students interested in careers in other areas of law, our depth of faculty expertise; our rich array of academic, practical, and international educational opportunities; and our keen appreciation for the breadth and diversity of all dimensions of the modern law school curriculum make the program at Western Law an exciting, dynamic, and enriching experience. Our students succeed in career paths as diverse as our course offerings. We have an abiding commitment to a vision of law that is mindful of the goals of human development and the demands of social justice.
Finally, Western Law provides students with many opportunities to engage in student life. Our class size remains among the smallest in Ontario, allowing more one-on-one time with professors and an enriched classroom and co-curricular experience where many classmates become lifelong friends. We look forward to welcoming you to our dynamic and collegial community.
Faculty
Academic excellence is at the heart of Western Law. Our faculty scholarship is wide-ranging and our professors make important contributions to law and public policy through their research. In addition, our professors are exceptional classroom teachers who have won prestigious teaching awards. They also value collegiality, providing students with significant opportunities to interact with them as academic and professional mentors. Complementing our full-time faculty is a distinguished group of lawyers who teach courses within their specialties, adding their perspectives as practitioners to the classroom.
Curriculum and Degree Programs
Juris Doctor degree
Extended-time JD program also available
Over 100 courses offered
Advanced courses offered in most areas of law
Option of taking Corporate Law in first year, an opportunity unique among Canadian law schools
Eight optional curricular streams, which offer guidance in course selection and co-curricular activities for students wishing to focus their study on a particular area of law. Each curricular stream culminates in a capstone course that assists students in making the transition from legal education to legal practice.
Combined-Degree Programs
Western Law's combined undergraduate programs, which allow students to complete both degrees in six years (one year less than if the degrees were pursued consecutively), are the HBA/JD with the Ivey School of Business and the BESc/JD with the Faculty of Engineering. Western Law also offers a combined JD/BCL program with l'Université Laval and the following combined-degree graduate programs:
JD/MSc (Geology or Geophysics)
JD/MA (History)
JD/MBA (Business)
JD/LLM (University of Groningen, the Netherlands)
Special Programs and Practice Experience
The Small Group Program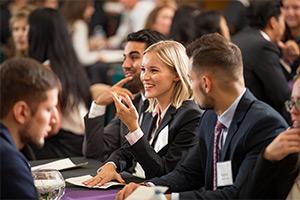 The Small Group Program lies at the heart of the Western Law experience. First-year JD students take one core course in a small group of 22 students, led by a professor and assisted by upper-year students who provide peer and academic support. The program provides an interactive and supportive learning environment, which enables students to develop their skills in legal analysis, research, and written and oral communication with personalized attention from their professors. In addition to promoting collegiality and building lifelong friendships, the Small Group Program gives students the confidence and analytical skills they need to become successful advocates.
January Intensive Courses
A Western Law innovation, January intensive courses are designed to provide an active learning experience for every student in the Faculty. First-year students concentrate on practical experiences that develop their research, writing, and oral advocacy skills. Upper-year students choose one limited-enrollment course from a broad range of options, typically taught by high-profile lawyers and visiting scholars from law schools around the world. Several of these courses include experiential components, such as externships, community placements, extended simulations, and site visits.
International Exchanges
Western Law has established exchange partnerships with 20 leading law schools in 16 countries around the world. Each year, we send students to the United States, the United Kingdom, Hong Kong, Singapore, India, Australia, New Zealand, Norway, Sweden, Denmark, the Netherlands, Germany, France, Italy, Spain, and Québec. More than 55 placements are offered every year, with two to four places available at each partner school. Course offerings are available in English at all partner schools (with the exception of l'Université Laval in Québec City). Western Law values and embraces the international experience, believing that, in this era of globalization, exposure to another legal system is of tremendous importance.
Western Law Internship Program
Through our thriving Western Law Internship Program (WLIP), students have the opportunity to intern with government departments, international organizations, corporations, and firms. Over the past 10 years, WLIP has grown to provide up to 17 internships in the areas of international and environmental law, business and trade law, and sports law. Internships are usually 10–12 weeks during May to July. Students receive generous stipends from $10,000 to $15,000 to assist with travel and living costs.
Intensive Courses
Western Law offers a number of one-week intensive courses taught by world-renowned visiting professors. These courses change every year, allowing students to engage in the in-depth study of topics including business law, public law, common law, and legal theory. Enrollment in intensive courses is limited to facilitate interaction and individual attention.
Advocacy Competitions
Western Law runs numerous advocacy competitions where students develop practical skills and receive feedback about their performances from lawyers and judges. In addition to the competitions below, students can compete in external provincial, national, and international advocacy competitions for academic credit. Western Law students routinely do very well at these events.
Borden Ladner Gervais LLP Client Counselling Competition
Borden Ladner Gervais LLP/Cavalluzzo Labour Law Moot
Chaitons LLP Corporate Restructuring Advocacy Competition
Cherniak Cup Trial Advocacy Competition
First-Year Appellate Competition
Harrison Pensa Contract Drafting Competition
Hicks Morley Labour Law Moot
Legate and Associates Medical Malpractice Moot
Lenczner Slaght Advocacy Competition in Legal Ethics and Professionalism
Lerners LLP Cup (Appellate Advocacy)
Torys LLP Negotiation Competition
Business and Law Speakers Programs
Since 2007 over 20 of the world's foremost scholars in business and law, including three Nobel prize winners, a former U.S. Secretary of the Treasury, the Chief Justice of the Delaware Supreme Court, and senior business law professors from the world's leading law schools, have visited Western Law to deliver special lectures or, in some cases, to offer intensive courses for Western Law students. Students enrolled in the Torys LLP Business and Law Pre-eminent Scholars seminar have the opportunity to learn from and engage with these internationally renowned leaders as part of their JD studies.
Clinical Programs
Community Legal Services (CLS) is among the most progressive legal clinics in Canada and a leader in the cause of access to justice. Our clinic provides free legal services to low-income people in the London community from within the law school and through two outreach offices. Under the supervision of lawyers, students taking clinical courses handle cases dealing with a variety of areas of law, including criminal law, wills, Small Claims Court, and landlord and tenant matters, among others. Students handle all aspects of the case from interviewing a client to drafting pleadings to conducting a trial. First-year students can gain experience as associate caseworkers who assist with the Public Legal Education Program, handle initial interviews with clients, and help caseworkers (upper-year students) with files. Approximately 125–150 students a year participate in the clinic where they receive invaluable experience that will enable them to be better lawyers when they enter the profession.
The Dispute Resolution Centre (DRC), a division of Community Legal Services, is a not-for-profit organization that provides free mediation services to members of the community who wish to resolve disputes quickly, efficiently and effectively. The DRC is operated by law students who are trained and supervised by an experienced staff lawyer. Many participating students receive formal academic credit for their work in Community Legal Services and the Dispute Resolution Centre.
The Western Business Law Clinic provides small start-up and early-stage businesses with student legal assistance overseen by practising lawyers/mentors and faculty review counsel. The clinic creates an environment for students to learn invaluable practical skills in the area of business law and gain exposure to a wide range of client files that may include incorporation, shareholders agreements, franchise agreements, confidentiality agreements, trademarks, and drafting and reviewing contracts.
The Sport Solution Clinic is a program of AthletesCAN, the association of Canada's National and Olympic Athletes, in conjunction with Western Law School. Sport Solution is the only program of its kind in North America. The clinic offers Western Law students the opportunity to assist high-performance athletes with a variety of sport-related legal issues, including internal administrative appeals, team selection, discipline, and Athlete Assistance Program carding disputes. Students' work is supervised by Layth Gafoor, a partner at Lucentem Sports & Entertainment in Toronto.
Pro Bono Students Canada (PBSC) is a national program that was launched at Western in 1998. Law student volunteers are matched with community agencies that need legal services but cannot afford them. Agencies typically involved with PBSC include public interest and non-profit organizations, tribunals, legal clinics, and lawyers working pro bono on a particular case. Volunteers complete legal research or other law-related projects for member organizations under the supervision of a lawyer mentor.
Research
The Tort Law Research Group consolidates Western's reputation as a leader in the study of tort law. Western has a long tradition of tort law scholarship beginning with Professor Emeritus GHL Fridman, a pioneer in the study of Canadian tort law. Currently one-quarter of all Western Law faculty members teach and publish in this area, including a leading treatise, The Law of Torts in Canada, and a leading casebook, Cases and Materials on the Law of Torts. Other publications include books and articles on  economic torts, public authority liability, tort law theory, tort law and health care, and tort liability for climate change.  Western Law offers a number of torts-related undergraduate courses and faculty members welcome thesis proposals from interested graduate students
The Public Law Research Group actively strives to bring together dynamic groups of scholars, students and jurists to explore foundational and cutting-edge issues of public law.  In recent years the Group has organized and supported lectures, conferences, public forums, roundtables, research showcases, and reading groups that have wrestled with a diverse set of public law issues, including proportionality in law, constitutional interpretation and morality, Canada's Indigenous Constitution, and the future of the Supreme Court.
The Canadian Journal of Law and Jurisprudence, edited by Western professors, is published biannually. It serves as a forum for special and general jurisprudence and legal philosophy, publishing articles that address the nature of law, engage in philosophical analysis or criticism of legal doctrine, examine the form and nature of legal or judicial reasoning, and study concrete legal issues facing contemporary society.
The Western Journal of Legal Studies is a student-edited, online, open-access law review dedicated to the publication of original, intellectually-provocative and academically rigorous contributions.  It provides opportunities for Western Law students to engage in the critical assessment, editorial preparation and final publication of academic essays on pressing legal topics.
The Canada/United States Law Institute (CUSLI) is a forum for the discussion of legal issues arising in the Canada-U.S. context.  Founded in 1976 as a joint creation of Western Law and Case Western Reserve University School of Law in Cleveland, Ohio, the Institute oversees a variety of activities that foster institutional and professional links among interested individuals on both sides of the Canada-U.S. border for the purpose of promoting awareness and dialogue. A unique feature of the Institute's work is the CUSLI Student Forum which, in recent years, has examined comparative approaches to environmental assessment, marijuana legalization, same-sex marriage, defense cooperation, and physician-assisted suicide. The Canada-U.S. Law Journal is the only student-run publication of its kind edited by a binational team composed of students from both law schools.
Library
The John and Dotsa Bitove Family Law Library supports the teaching program and research activities of the Faculty of Law (both at the JD and graduate levels), the legal information needs of other faculties and departments at Western, and the local legal community. Library resources include
experienced, knowledgeable library staff (two librarians and three library assistants);
an excellent collection of primary Canadian, US, and UK legal materials; periodical literature in legal and related fields; and a large and growing treatise collection;
access to well-respected online services, such as LexisNexis Quicklaw, WestlawNext Canada, CCH Online, Justis, Canada Law Book, and many others; and
a convenient public computing cluster for scanning, PC computing, specialized CD-ROM product access, and printing.
Career and Professional Development Office
A Western law degree opens the door to both the traditional practice of law and a host of alternative career options. Our distinguished alumni can be found working across the globe and includes judges, lawyers in both private practice and government, politicians, business leaders, academics, journalists, and social advocates. The Career and Professional Development Office provides support and resources to help students realize their career objectives and succeed in today's competitive job market. In addition to online and print resources, the office provides individual career counselling/coaching and runs a variety of programs, including résumé and cover letter writing workshops, networking seminars, job-search information sessions, and career-exploration programs. The two largest programs are Western Law's annual Career Conference, which gives students the opportunity to meet with a wide range of employers, including national and regional law firms, government offices, non-profit agencies, and in-house legal departments, and our Toronto On-Campus Interview (OCI) program. We also participate in joint Off-Campus Interview programs in Toronto to connect students with employers from Vancouver, Calgary, Ottawa, and Eastern Canada. Students seeking positions in smaller centers can look forward to similar support during their job search. We are proud to say our articling placement rate is among the best in the country. Western Law graduates have been extremely successful in obtaining excellent employment opportunities both within Canada and abroad.
Student Life
The Student Legal Society (SLS) is the body representing all Western Law JD students. It exists to promote the interests of its members and to fund and organize professional, academic, athletic, and social activities during the school year through more than 50 clubs and committees. In addition to a number of executive positions, class representatives are elected in each of their first, second, and third years of law school.
Law students can also take advantage of all Western University has to offer, including health and wellness support, additional campus-wide clubs, and Campus Recreation Center activities such as aquatics, dance, fitness, and intramural sports.
JD Admissions
The Faculty of Law is strongly committed to excellence and diversity. While we believe that excellence in academic studies is the best evidence of the ability to succeed in law school, we also believe that achievement in other areas may indicate potential for success. Accordingly, our admissions policy, which allows applicants to show their potential in a variety of ways, is designed to produce a mix of students with diverse backgrounds.
Categories of Admission
General
Discretionary: Aboriginal, Access, Mature
Canadian Armed Forces
Academic Requirements for General Category Applicants
Minimum of three years of full-time (or equivalent) university study
Competitive GPA: 3.7 (80 percent/A-) or higher
Competitive LSAT score: 160 (80th percentile or higher)
Highest LSAT score is used
Oldest LSAT score accepted: June 2014
Last LSAT score accepted for 2019 Admission:  January 2019
Other Requirements
Two letters of reference (one must be academic)
Personal statement
Autobiographical sketch
Verifiers
Résumé for Mature applicants
Relevant substantiating documentation for Access applicants
Other Considerations
Employment
Community involvement
Extra- and co-curricular activities
Awards, honours
Rigorous research and writing experiences
Personal and professional achievements
Leadership experience
Graduate degrees
Upper-Year Admission
Transfer (within Canada)
Advanced Standing (from outside of Canada)
Letter of Permission
Application
Through the Ontario Law School Application Service (OLSAS)
Deadline for first-year applicants: November 1
Deadline for upper-year applicants: May 1
Fee: $100
Offers of admission are made on a rolling basis beginning in December
Annual Expenses and Financial Aid
Full-time tuition and fees (for 2017-2018): $22,785
Estimated books and supplies: $300–$800
Living and other expenses will vary depending on individual needs
Very reasonable housing costs in London and surrounding areas
Performance- and need-based entrance scholarships are available for approximately one-third of the entering class
Financial aid is available through the Ontario Student Assistance Program (OSAP), bursaries, and loans
In 2016-2017, over 60 percent of Western's Law students were awarded over $1.5 million in bursaries, awards, and scholarships
Profile of Incoming Class of 2017
Enrolled students: 176 (drawn from 2,200 applications)
Diverse group of undergraduate programs represented
Average age: 25
Mean "Last 2" average: 3.7
Mean highest LSAT score: 162
Graduate Programs
Master of Laws (LLM)
The LLM is designed for those who have already obtained a JD or LLB or other equivalent law degree. It can be completed as either a thesis-based or project-based program.

The thesis-based LLM aims to foster advanced research and scholarship in law, and is best suited for students wishing to pursue academic careers. This program offers training in key theoretical frameworks and methodological approaches to legal research and analysis. Graduates will be equipped to contribute to scholarly and political debate, and to develop answers to many emerging questions about the role of law in society.

The project-based LLM is aimed at legal practitioners and recent law graduates who wish to enhance their professional credentials. Students in this program choose from a range of over 80 elective courses, allowing them to deepen their expertise in a particular field. Electives may include short-term internships designed to advance students' professional goals.
Master of Studies in Law (MSL)
The MSL is designed for students with a university degree in an area other than Law, who wish to gain a legal perspective on their own academic discipline or profession. Students and faculty alike are enriched by the interdisciplinary nature of this program. The MSL can be taken as a thesis-based or project-based program.
Doctor of Philosophy (PhD)
Western Law is committed to fostering our doctoral candidates' development as leading legal scholars through the production of high caliber legal research. To that end, our Faculty offers an intellectually stimulating environment for the pursuit of doctoral studies.

One of the primary aims of the program is to prepare promising scholars for careers as legal academics. Graduates of the PhD program will also be well positioned for the workplace in the private practice of law, business, the government, or various Canadian and international non-governmental organizations that focus on law and legal policy.
Graduate Diploma in Mining Law, Finance, and Sustainability
The Graduate Diploma in Mining Law, Finance, and Sustainability will provide complementary interdisciplinary training to students whose backgrounds and previous academic disciplines are in fields other than Law. Our goal is to provide mining professionals (e.g. geologists, geophysicists, engineers), business professionals (e.g. those in finance or human resources), public servants, indigenous leaders, and advocates working with non-governmental organizations with knowledge of the key legal frameworks that govern the extractive industries in Canada and abroad. This will help them better understand environmental regulation, the rights of indigenous peoples, and applicable corporate finance provisions.

Applications to all Western Law Graduate Programs are processed by the School of Graduate and Postdoctoral Studies at Western University.