Albany Law School
The information on this page was provided by the law school.

Official Guide to LLM, Master's, and Certificate Programs
---
Introduction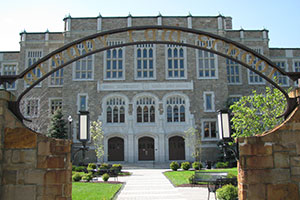 The only law school in the capital of New York State, Albany Law School is the oldest independent law school in North America. Our location, in the center of state government, provides unprecedented opportunities for internships, field placements, clinical experiences, and career opportunities. Our world-class faculty is dedicated and accessible. Students have access to New York's highest court, federal courts, and the state legislature, as well as to a thriving tech-based economy.
Our Community
The Albany Law School community is intimate, respectful, and supportive. We welcome students and faculty with diverse backgrounds and talents, and provide an outstanding environment for the pursuit of scholarship, teaching, and public service. The small size of our student body fosters an environment that encourages camaraderie and frequent contact between students and faculty. Our affiliation with the State University of New York's University at Albany provides opportunities for students to access the offerings of a major research institution.
Student Life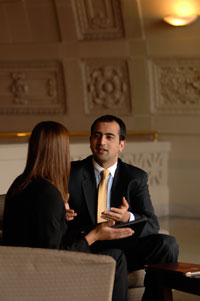 You have dozens of opportunities to participate in student organizations and activities centered around specific academic, professional, social, cultural, or athletic interests. The Capital Region is home to 16 colleges and universities and boasts museums, galleries, restaurants, shops, theaters, nightclubs for every taste, venues that host professional sporting events, and performing arts centers. The Adirondack, Berkshire, and Catskill Mountains offer skiing, camping, hiking, and water sports, and the historic Saratoga Race Course offers thoroughbred and harness racing. Metropolitan centers in New York City, Boston, and Montreal are all within an easy drive, and about 10 trains provide daily service to New York City. All major air carriers operate from the Albany International Airport and provide daily nonstop service to most eastern US cities, with connections worldwide.
Career Services
Albany Law's career services system includes flexible, dynamic, and intuitive job-search features as well as access to a Personal Job Search Agent to find jobs matching your interests and skills. Résumés of students can also be forwarded electronically to employers. In addition to helping you set your goals, we offer a variety of programs and services to make sure you reach them, including
Interviews On and Off Campus: Hundreds of interviews are held on campus each year with law firms, government agencies, public interest organizations, and businesses. We arrange interview programs in cities across the country, including New York; Boston; Washington, DC; and Chicago.
Career Counseling: Working with a professional counselor, you will examine your interests, consider your options, identify possible employers, and plan your studies to match your career objectives.
Career Education Programs: Learn from workshops, meetings, panel discussions, and other activities with alumni and other practicing professionals.
Job-Search Skills: Get help building a résumé, writing cover letters, networking, and learning other

job-search

essentials. We also provide interview coaching—videotaped and professionally critiqued mock interviews that prepare you for the challenges you will face when you do it for real.
Job Fairs and Employer Information Sessions: Take advantage of opportunities to meet potential employers from an array of fields and learn what they are looking for.
Alumni: With more than 10,000 alumni working in every state of the country and numerous countries around the world, our students benefit from Albany Law's close network of successful graduates.
Our Campus
Albany Law School shares a 50-acre campus with three colleges. Our facilities honor 165 years of history, while supporting a twenty-first-century legal education. The open design of the 53,000-square-foot Schaffer Law Library—a federal depository library—provides an inviting environment for study and research. The main building of Albany Law School has been renovated and houses contemporary lecture halls, seminar-style classrooms, two modern moot courtrooms, and smart classrooms with wireless Internet access and advanced audio, video, computing, and conferencing systems. A 45,000-square-foot building, built in 2000, houses the Albany Law School Clinic, Government Law Center, and administrative offices, as well as several classrooms.
Housing
The Capital Region is composed of the cities of Albany, Schenectady, and Troy. The area near the law school is considered residential, though within walking distance to downtown Albany and the capital buildings. Housing is readily available, with the majority of apartments within walking distance of the school. Because of the proximity to so many colleges and universities, housing is also very affordable. The law school does not screen or investigate any listing; however, a certificate of occupancy is required of all landlords listing properties located in the city of Albany. A residential facility for students, called College Suites, is located on the University Heights campus adjacent to the law school.
LLM Programs/Areas of Specialization
Advanced Specialization in Law for Graduates of ABA-Approved Law Schools in the United States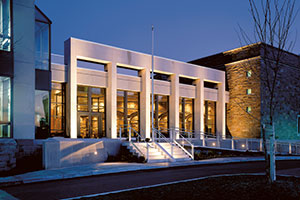 The LLM program offers several different study options. Candidates may specialize in Government Administration and Regulation, Health Law, Intellectual Property Law, or International Law, or may design a course of study other than those specialized programs.
LLM candidates are required to earn 24 credits in approved courses. Students are strongly encouraged to earn academic credits, up to a limit of 6, by engaging in faculty-supervised research and writing projects. A minimum GPA of 2.0, current and cumulative, is required.
Students are expected to complete their degrees within three years and be continuously enrolled (full or part time) during fall and spring semesters until all degree requirements are met.
Online LLM in Cybersecurity and Data Privacy Law
The Cybersecurity and Data Privacy Law curriculum is designed for lawyers with a desire or a need to learn more about the legal and policy implications of cybersecurity and data privacy. This 100 percent online program features professors and practitioners with unique expertise in information security, data privacy, cybercrime, and intellectual property.
The online LLM in Cybersecurity and Data Privacy Law is designed for graduates of law schools in the United States and from around the world. It is not designed as preparation for the Uniform Bar Examination. 
LLM candidates are required to earn a total of 24 credits and are encouraged to earn at least three of those academic credits by engaging in a faculty-supervised research and writing project.
Typically, attorney students take 1–2 courses per semester and complete the program in 18 months to 2 years; however, students can enroll in 4 courses per semester and complete the course online in 1 year.
LLM for International Law Graduates
This LLM program is designed for international law graduates and practicing attorneys from countries outside the United States who seek an academic program in order to qualify for admission to the New York State (or other state) Bar. An applicant who has studied in a foreign country may qualify to take the Uniform Bar Examination by successfully completing the requirements for the LLM degree from Albany Law School.
LLM candidates who plan to take the Uniform Bar Examination are required to take a course in legal research, writing, and analysis; a course in American legal studies; and at least three courses in subjects tested on the Uniform Bar Examination. To ensure compliance with the rules of the New York State Court of Appeals, the International LLM degree at Albany Law School consists of 27 credit hours of coursework that must be completed within 24 months of matriculation. Required courses are Legal Profession, Legal Research and Writing, and either Constitutional Law I & II, Federal Civil Procedure, or New York Practice I. The program also requires LLM candidates to take Advanced Legal Analysis, a specially designed course that covers bar examination topics including contracts, criminal law/criminal procedure, torts, constitutional law, property, and evidence. Students are assigned problems and exercises that are in the same format as bar questions and receive written feedback designed to make them more successful on the bar examination.
Albany Law School recognizes that internationally educated lawyers present very different backgrounds and training (e.g., common law versus civil law and actual prior coursework and experience), and we seek to build on those individual differences.
Contact Information
Additional information about our LLM programs may be found on the law school website or by contacting
Laura Sprague
Associate Director of Admissions
Albany Law School
80 New Scotland Avenue
Albany, NY 12208
USA

Phone: 518.445.2326
Fax: 518.445.2369
Email: admissions@albanylaw.edu
We encourage you to visit Albany Law School—meet our faculty, speak with our students, and tour our beautiful facilities. We look forward to meeting you.