Arizona State University—Sandra Day O'Connor College of Law
The information on this page was provided by the law school.

Official Guide to LLM, Master's, and Certificate Programs
---
Introduction
The Sandra Day O'Connor College of Law at Arizona State University combines the best traditions of American legal education with innovative programs supported by strong community partnerships. Located in the heart of Phoenix, the capital of Arizona and the nation's fifth-largest city, the law school is uniquely situated in a vibrant center of legislative, judicial, and business activity—with limitless opportunities for students and professionals.
The law school offers an elite education at a competitive price, and maintains an outstanding track record of placing graduates in high-quality jobs. An unwavering commitment to excellence is demonstrated through acclaimed instructors, breadth-and-depth course offerings, numerous channels for experiential and interdisciplinary learning, small legal family feel with access to all the resources and connections that a major university has to offer, extensive public service and pro bono opportunities, and several highly regarded specialty programs.
A busy calendar of conferences, seminars, and speakers enriches the student experience and fosters a strong sense of community. ASU Law promotes leadership and collaboration, reaches out to all parts of the university and the metropolitan area, strives for inclusion, and addresses contemporary problems through teaching, research, and problem solving.
Physical Facilities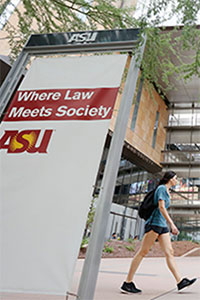 ASU Law is located in the Beus Center for Law and Society (BCLS) on ASU's downtown Phoenix campus. Opened in fall 2016, this 280,000-square-foot building and surrounding space fosters innovative and dynamic ways to engage in legal learning. The law school is home to several cross-disciplinary centers and programs including
Center for Law, Science, and Innovation
Center for Law & Global Affairs
Center for Public Health Law & Policy
Indian Legal Program
Sports Law & Business Program
Program on Law & Sustainability
The Beus Center is also home to a variety of clinics; think tanks; policy groups; community outreach organizations like the Arizona Legal Center, which provides access to justice; and the ASU Alumni Law Group, which trains recent graduates.
Students have access to world-class libraries, performing-arts venues, fitness complexes, and an array of recreational opportunities, including intramural sports, personal training, and instructional classes.
Housing
The Phoenix metropolitan area, known as the Valley of the Sun, features a wide variety of housing options. Apartments range from affordable studios to high-end urban lofts, and houses are available to rent in neighborhoods throughout the area. Because the law school is centrally located downtown, many students choose to live in Phoenix. However, it is only a short commute to school from neighboring cities such as Scottsdale, Glendale, and Tempe (where ASU's main campus is located). Below are some resources to help with your search for housing.
Living On Campus
Most on-campus housing is occupied by undergraduate students. ASU provides separate, limited graduate housing for single students; however, most graduate students choose to live off campus. Married students and families may explore family housing options available at ASU's Polytechnic Campus in Mesa, accessible to the Downtown Phoenix campus by the ASU shuttle. For more information, visit on-campus housing.
Living Off Campus
The majority of law students live off campus. The apartment complexes immediately surrounding ASU's campus are largely occupied by undergraduate students, which can be a difficult arrangement for law students. Renting an apartment or home in Phoenix a little farther from campus, or in the neighboring cities, is typically the best option for law students to find an appropriate study environment. There are lots of options in the surrounding cities that are no more than a 20-minute drive from ASU. Some students choose to live near downtown Phoenix and commute by light rail. Additional guidance about housing can be obtained through Off-Campus Student Services.
LLM Programs/Areas of Focus
LLM, Master of Laws Degree—Customized
ASU Law offers an LLM that you can design to fit your needs. Our customized LLM is an opportunity for you to examine in depth the legal trends of the future and make connections with faculty members and fellow practitioners who are shaping that future. Whether you want to become an authority in your area of practice or transition into a new specialization, you can customize your LLM course of study to fit your vision. Some of the more popular areas of focus include
Public Health Law and Policy
Global Legal Studies
Rule of Law and Governance (in Phoenix and Washington, DC)
Sports Law and Business
Sustainability
Patent Practice
International Students
ASU Law welcomes foreign lawyers who want to study the US legal system. Choosing to study with us means being integrated into JD classes, learning about the American legal system, and improving your legal research and writing skills. One required course will offer students a focused study in America's common-law system. The Professional Legal Writing course teaches foreign students how to research US cases and statutes, as well as prepare legal analysis memos in an American structure. International LLM students can design the remaining 22 credits of their studies to complement their personal career interests.
Health Law and Policy, Global Legal Studies, and Other Specialties
Because of the breadth of expertise within our faculty and the rich selection of courses offered each year, there are a variety of ways to focus LLM studies. In the areas of Health Law and Policy and International Law, there are research centers in place to assist with curriculum choices for interested students. Students may elect to pursue another focus in their LLM studies with relative ease and will find an administration that is willing to assist in that enterprise.
LLM in Biotechnology and Genomics
This is the century of the gene. Advancements in technology—from stem-cell research and genetically modified organisms to DNA forensic evidence and nanotechnology—are raising a multitude of legal questions about privacy, intellectual property, regulation, and liability. Today's lawyers must be prepared to handle these challenges and others surrounding international trade, evidentiary standards, personalized medicine, licensing, and business planning. Because most traditional legal studies don't offer in-depth exposure to these complex intersections of science and law, an LLM in Biotechnology and Genomics was developed at ASU Law. The program is housed in the college's Center for Law, Science, and Innovation, the nation's largest and oldest multidisciplinary research center focusing on the legal implications of new scientific discoveries and emerging technologies.
LLM in Tribal Policy, Law, and Government
ASU Law inaugurated its LLM program in Tribal Policy, Law, and Government in August of 2005, in part because of the prominence of our Indian Legal Program (ILP) and the demand for expertise in this area. The LLM in Tribal Policy, Law, and Government (administered by the ILP) is designed for lawyers and law school graduates who desire to work on issues related to tribal law and federal Indian law at the professional and academic levels. The program provides students with a detailed understanding of the nature of tribal government, law, and policy development within the domestic federal structure. LLM candidates will benefit from the extensive resources committed to the Indian Legal Program at ASU Law, including a full-time director and staff; an award-winning Indian Legal Clinic with its own full-time director and staff; and a Tribal Economic Development Program, including a director and staff.
Application Information
ASU Law offers several LLM programs for students who have already completed a law degree within the United States or abroad. Applications are accepted on a rolling basis for fall or spring entry.
In order to be admitted to the LLM program, an applicant must have
completed a JD degree domestically or a law degree at a foreign institution that would qualify the applicant to practice law or pursue license to practice in that country; and
submitted a complete application to the program.
Selection will be based on academic background, diversity of experience and background, career experience and ambitions, strength of experience related to the program sought, space, and other factors.
For an application to be considered complete, it must include the following:
$65 application fee (credit card, check, or money order)
Statement of interest that is no longer than 1,250 words on double-spaced, typed pages
Résumé that does not exceed three typed pages
Writing sample
Explanations to affirmative answers to any character and fitness questions
Two letters of recommendation
Transcripts from all institutions attended, including the transcripts showing that the bachelor's degree and law degree were conferred
TOEFL score (if proof of English language proficiency is required by ASU rules—please see website for details)
Complete LLM application form
Applicants who have received an undergraduate or graduate degree from a foreign institution, please refer to the special instructions for foreign-educated applicants.
You may pursue the LLM on a full-time or part-time basis. Application deadlines can be found on the ASU Law website.
Please refer to the ASU website for the most current information about tuition and fees. During the spring semester, the Arizona Board of Regents sets tuition rates for the following academic year for all ASU programs.
Student Services and Organizations
Outside of the classroom, many students enhance their legal education through student-run activities. There are a variety of activities within the law school, on campus, and throughout the Phoenix community. You are sure to find groups that suit your interests. Within the law school, some groups sponsor professional presentations, others have large annual programs, some provide legal services to the community, and others provide frequent social activities.
ASU Law is proud to have approximately 25 student organizations and approximately 15 registered pro bono organizations, which offer
exposure to specific areas of the law and community leaders;
networking opportunities with local attorneys;
a vehicle for community involvement/social change; and
membership in national legal organizations.
These organizations offer opportunities to take on leadership roles, organize events, and serve the community. If you cannot find an organization that suits your needs, it is always possible to organize a new group—you will certainly find other students who share similar ideas and passions.
Career Services
The Office of Career and Employment Services offers LLM students career counseling on an individual basis and through numerous opportunities to network within the Phoenix legal community. LLM students also have full access to career services resources and the college's electronic job bank. Individual assistance is also provided for résumé/CV and cover-letter review, interviewing skills development, and development of salary negotiation skills.
Contact Information
To learn more, please visit the ASU Law website, or contact
Eric Menkhus
Associate Dean New Education Initiatives
Clinical Professor
Sandra Day O'Connor College of Law
Beus Center for Law and Society
Arizona State University
111 E. Taylor Street
Phoenix, AZ 85004-4467
USA

Phone: 480.727.8856
Email: eric.menkhus@asu.edu