Barry University Dwayne O. Andreas School of Law
The information on this page was provided by the law school.

Official Guide to LLM, Master's, and Certificate Programs
---
A Growing Presence in Legal Education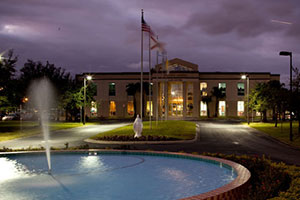 Founded in early 1993, the University of Orlando School of Law admitted its first class in 1995. In 1999, the School of Law became a part of Barry University, a private Catholic university located in Miami Shores, Florida. The Barry University Dwayne O. Andreas School of Law is dedicated to providing a unique, personalized academic experience. Our school offers the law student a quality legal education in a supportive, caring environment. Our faculty and administration embrace an open-door policy, and as a result our students receive one-on-one attention that gives them an edge in the classroom and in the courtroom. A Barry lawyer is the product of a mission-driven learning environment rooted in the Adrian Dominican tradition. A Barry lawyer has instilled in him or her a core commitment to social justice and to the ethical practice of law.
The School of Law is situated on a charming 20-acre campus in East Orlando, about 15 minutes from downtown. Barry Law's facilities include a three-story Legal Advocacy Center, a three-story library, a student law center, a moot court building, a student café, a faculty office building, and a bookstore, as well as facilities for clinical programs and the bar prep and Academic Success Programs.
LLM candidates who choose to study at Barry Law will enjoy the benefits of a university where students receive the individualized attention needed to succeed, both in the classroom and in the practice of law.
LLM Program—American Legal Studies LLM
We currently offer one LLM degree program: the American Legal Studies LLM, a program designed for internationally educated students. LLM students admitted to this program benefit from individual attention and guidance in a family atmosphere. Our LLM students also receive intensive instruction in US legal research, writing, and analysis.
Tuition, Applications, and Enrollment
The Law School begins accepting applications on October 1 for applicants interested in matriculating the following fall. Barry University Dwayne O. Andreas follows a rolling admission policy. The LLM admissions committee will review your file once it is complete. Applicants should make sure that all materials have been received and that their file is therefore complete.
Applications
Applications accepted October 1
Application deadline is June 1
The LSAT and GRE are not required
Application fee: Nonrefundable $30 application fee must be paid upon submission of application
Two letters of recommendation required, no more than three accepted
Two official transcripts verifying foreign law degree required from each law school attended, whether the applicant received a degree from that law school or not, including any prior LLM programs
Students in the LLM program should be prepared to read and discuss difficult technical material in their courses. Applicants whose native language is not English must demonstrate proficiency in English, most commonly through achieving a score of 550/213/79–80 on the Test of English as a Foreign Language (TOEFL). Strong preference is given to candidates with TOEFL scores of 600/250/100. IELTS scores are also accepted and a minimum score of at least 7 is strongly preferred. Applicants will not be able to start their LLM coursework until they meet Barry Law's language requirements.
Complete and updated résumé or CV required
Statement of interest required
Interview by phone may be requested
Tuition
Students in the LLM program pay the same tuition and fees as those in the JD program. For the 2016–2017 academic year, tuition and fees are $35,844.
Enrollment
More than 800 students are currently enrolled at the Dwayne O. Andreas School of Law. The school promotes diversity and welcomes students from a wide variety of backgrounds. The student body represents 23 states, 88 colleges and universities, and 10 countries, including Brazil, Canada, China, Dominica, Dominican Republic, Haiti, Honduras, Peru, Taiwan, and Tanzania.
Facilities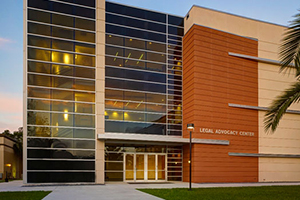 The School of Law is situated on a beautiful 20-acre campus about 15 minutes from downtown Orlando. The School of Law facilities include
a three-story, 32,400-square-foot Legal Advocacy Center, which opened in 2011 and features two large classrooms, five moot courtrooms, two seminar rooms, a multipurpose event space, and administrative offices;
the three-story, 36,000-square-foot Euliano Law Library, which houses an extensive collection of legal materials;
the two-story, 20,000-square-foot Andreas Law Center, which houses the Office of Admissions, the Career Services Office, Faculty Lounge, classrooms, a moot courtroom, and a chapel;
a 9,000-square-foot moot courtroom building, which includes a café and student lounge;
a 9,000-square-foot faculty building, which houses faculty offices;
a new 9,000-square-foot building, which was added in 2016 to provide additional classroom and office space; and
three modular buildings that house the bookstore, School of Law Bar Preparation Program and Academic Success Center, student organization offices, and clinical programs.
Technology Resources
The Division of Information Technology (DoIT) is the university's central computing, network, communications, and library services organization. DoIT is charged with directing, managing, and supporting the information systems, library needs, and computing infrastructure of Barry University and the School of Law campus.
The division provides students with local campus network access, the Internet, and web-based email accounts for all students, staff, and faculty. The Law Library houses a computer lab with Windows 7 Enterprise and 2008 Server technology, which includes Office 2010. We also provide wireless network accessibility from all buildings on campus as well as outdoors. Six copiers within the library allow students to print, copy, and scan documents. Students may send print jobs from anywhere on campus, and the jobs are then retrievable from the library's copiers using their student ID cards. Barry Law classrooms are equipped with state-of-the-art technology.
DoIT staff located in the Law Library are dedicated information service professionals who are committed to providing outstanding resources and exemplary service. All School of Law facilities provide technologically advanced resources and outstanding staff—a critical part of a solid foundation for legal education.
Housing
Barry Law does not offer on-campus housing. However, the Orlando area offers a wealth of apartments and rental houses. Students may check with the admissions office for a list of apartments where law students currently live, the local newspaper, or agencies like Apartment Hunters.
Student Life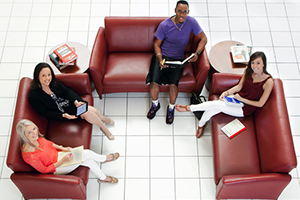 The student services team is dedicated to cultivating relationships with students to support their individual development during the law school experience and after graduation. The size of our student body permits close interactions with administrators, faculty, and other students. Such interaction is an important part of a complete legal education as fellow students and faculty eventually become colleagues.
More than 35 student organizations are a part of the student life activities at the School of Law. LLM students are encouraged to attend meetings and become familiar with student organizations that may be of interest. The purpose of the school's student organizations is to promote life balance and to provide opportunities for enhancement of the academic, cultural, social, and recreational aspects of student life. Through participation in programs and activities, student organizations and their members play a vital educational and social role at the Dwayne O. Andreas School of Law and contribute to a campus rich with energy and opportunity for the development of our students.
LLM Curriculum
The LLM is a postgraduate course of study in law for lawyers who have completed their first law degree in another country. The required 24 hours of coursework for the Barry Law program spans one academic year from August to May, and up to 15 credits may be transferred into the Barry Law JD program, based on a student's performance in the LLM program. No subject specialties are designated as a part of this LLM program, and the courses taken by LLM students are determined on an individual basis.
As a residential program, LLM students live in Orlando, go to class with students from the United States, study in the library, and experience daily life on and off the campus. Upon graduation from the program, the Dwayne O. Andreas School of Law LLM graduate will have studied law in English and will know the content of United States law, along with having formed ideas about the daily life and culture of the country based on their personal experience.
Barry Law combines traditional and innovative teaching methods to provide a dynamic, professional program. Our faculty utilize a variety of teaching methods, including simulations and role-playing. Courses designed to develop and refine writing abilities are required for LLM students.
The LLM curriculum requires that students take three courses, Fundamentals of American Law, US Legal Discourse I, and US Legal Discourse II. The LLM was designed exclusively for LLM students to teach legal analysis, writing, research, and presentation skills. The remainder of the required 24 credits will be made up from the courses already offered at the school. Students meet with their advisers to assess the student's individual interests and needs.
The program is designed so that most of a student's coursework will be done in classrooms with US law students.
Required Courses
Fundamentals of American Law (2 credits): This course provides an in-depth overview of substantive and structural law of the United States.
US Legal Discourse I (3 credits): This course introduces students to the primary sources of legal research, such as case law and statutes, administrative rules, legislative history, and secondary sources of legal research, such as law review articles and legal encyclopedias, traditionally utilized in the United States. It provides students with instruction and practice on how to access these sources through books, databases, and the Internet. The course also instructs students in the principles and conventions of basic writing and objective legal writing and in the rules of legal citation and writing skills by drafting office memoranda, receiving instructor feedback, and rewriting these memoranda.
US Legal Discourse II (2 credits): This is an intensive course that builds on the foundation laid in the first semester course and allows students to strengthen their written and oral advocacy skills. Students will learn to better understand the intricacies of practice in the United States through oral advocacy, client skills, and an overview of alternative dispute resolution techniques.
Contact Information
For additional information about this program, please contact lawadmissions@barry.edu.