210 Science Drive, PO Box 90365, Durham, NC 27708-0365, USA
Phone: 919.613.7033 | Fax: 919.681.6550
Website: www.law.duke.edu
Introduction
Duke Law School is one of the world's leading law schools, known for its outstanding faculty and scholarship, a curriculum that integrates professional skills development, and a cross-disciplinary approach to learning and teaching. Students come to Duke Law from every state in the United States and from all over the world; alumni work in top law firms and companies across the globe. One of the reasons students choose Duke Law is its collaborative environment, where growth is encouraged not only through rigorous scholarship but also through cooperation and support. Because the school is small, students enjoy uniquely close interactions with faculty and peers. Duke Law's faculty members are among the most respected experts in fields such as environmental law, health law, international law, intellectual property law, constitutional and public law, and international business and corporate law. In addition, professors are deeply dedicated to teaching and are accessible and responsive to students. Their open-door policy encourages students to ask questions, continue discussions, and seek advice on specialized interests. Faculty-student interaction extends beyond the classroom to committee work, research, pro bono opportunities, career counseling, and mentoring. At Duke Law, students experience a supportive environment where the focus is on training and developing the whole person in an atmosphere that values different perspectives, backgrounds, and orientations.
Law School Enrollment
In 2017, entering JD students came to Duke from 37 different states and 9 foreign countries, representing 104 different undergraduate institutions. The entering LLM class included 8 students enrolled in the Law and Entrepreneurship LLM program and 99 international LLM students from 37 countries.
Faculty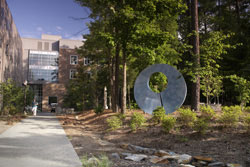 Central to Duke Law's success is its faculty. Well respected in their chosen fields, Duke Law professors are known for groundbreaking legal scholarship that impacts public policy and the legal profession. A large number of faculty also are practitioners in both the public and private sectors in the United States and abroad, and the school's seven professors of the practice bring deep experience from extensive careers in law and business. Faculty members' backgrounds are as varied as they are distinguished: they are former Fulbright Scholars, Rhodes Scholars, and Marshall Scholars. A number of faculty members have served as Supreme Court clerks. Faculty members hold joint appointments in departments throughout the university and have obtained PhDs in a wide variety of disciplines. Several visiting professors from abroad teach at Duke Law each year, and many full-time faculty members have extensive international connections.
LLM Programs/Areas of Specialization
Duke Law School offers three LLM programs:
International Law Graduates
The LLM program at Duke Law School is designed to introduce international law graduates to the legal system of the United States and to provide the opportunity to take advanced courses in specialized areas of the law. LLM students are able to select courses from the full JD curriculum. Students also may take courses in other parts of the university, like the Fuqua School of Business or the Sanford School of Public Policy. Most LLM students at Duke are professionals with two or more years of experience at well-known law firms. They are also judges, prosecutors, academics, or members of government ministries, corporations, or financial institutions. The LLM program usually includes a small number of talented, very recent law graduates as well. Applicants must hold a first degree in law from an accredited institution outside the United States. The law degree should be the equivalent of the JD or LLB degree. Correspondence course degrees will not be considered for admission to the LLM program. Duke offers certificates in Environmental Law, Business Law, and Intellectual Property Law as part of the LLM for International Law Graduates.
Required credits: 21
Application deadline: January 20, 2019
Application fee: $70
Tuition: $63,400 (2018–2019)
Application Instructions: Though our preferred method of application is via LSAC, applicants may also submit materials in hard copy form directly to the Office of International Studies at the address below (omit the box number when using a courier).
Admission will be based on the following criteria:
the applicant's academic promise as revealed by previous academic performance;
references (a minimum of two) that demonstrate the applicant's scholarly ability and professional qualifications;
the applicant's professional plans, goals, and special interests as reflected on the personal statement and résumé; and
the applicant's English language proficiency.
Contact Information
For additional information about this program, please visit the International Studies website, or contact:
Office of International Studies
210 Science Drive
Box 90365
Durham, NC 27708-0365
USA
Phone: 919.613.7033
Fax: 919.681.6550
Email: international@law.duke.edu
Law and Entrepreneurship
The Law and Entrepreneurship LLM (LLMLE) program is a two-semester, 23-credit program open to applicants who hold a JD or an LLM from a US law school approved by the ABA or are admitted to practice in a US jurisdiction. The program provides students with a deep understanding of the historical and current perspectives on entrepreneurship and its relationship to law; enables students to understand the business, institutional, and strategic considerations applicable to entrepreneurs; fosters an understanding of the public policy and legal frameworks that promote innovation; ensures that students master both the core substantive law and the lawyering skills that are necessary for effective representation of entrepreneurs; and provides students with an opportunity to explore their own potential for entrepreneurship.
Required credits: 23
Application deadline: Rolling (May 15, 2019, is the priority deadline)
Application fee: $70
Tuition: $63,400 (2018–2019)
Admission will be based on the following criteria:
the applicant's academic promise as detailed by law school transcripts and class rank information;
the applicant's professional plans, goals, and special interests as reflected on the personal statement and résumé; and
references (a minimum of two, including one academic reference if possible) that demonstrate the applicant's scholarly ability and professional qualifications.
Contact Information
For additional information about this program, please visit the Law and Entrepreneurship website, or contact:
Program in Law and Entrepreneurship
Duke Law School
210 Science Drive
Box 90360
Durham, NC 27708-0360
USA
Phone: 919.613.7259
Fax: 919.613.7231
Email: llmle@law.duke.edu
Master of Laws in Judicial Studies
Through Duke's Master of Laws in Judicial Studies program, judges learn the analytical skills and research approaches necessary for studying judicial institutions and apply those skills to studies of domestic and international judicial institutions, common and emerging legal issues, general judicial practices, and judicial reform efforts. The full-scholarship program is open to state, federal, and international judges and requires four weeks of coursework in two consecutive summers, plus the writing of a thesis based on original research. The program is offered under the auspices of the Bolch Judicial Institute at Duke Law.
Required credits: 22
Application deadline: Rolling (next class begins in May 2020)
Application fee: $70
Tuition: $22,000 per year (full scholarship includes room and board)
State and federal judges in the United States, as well as international judges of equivalent position, are eligible for admission. Though applications submitted by sitting judges will receive priority consideration, applications from former judges will also be considered. The following application materials are required:
the Judicial Studies Master of Laws program application

(PDF)

, which must be signed and submitted in hard copy form through the mail or electronically signed and submitted via email to judicialstudies@law.duke.edu;
a résumé or curriculum vitae; and
a personal statement outlining (1) your significant personal experiences beyond what may be reflected in your academic transcripts and on your résumé, (2) why you are interested in the judicial studies program, or (3) how the program will impact your current work or future professional goals.
Contact Information
Please see the Duke Law Center for Judicial Studies website, or contact us for more information:
Bolch Judicial Institute
Duke Law School
210 Science Drive
Box 90362
Durham, NC 27708-0362
USA
Email: judicialstudies@law.duke.edu
Special Programs
International Law Programs: Duke is home to a large and vibrant international law program. In addition to the LLM program for international law graduates, Duke has a variety of programs that bring students and practitioners from all over the world to the Law School, including a robust exchange program, an SJD program, and a summer legal-language institute. The Duke Center for International and Comparative Law hosts a number of events each year, including lectures and conferences featuring some of the world's most renowned scholars and legal leaders. Duke Law pioneered a unique

joint-degree

program that makes it possible for students to earn a JD and a Master of Laws in International and Comparative Law concurrently in three years, which attracts a number of JD students who are passionate about international law. Many JD and LLM students from Duke, and around the world, participate in Duke's Summer Institute in Global and Transnational Law, which moved to Leiden and The Hague, the Netherlands, in 2018. Through seminars and fieldwork, Duke Law's International Human Rights Clinic enables students to critically engage with cutting-edge human rights issues, strategies, tactics, institutions, and law.
Legal Clinics: Duke Law School's clinical program has grown exponentially and houses a variety of clinics that offer a wide range of hands-on opportunities. A clinical office suite brings a number of the programs together, allowing them to function as a public interest law firm. Clinical opportunities include the Appellate Litigation Clinic, the Children's Law Clinic, the Community Enterprise Clinic, the Start-Up Ventures Clinic, the Environmental Law and Policy Clinic, the Health Justice Clinic, the Civil Justice Clinic, the First Amendment Clinic, the International Human Rights Clinic, the HIV/AIDS Policy Clinic, and the Wrongful Convictions Clinic.
Duke Entrepreneurship: Duke Law's LLMLE program takes advantage of resources and programs produced by the university's Innovation and Entrepreneurship Initiative, through which Duke aspires to create the best entrepreneurial learning environment in the world. The initiative is guided by the principle of knowledge in the service of society, the ideals of a liberal arts education, and a spirit of collaboration between academic disciplines and between academia and the community. Affiliated programs include the Center for Entrepreneurship and Innovation, the Entrepreneurial Leadership Institute, the Center for Entrepreneurship and Research Commercialization, the Duke Start-Up Challenge, the Center for the Advancement of Social Entrepreneurship, the Duke Center on Law & Technology, the Duke Law Community Enterprise Clinic, Duke Law

Start-Up

Ventures Clinic, the Duke Law Center for the Study of the Public Domain, the Duke Law Center for Innovation Policy, DU Hatch, the Program for Entrepreneurs, and more.