Emory University School of Law
The information on this page was provided by the law school.

Official Guide to LLM, Master's, and Certificate Programs
---
Introduction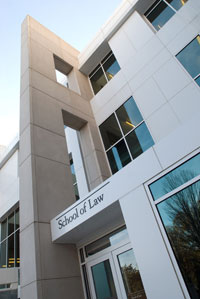 At Emory Law, we equip you with both a theoretical and practical understanding of the law. We offer real-world experiences, and we expose you to diverse opportunities to help you determine where your passions lie—whether it's fighting to protect a patent or a human life.
Our professors have unique backgrounds and interests—from pioneering the Feminism and Legal Theory Project to uncovering the intersection of law and religion, to fighting for justice for Guantanamo Bay detainees.
But they all share a culture of openness and collaboration with their students and with one another. As an Emory Law student, you are encouraged to challenge the status quo and follow your mind and your heart. At Emory, we prepare you to challenge and change the world.
Emory University
Emory University, in Atlanta, Georgia, is one of the nation's leading research universities and is an inquiry-driven, ethically engaged, and diverse community whose members work collaboratively for positive transformation in the world through courageous leadership in teaching, research, scholarship, health care, and social action. The university is recognized internationally for its outstanding liberal arts college, superb professional schools, and one of the Southeast's leading health-care systems.
Situated in the thriving international city of Atlanta, Emory students' learning resources are vast and rich. In addition to Emory's nationally recognized college, its Goizueta Business School, and its Rollins School of Public Health, the city is home to the Centers for Disease Control and Prevention, the Securities and Exchange Commission, the Environmental Protection Agency, and the nearby Georgia Institute of Technology.
Physical Facilities
MacMillan Law Library holds more than 400,000 volumes and more than 4,000 serial subscriptions.
Free wireless access is available throughout the law library and law school.
Faculty offices are clustered around classrooms.
State-of-the-art fitness and exercise facilities are convenient to the law school.
Housing
LLM Programs/Areas of Specialization
Emory Law's LLM program offers graduates of US and foreign law schools the opportunity to pursue a Master of Laws from one of the top law schools in the United States and expand their legal skillset, benefitting from a wide range of courses and faculty expertise.
LLM Program Options
LLM students may choose from among three broad tracks:
a traditional LLM in general studies allows individuals the unique opportunity to customize a curriculum specific to their particular interests and expertise, drawing from the breadth of Emory's curriculum in health law, intellectual property, international law, tax law, and other areas;
an LLM in one of six formal concentrations developed by the Emory Law faculty, including:

Transactional Law,
Public Law and Regulation,
Human Rights Law,
Child Law and Policy,
Vulnerability and the Human Condition, and
Law and Religion; or

a Joint LLM with Central European University in Budapest, Hungary.
How to Apply
Students interested in applying to the LLM program should complete the online application available through your LSAC LLM Account. Learn more about how to apply.
Student Services and Organizations
As a law student, it is extremely important that you take advantage of all the opportunities to increase your participation and visibility within the legal community. Become active in some of the law school's nearly 40 student organizations. These groups will provide your first and strongest link to a network of attorneys that will assist you in your academic and professional development.
A few of those organizations include the Student Bar Association, which is the students' governing body for the law school. The International Law Society promotes awareness of world issues in relation to the legal profession. The Emory Public Interest Committee (EPIC) is committed to making public interest jobs accessible to Emory Law students and provides summer grants for students who accept volunteer positions or clerkships in public interest organizations.
Career Services
The Office of Career Services (OCS) provides a full range of services to assist students and graduates with the employment-search process.
Services offered to domestic LLM students and graduates include one-on-one career advising, job search correspondence development assistance and critique, job search skills training, and access to educational programming about the range of career options for individuals with a legal education and a variety of career resource materials. Internationally educated LLM students may access our LLM Job Search Correspondence Guide, an in-depth resource developed by OCS regarding the legal employment search process in the United States.