Florida International University College of Law
The information on this page was provided by the law school.

Official Guide to LLM, Master's, and Certificate Programs
---
Introduction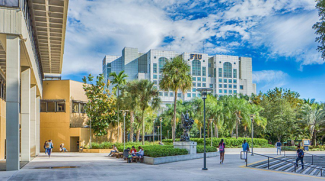 FIU College of Law is a vibrant, academically rigorous, and successful member of the State University System of Florida. It is the only public law school in Miami. From its beginning, the college has emphasized comparative and international law in its curriculum. It has won numerous awards on the national level and is nationally recognized as a great law school for Hispanic students. FIU students pass the bar examination at very high rates, and our full-time professors are recognized international scholars. With a community amounting to 600 JD students, professors, administrators, and staff, the college welcomes those who seek legal education in the United States at the highest level. The college opens its community to lawyers trained in other jurisdictions to study for the LLM for the 2023-2024 academic year. If you wish to join our group of bold and precise thinkers, active scholars, exacting teachers, and dedicated students, we welcome your application. The LLM at FIU will change your view of the law and your life.
The LLM is a postgraduate course in law for lawyers who have completed their first law degree in another country. It is composed of 24 credits and is based entirely on coursework that runs one academic year from August to May. It does not have subject specialties, and the courses taken by LLM students are determined on an individual basis.
It is a residential program; LLM students live in Miami, attend classes and study with students from the United States, and experience daily life on and off campus. The FIU LLM graduate has studied law in the United States in English and knows not only the content of US law but also the daily life and culture of the country from personal experience.
Summary
Location: FIU Modesto A. Maidique Campus (main campus), College of Law, Miami, Florida
Duration: one academic year (August–May)
Credits required: 24
Tuition rate for 2023-2024: $20,180 for the total academic year
English proficiency exam requirement: TOEFL—590 (paper based), 250 (computer based), 90 (Internet based), or IELTS—7.0
Application deadline: April 1, 2023
Application fee: $30
Physical Facilities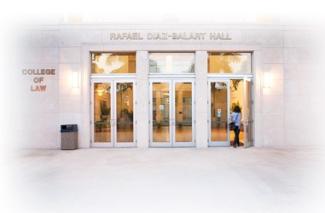 The College of Law, located on Florida International University's main campus, is situated in a residential area of Miami, one of the most international cities in the United States. It is geographically closer to more countries than any other major city in the United States and is an international hub for trade, finance, law, education, and culture. It has great weather, beaches, shopping, sports, nightlife, food, and people. Miami sits on the edge of the Atlantic Ocean and trades with the world. Downtown Miami, Port of Miami, and South Beach are all near the FIU campus, just short drives away.
Built in 2002, the College of Law's home, Rafael Diaz-Balart Hall, was designed by the internationally prominent architect Robert A.M. Stern. It is both a stunning architectural landmark and a practical educational space. Its open, airy design incorporates two spacious interior courtyards, an atrium and reading room that utilize natural light, an auditorium, a legal clinic, and two teaching courtrooms.
Library
FIU College of Law has an extensive international library and a dedicated team of librarians committed to providing a high level of service to the students and faculty of the College of Law. With over 220,000 volumes and volume equivalents, the core collection is composed of US federal and state legal materials, publications related to foreign and international law, and a rapidly growing collection of Latin American legal materials.
Lisa Davis is the Assistant Dean of Legal Information Services. She is expert in providing legal information materials and has built an online law library accessible from anywhere in the world for our LLM students. She is experienced in international legal research and practice needs, having served as an editor for the University of Florida International Law Journal and practicing law in South Florida prior to joining FIU Law.
Marisol Floren-Romero is the Assistant Director for Library Services, & Foreign and International Law Librarian and works closely with LLM students. Her undergraduate degree is from the Universidad de Navarra (Spain), and she holds an MLS from the University of Texas and a PhD in library and information science from the University of Illinois.
LLM Programs/Areas of Specialization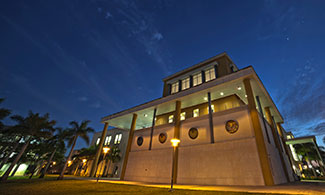 The LLM curriculum requires three courses:
United States Law I (USL I): Methods, Sources, and Structure
United States Law II (USL II): Scholarship and Perspectives
Legal Skills and Values: LLM (LSV LLM)—designed exclusively for LLM students to learn legal analysis, writing, and research
The remainder of the required credits are from the courses already offered at the college and are selected by the student and the student's advisor with the individual interests and needs of the student in mind. Therefore, most of your coursework will be done in classrooms with US law students, and you will become a part of the greater community of the college's students.
If you want an LLM that will qualify you to sit for the New York bar exam, additional requirements must be met, including taking at least two courses in basic American law. The New York bar regulations list 14 courses—such as business relationships, contracts, evidence, professional responsibility, property, remedies, torts, and wills—as fulfilling this requirement. If you have no interest in sitting for a bar exam in another state because, for example, you intend to return to your home country after completing the LLM, then the selection is wide open. Because of the strengths of our faculty, we may be able to highlight the possibilities that exist in international law, human rights, arbitration, and Latin American and Caribbean law.
Tuition
The 2023-2024 total annual tuition and fees for all LLM students at the time of application is $20,180.
In addition to the costs of tuition and fees, you should also consider the entire cost of the year in Miami. The additional estimates are provided for your consideration below. The numbers include the estimated living expenses for the 2023-2024 academic year, plus the LLM tuition and fees.
Tuition and fees (24 credit hours): $20,180
Maintenance: $23,676
Books and Supplies: $2,950
Medical insurance: $1,992
Total: $48,798
To qualify for federal financial aid, students must be United States citizens, permanent residents, or otherwise eligible for federal financial aid. Please contact the Office of Admissions and Financial Aid at FIU College of Law for further information at 305.348.8006.
The FIU Office of International Students and Scholar Services maintains information for international students about other sources of funding, such as private loans. This office is located in FIU's Student Academic Success Center (SASC), Room 230. For information, please call 305.348.2421.
How to Apply
Neither the LSAT nor the GRE are required.
LLM applications are processed through the LSAC LLM Credential Assembly Service (LLM CAS). The application for 2023–2024 will be available in October.
LLM applications are due by April 1, 2023.
To apply, you will need to provide the following documents to LLM CAS:
Law degree: The applicant must have a law degree from a recognized foreign university. Transcripts from outside the United States must be submitted for evaluation and authentication to LSAC's LLM CAS for transcript authentication and evaluation. This process will determine if your international degree satisfies this requirement.
English proficiency: Students whose first language is not English must take either (1) the Test of English as a Foreign Language (TOEFL) and should score a minimum of 590 overall (250 for the computer-based test or 90 for the

Internet-based

test) or (2) the International English Language Testing System (IELTS) (the Cambridge English Exam) and earn a score of 7.0 or higher. This is mandatory. Candidates must request that scores be sent directly to the FIU College of Law Office of Admissions and Financial Aid. There are no conditional admissions for students that do not meet the required TOEFL or IELTS score.
Letters of recommendation: Two letters of recommendation are required. If you have recently finished studying law in your home country, both letters should be from professors who know your academic work. If you have been out of university for over a year, you may have colleagues or other professionals write letters for you. Letters will be accepted in English, Spanish, French, or Portuguese.
A résumé or curriculum vitae: Please state your educational background, professional experience, and language abilities.
Statement: A brief statement of your interest in pursuing the LLM in English, not to exceed 600 words, is required. Please tell us why you would like to study law in the United States and what you hope to do upon completing your studies. Please tell us about yourself and what perspectives and ideas you will bring to the College of Law. If you are interested in any particular area of law, please make this clear in the statement. This statement must be written solely by the applicant.
Application fee: The $30 LLM application fee must be paid by April 1, 2023, and this fee is nonrefundable.
Interview: An interview by telephone, only when requested by the LLM admission committee.
Applications are reviewed by a committee of five professors and a member of the admissions office.
We welcome your questions. Please contact us:
Office of International and Graduate Studies
11200 SW 8th Street, RDB 2073
Miami, FL 33199
USA
Phone: 305.348.7595
Email: lawllm@fiu.edu
LLM to JD
In order for LLM students to begin the JD program, students must follow the same application procedure as all foreign lawyers applying for the JD. Determination of advance standing credit for the JD program is only made after admission into the JD program. For more information, visit JD for Foreign Lawyers: JD with Advanced Standing.
Student Services and Organizations
In addition to receiving a rigorous and stimulating classroom experience, Florida International University College of Law students have the opportunity to enhance their educational experience by participating in organizations. Student organization members share unique talents, interests, skills, and goals, enriching the lives of each other and the College of Law. The College of Law's 26 organizations promote various activities for law students.
Career Services
The Career Planning and Placement Office of the College of Law is dedicated to helping all students at the College of Law, including those who are working toward their LLM degree. LLM students are welcome to meet with a career advisor to discuss job-search strategies, work on résumé and cover-letter writing, and take advantage of the many resources that they have to offer.
Because you are an international student, your ability to work in the United States will depend on your immigration status. You should investigate this fully and consult with a US consulate before undertaking study. Many law students accept summer employment in legal fields. Employment rules vary depending on your immigration status, and special employment rules apply to students in the United States on F1 visas. To determine if you are eligible to accept summer legal employment under your visa, contact a US consulate.