Indiana University Maurer School of Law—Bloomington: LLM & Other Law Programs
The information on this page was provided by the law school.

Official Guide to LLM, Master's, and Certificate Programs
---
Introduction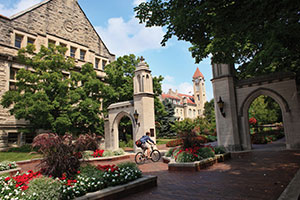 The Indiana University Maurer School of Law is home to one of the nation's oldest and most respected graduate legal studies programs, nationally regarded for its stellar faculty, students, alumni, and facilities.
As a graduate student, you have many options, and it can be hard to distinguish one school from another. At Indiana Law, we believe that our program is very different from others you may be considering. Here's why.
Our distinguished professors have expertise in disciplines that are crucial to the success of a global lawyer—information privacy and cybersecurity, business and commercial law, constitutional design, and human rights, to name a few—while our international, tax, and intellectual property law programs have received national recognition.
Indiana Law is located in Bloomington, a beautiful, safe, and friendly community with all the amenities of a larger city. Indiana University is home to a large and diverse international student population with nearly 6,000 people from more than 110 countries who are welcomed by the community.
Finally, with its low tuition and ample scholarship availability, Indiana Law is one of the best values in graduate legal education, offering exceptional quality at affordable rates. And with the low cost of living in Bloomington, your budget will go further here than at many schools on the East or West Coast.
Indiana Law is special. We have a deep and rich history of educating international students for more than 100 years, and we are happy that you are considering an LLM, SJD, MCL, or PhD with us. We hope you can make it to beautiful Bloomington to visit us in person, or take a look at one of our videos for a virtual visit.
Programs/Areas of Specialization
Indiana Law offers a wide range of degree and nondegree options.
Master of Laws (LLM)
We offer the standard LLM degree (24 credit hours), the LLM with Thesis (30 credit hours), and the LLM with English for Law Two-Year Program (36 credit hours). The standard LLM degree is a flexible program that allows you to concentrate on the areas of law most important to you while also ensuring that you receive a solid grounding in American law. You may pursue a broad range of topics or concentrate your study in one particular area of law.
Students in the standard LLM degree program usually spend two semesters at the law school completing approximately 12 credits each semester. For students who prefer to spend more time in the US, or who need a reduced course load, the program can also be completed in three semesters. Our required courses, Introduction to American Law and Legal Discourse and Writing, provide the foundation necessary for success in an American law school. For your remaining courses, you can design a program that meets your specific needs with the help of your academic advisor.
Successful LLM program applicants will have received their legal training outside the United States, with either a first degree in law or a strong undergraduate concentration in legal coursework. Applicants who have a postgraduate degree in law, but an undergraduate degree in another subject, will also be considered. Together with a first degree in law, the Indiana Law LLM degree can help international students qualify to sit for the bar exam in New York, Washington, DC, California, and several other states.
Applicants without a first degree in law or legal background should consider the MCL degree program, designed specifically for students wanting a good understanding of the American legal system but who haven't studied law in their home countries.
LLM with Thesis
In addition to the requirements above, students in the LLM Thesis program take six credit hours of Thesis Research over one additional semester. LLM Thesis students work closely with an assigned faculty advisor and engage in academic legal research and writing, resulting in a thesis of publishable quality. LLM Thesis students typically are interested in an academic career, and many go on to the SJD program.
LLM with English for Law Two-Year Program
Applicants who do not yet meet the English proficiency requirements for direct admission to the standard LLM degree program may be admitted to the two-year program. In the first year, students learn about the US legal system and master legal English while earning 12 English for law credits and four credits toward the LLM degree. Upon satisfactory completion of the first year, students then continue to the LLM degree program, where they will select courses to complete the remaining 20 credit hours needed to earn the degree.
LLM  and MCL Specializations
Students in the LLM and MCL programs can choose to specialize in a specific area of law. Our areas of specialization capitalize on the existing strengths of the law school and offer you the opportunity to develop specific knowledge that can be applied in a variety of ways. Specialization is not required, but for those looking to further their knowledge in a particular area, we offer these specializations:
Learning and Working (LAW) LLM
Many international students want to gain some practical experience in the US legal system while they're earning their LLM degree. The new Learning and Working (LAW) LLM program offers this! The LAW program gives you hands-on, real-life experience while you're studying the law. Depending on your interests and qualifications (including visa status), you could earn law school credit by participating in unpaid experiential opportunities. Explore the work options and LAW program in detail.
 
LLM to JD Transfer Option (LLM/JD)
Indiana Law has a process that enables our LLM students to apply to transfer to the JD program upon completion of their LLM degree. Students who apply successfully to take part in the highly selective process are graded like JD students (rather than LLM students) in their second semester as an LLM student. Students then must apply to the JD program, and if admitted, students may count those JD-graded credits, as well as credits from a prior LLB degree (in some cases up to 29 credits in all), toward the JD degree and enter the JD program with advanced standing. Students can receive both an LLM and a JD degree in as little as three years.
Master of Comparative Law (MCL)
Indiana Law offers an MCL degree for international students who do not hold a first degree in law but wish to gain familiarity with American law and legal institutions. Non-lawyers applying to the MCL program should be able to demonstrate a strong interest in and reason for studying the U.S. legal system. The MCL is also an ideal option for students who need to earn a second law master's degree in addition to the LLM. The MCL degree program requires two semesters in residence and the completion of 20 credit hours. Two required courses, Introduction to American Law and Legal Discourse and Writing, will provide you with the foundation necessary for success in an American law school. For your remaining courses, you play an active role in designing a customized program that meets your specific needs with the help of an academic advisor.
Master of Science in Cybersecurity Risk Management (with a Concentration in Law)
The MS in Cybersecurity Risk Management from Indiana University will give you the unique—and valuable—ability to identify and mitigate a wide range of cyber threats in your chosen career path. This 30-credit degree program brings together cybersecurity courses from three of IU's top-ranked schools—the School of Informatics, Computing, and Engineering; the Kelley School of Business; and the Maurer School of Law. Students can earn concentrations within the MS, including law, business, or informatics, or they may take a more 'general' track. The MS in Cybersecurity Risk Management:
Can be customized to your schedule—you can enroll full time on campus or online, or you can take up to five years to complete the degree.
Will include a capstone project in service of a real-world client.
Offers graduate career services options to all students.
Please visit the program website for more information and instructions on how to apply.
Certificate Programs
Indiana Law offers several nondegree graduate certificate programs designed to meet your specific legal education goals and interests in a short period of time. Certificates require 8 to 12 credit hours and one semester in residence.
Doctor of Juridical Science (SJD)
The Doctor of Juridical Science (SJD) program provides a select number of students the opportunity for extended study, research, and scholarly writing. The centerpiece of this program is a doctoral dissertation completed under the supervision of a faculty advisor and committee. Graduates of this program have achieved distinction in their home countries as law professors or in public service. All SJD applicants must have outstanding academic records, evidencing excellent analytical ability and English writing skills. Applicants submit a research proposal, which will be the basis for their dissertation, and a substantial academic legal writing sample. The SJD dissertation is expected to be of publishable quality and make an original contribution to the student's field. Upon matriculation, SJD students must spend at least one year in residence at the law school. The SJD degree is awarded upon the successful completion of at least 30 credit hours (including two required courses and up to 8 credit hours for relevant coursework approved by the faculty advisor), a proposal defense (which takes place in the first semester of matriculation), and an oral dissertation defense, as well as the submission of the completed dissertation.
Doctor of Philosophy (PhD) in Law and Democracy
The Law and Democracy Program is open to international and domestic applicants and allows students to learn about the role of law in new and fragile democracies through coursework and experience in the field, training in the law and the social sciences, and comparative analyses of the experience of the United States and other countries. Please visit the program website for more information and instructions on how to apply.
Application Information
Our fall applications open at the beginning of October and spring applications open at the beginning of July. Your application and all supporting documents must be submitted through LSAC by the following  application deadlines:
Fall
LLM, MCL, and Certificate:

Priority Date: February 1
Deadline: June 1

SJD:

Priority Date: February 1
Deadline: March 1

PhD: See website
Spring
LLM, MCL, and Certificate:

Priority Date: September 1
Deadline: November 1
Start Dates
To accommodate your busy schedule or specific needs, Indiana Law offers several start dates for our LLM, MCL, and Certificate programs:
Traditional Fall Start: The traditional fall term, our primary start date, begins in early to mid-August each year.
Spring Start: Indiana Law offers a spring start program that begins in January.
Summer Start: The summer start program is a specially designed seven-week summer Intensive Legal English program for LLM and MCL students that begins in June and is followed by our intensive Introduction to American Law course.
Intensive Introduction to American Law: By enrolling in our two-week intensive Introduction to American Law course (two credit hours), which starts in late July, you can complete one of your required law courses early. Arriving by the end of July also gives you time to familiarize yourself with the law school, the university, and the Bloomington community before beginning your full course schedule in August.
English Proficiency
If you are an LLM or MCL candidate and English is not your first language, you must demonstrate proficiency in English via one of the following:
TOEFL score of at least 94 IBT
IELTS score of at least 7.0
TOEIC score of at least 850 (will be considered)
Duolingo English Test (DET) of at least 115 (will be considered)
Qualify for a special program below:

Summer Start: We offer a fall admission that allows students to arrive early, mid-June of each year, to complete our summer Legal English Program. This summer program allows students to improve their English and Legal English before starting the fall term. Students should already have an IBT TOEFL of 80+, an IELTS of 6.5+, or Duolingo of 100+.

LLM with English for Law Two-Year Program: A great opportunity for applicants who would otherwise not be able to join us. This new two-year program allows us to admit students with much lower English skills and is similar to conditional admission. Year 1 is English/Legal English (for credit) and year two is the remaining regular LLM courses. Students of this program should have an IBT TOEFL of 74+, a 6.0+ IELTS or a Duolingo of 115+.

Intensive English: If your English level is lower than those mentioned above, Indiana University has a full time Intensive English program that students can join prior to applying to Indiana Law.
For more information about requirements, options, and applying to the Certificate, Thesis, SJD, and PhD programs at Indiana Law, please see the Graduate Legal Studies website.
Tuition and Scholarships
Scholarships
Indiana Law considers every LLM and MCL applicant for one of our Graduate Legal Studies scholarships if they meet the application priority date. Scholarship decisions are based on academic and professional merit and financial need, as well as a number of other factors, including geographic diversity and relationship of the applicant to an Indiana Law partner school.
Scholarships range from a few thousand dollars to 50 percent of tuition, and sometimes more. Even without a scholarship, our overall costs are often less than you would pay elsewhere. An Indiana Law degree is considered one of the best values in legal education in the United States. We invite you to compare our total cost, not just the scholarship amount, with that of other schools before making a decision on where to pursue your graduate degree.
Fees are subject to change. See the website of the Office of the Bursar for the current rates.
Law School Enrollment
The Indiana Law student body is diverse in many ways. You will study in the same classes alongside your JD peers and other graduate students from around the world, thereby enhancing your learning experience, both inside and outside of the classroom.
Physical Facilities
Campus: When you arrive at Indiana University Maurer School of Law, you will find yourself in a truly beautiful place. Located in picturesque Bloomington, Indiana, the IU campus is one of the most scenic campuses in the nation. The city of Bloomington offers a low cost of living and is a safe and culturally diverse, cosmopolitan community with a renowned music school, sports teams and facilities, and many international restaurants just steps away from the law school.
Jerome Hall Law Library: The Jerome Hall Law Library is among the finest academic law libraries in the country. With nearly 725,000 volumes, it is one of the 15 largest libraries in the nation. Its five-story atrium and gracious oak and marble details make the Law Library not only functional but also a beautiful and inviting place for you to study. The Law Library staff are ready to assist you, whether you need to learn how to use electronic resources, such as LexisNexis and Westlaw, or you need help conducting research on international law.
Technology
IU offers some of the best technology resources in the nation, including award-winning support, on-demand software streaming, and online services. Computers and many popular software packages are available to students for free or for purchase at greatly discounted prices. Indiana Law also has a technology team on staff available to assist with any needs or questions you have.
Student Housing and Students with Families
Diverse, affordable housing options include on-campus apartments or off-campus houses, apartments, and efficiencies, all within walking distance of campus or on convenient bus routes. Graduate students who come to Bloomington with family will find opportunities for their families, too. Monroe County, Indiana, has first-class public schools with special programs for children of international students, including English language programs. Other community centers also provide English conversation practice and language training for spouses of international students.
Student Services and Organizations
Indiana Law has more than 40 active student organizations, in addition to university groups for nearly every nationality represented by international students on campus. Among them are the International Law Society, the International Students' Association, the Student Bar Association, the Asian Pacific American Law Student Association, the Environmental Law Society, the Business and Law Society, the Feminist Law Forum, and the Public Interest Law Foundation. With such a supportive network of peers, you will find yourself comfortable and welcomed outside the classroom, too.
All new international graduate students select a Student Ambassador, who is a returning US or international JD, LLM, or SJD student interested in learning about other cultures and helping international students feel at home in Bloomington. Graduate students are introduced to other international and American students, as well as a wealth of social and cultural opportunities, through the Student Ambassadors. You can also participate in numerous law school-sponsored and student-organized social events, such as a popular fall soccer tournament, ice skating, a boating party, a Halloween costume party and trick-or-treating for children of students, a formal dance (Barrister's Ball), an end of semester semi-formal party (Lights on the Square), a Lunar New Year celebration, a Thai New Year celebration (Songkran), and a graduation party.
Career Services
The Career Services Office works in conjunction with the Graduate Legal Studies Office to conduct a regular series of workshops called The Professional Development Series, which provides information on job and internship search strategies, résumé and cover letter writing, US bar exams, interviewing skills, and other related topics. Staff members in both offices offer résumé review, interview practice, and related aspects of career counseling. In addition, the law school provides a variety of job-search resource materials.
Each year, Indiana Law participates in the New York University School of Law International Student Interview Program (ISIP). This program brings employers (ranging from multinational firms such as Baker & McKenzie to the United Nations and the World Bank) to New York City to conduct interviews with students like you.
Alumni Services
Across the globe, our more than 10,000 JD, LLM, MCL, SJD, and PhD program alumni provide leadership and services in their professions and communities. As a graduate of Indiana Law, you will be able to search our alumni directory; keep in touch with fellow graduates via the directory, Facebook, Twitter, and LinkedIn; submit news about your career or accomplishments; and take part in alumni activities on every continent.
Contact Information
For additional information about Indiana University Maurer School of Law's graduate programs, please visit the LLM, MCL, SJD, and PhD website, or contact
William Schaad
Director of Graduate Admissions
Indiana University Maurer School of Law
Baier Hall, Room 220A
211 South Indiana Avenue
Bloomington, IN 47405
USA

Email: lgradadm@indiana.edu