Marquette University Law School
The information on this page was provided by the law school.

Official Guide to LLM, Master's, and Certificate Programs
---
Introduction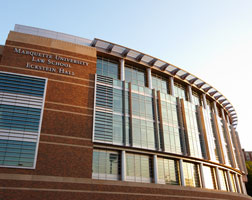 For more than a century, Marquette University Law School has been training men and women to serve the public interest by becoming highly skilled and ethical attorneys. The Law School is located on the university campus—a short walk from the courthouses, corporations, and law firms of downtown Milwaukee. The Catholic and Jesuit nature of the school manifests itself in a specific concern for the well-being of each individual. The Law School is committed to academic freedom, the broadest possible scope of inquiry, and the examination of any subject.
The Law School offers the most comprehensive Sports Law curriculum in the United States, which attracts JD students from throughout the nation. The LLM Program in Sports Law makes Marquette's Sports Law curriculum available to attorneys that have earned law degrees outside the US. The National Sports Law Institute is affiliated with the Law School and offers a variety of programs to enhance our students' legal education, while serving as a center for research and scholarship in sports law and related subjects.
Milwaukee, a lively city on Lake Michigan, is located approximately 145 kilometers (90 miles) north of Chicago. Wisconsin's largest city, with a metropolitan-area population of about 1.5 million people, Milwaukee retains the appeal of a small town. Clean and well-run, it is known for its many ethnic festivals and the variety of its cuisine.
Physical Facilities
In 2010 the Law School moved into an entirely new structure, Ray and Kay Eckstein Hall. This state-of-the-art "green" building is roughly twice the size of the former facility. Eckstein Hall features the latest technology, including wireless Internet access throughout the building, and houses a full-service café, a conference center, a fitness center, and two courtrooms.
Housing
Ample, affordable housing is available throughout Milwaukee and its suburbs. Information and assistance on securing housing may be obtained through the Office of University Apartments and Off-Campus Student Services.
LLM Programs/Areas of Specialization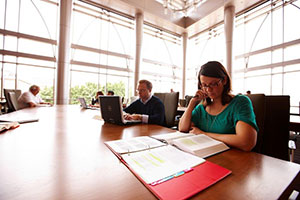 Marquette University Law School's Master of Laws (LLM) in Sports Law for those with non-US law degrees was the first established graduate degree in sports law offered by a United States law school. The program, offered in conjunction with Marquette's internationally renowned National Sports Law Institute, provides lawyers trained at foreign law schools with both a theoretical and a practical education concerning legal regulation of the United States amateur and professional sports industries as well as Olympic sports.
The LLM degree requires students to complete a minimum of 22 credit hours, including a major research paper on an international or comparative sports law topic, during a nine-month period of academic residence at Marquette University Law School, in Milwaukee, Wisconsin, USA.
Required Courses
Amateur Sports Law
Professional Sports Law
Two sports law elective courses
An LLM Directed Research Project on an international or comparative sports law issue/topic
LLM students also take two general elective courses from the Law School's civil litigation and dispute resolution, business and commercial law, employment law, and intellectual property law course streams.
Program
The LLM program enables foreign lawyers to earn a specialized postgraduate law degree in sports law that also develops knowledge and skills with general application outside the sports industry. In particular, an individual who earns the LLM in Sports Law degree will be able to
understand how amateur, professional, and Olympic sports are regulated by the United States legal system, which will enhance one's ability to make comparisons with the legal regulation of sports in his or her home country;
understand the key historical, sociological, economic, and public policy issues influencing the development of American sports law;
understand the different internal processes for regulating amateur, professional, and Olympic sports within the United States;
understand how various areas of American public law, particularly antitrust and labor law, shape and constrain the internal regulatory authority of private sports leagues and organizations;
use this knowledge effectively in matters involving American sports organizations, leagues, and athletes;
understand the international legal environment applicable to sports; and
identify and understand policy issues affecting the legal regulation of sports and resolve legal problems from both a theoretical and a practical perspective.
Marquette University Law School currently does not offer this program to graduates of American law schools.
Application available: 01 September through 01 July
Priority application deadline: 01 March. Early application is strongly encouraged.
Application Fee: none (but candidates must register with the LSAC LLM Credential Assembly Service, which carries a fee)
Letters of recommendation: 1 recommended
Transcripts required for applicants with international law degree; LSAC LLM Credential Assembly Service required
For additional information, visit the LLM in Sports Law website, or contact the Law School.
Phone: 414.288.6767
Email: law.admission@marquette.edu