Pace University—Elisabeth Haub School of Law
The information on this page was provided by the law school.

Official Guide to LLM, Master's, and Certificate Programs
---
Introduction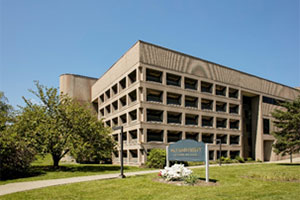 Located between the excitement of New York City and the natural beauty of the Hudson River Valley, Pace Law is an innovative institution with a worldwide reputation in environmental and international law. Pace is also known as a founding sponsor of the Willem C. Vis International Commercial Arbitration Moot and the International Criminal Court Moot Competition, as well as the host institution of the Albert H. Kritzer CISG Database. Graduate students from all over the world come to Pace to enhance their law practice or to develop scholarship in a specialized area of interest.
Our students report that Pace Law offers an ideal combination of a quiet campus perfect for undistracted study and easy access to New York City. Located in Westchester County, White Plains is a friendly and safe small city with abundant on- and off-campus housing opportunities and good public transportation. In their free time, students enjoy White Plains' young, vibrant social scene, with restaurants, bars, shopping, cinemas, and fitness clubs within walking distance of the campus. Central Manhattan is easily accessible by Metro-North rail. Some students choose to live in New York City, while others live in White Plains or the surrounding area and commute to NYC events and internship locations.
Law School Enrollment
Our graduate student body is made up of students from all over the world. Nations represented over the past couple of academic years include the following:
Afghanistan
Albania
Australia
Brazil
Cameroon
Chile
China
France
Germany
Haiti
India
Indonesia
Japan
Kosovo
Kuwait
Mexico
Nigeria
Paraguay
Peru
Saudi Arabia
Senegal
Spain
United States of America
Venezuela
Physical Facilities
Pace Law is located on a landscaped 12-acre campus in central White Plains. The campus combines the beauty of open spaces, classic buildings, and the convenience of modern technology. Our campus offers wireless network access, technologically advanced classrooms, modern housing, and dining facilities. Free parking and outdoor tennis, volleyball, and basketball courts are available to all students.
The Pace Law Library is located in the Joseph and Bessie Gerber Glass Law Center, providing access to library stack areas approximately 100 hours per week, with open study areas available 24/7. The Law Library offers a robust collection of legal databases and electronic journals, free online research guides in various subject areas, and 410,000 volumes and volume equivalents.
Housing
Pace Law offers on-campus housing for LLM and SJD students. Our on-campus residence hall houses up to 104 students in single furnished rooms. Men and women are housed in separate sections of the building. Residents share single-sex bathrooms on each floor. Residents enjoy wireless Internet, a lounge on every floor, a kitchen, barbecue grill, laundry facility, recreation room, and fitness center. The Office of Graduate Programs also assists students in locating off-campus housing in White Plains or the surrounding area.
LLM Programs/Areas of Specialization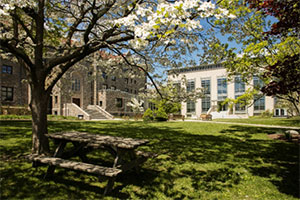 Pace Law offers several advanced-degree programs for those who have completed a law degree.
LLM in Environmental Law
Pace Law's Environmental Law program is among the best environmental law programs in the United States. Students may choose from over 40 specialized courses in the field. They also have the opportunity to participate in major research projects under the supervision of Pace's internationally recognized faculty. Pace offers unique environmental law courses available at no other law school. For example, Pace Environmental LLM students can take the United Nations Environmental Diplomacy Practicum, where each student provides legal support to a Permanent Mission to the United Nations, often with a focus on climate change and sustainability issues. They may also enroll in the Brazil Comparative Environmental Law course, which offers a unique combination of classroom and field training at Pace and in Brazil.
The LLM in Environmental Law is open to law graduates from around the world, including graduates of US law schools. Students may take a broad range of environmental courses, or they may choose one of three optional specializations.
Specializations
Climate Change and Energy Law: Global climate change is one of the most important issues facing lawyers and policy makers today. Students in this specialization learn about the many aspects of climate change and energy law, including mitigation and adaptation strategies that businesses and governments can use to lessen the effects of climate change. Students in this specialization undertake coursework designed to prepare them to deal effectively with these issues. They may also supplement their academic work by interning at one of our on-campus centers or think tanks, such as the Pace Energy and Climate Center or the Land Use Law Center for Sustainable Development, which both work on climate change issues.
Land Use and Sustainable Development Law: With the first and most active Land Use Law Center in the United States, Pace Law brings together leading scholars, teachers, and policy experts in various areas of land use, green development, climate change, and sustainability law. The Land Use and Sustainable Development specialization allows LLM students to explore issues of transit-oriented development, climate change, local land use and governance, environmental dispute resolution, stakeholder development, environmental equity, and jurisprudence—all intended to prepare lawyers to overcome challenges arising from the urgent need to develop and redevelop domestic and international human settlements in an environmentally sensitive, commercially viable, and ecologically sustainable manner.
Global Environmental Law: Pace is known worldwide for its Global Center for Environmental Legal Studies, a voting member of the International Union for Conservation of Nature (IUCN). As such, it is a great place to learn international and comparative environmental law. In addition to the UN Environmental Diplomacy Practicum course and the Brazil Comparative Environmental Law field course, students may study International Environmental Law, Comparative Environmental Law, Human Rights and the Environment, and Ocean and Coastal Law, and may write research papers comparing two or more countries' approaches to such issues as land use, energy development, environmental-impact assessment, climate change, animal law, and many others.
LLM in Comparative Legal Studies
The LLM degree in Comparative Legal Studies is intended for students who received their first degree in law outside the United States and are seeking the opportunity to expand their knowledge of US law and the US legal system or would like to explore a specific advanced field of law. The LLM program begins with an introduction to the principles of the US legal system, as well as the fundamentals of legal research and writing. Then students may choose their courses in specialized areas of US law, including business law, criminal law and procedure, intellectual property, and litigation and dispute resolution.
Specializations
International Business Law: Within the LLM in Comparative Legal Studies, students may choose the optional specialization in International Business Law. After choosing this specialization, students enroll in courses focusing on international business, cross-border deals, and other transactional work. They are required to complete fundamental courses in Contracts and International Business Transactions. In addition to this, students may choose from a wide variety of elective courses in subjects as diverse as Securities Regulation, Accounting for Lawyers, International Commercial Arbitration, Introduction to Transactional Practice, or White Collar and Corporate Crime.
US Legal Practice: The specialization in US Legal Practice allows students who earned their first degree in law outside the United States to complete the coursework required to sit for the New York bar examination. The courses taken as part of this optional specialization have been approved by the New York State Court of Appeals as fulfilling the requirements of Section 520.6 of the Rules for the Admission of Attorneys and Counselors at Law.
Doctor of Juridical Science (SJD) in Environmental Law
The SJD in Environmental Law at Pace prepares legal scholars to conduct research and to teach environmental law in the United States and abroad. Admission is highly competitive, with only very few places available each year.
The SJD program itself consists of three stages:
Preliminary coursework stage: This stage is for candidates who do not already hold an LLM in Environmental Law at the time of enrollment. In order to progress to the dissertation stage, candidates must have completed the equivalent of 24 credits in approved environmental law courses. The duration of the preliminary coursework stage will depend on the extent of each candidate's prior coursework in environmental law.
Dissertation stage: In this stage, candidates work closely with their assigned faculty supervisor to research, write, and defend a publishable doctoral dissertation that creates original knowledge on a selected topic of environmental law or policy. Candidates must remain in residence at Pace Law for at least two semesters during the dissertation stage.
Continuation stage: Candidates who need more time to complete the SJD dissertation may continue their enrollment for additional semesters. They need not be in residence at Pace Law during this stage.
Admission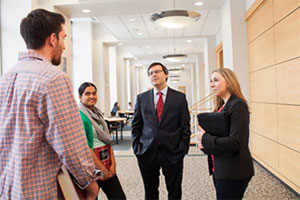 LLM candidates must have completed a first degree in law (JD, LLB, or the equivalent) by the time of their enrollment in the program.
The Admissions Committee evaluates candidates primarily on the strength of their academic record. If a candidate has prior work experience (e.g., in a law firm, company, NGO, or other organization), the committee will also consider this in its evaluation. Environmental law candidates are also evaluated for a demonstrated commitment to pursuing a career in the environmental field.
Pace Law operates a rolling admission process. This means there is no official deadline for applications. However, candidates are encouraged to apply as early as possible to ensure that places are available for the program of their choice. International students are particularly advised to apply early so that they have enough time to obtain the required visa.
Supporting documents required with each application are
official transcripts from all undergraduate and graduate institutions;
a personal statement;
two letters of recommendation;
a legal writing sample;
résumé or curriculum vitae; and
proof of English proficiency: TOEFL, IELTS, or a preenrollment program (English for Lawyers) at the Pace University English Language Institute.
Applicants to the SJD program must also submit a five-page thesis proposal. They should have also completed an LLM in environmental law, either at Pace Law or another institution, by the time of enrollment in the SJD program.
Each year, Pace Law makes a limited number of partial scholarships available to exceptionally qualified LLM and SJD students. Students are automatically considered for scholarship when they apply to the LLM and SJD programs. As these resources are limited, candidates are encouraged to apply early for the best chance of availability.
Each year, Pace Law School makes a limited number of partial scholarships available to exceptionally qualified LLM and SJD students. A small number of research assistantships may also be available. Admitted candidates may apply for these scholarships or research assistantships by letter addressed to the Graduate Admissions Committee. As these resources are limited, candidates are encouraged to apply early for the best chance of availability.
LLM and SJD students are encouraged to explore all possibilities of financing their study, travel, living, and other expenses with external scholarships, loans, or grants. Some students are sponsored by their employers; others have received scholarships from the governments of their home countries. Candidates with US citizenship or permanent residence should contact the Pace Law Financial Aid Office for detailed information.
Student Services and Organizations
Under the leadership of the Dean for Students, the Office of Student Services cares for students' nonacademic needs during their time in residence. This department supervises and oversees programs and services such as residential life, the dining hall, financial aid, the campus store, transportation, student organizations, disability issues, disciplinary and grievance issues, and health services and counseling.
The Student Bar Association is composed of all members of the Pace student body and serves as an umbrella organization for over 25 individual student groups. These groups are by and for the students. They encompass areas as diverse as academic pursuits, sports, specific interests within the law, cultural affinities, and political and social causes.