Saint Louis University School of Law
The information on this page was provided by the law school.

Official Guide to LLM, Master's, and Certificate Programs
---
Introduction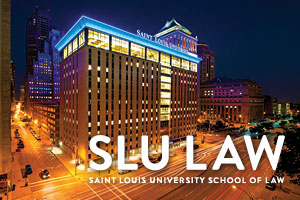 Founded in 1843, Saint Louis University School of Law is the oldest law school west of the Mississippi River. Dedicated faculty—nationally recognized for their scholarly achievement, legal expertise, and practice experience—work closely with LLM students, guiding them through the complexities of the law. The research and teaching strengths of the SLU LAW faculty, combined with the breadth of course offerings and extensive professional skills experience, provide LLM students with an exceptional advanced and well-rounded legal education.
SLU LAW is located in the heart of downtown St. Louis and offers unparalleled access to leading law firms, corporations, government agencies, and nonprofit organizations. The City of St. Louis Civil Courts Building and the Thomas F. Eagleton United States Courthouse are steps away—providing a unique opportunity to see the law in action. Scott Hall is contemporary, spacious, and suitable for a multitude of learning and networking opportunities. The interior spaces are adaptable to small group study and meeting sessions, diverse classroom arrangements, large events, and professional skills competitions.
LLM Programs
SLU LAW offers two LLM degrees:
Master of Laws in American Law for Foreign Lawyers
Master of Laws in Health Law
Master of Laws in American Law for Foreign Lawyers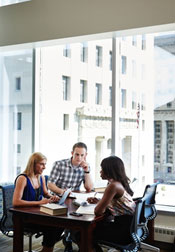 The Center for International and Comparative Law (CICL) at SLU LAW offers a 24-credit-hour Master of Laws (LLM) degree for lawyers holding a law degree from a university or law school outside of the United States. This program provides a select group of highly qualified individuals the opportunity to pursue studies and research in American law. The curriculum allows each LLM student to design, in cooperation with a faculty adviser, a course of study that meets the student's personal needs and goals. Recent graduates have focused their studies on international business law, intellectual property, or various other courses offered in the law school curriculum.
LLM students are required to complete a three-credit-hour course in legal research and writing and a foundation course in a common law subject such as contracts, torts, or property. LLM students must also take at least two credit hours for which they produce a written work, such as a seminar paper.
The school may award a scholarship to incoming students based on academic credentials, career achievements, and need.
For additional information please visit the CICL website, or contact
Ira H. Trako
Assistant Director
Center for International and Comparative Law
Phone: 314.977.2792
Email: cicl@law.slu.edu or trako@slu.edu
Master of Laws in Health Law
The Center for Health Law Studies is a nationally recognized health law program that offers the Master of Laws in Health Law. This advanced degree is designed to serve two types of lawyers: those seeking an in-depth introduction to the practice of health law and those who are currently practicing and wish to increase their exposure to new developments in health law. This highly selective program allows each student individual attention and close faculty supervision. LLM students are encouraged to complete scholarly writing, attend the health law colloquia, and participate in directed research projects. Students may choose from the broadest range of foundational and specialized health law and policy courses and learn from faculty with more than 177 years of collective health law teaching experience. Requirements for the health law LLM include 24 credits of law courses, a master's thesis of publishable quality, up to 6 credit hours of directed research, and up to 6 credit hours outside of the law school. LLM students are also offered externship opportunities, including the Health Law Semester in Washington, DC. Applicants may be considered for merit-based scholarships.
For more information please visit the Center for Health Law Studies website, or contact
Amy N. Sanders
Associate Director
Center for Health Law Studies
Phone: 314.977.8176
Email: healthlaw@slu.edu or sanderan@slu.edu
Housing
St. Louis offers a wealth of cultural and recreational attractions along with one of the lowest costs of living in the United States. While SLU LAW does not provide student housing, our Office of Student Services does offer our LLM students assistance in finding housing.
Student Services and Organizations
SLU LAW is enriched by a vibrant community, student organizations, and a Jesuit commitment to leadership and service. When not in class, SLU LAW LLM students can participate in legal clinics, externships, and various events offered by SLU LAW or the SLU LAW student organizations. The Student Bar Association, International Law Student Association, Public Interest Law Group, Black Law Student Association, the Women's Law Student Association, Phi Alpha Delta, and the Health Law Association are only a few of the groups that students may join. Each organization creates an array of professional, social, and volunteer opportunities.