SMU Dedman School of Law
The information on this page was provided by the law school.

Official Guide to LLM, Master's, and Certificate Programs
---
Introduction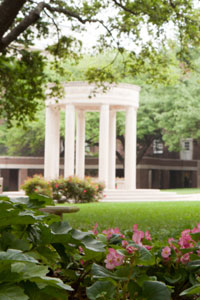 Founded in 1925, SMU Dedman School of Law is located on a magnificent tree-lined campus in a beautiful residential neighborhood just five miles north of downtown Dallas. SMU offers an intimate learning community within a vibrant urban center. With a relatively small entering class size, an outstanding teaching faculty, and distinguished guest lecturers, SMU offers a scholarly community with fantastic opportunities both inside and outside the classroom. Studying at SMU Dedman Law will put you right in the heart of one of the most exciting cities anywhere. Dallas is a booming center for transnational commerce in a wide range of industries. With more than 15,000 law graduates, the law school has a national and international reputation of training prominent lawyers in both law and business.
Objectives of Graduate Legal Studies
The School of Law established its graduate degree programs more than 65 years ago. They are intended to enhance careers in the private practice of law, in teaching, and in public service by providing the opportunity for graduate-level education and training. The programs are designed to increase the student's understanding of legal theory and policies, broaden the student's legal horizons, and encourage the development of legal research and writing skills. The Master of Laws degree programs are open to lawyers who are graduates of approved law schools and whose academic and professional records indicate a likelihood of successful graduate legal study. While most classes are scheduled during the day, selected courses (primarily in the tax, business, and international law fields) may be offered in the early morning and in the evening.
Degree Programs
Master of Laws in Taxation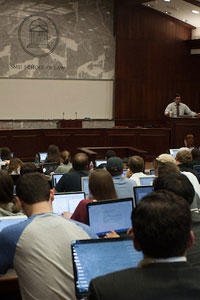 The law school has a long tradition of strength in the area of federal taxation. The LLM (taxation) program, for full-time or part-time students, is a comprehensive, advanced-degree program designed for attorneys intending to specialize in tax practice. It focuses not only on technical mastery of the tax laws but also on wider issues of tax and fiscal policy. Most of the courses in the curriculum provide survey-level instruction in subjects typically not addressed in JD-level tax courses. In addition, advanced courses develop in-depth, practice-oriented expertise. Courses are taught by the law school's faculty and by adjunct professors and lecturers who are experienced, practicing tax specialists in Dallas-area law firms and corporate law departments.
Master of Laws for Foreign Law School Graduates
At SMU, you will participate in one of the oldest international law programs in the United States. SMU had the vision to become a global law center long before the trend toward international legal studies. Our students benefit from the law school's extensive experience and expertise in international law. More than 2,000 international graduates of the School of Law from more than 80 countries now occupy prominent positions in government, legal practice, business, the judiciary, and legal education around the world. The primary goal of the program is to enhance the international student's legal skills so that he or she may become a more effective lawyer and member of society. In this respect, the program seeks to develop
an appreciation of the role of law in national and international development;
the ability to identify, through comparative and international studies, policy considerations of various legal rules;
an appreciation of the role of the lawyer in social and economic change;
legal analysis and problem-solving abilities to enable the student to meet the complex needs of our modern world;
a basic understanding of the US legal system, as studied from a comparative perspective; and
a frame of reference for dealing with business and legal interests in a transnational setting.
Master of Laws (General)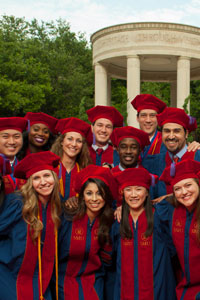 The general LLM program offers law graduates an opportunity to broaden their backgrounds in certain specialized areas of law by enrolling in advanced courses and seminars and by engaging in specialized research. Although the Dedman School of Law awards no specific, subject-designated LLM degrees under this program, most students seeking this degree concentrate in areas such as corporate and commercial law, international law, legal practice and procedure, natural resources law, or property law.
Doctor of the Juridical Science
The Doctor of Juridical Science degree is the highest postgraduate law degree offered by Dedman School of Law. The SJD primarily is a research and writing degree (as opposed to a course-oriented degree, such as the LLM degree) during which the SJD candidate conducts extensive postgraduate-level legal research with a view toward submitting an acceptable doctoral dissertation of publishable quality within a five-year period.
Scholarship
SMU awards a limited number of partial scholarships to full-time LLM candidates. There is not a separate application for LLM scholarships. Your application for admission serves as your scholarship application.
Law School Campus
SMU offers a beautiful setting in which to pursue legal studies. The Law School Quadrangle, a six-acre, self-contained corner of the campus, offers students convenient access to all law school facilities. The larger SMU campus offers students a variety of housing options, a childcare facility, a health center, and a fitness/wellness center. The law school has its own dining hall and a four-story parking garage.