St. Thomas University College of Law
The information on this page was provided by the law school.

Official Guide to LLM, Master's, and Certificate Programs
---
Introduction
The St. Thomas University College of Law was founded in 1984 in Miami, Florida. It is fully accredited by the American Bar Association and is a member of the Association of American Law Schools. The rigorous academic program of the Law School emphasizes lifelong learning and scholarship in a personalized, caring environment under Catholic auspices with a diverse student body and faculty. To this end, St. Thomas Law remains committed, in teaching, scholarship, and service, to fostering a public order of human dignity, to training lawyers sensitive to the needs of the region's underrepresented communities, and to expanding access to professional opportunities. St. Thomas Law takes special pride in the diversity of the student body: it has been recognized as having the most diverse student body among accredited law schools. Cultural diversity, commitment to professionalism, and small class size make studying law at St. Thomas Law a unique and enriching experience.
LLM Programs/Areas of Specialization
St. Thomas University College of Law offers two LLM study options for candidates. Candidates may specialize in Cybersecurity Law & Policy (online) or Intercultural Human Rights. LLM candidates are required to earn 24 credits in approved courses, and are expected to complete their degrees within three years and be continuously enrolled (full or part time) during fall and spring semesters until all degree requirements are met. A minimum GPA of 2.0, current and cumulative, is required.
Cybersecurity Law & Policy
The LLM in Cybersecurity Law and Policy offers a comprehensive approach to cybersecurity law and policy, and will address the legal ramifications of cyber-threats. The program is designed for candidates interested in issues of law, policy and developing risk management skills expressly to create the next generation of cybersecurity's legal professionals. This online program is designed to be completed in one year and meets the needs of working professionals, as well as traditional students, seeking a flexible opportunity to advance career goals. 
Who May Apply: U.S. and International students may apply. The program is available to individuals who hold a Juris Doctor (JD) degree or similar foreign qualifications in the field of law. Admission may also be granted to holders of a bachelor's degree or its foreign equivalent, who have a desire to develop an understanding of legal and policy principles of cybersecurity. No technical knowledge is required.
Earn an LLM in Cybersecurity Law & Policy
Innovative graduate program integrates law, policy, and risk management.
Learn about the fast-growing field of cybersecurity law.
Be a leader in education, promote research, and inform policy!
Enhance your career: law firms, government, private sector, or military.
100% Online—Flexible and Convenient.
Designed to be completed in either one year (full-time) or two years (part-time.)
Curriculum and Courses: LLM candidates will be required to earn 26 credits in approved courses. The first semester requires that students complete 12-credits of required introductory courses. The second semester includes 12-credits of specialized courses, and a seminar. Students are required to earn 2-academic credits by engaging in a faculty-supervised research and writing project and electives will be offered from which to choose for their remaining 2 credits. Students will be expected to complete their degrees within 36 months of initial enrollment in the College of Law.
| | |
| --- | --- |
| Aviation Cybersecurity - LLMC 301 | 3 credits |
| Cybercrime Law - LLMC 302 | 3 credits |
| Cybersecurity Corporate Practices - LLMC 303 | 3 credits |
| Cybersecurity Law & Policy - LLMC 300 | 3 credits |
| International Law - LLMC 700 | 3 credits |
| International Privacy Law - LLMC 304 | 3 credits |
| Introduction to Cybersecurity | 3 credits |
| Satellite & Space Security - LLMC 306 | 3 credits |
| Seminar Elective(s) | 2 credits |
Additional Information
For additional information visit the Cybersecurity Law and Policy program website, or contact:
George Perera
Assistant Director, LLM Cybersecurity
GPerera@stu.edu
Office of Admissions
305.623.2310
Admitme@stu.edu
LLM Program in Intercultural Human Rights

This is important.

Please Note: Applications to the LLM Program in Intercultural Human Rights at St. Thomas University College of Law may be made through the Human Rights Program's website or through your LSAC LLM account. If using LSAC's service, applicants must register with LSAC's LLM Credential Assembly Service (LLM CAS) and pay an $85 Document Assembly Service fee. Applicants must request LSAT scores separately.
Started at the beginning of the new millennium in 2001, this innovative program is designed to offer in-depth instruction on the critical issue of our time: the protection of human dignity across political, social, economic, and cultural lines.
Lawyers, government officials, teachers, human rights activists, and businesspersons with a commitment to human rights and social justice are invited to St. Thomas Law to pursue an advanced degree in one of the most dynamic fields of international law—intercultural human rights. The excellence of instruction emanating from world-renowned faculty from the United Nations and eminent centers of scholarship creates a highly stimulating learning environment and promises the most challenging academic experience of your career. Students develop the ability to evaluate the major theories, practices, and fundamental concepts in international human rights law and policy, as well as to conduct effective research and advocacy in the field of human rights in a practical and interactive way.
The LLM degree is earned in one year upon completion of 24 academic credits. It offers 12 mostly one-week compact courses in intercultural human rights. Human rights law and complaint procedures, international law, humanitarian law, human rights, and terrorism will all be addressed as well as issues of refugees, women and children, indigenous peoples, religion, criminal law, and international trade. It now also offers human rights internships, and foreign lawyers may take up to 12 credits of domestic law courses of the JD program if they desire to sit for the bar in various jurisdictions of the United States.
Did you know that...?
The LLM program is globally unique: it offers 12 mostly one-week courses specifically created and designed for the program in Intercultural Human Rights.
The faculty is of the highest expertise. Courses are taught by leading scholars and practitioners in the field. Examples include Professor Fausto Pocar, former president of the International Criminal Tribunal for the former Yugoslavia; José Miguel Vivanco from Human Rights Watch; the former chair of the UN Committee on Economic, Social and Cultural Rights, the Honorable Virgínia Brás Gomes; the former Chair of the UN Human Rights Committee, Ambassador Ahmed Fathalla; and Professor Toni Pfanner, former legal advisor of the International Committee of the Red Cross.
The leaders of the program are of global scholarly renown, are widely published, and have been asked by various governments for their advice on drafting legislation in the field.
Professor Siegfried Wiessner, the founder and director of the program, has served as chair of the International Law Association's Committee on the Rights of Indigenous Peoples, leading the effort to develop, and have unanimously passed, ILA Resolution No. 5/2012 on the Rights of Indigenous Peoples. In 2017, he published General Theory of International Law, the inaugural volume to the Brill-Nijhoff series of American Classics in International Law.
In 2005, Professor Roza Pati, executive director of the program, developed "The Miami Declaration of Principles on Human Trafficking," which has guided law and policy in various states nationally and internationally. In 2011, she founded what has become the John J. Brunetti Human Trafficking Academy, a successful research, education, and outreach institution, which she continues to direct as one of the best-known training programs in the field. She has served as the only United States member of the Vatican's Pontifical Council for Justice and Peace, and, in 2021, has been appointed by Pope Francis to be a member of its successor organization, the Vatican's Dicastery for Promoting Integral Human Development.
The quality and depth of the program, as well as its intercultural outreach, has attracted students from around the world. From its inception in 2001 up to the spring of 2021, the LLM program in Intercultural Human Rights has graduated 433 students from 90 countries from all corners of the world.
Many of these graduates have assumed leading positions in the field—from the presidency of the Mongolian Bar Association, to the Office of the UN High Commissioner for Human Rights, to professorships at various academic institutions such as the City University of Hong Kong, Cornell University, and the University of North Carolina, to mention a few. All feel empowered by the program to solve any problems they will face.
Honors graduates of our LLM program are eligible for admission to the JSD Program in Intercultural Human Rights, a program established in 2005.
Miami, home of St. Thomas University College of Law, is both an international gateway to Latin America and the Caribbean and a center of global commercial, financial, and cultural activity, making it an environment well suited for our international program.
The program's intellectual environment is only matched by the stunning natural beauty of South Florida.
struction on the critical issue of our time: the protection of human dignity across political, social, economic, and cultural lines.
Impact on the Nation and the World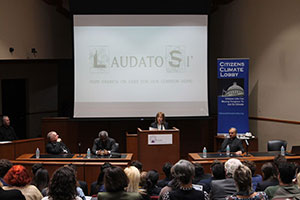 While continuing to make students their top priority, members of the faculty write articles and books that are used in other law schools and that affect the direction of the law. We are fortunate to have the expertise of top lawyers and judges from the region, who teach our students as members of our part-time faculty. They, too, contribute to our sense of community. Our Intercultural Human Rights program trains both JD and LLM students and is helping the world find solutions to some of its most pressing human rights issues. Under the auspices of the program, the Human Trafficking Academy addresses one such key issue.
The John J. Brunetti Human Trafficking Academy
The Human Trafficking Academy was founded through a grant of the US Department of Justice's Bureau of Justice Assistance in 2010. It conducts research, outreach, and education in the field, and in particular, offers specialized training and assistance to law enforcement, lawyers, health care providers, teachers, students, researchers, religious institutions, and the community at large on issues related to the crime of trafficking in persons. In 2017, local businessman John J. Brunetti donated $2.5 million to further develop and sustain the Academy.  For further information, please contact
Roza Pati
Professor of Law and Director, Human Trafficking Academy
16401 NW 37th Avenue
Miami Gardens, FL 33054
USA

Phone: 305.474.2447
Fax: 305.474.2413
Email: rpati@stu.edu
Intercultural Human Rights Law Review and International Moot Court
Jointly administered by students of the JD and LLM programs, the Intercultural Human Rights Law Review, only established in 2005, is now among the most renowned human rights law journals in the world, highly regarded for its scholarly impact. It recently hosted a major symposium on the papal encyclical Laudato Si, featuring His Eminence Cardinal Peter A. Turkson of the Vatican; another event on the right to protest; and one on the Second Amendment and gun control. All yielded influential articles.
LLM students may also participate in international law competitions of Moot Court, an excellent program to inculcate international law through its application to complex sets of facts. One of our LLM graduates earned the Best Oralist award in the southeast regional round of the prestigious Jessup Competition.
Contact Us
For additional information, please visit the LLM/JSD in Intercultural Human Rights website, or contact
Siegfried Wiessner
Professor of Law and Director
Phone: 305.623.2305
Fax: 305.474.2413
Email: swiessner@stu.edu
Roza Pati
Professor of Law and Executive Director
Phone: 305.474.2447
Fax: 305.474.2413
Email: rpati@stu.edu
Haydee Gonzalez
Program Manager
Phone: 305.474.2403
Fax: 305.474.2413
Email: hgonzalez@stu.edu
Physical Facilities
The College of Law is located on the main campus of the university and includes a multilevel library, a moot court amphitheater, faculty and administrative offices, a computer lab, and classrooms and offices for student organizations. The architectural combination of buildings and breezeways, including an outdoor classroom that is usable virtually year-round, provides an inspiring setting for the study of law. In addition, students can enjoy
a free campus-wide wireless network;
a gym and lap pool; and
a professional tennis court.
Legal Information Center
St. Thomas University's Law Library includes an impressive range of books, law reviews, and other materials in the fields of international and human rights law. This has been a focus of the library since its inception in 1984. We also offer a full range of electronic journals and databases. Information about the Legal Information Center's collections, digital library, online resources, audiovisual department, policies, and hours can be located at the Legal Information Center website.
Main library phone: 305.623.2330
Housing
LLM students have the opportunity to reserve housing on the University Inn and Villanova Hall graduate floors, which offer private rooms with private baths. Students who live in the residence halls must participate in a meal plan. Meals are available in the cafeteria, buffet style; in Einstein Brothers Bagels; and in the Rathskeller, which offers a variety of sandwiches and grilled foods. Recreational facilities are also available at the convenience of students. These facilities include basketball and tennis courts, a pool area, and a weight room. Students interested in on-campus housing are advised to apply early for the limited spaces, as housing is allocated on a first-come, first-served basis. For more information, please contact
The Office of Residential Life and Housing
St. Thomas University
16401 NW 37th Avenue
Miami Gardens, FL 33054
USA

Phone: 305.628.6554
Email: reslife@stu.edu
Career Services
The Office of Career Services (CSO) at St. Thomas University College of Law strives to keep students and alumni well informed about the wide variety of career paths available to St. Thomas Law graduates. Further, the CSO assists students in developing their interview skills, refining their job-search approaches, and perfecting their professional documents, including résumés and cover letters.
The CSO also offers recruitment services to the widest possible range of legal employers. Experienced CSO professionals maintain an open door and a friendly environment for career planning and for recruitment. Building a bridge from student to professional and beyond, the Law CSO offers outstanding service to students, alumni, and employers.