Stetson University College of Law
The information on this page was provided by the law school.

Official Guide to LLM, Master's, and Certificate Programs
---
Introduction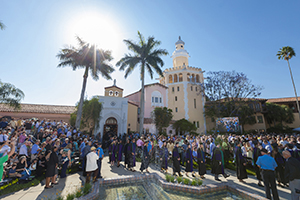 Founded in 1900 as Florida's first law school, Stetson University College of Law has educated outstanding lawyers, judges, and other leaders for 116 years. Stetson is fully accredited by the American Bar Association and has been a member of the Association of American Law Schools since 1931.
Stetson is committed to teaching excellence, legal scholarship, law reform, and service to the public and the legal profession. Our goal is to educate men and women who not only will serve ethically and competently in the practice of law and related professions, but who will contribute to making a better world.
LLM Programs
Online LLM in Advocacy
Stetson's Online LLM in Advocacy program was designed to foster participants' development into full-spectrum legal advocates by challenging common assumptions about advocacy, encouraging personal growth, and teaching how to couple advocacy skills with sound legal analysis and strategic planning.
With the demanding schedules of practicing attorneys in mind, the LLM in Advocacy program uses a part-time, distance-learning model. The vast majority of coursework is conducted online through activities such as viewing lectures, contributing to discussion boards, and submitting video content (with in-person participation required one to two times per year). Generally, lectures are prerecorded and students view them at their convenience within a given time frame. Other components are conducted in real time. Regardless of individual component formats, the program as a whole is designed to be as flexible and convenient as possible.
Advocacy isn't an afterthought at Stetson; it's our core mission, and it shows. Our trial advocacy programs continue to earn national recognition.
To learn more, email advocacy@law.stetson.edu or Ms. Erika McArdle at wilson1@law.stetson.edu.
Online LLM in Elder Law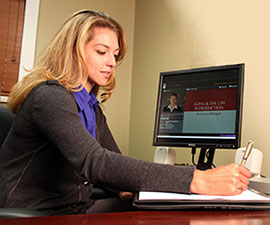 As the nation's elder population has risen, so has the need for experts in the specialized field of elder law. Stetson's Online LLM in Elder Law program offers attorneys a convenient online curriculum from which they can advance their legal education without relocating or interrupting their professional careers.
Applicants for admission to the LLM in Elder Law program must have a law degree from a US law school or a law school approved by the appropriate authority in a country other than the United States and exhibit a strong interest in elder law through job experience or courses completed. All applicants must demonstrate strong academic achievement and must be proficient in the English language.
Courses are taught by talented full-time faculty and adjunct professors, including many of the past presidents of the National Academy of Elder Law Attorneys (NAELA). The program is directed by Roberta K. Flowers, codirector of the Center for Excellence in Elder Law. A member of the board of directors of NAELA, Professor Flowers has more than 20 years of teaching experience and is nationally recognized as an expert in the field of elder law ethics. Also teaching in the program is Professor Rebecca Morgan, Boston Asset Management Chair in Elder Law. She is also a codirector of the Center for Excellence in Elder Law and a past president of NAELA, and has been recognized with numerous national awards for her service to America's aging population.
To learn more, email elderlaw@law.stetson.edu.
LLM in International Law
With more than 160 alumni hailing from 50 countries, Stetson's LLM in International Law program serves as a hub for domestic and foreign lawyers seeking advanced careers on a global scale in business, government, education, or the law. Our program is an intensive one-year course of study for those interested in international public law or international private law. Applicants may either opt for a general LLM in international law (for those interested in international public or international private law) or an LLM with an emphasis in environmental law or international business, which includes a formal mentorship program with one of our faculty.
Stetson's rigorous curriculum consists of a wide range of doctrinal courses, practical skills classes, internships, and electives on a variety of topics. The program emphasizes the professional, leadership, and business skills necessary to succeed in the global marketplace and offers a unique, multicultural experience in a close-knit community setting. For these reasons, Stetson Law's International Law LLM program has been recognized as one of the best LLM programs for career opportunities and where students feel most at home. Stetson's LLM in International Law program accommodates the varying needs of our diverse student body, which includes both practicing attorneys and recent law graduates from the United States and around the world.
For foreign-trained attorneys enrolled in the LLM in International Law program, Stetson offers a special two-week orientation program designed to facilitate the process of understanding and overcoming the challenges of studying law in a different legal and educational system. This program provides foreign students with the necessary tools to help them succeed in a US law school.
To learn more, email international@law.stetson.edu.
Accelerated JD for Foreign Attorneys
The associate dean of academic affairs may grant an admitted JD applicant who holds a foreign law degree up to 29 academic credits toward a Stetson JD degree. The credits may be used to satisfy elective credits.
This will allow for qualified students to complete the JD in two years and sit for a bar exam in any state. An LSAT score is not necessary for qualified applicants in this program. Candidates may apply to start in the fall of each year.
Please contact the JD admissions office for information at lawadmit@law.stetson.edu.
Faculty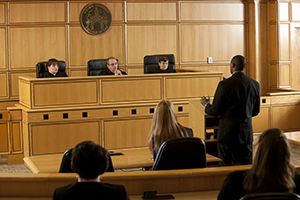 Stetson's greatest resource is its faculty who share their experiences and passion for the law with generations of lawyers. Stetson professors genuinely enjoy teaching and guiding students into the profession and practice.
Our professors are among the finest legal educators in the country—Fulbright scholars, Supreme Court advocates, acclaimed authors, and public servants. Stetson educators inspire students through their dedication to teaching, demonstrated commitment to community service, and record of high-quality scholarship.
Student Demographics
See Profile/Quick Facts.
Student Services
Location
Stetson Law's primary campus is nestled within the residential beachfront community of Gulfport, a tranquil place to live and work that is contiguous with the city of St. Petersburg. The Tampa Bay area offers quick access to vibrant business and legal communities and to magnificent beaches and palm-lined boulevards.
With more than 2.7 million residents, Tampa Bay is the 18th largest metropolitan area in the United States and the 2nd most populated region in Florida. It is home to championship-winning pro sports teams, such as the Tampa Bay Buccaneers, as well as to cultural centers, performance halls, and fine art museums, such as the Salvador Dali Museum.
Tampa Bay has numerous options for recreation, entertainment, and exercise. In addition to popular attractions such as Busch Gardens and Lowry Park Zoo, students can find nature trails, bike paths, tennis and golf clubs, fishing piers, and other diversions from academic pressure.
Physical Facilities
Few places in the world can compete with Stetson's main law campus as an idyllic environment for the study of law. Inside the walls of this former 1920s resort in Gulfport/St. Petersburg, you'll find classrooms and courtrooms equipped with sophisticated audiovisual technology. Stetson's highly acclaimed law library attracts legal scholars from around the world with its comprehensive digital and print collections, not to mention its comfortable study areas.