Suffolk University Law School
The information on this page was provided by the law school.

Official Guide to LLM, Master's, and Certificate Programs
---
Introduction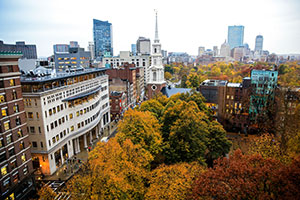 For more than 100 years, Suffolk University Law School has produced some of the nation's most distinguished legal professionals. In law firms throughout the world, the judiciary, and the public sector, Suffolk Law graduates are known for their knowledge, competence, ethics, and dedication. As one of the largest law schools in the United States, Suffolk Law has a network of over 24,000 alumni around the world.
Nestled in the heart of Boston, Suffolk Law occupies a modern and technologically sophisticated building, surrounded by key political, legal, and financial centers. It is easily accessible by public transport from all directions, which allows convenient access to a wide array of internship site locations. Dedicated in 1999, our building is where classical beauty meets cutting-edge technology. In a city filled with universities, medical centers, and research programs, you'll find students and friendly faces wherever you go. In Suffolk's graduate law programs, we have welcomed students from over 60 countries, providing you with a global legal education in one of the most renowned cities in the United States.
Recognized as one of the top US law schools in legal writing, dispute resolution, intellectual property, trial advocacy, and clinical training, Suffolk Law's graduate law programs provide you the opportunity to build practical expertise in the fastest-growing, most in-demand fields of law today.
LLM Programs/Areas of Specialization
General Master of Laws (Boston, MA)
The General Master of Laws program is for students who have already completed a law degree and want to enhance their legal skills by focusing on a particular field or emerging area of the law.
Launched in 2012 to capitalize on the depth and breadth of Suffolk Law's curriculum, this LLM offers you maximum flexibility. You can create your own track in a field of your choosing, or select courses from Suffolk's recognized areas of expertise, including dispute resolution and civil litigation, business law and financial services, biomedical and health law, intellectual property, international law, or labor and employment law.
The Academic Program
24 credits required
Begins in August or January semester
Full time or part time
Flexible day or evening options
Students must complete a minimum of 24 credits to earn the LLM degree.
Curriculum
Required introductory seminar—US Law, Legal Reasoning, and Writing (for international students only)
Over 200 electives offered every year
Classes from 9:00

a.m.

to 10:00

p.m.

Online legal research instruction
Practical legal skills training
LLM in Global Law and Technology (Boston, MA)
Breakthroughs in science, technology, and communication have resulted in legal challenges never before faced—challenges of global proportions for tomorrow's lawyers. Meet these challenges with Suffolk University Law School's Master of Laws (LLM) in Global Law and Technology. This innovative 24-credit degree program prepares you for the future practice of law.
Students may specialize in
Intellectual Property and Information Technology Law,
Biotechnology and Health Law,
International Law and Business, and
US Law and Legal Methods
The Academic Program
24 credits required
Begins in August or January semester
Full time or part time
Flexible day or evening options
Students must complete a minimum of 24 credits to earn the LLM degree. These credits are composed of required seminars, core courses, and electives. It is recommended that all students take three core courses. Those who wish to earn a specialization certificate must take five courses listed within a specialization. Students may earn up to two specializations. Most of the core courses may also be counted toward the specialization requirement. Some core courses may count toward certain US states' bar examination requirements. In addition, students are permitted to take up to 12 credits from the JD curriculum, or more with special permission.
Required Introductory Seminars
Emerging Issues in Law, Information Technology, and Transnational Business
US Law, Legal Reasoning, and Writing (for international students only)
Curriculum
Over 200 electives offered every year
Classes from 9:00

a.m.

to 10:00

p.m.

Online legal research instruction
Practical legal skills training
LLM in Taxation
Federal tax law is complex and detailed. Students who intend to focus their practice in taxation or who wish to practice in the corporate, business planning, estate planning, or financial sectors must have in-depth knowledge of multiple areas of federal tax law. Acquiring an LLM in taxation is typically necessary and certainly always adds value to a student intending to practice in these areas.
The Academic Program
24 credits required
Begins in late May
Full or part time
Flexible day or evening options
The heart of the program is an intensive 12-credit, 10-week summer program. Also, LLM tax students must take an additional 5 credits of required courses and 7 credits of electives during fall and spring semesters.
Required Courses
Intensive Summer: Advanced Income Tax Topics (6 credits)
Intensive Summer: Business Entity Tax Topics (6 credits)
International Tax (3 credits)
Tax Practice and Procedure (2 credits)
Elective Courses
A student must take courses totaling seven credits from the following list to earn the LLM in Taxation degree:
Advanced Legal Research: Tax
Advanced Topics in International Tax
Advanced Topics in Partnership Taxation
ERISA
Estate and Gift Taxation
Estate Planning
Federal Tax Accounting
State and Local Taxation
Taxation of Exempt Organizations
Taxation of Mergers and Acquisitions
This is important.Please Note
Not all electives will be offered every year. This program is not considered a full-time program for visa purposes.
Doctor of Juridical Science (SJD)
The Doctor of Juridical Science (SJD) degree is a post-LLM degree that is awarded upon the completion of an in-depth, publication-quality dissertation that makes an original and creative contribution to the legal literature. Students must complete a minimum of 24 credits in the first year. Students will earn credits by enrolling in advanced elective courses as well as the SJD Seminar, and will also earn credits through research. In the second and third years, students will focus solely on their dissertation. Students are in residence during the first two years and may elect to conduct research off site in year three.
Application Deadlines
Priority deadline is May 15 for fall LLM admission. LLM applications will continue to be accepted until July 1 (March 1 for SJD applicants).
October 1 for spring LLM admission. We do not accept spring applications for the SJD program.
Rolling admission for the LLM in Taxation.
Foreign applicants who hold a law degree from a non-US jurisdiction must submit the following to complete their application:
a signed LLM application
$60 application fee (nonrefundable)
personal statement
résumé or curriculum vitae
two letters of recommendation—from a law professor or legally related employer (in English)
original university transcript of law studies accompanied by an official English translation
evaluated university transcript to determine United States equivalency. Please use a credential evaluation service such as LSAC's LLM Credential Assembly Service, World Education Services (WES), or Center for Educational Documentation (CED).
TOEFL or IELTS Score Report—for students whose first or dominant language is one other than English. We look for a score of 80 for the Internet-based (iBT) TOEFL. We look for an overall score of 6.5 on IELTS.
Applicants who hold a US law degree must submit the following to complete their application:
a signed LLM application
$60 application fee (nonrefundable)
personal statement
résumé or curriculum vitae
official undergraduate and law school transcripts
two letters of recommendation—from a law professor or legally related employer
copy of Credential Assembly Service (CAS) report (You may request this from your law registrar's office.)
Additional requirements for LLM in Taxation applicants:
Applicants must have earned a grade of "B" or higher in a Basic Federal Income Tax course (4 credits).
Additional requirements for SJD applicants:
A signed SJD application form

(PDF)

Submit two letters of recommendation, at least one of which must be from a full-time member of a law school faculty and another of which must be from a professor or faculty advisor of your LLM program.
Submit a 10–15 page substantive research proposal that will serve as the basis for beginning the dissertation research. It is very important that this research proposal be carefully written and

well-organized.

The research proposal should

describe the specific issues to be investigated and the candidate's tentative thesis;
describe the nature, scope, and methodology of the research to be undertaken in support of the dissertation;
explain how the proposed research would add to the existing literature;
provide a preliminary chapter outline; and
include detailed footnotes supporting the text of the research proposal and a bibliography.
The research proposal may build upon an LLM thesis (either from Suffolk or elsewhere). The research proposal should be a comprehensive document that will form the basis for admission into the SJD program.
Current Suffolk students should identify one faculty member who is willing to serve on the candidate's dissertation committee, as the chair of the committee (Committee Chair). Non-Suffolk students should contact Assistant Dean Bridgett C. Sandusky at 617.573.8171 or bsandusky@suffolk.edu for assistance with this requirement. The committee chair must have expertise in the primary field of the proposed study. The committee chair must be a full-time member of the resident faculty of the law school. The second and third members may be full-time members of another law school or university faculty with expertise relevant to the candidate's proposed research. All proposed committee members must agree to supervise the dissertation work of the applicant.
This is important.

Please Note
All application materials, TOEFL/IELTS scores, transcripts, and recommendation letters should be sent directly to the Office of Graduate Law Programs.
Legal English Institute
The Legal English Institute is open to all international Master of Laws students to ensure they have the tools needed to transition successfully to LLM coursework.
Suffolk Law is one of only a few law schools in the country offering a special language program exclusively for LLM students. The institute is led by an experienced international business lawyer who is also a certified instructor in English for speakers of other languages.
This three-week intensive course is designed to introduce you to the US legal system while focusing on the specific language and academic skills you will need to be successful at an ABA-approved law school. Institute participants will
study the principles of common law;
learn the history and structure of US governmental and legal systems;
read, analyze, and discuss case law;
learn the vocabulary, language, and structure of US legal writing;
give oral presentations;
participate in a full-day team-negotiation exercise; and
develop the verbal and cultural skills needed to engage effectively in US-style classroom discussion.
In all, institute participants receive 82.5 hours of instruction, 22.5 of which are focused exclusively on writing skills.
Financial Aid, Scholarships, and Tuition
US citizens and permanent residents may be eligible for federal or private loans. International students may be eligible for private loans and should also seek assistance from sources in their home country. Substantial merit-based scholarships are available for exceptional LLM and SJD applicants. All applicants are automatically reviewed for scholarship potential. Full scholarships are available to select SJD applicants.
Tuition Costs and Student Budget
Physical Facilities
Sargent Hall
300,000-square-foot total building area
18 high-tech "smart classrooms"
3,000 data ports in the building for instant Internet access
7 floors covered by secured wireless network
Bookstore and cafeteria inside the Law School
Student lounges on every floor
John Joseph Moakley Law Library
The Suffolk University Law Library occupies floors six and seven of Sargent Hall, covering more than 65,000 square feet of space. Over 310,000 printed books and microfilm volumes are contained here, along with two library computer labs and one computer training room. There are also 12 study rooms and 300 study carrels—with wireless Internet access available throughout the library along with state-of-the-art video facilities. The library is open seven days a week from 8:00 a.m. to 11:00 p.m. most days.
Housing
Suffolk University Law School does not provide on-campus housing for graduate students. However, we do have a dedicated Off-Campus Housing Office (OCHO), where a talented staff will assist you in locating affordable and convenient housing opportunities before you even step foot into Sargent Hall. As a Suffolk Law student, you have the chance to live in one of America's liveliest cities. You also have your choice among Boston's unique neighborhoods—offering attractive housing options. The OCHO at Suffolk University is your one-stop resource as you make yourself at home in Boston.
Student Life
Distinguished Transnational Speakers Series
Donahue Lecture Series
14 moot court teams
38 student organizations and groups
5 law reviews
Boston Life
Nearly 100 institutions of higher education in Greater Boston
350,000 students living in Boston
A cosmopolitan city of neighborhoods
Cultural and theatrical events
Professional sports teams
Fine dining, nightlife, and shopping
Career Services
In addition to personalized, one-on-one career coaching, the office provides career resources and services, including assessment testing, access to a web-based job listing database, mock interviews and interview preparation sessions, an extensive career library, reciprocity access to a career office in another geographic location to facilitate networking efforts, and resources and advice on alternatives to traditional practice. In addition to the staff at the Career Development Office, the Law School has its own dedicated practitioner in residence who works one-on-one with LLM and SJD students.
Experiential Opportunities and Honor Boards
The graduate law programs at Suffolk University Law School offer students a wide array of opportunities outside the classroom, including
Semester Legal Internships/Curricular Practical Training: Our US and international LLM students have the unique chance among area law schools to participate in semester-long legal internships in Boston to apply their newly acquired legal knowledge to real-world problems. Placements range from state and federal organizations to Boston-area corporations or law firms.
International Summer Internships: Internships around the globe offer the opportunity to apply newly acquired legal expertise to real-world challenges, bridging the gap between theories learned and their practical application. Students have been placed in 46 countries, for periods of one month to three months, with international law firms, nonprofit organizations, and governmental and international agencies.
Journal of High Technology Law: Published entirely online, the Journal of High Technology Law is a highly regarded and unique publication. In addition to providing LLM students an opportunity to research, write, and publish, the online journal supplies extensive links to topics such as communications and media, Internet law, computer law, intellectual property, biotechnology, and more.
Optional Practical Training: The Office of Graduate Law Programs assists you with the visa process during the academic year and the search for legal work in an area related to your studies after graduation.
Contact Information
For additional information, please visit the Graduate Law Programs website, or contact:
Bridgett C. Sandusky
Assistant Dean
Graduate Law Program
Suffolk University Law School
120 Tremont Street
Suite 280
Boston, MA 02108
USA
Phone: 617.573.8171
Fax: 617.305.6276
Email: bsandusky@suffolk.edu