Tulane University Law School
The information on this page was provided by the law school.

Official Guide to LLM, Master's, and Certificate Programs
---
Introduction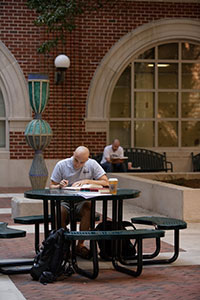 The 12th oldest law school in the United States, Tulane University Law School was established in 1847, 13 years after the University of which it is a vital part. From its founding, Tulane has offered its students the opportunity to study both of the world's great legal systems—the common law system upon which English and US law is based, and the civil law system governing most of the rest of the world. The breadth and depth of Tulane Law School's curriculum, covering virtually every area of law, is what distinguishes the school. Tulane is known for its especially strong programs in international and comparative law, maritime law, and environmental law, but its strengths also include intellectual property law, business and corporate law, and a variety of other areas.
New Orleans is the largest city in Louisiana and is the state's banking, judicial, medical, and cultural center. Located on the Mississippi River 50 miles above the Gulf of Mexico, New Orleans is one of the world's largest ports and a city of rich ethnic and cultural traditions.
Physical Facilities
Library hours: Monday through Friday, 7:30

am

–

midnight

; Saturday and Sunday, 9:00

am

–

midnight

.
Full range of electronic journals and databases.
The library has four professional law librarians who help students and scholars locate appropriate information sources. Every reference librarian at Tulane Law School has either a JD, a master's degree in library and information science, or both.
Services provided include research and reference services; interlibrary loan services; training and instruction for LexisNexis, Westlaw, the Internet, and other online resources; classroom instruction; library instruction; and collection development.
Free campus-wide wireless network.
Housing
The Law School assists incoming students who are looking for housing in a number of ways. The Office of Admission maintains its own database of available apartments and provides general information about useful resources and apartment hunting in New Orleans.
Limited university-owned off-campus housing is available to graduate-level students at Tulane University. Law students may apply to live in the Papillon Apartments in the lower Garden District or the Deming Pavilion in the downtown medical center area. Most students, however, live in the plentiful off-campus housing surrounding campus.
International students who attend the summer English as a Second Language (ESL) course or the Intro course (prior to the start of the fall semester) may live in temporary, on-campus housing. Detailed information is made available to students during the spring months.
LLM Programs/Areas of Specialization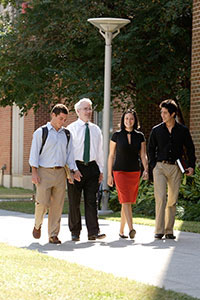 Tulane offers five LLM programs. Each of the LLM programs requires two full-time semesters in residence and satisfactory completion of 24 semester hours. Although there is no thesis requirement, degree candidates are required to write at least one paper in connection with a seminar in their field of interest or in fulfillment of a directed research project.
The four programs are described in detail below; however, additional information is also available on Tulane's LLM and SJD program website, or by contacting
Maria Landry
Office of Admission—Graduate Programs
Weinmann Hall, Suite 203
6329 Freret Street
New Orleans, LA 70118
USA
Phone: 504.865.5930
Fax: 504.865.6710
Email: admissions@law.tulane.edu
Admiralty Law
Tulane Law School is widely acknowledged to have the strongest maritime law program in the world.
Tulane's location in New Orleans, one of the largest ports in the world, near the mouth of the Mississippi River and the outlet to the Gulf of Mexico, is a natural link to the maritime industry. As a result of the natural focus on maritime issues in New Orleans, Tulane Law School has become a significant center for the study of maritime law.
Candidates for the LLM in Admiralty must fulfill the General Degree Requirements and must also complete at least 13 of the 24 credits required for the degree in admiralty courses. The program is open to both international and US students. Full-time and part-time programs are available; however, the part-time program is only open to attorneys practicing in the New Orleans area.
LLM in American Law
This degree is intended primarily for international students who hold a first degree in law (JD or LLB or equivalent) from a non-US law school and who wish to establish eligibility to take a state bar examination in the United States, where permitted by state bar authorities. The degree will give students from foreign jurisdictions a thorough understanding of the fundamental principles of US law and the American legal system, as well as an appreciation for law practice in the United States.
The academic program is designed to enable students who earn the degree to satisfy the American law school course requirements of the Bar Admissions Committees of Louisiana and New York. These two US states are among those whose rules permit foreign lawyers to sit for their bar exam subject to, inter alia, completion of certain coursework in American Law. Students seeking to take the bar examinations in these two states, or any other state, must still meet all other eligibility requirements of the state in which they seek to take the bar examination, and are therefore urged to review those requirements at the earliest possible time.
The degree requires successful completion of 24 credit hours of coursework. In addition to the required Introduction to the Law of the United States course (a 2-credit course taught during the month of August), students must take at least 14 hours of coursework in the following subjects: Constitutional Law, Contracts, Criminal Law, Corporations or Business Enterprises, Evidence, Intellectual Property, Federal Civil Procedure, Taxation, Uniform Commercial Code, Torts, or (if planning to take the Louisiana bar exam) Louisiana Civil Procedure or Louisiana Obligations Law.
Energy and Environment Law
Since 1979, Tulane has taken a lead role in environmental legal education and the training of well-prepared environmental lawyers. Tulane offers a concentration in environmental law at the JD level, as well as a master's program combining environmental and energy law. Tulane seeks to graduate students who understand not only the theory, but also the practice and advocacy of environmental issues.
In addition to fulfilling the General Degree Requirements for all LLM programs, students must complete 16 hours (6 courses) in specified environmental or energy law courses. The program is open to both international and US students. Full-time and part-time programs are available; however, students requiring an F1 visa are not eligible for the part-time program.
General LLM
Because the General LLM program is so flexible, both international and US students find it to be an attractive option. The program allows students to design their own courses of study, and students have tended to pursue one of the following "tracks" within the general LLM program:
General Survey of US Law: Many students use the General LLM program as a way to study areas to which they had little or no exposure previously, enrolling in courses in a variety of areas. Virtually the entire curriculum is open to graduate students, with the exception of clinical and trial advocacy courses. The flexibility permitted by the program enables students to take courses in virtually any area in which they have interest, emphasizing particular areas or not, as they choose.
International Law, Trade, and Finance: Both international and US graduate students have been attracted by the opportunity to take advantage of Tulane's unique ability to provide education in this area. Students previously schooled in the common law system have the opportunity to take some of the civil law courses offered at Tulane, while students with civil law backgrounds may supplement their knowledge with common law courses. Students interested in this area might also wish to consider the LLM in International and Comparative Law.
Other Concentrations: LLM students pursuing the General program have also designed concentrations in such areas as intellectual property law, US constitutional law, property and real estate law, and a variety of other areas.
The program is open to both international and US students. Full-time and part-time programs are available; however, students requiring an F1 visa are not eligible for the part-time program.
International and Comparative Law
The breadth and depth of the international and comparative law curriculum at Tulane Law School provide an unparalleled opportunity for both US and foreign lawyers to obtain a basic foundation in international legal practice. The international and comparative law program at Tulane emphasizes the distinctiveness of regional legal systems, national legal development, and the more traditional differences between major legal cultures.
All candidates for the LLM in International and Comparative Law must fulfill the General Degree Requirements. In conjunction with those requirements, candidates for this specialty degree are required to enroll in a total of 13 semester hours of international and comparative law courses. All students who have not already taken a public international law course are required to take International Law: Public, with the remaining 10 hours of specialized coursework.
The program is open to both international and US students. Full-time and part-time programs are available; however, students requiring an F1 visa are not eligible for the part-time program.
Credential Evaluation and Analysis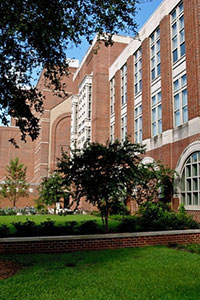 If you earned a JD from a law school in the United States, purchase only the Document Assembly Service. LSAC will include copies of your transcripts and letters of recommendation in your law school report—no transcript analysis is necessary.
If you earned your first degree in law from an institution outside of the United States, you should purchase both the Document Assembly Service, which will forward your letters of recommendation, English proficiency score(s), and electronic applications to Tulane Law School, and the International Transcript Authentication and Evaluation Service (ITAES), which is offered in cooperation with the American Association of Collegiate Registrars and Admissions Officers (AACRAO). ITAES authenticates and evaluates transcripts/mark sheets, copies of degrees/diplomas, degree and graduation certificates, and rank statements so that US law schools better understand your academic credentials.
Use of the LLM Credential Assembly Service is strongly preferred. However, Tulane Law School will consider transcript evaluation or analysis provided by World Education Services (WES). The evaluation or analysis should be sent directly to Tulane Law School by WES.
Application Instructions
Applications are considered complete once we have the following on file:
1. Complete Application Form
You must answer all questions completely and accurately. Some questions may require further explanation; you must electronically attach those explanations as instructed with the application itself.
Please provide a personal statement or essay as required by the application. Please upload this item in the attachments section. The statement should be used to provide information about yourself and your interests that you consider significant to our evaluation of your file. Be sure to address your reasons for seeking a graduate degree in law at Tulane, and discuss the areas of law that most interest you.
Upload a résumé or curriculum vitae.
2. Official Transcripts and Class Rank
Tulane Law School requires complete, official transcripts of work at all colleges, universities, and law schools attended, whether or not a degree was granted.
Review our transcript evaluation requirements in the Credential Evaluation and Analysis section above.
If your class rank is not indicated on your law school transcript, arrange for the appropriate official at your law school to provide a letter indicating your rank in your class. We prefer that the letter be sent to LSAC for processing. Alternatively, the letter may be sent from your law school directly to Tulane Law School for processing.
If your law school does not rank students, arrange for the appropriate official at your law school to provide Tulane Law School with a letter confirming their policy.
3. Two Letters of Recommendation
Letters of recommendation should be written by someone who knows you well and can speak of your academic ability or work experience.
We prefer to receive letters of recommendation through LSAC's Letter of Recommendation Service. Letters should be mailed by the recommender directly to LSAC. Alternatively, letters can be mailed by the recommender directly to Tulane Law School.
4. Official TOEFL Score Report or Official IELTS Score Report
English proficiency testing is not required if the applicant's native language is English or if English was the language of instruction during the applicant's first law degree. All other applicants should arrange for Tulane Law to receive an official test score report.
Applicants who must complete English proficiency testing should choose one of the following testing options:
TOEFL iBT (Internet-based test)
International English Language Testing System (IELTS)
TOEFL PBT (paper-based test), along with the Test of Written English (TWE)
The vast majority of our admissible applicants achieve a score of 575 or higher on the TOEFL PBT or 90 or higher on the TOEFL iBT. Successful applicants who take the TWE typically receive a score of 3.5 or higher. The vast majority of our admissible applicants who take the IELTS achieve a band score of 7 or higher.
Tulane Law School accepts TOEFL and IELTS scores for up to three years after the test administration. Please request that ETS forward TOEFL scores to Tulane Law School (Institution #6832, Department 3). Please request that IELTS test scores be sent to:
Tulane Law School
Office of Admission – Graduate Programs
6329 Freret Street
New Orleans, LA 70118
5. Financial Assistance
All students who wish to be considered for a scholarship, tuition waiver, or financial aid must complete the Financial Aid Data and Scholarship portion of the electronic application.
Applicants who are US citizens or permanent residents and plan to apply for financial aid should also complete and submit to the Admission Office the Financial Aid Form found in the Forms section of the LLM electronic application.
This is important.

Please Note
Please notify us of any change of address so that correspondence will be sure to reach you; do not rely on the post office to forward mail in a timely manner.
It is your responsibility to inform us of any change of circumstances that may affect your admission (for example, disciplinary or criminal charges, or a change in expected graduation date).
Student Services and Organizations
Tulane law students quickly realize that the Law School is a place where things are always happening, both inside and outside the classroom. There are 40 student organizations that were started and are maintained by students under the auspices of the Student Bar Association. Many LLM students are interested specifically in GLAT, Graduate Lawyers at Tulane, an organization comprising both US and international law school graduates pursuing a graduate degree at the Law School. The group organizes social and academic events including speaker programs on international law topics, often in conjunction with the International Law Society.
Career Services
Tulane's Career Development Office (CDO) holds regular workshops on résumés and cover letters, interviewing skills, networking, and other topics related to job search strategies. Other programs focus on particular practice areas (e.g., international law, corporate law) or practice settings (e.g., government opportunities, private practice in particular geographic locations). Both JD and LLM/SJD students are invited to attend and participate in all of these programs.
The CDO is open Monday through Friday for appointments with career counselors and for use of the library and other resources. In addition, between 1:00 pm and 4:00 pm each day that school is in session, a Career Counselor is available for "Walk-In Hours"—without appointment—in the CDO to meet briefly with students and to respond to quick questions. For quick questions when school is in session, the One Quick Question table in the lobby of Weinmann Hall is staffed Monday through Friday from noon until 1:00 pm.
Additional Information
Admitted graduate students who received the first law degree from a law school outside of the United States are required to participate in and complete the graduate orientation course, An Introduction to the Law of the United States (scheduled in advance of the fall semester). The State of New York Court of Appeals has determined that this course qualifies as a basic American Law course for purposes of eligibility to take the New York State Bar Examination.
An Introduction to the Law of the United States is designed to familiarize students with the methods and structure of US law and legal education. The course includes almost 50 instructional hours in US substantive law topics and introductory training in legal research and writing and law examination skills. The course also includes organized extracurricular activities that help introduce students to each other, to Tulane University, and to the city and culture of New Orleans. This course is a fundamental part of the law school's graduate curriculum and is required for all incoming law students who hold a law degree awarded outside of the United States, including those from common-law jurisdictions (for example, the United Kingdom, India, New Zealand, Australia, and Canada). Students with law degrees awarded in Puerto Rico are strongly urged to take this course.
The course meets prior to the start of the fall semester while the campus and school are still relatively quiet and unpopulated. Our new LLM students are able to use the relaxed atmosphere to their advantage to meet with faculty and the administration, become familiar with the campus and its services, find housing, and build relationships with each other. Further, professors have the opportunity to provide necessary academic counseling and advising to our new graduate students.
We also offer an English as a Second Language (ESL) course during the summer prior to the start of fall classes. The ESL course is designed to improve students' abilities to communicate effectively in English at a professional level. Special emphasis will be placed on improving listening-comprehension and oral-presentation skills.