University of California, Los Angeles (UCLA) School of Law
The information on this page was provided by the law school.

Official Guide to LLM, Master's, and Certificate Programs
---
Introduction
UCLA School of Law has a reputation for excellence throughout the world. Ours is the premier law school in southern California and among the top law schools in the nation. The university boasts 13 schools and colleges, 69 departments, and 19 libraries. UCLA School of Law offers more than 200 challenging and diverse courses and programs on issues that affect all aspects of law in today's world.
Location
Those of us who work and study in Los Angeles have a hard time understanding why people go anywhere else. Even UCLA's colors were chosen to represent regional attributes: blue to symbolize the ocean and local wildflowers, and yellow to reflect "the Golden State," the California poppy, and sunsets. UCLA School of Law is located in the heart of Los Angeles, a thriving and dynamic cultural center with rich arts, entertainment, and culinary offerings. Our lush, sprawling campus is ideally located in one of the most desirable neighborhoods in the city, just 15 minutes from the beach and 5 minutes from Beverly Hills. Outside of UCLA, there are limitless opportunities to explore Los Angeles's green spaces, mountainous hiking trails, scenic drives, and coastal enclaves. Here you'll enjoy all that the city has to offer, from relaxed beachside eateries in Santa Monica to the dynamic nightlife in Hollywood.
Law School Enrollment
UCLA law students are among the best and brightest in the world, and together they make up a diverse, close-knit community. They come from a range of nationalities and backgrounds, offering fresh perspectives both inside and outside of the classroom. Whether at an academic lecture or one of our LLM social events, you're sure to make friends that will last a lifetime.
General LLM Program
UCLA School of Law uses an interdisciplinary approach to legal studies, with a dynamic, flexible curriculum that appeals to a range of interests. The LLM curriculum includes attendance in upper-division law school classes alongside JD students. LLM students have the option of specializing their studies in fields such as Media, Entertainment, and Technology Law and Policy; International and Comparative Law; and Business Law, among others. With the approval of the Graduate Studies Committee, students may also develop their own self-designed specializations. These optional specializations permit LLM students to pursue their academic and professional interests in depth through an intensive course of study while at UCLA. Students who do not specialize will enjoy the freedom to choose courses from any area of the curriculum.
Twenty-two semester units of class credit, taken over two consecutive semesters, are required in order to earn the LLM degree. With the exception of a short introductory course for students who do not hold a prior US law degree—the majority of which takes place prior to the start of classes during orientation—there are no required courses for LLM students.
Specializations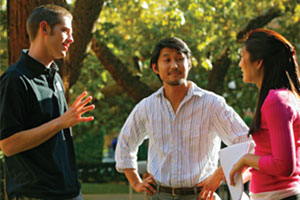 UCLA Law offers specialized courses of study across several disciplines, for which it is nationally renowned. These specializations allow students to gain expertise in a specific area of the law and include:
Business Law, with tracks in

Business
Securities Regulation
Tax
Bankruptcy

Media, Entertainment, and Technology Law and Policy
International and Comparative Law
Law and Sexuality
Critical Race Studies
Public Interest Law and Policy
Students may also consider developing their own specializations in fields outside of those listed above. Previous LLM students have developed specializations in fields such as Environmental Law, Criminal Justice, Health Law, and more.
Faculty
UCLA Law faculty teach, conduct research, are legal practitioners, and are leading experts with reputations for scholarship in a wide variety of disciplines. From business and entertainment law to climate change and critical race studies, UCLA Law faculty members have written leading case books and seminal articles that define new fields of scholarship. At UCLA, you'll find scholars who not only write about the law but also act on it through advocacy before courts, legislatures, and agencies. The faculty bring this dynamism into the classroom, inspiring students to take on their own leadership roles in the law, all the while fostering a sense of community and accessibility.
Academic Life
UCLA Law's emphasis on an interdisciplinary, well-rounded approach to legal education creates pathways for students to supplement their law studies with courses at the Anderson School of Management; the renowned School of Theater, Film and Television; and other non-law departments elsewhere at UCLA.
UCLA Law is home to centers, programs, and institutes at the forefront of legal research, innovation, and impactful legal scholarship that shapes legislation and jurisprudence. As a result, students participate in and access the comprehensive offerings available through these centers, a few examples of which include:
Center for Law and Economics
International and Comparative Law Program
Lowell Milken Institute (LMI) for Business Law and Policy
Transnational Program on Criminal Justice
Williams Institute on Sexual Orientation and Gender Identity Law and Public Policy (The Williams Institute)
Ziffren Center for Media, Entertainment, Technology and Sports Law
For those interested in supplementing their academic studies with practical experience, UCLA provides avenues for students to develop transactional and practical legal skills through clinical and experiential courses or externship placements in nonprofits, government organizations, studios, networks, and other legal spheres.
Student Life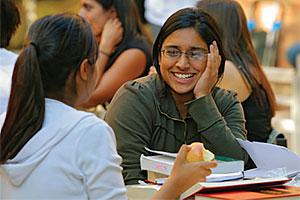 LLM students may participate in a wide variety of student organizations and journals, ranging from the Business Law Association and Entertainment Law Review to OUTLaw and the Journal of International Law and Foreign Affairs. Students deepen their experience in the program by engaging in student competitions, such as the Sandler Prize for New Entrepreneurs, and attending noteworthy symposia, conferences, and speaker series, such as the flagship Annual Entertainment Symposium.
Housing
While there are on-campus university housing options available for single graduate students as well as those with families, the majority of UCLA's graduate students do not live in university housing because there are many desirable off-campus housing options available in the local area. LLM students have lived in private apartments in Westwood and surrounding neighborhoods such as Santa Monica, Brentwood, Beverly Hills, West Hollywood, Culver City, Palms, and others. UCLA offers guidance to and several resources for students seeking off-campus, private accommodations.
Career Services and Professional Development
The School of Law's Office of Career Services features two career counselors solely devoted to working with LLM students. In addition to founding and organizing the annual UCLA LLM Interview Program, they assist our LLM students with creating and editing résumés, improving interviewing skills, launching their job search, and more. Like LLM students at other top-tier law schools in the United States, UCLA students may also participate in the job fair for international LLM students, which is held at New York University in January.
UCLA Law also offers guidance to students navigating the complex US bar exam qualification process. Numerous courses in subjects tested on state bar exams are available as a part of the law school's advanced curriculum, and if the state requirements are met, a UCLA Law LLM degree can provide you with eligibility to take the bar exam in California, New York, and elsewhere.
Financial Aid and Scholarships
All applicants to the program—both international and domestic LLM students—are eligible for consideration for the Dean's Tuition Fellowship, a competitive need- and merit-based award that can cover a portion of tuition expenses. Most LLM students, however, will frequently pursue independent, alternate financial aid resources to help supplement the cost of the program. More details regarding UCLA Law and alternative funding resources can be found in the Financial Aid Information guide.
Application Requirements
Prospective applicants to the LLM Program must submit an online application and several supporting documents through LSAC's LLM Credential Assembly Service (CAS) Document Assembly Service. These documents include:
current résumé or curriculum vitae
personal statement
official transcripts
two to four letters of recommendation
official TOEFL or IELTS scores (only non-native English speaker international applicants)
Contact Information
For additional information, please visit the LLM Program website, or contact:
UCLA School of Law
Office of Graduate Studies and International Programs
385 Charles E. Young Drive East
Los Angeles, CA 90095-1476
USA

Phone: +1.310.794.5016
Email: llm@law.ucla.edu