The information on this page was provided by the law school.

Official Guide to LLM, Master's, and Certificate Programs
1111 E. 60th Street, Chicago, IL 60637, United States

Visit School Website

---
Introduction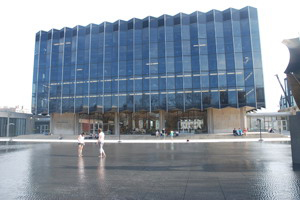 Among the most distinguished US law schools, the University of Chicago offers the combination of a small LLM program with a real sense of community among its students, a challenging academic experience both inside and outside the classroom, and an exciting urban location in one of the great cities of the world. Our LLM graduates often say that their year at the law school had a great impact on both their subsequent personal and professional lives. They also look back fondly at the friendships that developed and the experiences they shared with classmates and others in the university community. Special efforts are made by the law school administration to bring LLM students and JD students together in subsidized social events. The law school also subsidizes "national dinners" organized by LLM students from individual countries and regions for the benefit of all LLM students. LLM students can arrange free small group lunches with members of the faculty.
Unlike a number of other law schools, the University of Chicago does not offer specialized graduate degree programs with a large number of graduate courses in a particular field such as taxation or securities regulation. There are no specific courses that LLM students are required to take at Chicago, nor are there courses they may not take. This means that students have the flexibility to create their own program. LLM students often put together course and seminar schedules that reflect certain practice specialties such as corporate/securities, intellectual property, and antitrust/regulation of business, or commercial transactions, among others. Most, however, also add other offerings in areas like constitutional law, legal theory, law and economics, and comparative law to round out their academic experience. Other than an optional LLM writing course and an optional contract law course, there are no courses in the curriculum just for LLM students; LLM students will have all of their classes with students in the JD program.
The University of Chicago's reputation as one of the world's foremost private universities is illustrated by the fact that 90 Nobel laureates, including three who have taught in the law school, have been associated with the university either as professors, students, or researchers. The university has approximately 5,000 undergraduates and 10,000 graduate students in four graduate divisions and seven professional schools. Chicago's relatively small size and emphasis on graduate studies have encouraged unusual interaction among disciplines. While traditional departments exist at Chicago, almost all academic programs embrace specialists from different disciplines. This is also true of the professional schools, which are all located on the main campus and enjoy unusually close relationships with the rest of the university. Many of the faculty hold appointments in more than one department or school. LLM students may take courses elsewhere in the university, but such courses are not counted toward the LLM credit requirements.
Location and Physical Facilities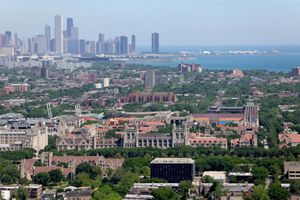 People visiting the university for the first time are often surprised to discover that it is not a typical urban campus surrounded by concrete and busy streets. Instead, they find an island of green grass and trees located in a residential community flanked by Lake Michigan's sandy beaches and two large parks. The university has over 125 buildings located on a 211-acre (slightly under one-square-kilometer) campus. The main campus retains the style established by the original designers, featuring gray limestone embellished with gargoyles, ivy, and spires characteristic of collegiate Gothic, and arranged in a series of quadrangles shaded by trees. The south campus, where the law school is located, is connected to the main campus by the treelined Midway Plaisance, which served as the midway (popular entertainment area) for the World's Columbian Exposition of 1893.
The law school is located in an architecturally distinct set of buildings designed by the late Eero Saarinen and originally completed in 1959. Significant additions were made in 1987 (a substantial increase in the size of the D'Angelo Law Library) and 1998 (the addition of the Kane Center for Clinical Legal Education and four new classrooms). In 2004, the original classrooms were completely renovated and wired for interactivity. Included in the Law Quadrangle is a courtroom complex, the Weymouth Kirkland Courtroom, and the Glen A. Lloyd Auditorium. The D'Angelo Law Library contains about 700,000 volumes and is one of the leading law libraries in the nation, with particular strength in the research collection and in foreign legal materials. A large proportion of its seating is in the form of carrels and semicarrels spaced throughout the five floors as well as in the main floor reading room.
The law school's small size—575 JD students and 75 LLM students—helps to develop a sense of community among students, faculty, and administrators. Ease of access to and easy information exchange with the faculty are viewed as an integral part of the educational process; the building was designed specifically to encourage this atmosphere. Faculty and student organization offices are arranged around the stacks of the D'Angelo Law Library. The custom is for students to drop in on faculty members at any time without going through secretaries or other staff. The Harold J. Green Lounge, in which students and faculty gather between classes and for lunch, occupies a central place on the main floor of the law school.
The university is located in Hyde Park, an integrated residential community on Lake Michigan, 7 miles (11.2 kilometers) south of Chicago's central business area. Hyde Park and South Kenwood (its immediate neighbor to the north), comprise 3 square miles (7.8 square kilometers) of houses, shops, and parks. About 70 percent of the law school's students and faculty live in this neighborhood of 45,000 people. Sixty years ago, Hyde Park became one of the first communities in the country to take advantage of the federal government's urban renewal program. Today, the neighborhood—integrated and stable—is cited as a model. The community owes much of its "small town" feeling to the absence of substantial high-rise development. In the area immediately surrounding the university, there are over 200 single-family homes and townhomes.
Chicago is one of the nation's great—and most beautiful—cities. The cultural and recreational opportunities of Chicago are easily accessible to students at the university. The "Loop," Chicago's business and cultural center, is only 15 minutes away by car and can be reached in 30 minutes by bike along Lake Michigan. The lakefront itself is one of the city's major attractions. It is a series of open parks with beaches and marinas along most of its 20-mile (32-kilometer) shoreline.
Housing
LLM students find housing in a variety of locations. The majority of students live in private apartments in the Hyde Park area, but every year a small number (10-15) decide to live in apartments in downtown Chicago. Admitted applicants will be sent detailed descriptions prepared by students about the various housing options.
Career Services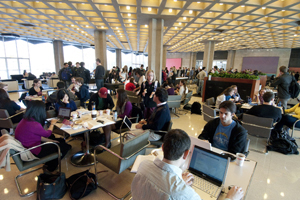 Many Chicago LLM students choose to round out their educational experience by looking for short-term "practical training" (or more permanent) positions with legal employers in the United States. Although the market for internationally trained attorneys in the United States is difficult, some LLM students are successful in finding such positions. Throughout the year, the law school's Office of Career Services will assist LLM students by offering informational and skill development programs relating to the job-search process in the United States. The Office of Career Services will also provide counseling services to LLM students on an individual basis.
Each year, our LLM students are invited to attend an interview program in New York City in which internationally trained LLM students are selected for initial interviews by prospective employers from around the world. In January 2019, approximately 140 employers from the United States and abroad participated in the interview program. Forty-eight LLM students from the University of Chicago attended the 2018 interview program, and each of them averaged approximately six interviews. In addition to LLM students at the University of Chicago, internationally trained LLM students from the following schools participate in this interview program: Harvard Law School, Columbia University School of Law, Stanford University Law School, the University of Michigan Law School, University of Virginia School of Law, and Yale Law School.
LLM Admission Process
Each year, the law school receives approximately 950 applications for the 70-80 positions in the LLM program. In recent years, virtually all of the students admitted to the LLM program have been graduates of international law schools. This is a reflection not of a bias in favor of international law school graduates, but rather a judgment by the Graduate Studies Committee that the law school's small size and lack of graduate programs specializing in specific substantive areas make it unsuitable for most American law school graduates thinking of a second degree. Exceptions may be made for American law school graduates whose research interests strongly correlate with those of a member of the faculty, and for whom graduate studies at this law school seem to be particularly appropriate.
Candidates applying for admission to the LLM program must use the LSAC LLM Credential Assembly Service. Applicants must submit all the required materials through this service:
Application for Admission with supporting documents
academic transcripts
letters of recommendation
TOEFL and IELTS scores
application fee
Although the application deadline is December 15, candidates are urged to submit their applications as soon as possible since applications are considered in the order in which they are completed. Our experience has been that the most promising candidates generally apply before the end of November. Any applications received after December 15 will be considered on a space-available basis only. Consideration of completed applications will begin in late November, and most candidates will receive a decision by email in mid-February.
Admission decisions for the LLM program are based primarily on two factors:
The ability of the applicant to flourish in a demanding academic program as evidenced by the prior academic and professional record and English proficiency
The extent to which the applicant's personal characteristics indicate that he or she will be active and engaged in the intellectual and social life of the law school
Admitted applicants who wish to be considered for financial assistance from the law school will be asked at the time of admission to supply information about their own and their family's financial circumstances. Funds to support students in the LLM program are exceedingly limited. Grants are available only for a small portion of the total cost. Therefore, applicants requiring financial aid should make every effort to obtain assistance from their government or other outside sources. Tuition for the 2019-2020 academic year is $66,651. A reasonable budget for a single student, including tuition and living expenses, is roughly $100,000.
For additional information, please visit the LLM program website. Here, the Graduate Studies Committee has provided extensive information about the program and the application process. If you do have questions after reviewing this material, please feel free to write the Office of Graduate Programs at lawgrad@uchicago.edu.