University of Cincinnati College of Law
The information on this page was provided by the law school.

Official Guide to LLM, Master's, and Certificate Programs
---
Introduction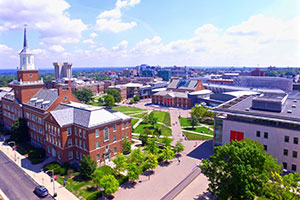 We offer one of the most affordable LLM programs in the United States. 2022-2023 academic year Tuition.
Our Scholarship Guarantee:  If you request a scholarship and are admitted to the Cincinnati Law LLM Program for Fall 2021, we promise that we will give you a partial scholarship to reduce the cost of your tuition.
There is no application fee. Apply now.
The University of Cincinnati College of Law, opened in 1833, is among the nation's most regarded public law schools and is the fourth-oldest continuously operating law school in the country. A founding member of the Association of American Law Schools, the College of Law enjoys a solid reputation as one of the nation's premier small, public law schools. The College of Law has brought together a community of committed administrators, award-winning faculty, and skilled legal practitioners to create and promote an environment of intellectual exchange and academic excellence. With an enviable 6.3:1 student-to-faculty ratio, students at the College of Law benefit from an intimate, collegial environment and personal attention from faculty, while having access to groundbreaking centers and institutes.  Our faculty come to us from the most prestigious law schools in the country, and pride themselves on sophisticated use of the Socratic Method, giving LLM students the full benefit of the American law school experience. 
College of Law programs and centers have earned international acclaim, including the Ohio Innocence Project (founder of the international Innocence Network); the Urban Morgan Institute for Human Rights (editor of the world-renowned Human Rights Quarterly); the Corporate Law Center; our Center for Race, Gender and Social Justice; our Entrepreneurship and Community Development Clinic; and our new Patent and Trademark Clinic.
The College of Law is part of the University of Cincinnati (UC)—one of America's top public research institutions. UC is known as a leading "up-and-coming" university, a "research heavyweight," and as having one of the world's most beautiful campuses. It is also celebrated as one of the most welcoming universities in the world for international students. With a student population of 44,000 and located in a diverse, safe, vibrant urban community, UC offers a rich collection of cocurricular experiences and support services in partnership with our academic programs. Students can choose to participate in hundreds of organizations, workout in our state-of-the-art recreation center, play or watch intramural and collegiate sports, and assume leadership roles of all kinds. UC also provides key support services aimed at ensuring international student success through graduation.
Students at UC enjoy easy access to downtown Cincinnati with over 650 law firms, headquarters to 10 Fortune 500 corporations, and state, county, and federal courts, including the US Court of Appeals for the Sixth Circuit. Cincinnati is the home of well-known international companies, including Procter & Gamble and Kroger Company as well as numerous law firms doing work of an international nature. UC Law LLM students are taken on regular visits to local law firms, corporations, and courts. For more information about Cincinnati, please visit our website.
LLM Program: The US Legal System
The College of Law offers a program of study in the US legal system to practicing attorneys and law school graduates who received their legal education outside of the United States. The LLM program provides a substantive introduction to the US legal process while allowing students to focus their studies on their own areas of interest. Two classes are required of all LLM students: Legal Research and Writing for LLM Students and the US Legal System. Students select the remainder of their courses from among the full range of courses available at the College of Law. Areas of study include:
Business Law, including corporate law, commercial law, tax law, labor law, and employment law. We now offer a new Concentration in Business Law;
Criminal Law;
International Law, including human rights, public international law, trade law, and immigration law;
Law, Technology, and the Creative Arts, including environmental law, health law, and intellectual property law;
Litigation and Alternative Dispute Resolution, including mediation and negotiation; and
Public Interest Law, including family law, critical race theory, women's rights, and more.
One- and two-year options are available.
Work Experience Opportunities
At Cincinnati Law, LLM students have a number of opportunities to get work experience.  LLM students can apply for internships (which we call "externships") and legal clinics during their second semester.  UC Law student externs have been placed at General Electric, City of Cincinnati, Squire Patton Boggs, Fifth Third Bank, Cincinnati Public Schools, Legal Aid, and many more.  
LLM students may also participate in Cincinnati Law legal clinics, which include: Ohio Innocence Project, Entrepreneurial and Community Development Clinic, and the Domestic Violence Clinic. 
Friendly Atmosphere
The College of Law is committed to maintaining a welcoming, collegial atmosphere for all students. Key to this is the school's small size—approximately 300 JD students and 20 LLM students—which allows for a high level of interaction between students and faculty, small classes, a friendly environment, and selectivity in the admission process. The LLM program is small by design so that faculty and staff can offer LLM students individualized attention and mentoring.
Physical Facilities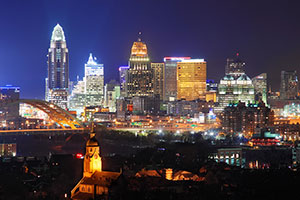 The Robert S. Marx Law Library, which can seat the entire law school student body at one time, manages a robust collection to support faculty and student research and the college curriculum. The library has a seasoned staff that is able to assist students with research and technical questions. Two computer labs and a wireless network throughout the law building enable students to maximize online research capabilities, and our skilled IT staff members are readily available to assist law students.
Housing
A variety of housing options are available near the University of Cincinnati campus. Students in Cincinnati enjoy a cost of living well below the national average.  For example, an apartment in Cincinnati can be $925 per month, and often much less, which is substantially less that the cost of housing in cities like New York or Washington, D.C.  The University's Graduate and Family Housing Office provides affiliated housing options, private listings, and a roommate search service that you may find helpful. The College of Law will assist, whenever possible, in connecting incoming students who would like to share an apartment with another law student.  The Cincinnati Law housing guide is available here:  https://www.veryapt.com/guides/housing/140-cincinnati-law/?fbclid=IwAR32LO91GxKR8Orl2D7MXbYnvAdHNi6opZ7vXD3vaVarAZ3fZntY9dfE4tc
Summer Program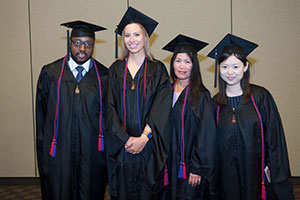 LLM students will arrive on campus two weeks before regular classes begin so that they can participate in an orientation program. This program will introduce students to the community, the university, and the College of Law. It will also preview strategies for success in a US law school classroom, with instruction given on common US and US university etiquette.
During this time students will also be given a chance to network with each other, JD students, faculty, and local judges and lawyers.
Financial Aid
Scholarships are available. No special application is required. If you are interested in a scholarship, please let us know by sending an email requesting consideration to uclawllm@uc.edu.
Our Scholarship Guarantee:  If you request a scholarship and are admitted to the Cincinnati Law LLM Program for Fall 2019, we promise that we will give you a partial scholarship to reduce the cost of your tuition.
Fellowships
In addition to general merit scholarships, specialized fellowships are also available.   Applicants with a background and passion for international human rights will be considered for a fellowship with the Urban Morgan Institute for Human Rights.  Urban Morgan fellows receive a 50% tuition scholarship and also have the opportunity to participate in the Institute activities including dinners with activists, academics, and lawyers working in the field.  Fellows also work on the internationally distributed Human Rights Quarterly.  Watch this video featuring an LLM Human Rights Fellow here: https://youtu.be/K3FbvpjrI7E
Students who are interested in criminal law can be considered for a fellowship with the Ohio Innocence Project.  As an OIP fellow, students will receive a tuition reduction and have the opportunity to work with faculty, attorneys and other students pursuing freedom for individuals who are wrongfully incarcerated. This video tells the OIP story: https://youtu.be/rghYbxRU5ss
Student Services and Organizations
Over 2,000 international students currently attend the University of Cincinnati. UC offers students a wide array of activities and organizations, which provide students with a chance to meet one another, socialize, and learn outside of the classroom. UC also provides a network of supportive services to make sure that the transition to the Cincinnati community is a smooth one. Help with visa, language skills, and other issues is available on campus. The University of Cincinnati office of International Services is a tremendous resource for international students at UC.
The College of Law hosts over 35 student-run organizations and clubs based on various affiliations, interests, and activities. Numerous scholarly institutes, legal clinics, and law journals offer students ample opportunities to get involved.
LLM students have the opportunity to participate in social occasions that allow them to get to know one another, as well as students in the JD program. In addition, LLM students make visits to law firms, courthouses, and government institutions, and participate in special networking events.
Career Services
The College of Law LLM program is specifically designed to be a small program. This will allow students ample opportunity to work one-on-one with the program director and faculty members on issues related to career planning. Students are also encouraged to work with UC Law's Center for Professional Development. Our career counselors go above and beyond to work one-on-one with LLM students on a full range of professional development topics, including networking, résumé writing, interview skills, and internships.
Opportunity to Apply to Transfer to the JD Program
LLM students may apply to transfer to the JD program.  Upon admission to the JD program, LLM graduates are able to complete the JD program in approximately 2 years. 
Conditional Letters of Admission (CLA)
CLAs are available from the College of Law. Students may complete their English preparation on UC's campus at one of the largest ELS centers in the United States.
Contact Information
For additional information, please visit the Cincinnati Law LLM website, or contact:
Nora Burke Wagner
Assistant Dean for International Programs
University of Cincinnati College of Law
PO Box 210040
Clifton Avenue and Calhoun Street
Cincinnati, OH 45221-0040
USA
Phone: 513.556-0801
Email: uclawllm@uc.edu