University of Dayton School of Law
The information on this page was provided by the law school.

Official Guide to LLM, Master's, and Certificate Programs
---
Welcome to the University of Dayton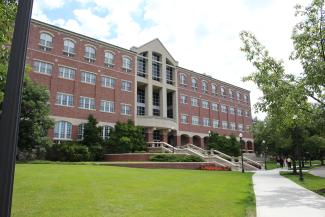 The University of Dayton School of Law is an integral part of the University of Dayton—one of the preeminent Catholic universities in the nation and the largest private university in Ohio. We share the university's commitment to serving others and offering an education that blends theory and practice.
Our mission has important implications for how law is taught here, and how you can expect to be treated as a student. We focus on attention to the individual, from first contact to well beyond graduation. We are also deeply committed to an inclusive environment. Our faculty, staff, and students work hard to make Dayton Law a collaborative community, where, we believe, you will find a warm, welcoming place.
Our courses are taught by talented, dedicated, full-time faculty and a cadre of part-time faculty that includes respected judges and experienced practitioners. As both a student and an alumnus, you will benefit from an extremely supportive network of alumni who regularly serve as teachers and mentors.
You will find Dayton Law to be a place where you forge lifelong friendships with your classmates. A diverse community of bright, motivated people who genuinely care about one another and about their community is waiting to welcome you.
Admission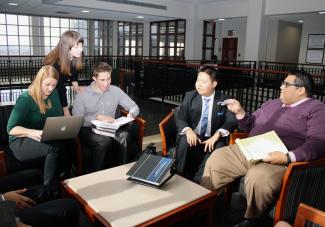 All candidates interested in pursuing the LLM degree on campus must possess a first degree in law from an accredited US law school or from a foreign university. Candidates for the LLM degree will be evaluated for admission based on academic and personal criteria, including law school and university transcripts, other academic records, employment experience, and other personal accomplishments. International applicants must also demonstrate English proficiency.
We have rolling admission for the LLM program but urge applicants to apply two to four months before their anticipated start date. For details on how to apply, please visit our website.
Conditional Admission
Conditional admission is possible if your native language is not English. Conditionally admitted students study English at the University of Dayton's Intensive English Program (IEP) prior to taking courses on campus at the law school. Course offerings include grammar, reading and writing, listening and speaking, TOEFL preparation, and pronunciation.
Tuition, Fees, and Financial Aid
Please visit Tuition and Costs for current information.
The LLM in American & Transnational Law
The LLM program in American and Transnational Law is ideal for US and international lawyers who seek to pursue advanced studies in either general or specialized areas of law. The degree can be pursued on campus or entirely online.* Our program is designed to prepare students for better career opportunities and further legal studies by providing cutting-edge academic programs that are characterized by flexibility and innovation.
Students also have the opportunity to immerse themselves in unique and innovative new courses such as Legal Innovations Lab and Law and the Internet of Things to name a couple. Dayton Law's Program in Law and Technology provides students with a solid foundation in patent law, copyright and trademark law, cybersecurity and technology law, and related business and licensing issues. Students may pursue optional specialty certificates in Applied Business, Criminal Law, Cyber Law, Intellectual Property Law, or United States Legal Practice in addition to the LLM degree. The United States Legal Practice certificate can be completed entirely online.
Specialty Certificates in Applied Business, Criminal Law, Cyber Law, Intellectual Property Law, and United States Legal Practice
To earn specialty certificates, students must complete the required and core courses for the LLM degree.
Specialty certificates
allow students to develop their skills and knowledge in a specified area of law without requiring additional time or tuition;

make students more marketable to employers by providing a credential attesting to their competency, commitment, and training; and

ensure that students receive recognition for the successful completion of a specialized course of study.
International Students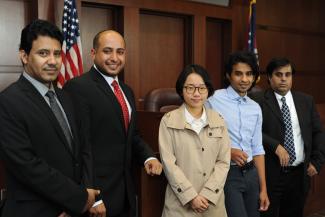 The University of Dayton's Center for International Programs staff assists international students with a wide variety of areas, such as immigration issues, counseling, personal advising, social and extracurricular activities, and emergencies. The office also serves as a link between international students and the rest of the university and the surrounding community. The center's World Exchange serves as a lounge and conference/work area, which fosters international interaction and partnership between those with international interests. Internationally oriented student clubs, faculty, and staff utilize this space for classes, meetings, and other international exchanges.
Housing
On-campus housing is available within three blocks of the law school, and there are many options for off-campus accommodations. Housing options are varied and affordable.
Contact Information
On-Campus LLM
For additional information on pursuing our on-campus LLM in Dayton, Ohio, USA, please visit the LLM Program website, or contact
Tan T. Boston
Director, LLM & MSL Programs
300 College Park Avenue
Dayton, OH 45469-2772
USA
Phone: 937.229.3899
Fax: 937.229.2469
Email: llm_msl@udayton.edu
Online LLM
For additional information on pursuing our online LLM, please visit the LLM Program website, or contact
Margaret Ioannides
Online LLM Program Manager
300 College Park Avenue
Dayton, OH 45469-2772
USA
Phone: 937.229.4765
Email: mioannides1@udayton.edu