University of Georgia School of Law
The information on this page was provided by the law school.

Official Guide to LLM, Master's, and Certificate Programs
---
Introduction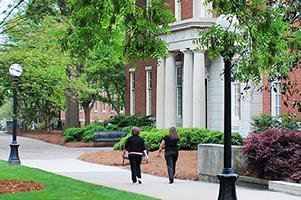 Since 1859, the University of Georgia (UGA) School of Law has been preparing the next generation of legal leaders. The school's accomplished faculty includes nationally and internationally renowned scholars, and its approximately 11,000 living graduates are leading figures in law, business and public service throughout the world. Connecting students to these thought leaders and opportunities to serve state and society is central to the school's mission.
Our LLM alumni include judges and law firm partners, leaders in governments and in intergovernmental and nongovernmental organizations, CEOs and heads of corporate legal departments, and university professors and administrators.
As a member of our select class of LLM students, you will be a member of a close-knit intellectual community, pursuing a rigorous ten-month plan of study side by side with JD candidates. You'll follow a flexible curriculum tailored to your career goals, whether they include preparing for a US bar examination, pursuing a concentration affording advancement in your home country's legal profession or academic institutions, or completing a major academic research project under the supervision of a School of Law faculty member. 
University of Georgia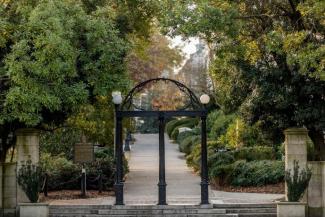 The University of Georgia (UGA) was chartered by the Georgia General Assembly in 1785 and is the birthplace of public higher education in America. Its 18 colleges and schools enroll more than 38,000 students and have produced over 340,000 alumni living worldwide. The university's threefold teaching, research and service mission spans the globe with campuses in five Georgia locations; Washington, D.C.; England and Italy, as well as partnerships in more than 50 countries on six continents. One of the nation's top universities for technology commercialization, the University of Georgia has ranked among the Top 5 universities—including a current No. 1 ranking—for seven consecutive years, with more than 850 products to date derived from university research.
The University of Georgia welcomes students and scholars from around the world and values their contribution to the social and intellectual life of the university. UGA's Office of International Student Life provides resources and opportunities for campus engagement to international students and their families.
Student Life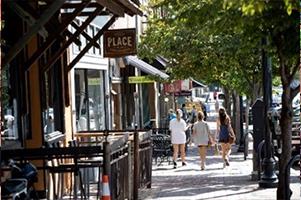 The School of Law is located on the University of Georgia's historic north campus in Athens, a progressive city boasting small town charm while offering world-class music and culture, extensive access to parks and natural resources, and a low cost of living. Athens lies just 70 miles northeast of Georgia's capital, Atlanta, a vibrant global gateway city served by the world's busiest airport. Located in the southeastern United States, Georgia enjoys four seasons with mild winter temperatures.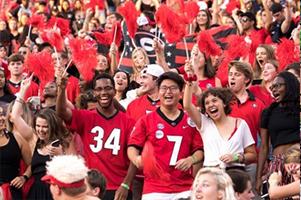 The university's award-winning Performing Arts Center boasts two of the country's best concert halls. Located beside it is the Georgia Museum of Art, which offers an outstanding permanent collection and extensive cultural programming. The 21 varsity athletic teams competing as the Georgia Bulldogs are among the most successful in NCAA Division I, with 45 national championships. For recreation, students enjoy visiting the campus's Ramsey Student Center for Physical Activities, which has 3 gyms, 3 pools (one Olympic-sized, a 17-foot diving well, and a lap pool), a 1/8-mile indoor suspended rubberized track, a 44-foot high climbing wall, 14-foot outdoor bouldering wall, 10 racquetball courts, 2 squash courts, bicycle repair stands, 8 full-length basketball courts, and 19,000 square feet of weight-training space. Georgia's extensive state park system offers further opportunities for recreation.
Dean Rusk International Law Center
Named after the former U.S. Secretary of State who taught at the University of Georgia School of Law in the last decades of his career, the Dean Rusk International Law Center has served since 1977 as a nucleus for global research, education, and service. From its home in Dean Rusk Hall, the Center builds upon a UGA School of Law tradition of excellence in international law that dates to 1940. Every year, the Center spearheads an array of events designed to promote discussion and analysis of issues related to international, comparative, transnational, and foreign affairs law and policy.
Professional Development and Career Services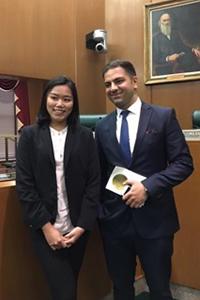 The School of Law Career Development Office and LLM degree staff stand ready to help you explore your career goals through individual counseling, résumé and interviewing sessions, networking events and professional development trips. The law school's Mentorship Program connects all students to a faculty member, upper-level student, career adviser and legal professional.
LLM candidates at the UGA School of Law are invited to participate in the International Student Interview Program, an annual consortium job fair event sponsored by 33 law schools nationwide.
Housing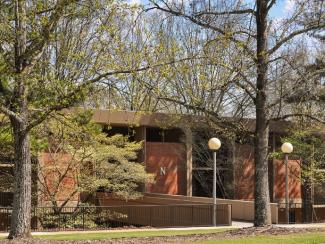 LLM students have many options for on-campus housing as well as furnished and unfurnished housing in the Athens community. 
How to Apply for LLM Study at the University of Georgia School of Law
Eligibility
To enroll in LLM studies at the UGA School of Law, you must have completed the following (typically, receipt of an LLB will satisfy the first two criteria):
earned a degree equivalent to the Juris Doctor, or JD, from a recognized non-US law school
fulfilled the educational requirements for admission to the practice of law in a foreign country
demonstrated English proficiency (see LLM Degree: How to Apply for details)
Application Checklist
Make sure you have submitted the following documents through your LLM account in LSAC:
UGA School of Law application form
UGA application fee of $50
official transcripts and proof of degree
statement of purpose (in about 500 words, discuss your background and experience, interests, and reasons for seeking a UGA School of Law LLM degree)
résumé or C.V.
proposed course of study
two letters of recommendation
Transfer to JD Studies
LLM students who demonstrate a high level of achievement may seek to transfer, upon graduation, to studies leading to a University of Georgia School of Law JD degree. Interested students should consult with the Director of International Professional Education after receiving grades for the first semester of LLM studies.
Dual LLM/MBA Degree
Students may seek to earn, on an expedited basis, both the Master of Laws (LLM) degree from the University of Georgia School of Law and the Master of Business Administration (MBA) degree from the Terry College of Business, another highly regarded unit of the University of Georgia. Interested applicants are encouraged to indicate their desire to pursue the dual degree in their statement of purpose. LLM students may apply to the MBA portion of the degree before or during their LLM studies.
Tuition and Expenses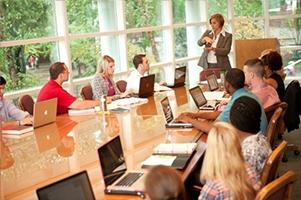 LLM applicants do not need to fill out a separate financial aid application. All applications received by January 31 will receive priority consideration for UGA merit-based scholarships, including partial tuition waivers and graduate assistantships with full tuition waivers. A second scholarship priority deadline is March 1. After the first round of scholarship offers, UGA financial aid will be awarded on a merit basis as available. The final deadline for applying to the LLM program is May 1.
You can find information about the cost of attendance here.
Foreign-trained graduates seeking to enroll in LLM studies at the University of Georgia School of Law are also encouraged to research financial aid sources in their home countries and to make use of the advising resources of EducationUSA, a US Department of State network of over 430 international student advising centers in more than 175 countries and territories.
Prospective LLM students interested in applying for a scholarship from the Fulbright Foreign Student Program should consult eligibility requirements and deadlines for their country.
Contact Information
For additional information, please visit Master of Laws (LLM) Degree, or contact
LLM Admissions
Dean Rusk International Law Center
University of Georgia School of Law
225 Herty Drive
Athens GA 30602
USA

Phone: 706.542.7875
Email: llm@uga.edu