The University of Kansas School of Law
The information on this page was provided by the law school.

Official Guide to LLM, Master's, and Certificate Programs
---
Introduction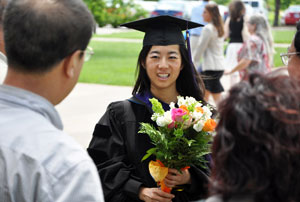 The University of Kansas School of Law offers a first-class program in international and comparative law. At its core is an extensive menu of courses in the areas most relevant to practice around the globe, including international business law, intellectual property law, Chinese law, Islamic law, and advocacy.
Internationally recognized scholars, with extensive high-level practical experience, teach these courses, and do so in small classes. Conferences and guest lectures, study-abroad opportunities, international moot court programs, active student organizations, and a friendly, cosmopolitan environment round out the experience.
In addition to the regular three-year Juris Doctor (JD) program, KU Law also offers a Two-Year JD for Foreign-Trained Lawyers, a Master of Laws (LLM) in American Legal Studies, and a Doctor of Juridical Science (SJD).
Law School Enrollment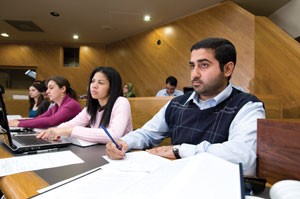 KU Law is an integral part of the University of Kansas, the state's flagship research institution, and holds membership in the prestigious Association of American Universities (AAU). Students from more than 100 countries come to study each year at KU, whose student body numbers over 30,000. KU Law enrolls a mere 400 students, with approximately 30 international students in our JD, LLM, SJD, and Two-Year JD programs.
Physical Facilities
Green Hall is located on one of the most beautiful college campuses in America and provides all the resources law students need to succeed.
Housing
KU Law is located in one of the best college towns in America—Lawrence, Kansas. Lawrence is known for its safe neighborhoods, historic downtown, and vibrant nightlife. It boasts eclectic shops, beautiful parks and golf courses, a number of music venues and art galleries, and a robust intellectual community. There is plentiful affordable private housing throughout Lawrence, as well as graduate housing available for individuals on campus.
Financial Aid
KU Law encourages you to apply for one of the limited number of International Scholars scholarships available. International students who complete one full year of academic study may be eligible for the KU International Student Tuition Grant.
LLM Programs/Areas of Specialization
LLM in American Legal Studies: The LLM in American Legal Studies provides students who already hold a law degree with an introduction to the breadth of American law. Students who complete the LLM are ready for the further study of law in the United States, select bar examinations, and the practice of law internationally.
Two-Year Juris Doctor (JD): For overseas students who already hold a foreign law degree, the Two-Year JD for Foreign-Trained Lawyers is the credential distinctly marketable to employers. In the global economy, an attorney with full credentials in the United States and one or more additional jurisdictions is in high demand.
Doctor of Juridical Science (SJD): The SJD program is for students interested in deep legal research and writing, and a career as a legal scholar or senior public official. Candidates must hold a basic law degree (LLB) and master's (LLM), or a JD; show an accomplished academic record; and compose an original, thoughtful dissertation proposal.