The University of Michigan Law School
The information on this page was provided by the law school.

Official Guide to LLM, Master's, and Certificate Programs
---
Introduction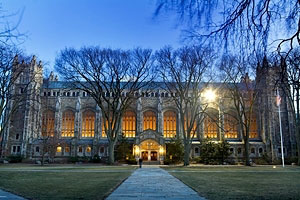 The University of Michigan Law School, one of the oldest and most renowned institutions for legal study and research in the United States, has welcomed graduate students from around the world since the 1890s. At Michigan Law, our graduate students develop meaningful and lasting connections due to the small size of the cohort, supportive faculty mentorship, and thoughtful integration into the Law School community. Michigan Law alumni hold prestigious positions in the public, private, and academic sectors in more than 80 countries.
We are proud of our kind and welcoming community that is invested in the academic, professional, and personal successes of our students. We keep our graduate cohorts small so that students build impactful connections with their colleagues. Students learn from and pursue research under the guidance of preeminent faculty who spearhead innovative scholarship and reform across myriad legal areas. Many of our faculty are multidisciplinary scholars, combining law and fields such as history, economics, public policy, psychology, philosophy, and literature. Our faculty are accessible and approachable, and they host seminars at their homes and invite students to group lunches.
The Law School is situated in the heart of the University of Michigan, one of the world's leading public research institutions. Upon arriving at Michigan Law, students join a University community of more than 45,000 graduate and undergraduate students from six continents. In addition, the Law School's location in Ann Arbor is the ideal setting for graduate students. With restaurants, cafes, shops, theaters, bars, athletic venues, and parks within walking distance of the Law School, Ann Arbor provides a vibrant environment for learning and living.
Law School Enrollment
Consisting of approximately 30 to 40 LLM students and 1,000 JD students, the Michigan Law community typically represents more than 20 countries and 30 U.S. states. Our students build close friendships that endure long beyond their time in Ann Arbor, as evidenced by our loyal network of over 22,000 Law School alumni spanning the globe.
Physical Facilities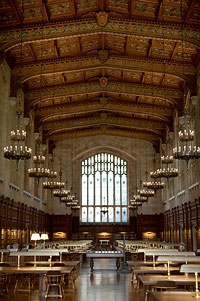 Michigan's Law Quad consists of striking, Gothic-style structures that include Hutchins Hall, a majestic multiuse building dating from the 1930s; the Legal Research building, which contains the magnificent Reading Room; and a naturally lit underground library addition, regarded as an architectural tour de force. Across the street from the Law Quad is Jeffries Hall, a certified LEED building containing state-of-the-art classrooms, clinic facilities, and faculty and administrative offices.
Michigan's Law Library has long served as a center for global scholarship and study; in fact, the Law Library became the first depository for documents of the European Union at a university in the United States. Comprising more than one million volumes, the Law Library's substantial collection supports study and research on virtually any legal topic from any country.
Law students are steps away from other outstanding University programs, which facilitates interdisciplinary learning and engagement. As a prominent research institution, the University attracts internationally renowned speakers and performers to campus, and a multitude of events are hosted daily throughout the academic year. A number of University athletic facilities are just a few blocks from the Law School, so students can exercise, participate in recreational sports leagues, and attend first-rate collegiate events.
The Law School is located in Ann Arbor, a city of about 120,000 residents in southeastern Michigan. Ann Arbor plays an integral role in establishing a high quality of life for Michigan Law students. Downtown Ann Arbor is two blocks from the Law School, and it serves as a social hub for law students due to its wealth of dining, shopping, and entertainment options. Theaters, parks, trails, museums, galleries, and markets are all within close proximity of the Law School.
About a 45-minute drive from the Law School is Detroit, a historic and iconic city in the United States. With stunning architecture and art, a flourishing food scene, professional sports teams, and an abundance of performing arts venues and museums, Detroit is a cultural center suited for all interests. Detroit Metro Airport, a major hub less than a 30-minute drive from Ann Arbor, is an easily accessible transit point for domestic and international travel.
The LLM Program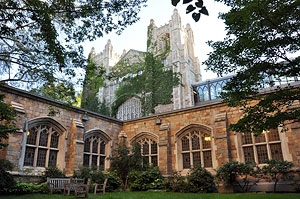 Michigan Law offers a general LLM program that gives students great flexibility in selecting courses and empowers them to decide how to maximize their curriculum. No single class is required in the LLM program, so students can choose to focus on a particular legal field or explore different areas. LLM students are also welcome to take classes in University departments outside of the Law School.
Two courses (an optional, introductory American constitutional law class and an optional research and writing class) are specifically for LLM students with a background in civil law. These are the only two courses at the Law School that are solely for LLM students; LLM students take all other classes with JD colleagues. By learning and studying with JD students, our LLM students are immersed in U.S. legal education and expand their social and professional networks.
Housing
The University offers a variety of on-campus housing options for LLM students, including the Lawyers Club, a dormitory exclusively for Michigan Law students. Housed in what is widely considered the most spectacular part of the University, the Lawyers Club is right next to the Law School's academic buildings. Lawyers Club residents enjoy furnished single rooms with private or semi-private bathrooms, a meal plan, and communal spaces for studying and socializing. The convenience and camaraderie make the Lawyers Club a top choice for housing for many LLM students.
Munger Graduate Residences are another on-campus housing option for LLM students who wish to connect with graduate students in fields outside of law. Munger is located a block from the Law School, and it gives LLM students the opportunity to live in suites of six or seven University graduate students from a wide range of fields. For single graduate students or students with families who would like to live in apartment-style housing, Northwood is a community of University-owned apartments that are a free, short bus ride from the Law School.
For LLM students who choose to live off campus, apartments, houses, and co-ops are within easy walking distance or a short (and free for University students) bus ride from the Law School.
Student Services and Organizations
Michigan Law's Center for International and Comparative Law guides and supports LLM students from their arrival in Ann Arbor to graduation and beyond. In addition, the Law School's Office of Student Life provides academic and personal support to students through counseling, programming, and outreach.
LLM students can choose from an extensive range of activities and organizations—from eight student-edited law journals to over 70 student organizations. The broad scope of our activities and organizations allows students to expand their networks by meeting others who share similar identities, interests, and hobbies.
Career Services
An employment search for an LLM student is necessarily individualized, and Michigan Law's Office of Career Planning provides personalized guidance to LLM students to formulate a job search strategy and identify networking opportunities. The Office of Career Planning's comprehensive services include individual counseling, group seminars and programs, interviewing and networking skills enhancement, and access to an excellent career library. Michigan Law is also a partner school in the Overseas-Trained LLM Student Interview Program in New York City, which occurs every winter.
LLM Application Information
To be considered for admission to the LLM program, candidates should submit their applications via LSAC. Our LLM application becomes available on LSAC's website by September 1, and the application deadline is January 15 in the subsequent year. We highly recommend that candidates submit their materials as early as possible to allow their applications to be complete by the deadline. We typically finish making our initial admissions decisions by the end of March.
For more information about the LLM application process and required materials, please visit this website.
Financial Aid
LLM candidates are welcome to request consideration for financial aid from Michigan Law in the admissions application. Requesting consideration for financial aid does not affect a candidate's admissions decision. All admitted students who requested financial aid in their admissions application are automatically considered for scholarships from the Law School, and scholarship decisions are made based on merit and financial need.
Due to the many outstanding applications we receive, the demand for financial aid always exceeds the amount of available Law School scholarships. Therefore, LLM applicants are strongly advised to seek financial support from other public and private sources. Because deadlines for outside scholarships and fellowships are normally earlier than the LLM application deadline, we recommend researching options for external financial assistance at least one year before you anticipate beginning an LLM program.
Other Graduate Programs
The SJD Program
The SJD program at Michigan Law is a gateway to an academic career in law and professional advancement. The vast majority of students admitted to our SJD program have earned or are in the process of earning an LLM degree from Michigan Law, although exceptionally qualified candidates may be admitted to the SJD program without having been enrolled in Michigan's LLM program. An SJD student must have excellent academic credentials and demonstrate the capacity for completing a dissertation of publishable quality that will provide an original and substantial contribution to legal scholarship. While researching and writing their dissertations, SJD students benefit from expert faculty supervision and mentorship, the Law Library's vast collections, and participation in a colloquium for doctoral students. For more information about applying to the SJD program, please visit this website.
Advanced Corporation Law Master's Degree and Certificate Programs
Michigan Law offers two summer programs in corporate law and securities regulation: the Certificates in Advanced Corporation Law (CACL) and the Master of Advanced Corporation Law (MACL). These intensive programs are especially well suited for students who want to learn corporate law and securities regulation from leading professors in the field, but cannot leave their jobs or families for a full academic year. The CACL and MACL programs combine convenience and content-focused curricula with the prestige, academic rigor, and impressive global network long associated with Michigan Law.
Drawing on Michigan Law faculty's unparalleled expertise in international and comparative law, corporate law, mergers and acquisitions law, securities law, and tax law, these innovative programs are ideal for early and mid-career lawyers who wish to spend a summer in Ann Arbor earning a specialized credential from one of the world's top law schools. Delivered as either a 4-week certificate program focused on one content area (either Global Capital Markets or Global Transactions) or as a 12-week (May to August) master's degree program, both offerings deliver focused content on topics such as IPOs, private placements, Rule 10b-5 litigation, public company M&A, and transnational M&A. The classroom experience is augmented by extracurricular events, such as discussions with legal academics and practicing lawyers, networking opportunities with Michigan Law alumni, and social activities to build long-lasting friendships. Upon graduation, students will become lifelong members of the Michigan Law alumni community.
For more information about these programs, please visit this website for CACL and this website for MACL.
Contact Information
LLM and SJD Programs
The University of Michigan Law School
Graduate Admissions Office
701 S. State Street
Ann Arbor, MI 48109
USA
Phone: +1.734.764.0537
Email: law.grad.admissions@umich.edu
Website

Advanced Corporation Law Master's Degree and Certificate Programs
The University of Michigan Law School
Center for International and Comparative Law
625 South State Street
Ann Arbor, MI 48109
USA
Phone: +1.734.763.6802
Email: law.grad.admissions@umich.edu
Website