University of Missouri—Kansas City School of Law
The information on this page was provided by the law school.

Official Guide to LLM, Master's, and Certificate Programs
---
Introduction
UMKC School of Law provides academic and professional training to students seeking careers in law. Our faculty are outstanding scholars who have extensive practice experience. Faculty at UMKC are actively engaged with students both inside and outside the classroom. Our classes are relatively small (by law school standards) and many of our substantive courses incorporate simulations and service learning opportunities. Our faculty and students are collegial and the school provides many opportunities for interaction and development of close personal relationships that will last throughout one's career. We like to think of ourselves as the urban, public law school with the small, liberal arts feel.
We are a law school that teaches students to become lawyers in the best tradition of the profession and introduces them to the opportunities and obligations of the legal profession and its role in the greater community. We appreciate the work of lawyers and their many contributions, which include educating people and institutions about their rights, helping to design prosperous business and community ventures, and working towards the effective and efficient resolution of disputes. We maintain a faculty devoted both to professional service and to advancing knowledge through the production of excellent academic scholarship.
UMKC School of Law is a community of scholars, with faculty and students working together to address the legal issues and problems confronting society today on the local, state, federal, and international levels. Because we train many of the region's practitioners, business people, judges, and politicians, we have a special responsibility to see that they are competent members of the bench and bar, advisers, and administrators; technically proficient, professionally responsible, and knowledgeable about the range of social, political, and economic ideas that influence our society. In doing so, we are aware that our graduates must be comfortable in a variety of professional settings with people from a variety of experiences, from land-use planning meetings with the local town council to trade negotiations in Mexico City, from an opening statement in the county courthouse to an appellate argument before the United States Supreme Court. While the details of such settings change over time, we can prepare students for such varied work by always concentrating on the foundations of good lawyering: respect for people, respect for knowledge and ideas, and respect for justice.
As a Law School, we build on a strong tradition of advocacy, civic engagement, and academic excellence—a program that has not only produced some of the region's best lawyers and judges, but one that has also trained a US Supreme Court Justice (Charles Whittaker) and an American President (Harry Truman). We embrace and foster a collegial, collaborative model of professional education and maintain an intellectual and cultural environment that fosters broad thinking, local and global awareness, and creative problem-solving.
The School of Law in the Community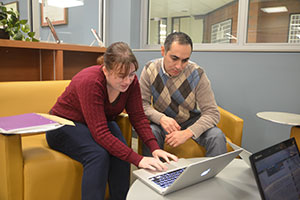 UMKC takes pride in being the urban law school in the University of Missouri system. From this unique vantage point, faculty and students actively lead and participate in professional activities with greater Kansas City bar associations, continuing legal education programs, lawyers and law firms located in both Kansas and Missouri, and the judiciary.
The School of Law community enjoys strong partnerships with many area causes and concerns. A variety of community-based projects, ranging from the rehabilitation of inner-city houses to tax preparation services, receive benefits from this involvement. Students work with faculty on research of value to the community and are often involved in drafting or commenting on pending legislation. The Law School houses and assists the Kansas City Youth Court, a diversion program from juvenile court, where high school students act as lawyers and judges. Faculty, students, staff, and alumni volunteers also help introduce inner-city high school students to careers in law.
Graduates of the UMKC School of Law have important responsibilities in legal arenas throughout the city, state, and country. From corporate counsel positions in more than 25 national companies to the library of the Supreme Court of the United States, Law School alumni provide distinguished service.
On a local level, the annual listing of "Outstanding Lawyers in the Kansas City Metropolitan Area" names more UMKC alumni than from any other school. In addition, only two women have served as president of the Kansas City Metropolitan Bar Association and only one African American has served as president of the Missouri Bar; all are UMKC Law School alumni. A majority of the active judges of the US District Court for the Western District of Missouri, the Missouri Court of Appeals (Western District), and the Sixteenth Judicial Circuit of Missouri are graduates of the School of Law, as is the first African American Chief Justice of the Missouri Supreme Court. Courts throughout the multicounty metropolitan area are populated with UMKC alumni.
The Law School is proud of the fine reputation of its alumni and the outstanding contributions they have made and continue to make in both the legal and nonlegal communities.
Law School Enrollment
JD full-time: 373
JD part-time: 43
LLM full-time: 11

Tax program: 5
Lawyering program: 5
General program: 1

LLM part-time: 20

Tax program: 4
Lawyering program: 14
Urban Affairs: 2
LLM in Lawyering for International Students—Why UMKC?
Skills Training
UMKC School of Law is devoted to preparing students for the practice of law. The LLM in Lawyering for International Students is designed to provide an introduction to US law and to develop essential lawyering skills for which American lawyers are known.
Exceptional Value
Low tuition, generous scholarship opportunities, and affordable living expenses make UMKC an exceptional value for an LLM. Current tuition and fees for the entire program are approximately $35,150. We offer $200,000 annually in full and partial merit-based tuition scholarships to assist eligible students. The amount of scholarship awards ranges between $5,000 and $35,150.
Support for the Students
Our program is small, around 20 students, to ensure personal attention to all the international students. Student advising is done by the Associate Dean for International Programs. We offer extra time on exams for students who speak English as a second language, as well as a weekly tutorial to LLM students to help them understand their material, get ready for class, take better notes, and prepare for final exams. An intensive Legal English Workshop during the summer is offered for those who would like to improve their English before beginning the program.
Flexibility
LLM students select elective courses from the JD curriculum to develop their own areas of emphasis that best fit their career plans. Common areas of emphasis include Business & Entrepreneurial Law, International Law, American Law, and Family Law. Students who perform well in the LLM program can transfer to the JD program without taking the LSAT. We recently initiated a January start for the LLM program. Students can begin their LLM studies in either August or January.
Specialization Options
Students have the option to choose from eight emphasis areas for the LLM in Lawyering:
Business and Entrepreneurial Law
Child and Family Law
Criminal Law
Intellectual Property
International Law
Litigation
Tax
US Law
Degree Requirements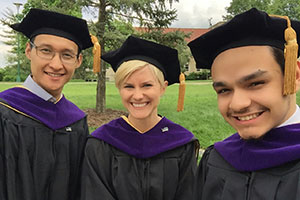 To earn an LLM degree students must complete 24 credit hours, over either two or three semesters.
The following courses are required of all students in the LLM in Lawyering program for international students:
Common Law: Legal Analysis and Writing: (3 credit hours) Introduction to legal reasoning, case analysis and synthesis, case research, and structure and style in legal writing with emphasis on expository writing, including office memoranda.
Introduction to American Legal Research: (1 credit hour) Introduction to various legal databases to develop problem-solving oriented research skills.
Introduction to American Law and Culture: (2 credit hours) Introduction to the American legal system, including government structure, sources of law, common law development, and core substantive areas.
Introduction to American Legal Skills: (2 credit hours) Introduction to interviewing, client counseling, and negotiation.
Students must complete an additional 16 credit hours from the JD courses approved by the LLM advisor with grades of pass or better.
All coursework must be successfully completed within three years from the beginning of the course of study leading toward the degree.
Additional Information
Download an LLM application (PDF).
Additional questions may be directed to:
Jeffrey E. Thomas
Associate Dean for International Programs
500 E 52nd Street
Kansas City, MO 64110
USA
Phone: 816.235.1655
Email: umkcllm@umkc.edu
Nancy Kunkel
Senior Program Coordinator
Phone: 816.235.1647
Fax: 816.235.5276
Email: kunkeln@umkc.edu
LLM in Taxation
Curriculum
Our broad-based curriculum is designed to provide the student with: (a) an in-depth knowledge of taxation, (b) excellent research skills, and (c) the development of the necessary practical skills to become outstanding tax attorneys.
Faculty
Our faculty consists of full-time and adjunct faculty. Our full-time faculty are not only productive scholars but have many years of practical experience in the field they teach. Our adjunct faculty who are comprised of tax and estate planning specialists are some of the most outstanding attorneys in the Kansas City Metropolitan area. For example, our tax clinic directors have almost 70 years of combined experience working for the Internal Revenue Service as Chief Council.
Practical Experience
Students can gain invaluable practical experience representing taxpayers before the Internal Revenue Service and the US Tax Court in our Low Income Taxpayer Clinic, or practice writing a business plan in our Entrepreneurial Legal Services Clinic.
Our Tax LLM students compete in the American Bar Association Law School Tax Challenge. In the past seven years, five of our teams have qualified as finalists, with three of those teams winning the best written submission and one team winning first place overall.
Tuition
Our tuition cost for in-state students is modest and among the lowest in the nation. Many of our out-of-state students are offered scholarships to offset the increased cost associated with nonresidency. Additional financial resources in the form of merit scholarships, research assistantships, and low-cost loans are also available.
Additional Information
We appreciate your interest in our program here at UMKC and hope you will take a moment to learn more at the LLM in Taxation website.
Please direct any questions to:
Elizabeth Johnson
500 E 52nd Street
Kansas City, MO 64110
USA
Phone: 816.235.1584
Fax: 816.235.5523
Email: johnsonea@umkc.edu
LLM in Urban Affairs
Curriculum
Because of the complexity and diversity of their setting, urban problems sometimes transcend traditional legal solutions. The interdisciplinary Urban Legal Affairs Program prepares lawyers for specializing in practice, public service, and corporate and financial institutions dealing with metropolitan-area problems. Students may pursue the areas of Planning and Governance, Environment and Natural Resources, and Real Estate Development.
Courses Available
Law 8732 Alternative Dispute Resolution (2–3)
Law 8898 Construction Law (2)
Law 8773 Environmental Law (2–3)
Law 8783 Federal Public Land and Resources Law (2–3)
Law 8766 Land Use Law (2–3)
Law 8728 Law and the American Indian (2–3)
Law 8641R Legislation (2–3)
Law 8729 Preservation Law (2–3)
Law 8861 Real Estate Finance (3)
Law 8875 Real Estate Transactions (2–3)
Law 8770 State and Local Government Law (2–3)
Thesis
If elected, a minimum of four and a maximum of eight credit hours (to be determined by the student in consultation with the thesis adviser) may be given for a written thesis on a subject approved by the student's thesis committee. The thesis must show substantial evidence of original research or development of the principles of at least one interdisciplinary field related to the area of urban studies pursued; be at least 75 pages in length; and be of high scholastic quality, suitable for publication as a lead article in a scholarly journal. The thesis committee, consisting of the thesis adviser (selected by the student with the adviser's consent) and the School of Law graduate studies committee, must approve the topic and the final form and substance of the thesis.
Other Courses
The School of Law graduate studies committee may approve other law school courses and up to six credit hours of courses in other schools and departments of the university related to the area of urban affairs pursued. Students may take courses and collaborate with students and faculty at the UMKC Urban Planning and Design Program. Generally, students may not take required or basic bar examination JD courses for graduate credit.
Before enrollment, the student will work with the associate dean toward developing an individualized urban affairs course of studies.
Additional Information
Questions about the LLM in Urban Affairs may be directed to:
Allen K. Rostron
Associate Dean
500 East 52nd Street
Kansas City, MO 64110
USA
Phone: 816.235.1640
Fax: 816.235.5276
Email: rostrona@umkc.edu
Physical Facilities
Law Building
Nestled among giant oak trees on the corner of 52nd and Oak streets, in the center of Kansas City and at the center of the nation, is the home of the UMKC School of Law. Among the unique features of this building are office suites shared by faculty and students. The school continues to take great pride in its efforts to foster faculty-student interaction. One ongoing initiative involves assigning many second- and third-year students to offices located within suites that also house their professors' offices. This "intellectual migration" was designed to foster the exchange of ideas and, more generally, to promote collegiality between faculty and students. Additionally, lounges or conference rooms within the suites provide opportunities for both formal and informal meetings of students and faculty.
The school has more than 121,000 square feet of modern, usable space, including classrooms equipped with Internet-connected teaching workstations with audiovisual and video conferencing capabilities. The E.E. "Tom" Thompson Courtroom, located on the ground floor, is equipped with audiovisual equipment used to augment the advocacy training program of the school. A second courtroom has been added as well. Auxiliary rooms allow for live trials and hearings of the many area courts and agencies in the Thompson courtroom and a unique viewing theatre above the courtroom allows for real-time commentary on court proceedings. A spacious student commons area, including the Truman Terrace (a scenic outdoor courtyard filled with tables, benches, and fountains) and a vending area, is located near classrooms. Offices for many student organizations are located near the student commons area as well.
Wireless Technology Environment
The school is equipped with WiFi—enabling students, staff, and faculty using personal computers with wireless capability to access e-mail and multiple Internet databases, of use to lawyers and law students, from offices, classrooms, study areas, the suites, and the Leon E. Bloch Law Library.
Law Library
The Leon E. Bloch Law Library is not only a place to study, but a laboratory for students to master legal research skills, both in traditional print and electronic media. It is also a forum for self-directed learning, a place where students take control of their educational experience through researching selected paper topics and their own law review notes. The library contains holdings in major areas of legal scholarship and practice. It is home to rare, early seventeenth century editions of Sir Edward Coke's treatises and case reports. It also preserves the Charles D. Gould Jr. Collection, consisting of photographs and memorabilia from the Nuremburg trials. The collection focuses on trial advocacy, urban law, family law, small business entrepreneurship, and tax law. The library's foreign law holdings are targeted for increase, and access to historical materials has dramatically expanded. What is not held in print in the library, or in its many database services, is conveniently available through the library's online catalog request and delivery service. This service provides access to 70 Missouri libraries and about 18 million items. The service includes access to the holdings of the three other law school libraries in Missouri.
Additional hard-to-locate items can usually be retrieved through other specialized interlibrary loan services. Besides its collections, the UMKC's law library is especially strong with respect to the expertise of its librarians, most of whom teach courses in legal research and have practiced law for many years or worked as paralegals.
Electronic Resource Center
Technology has reshaped legal publishing in ways that will forever alter how attorneys and judges approach their work. The information professionals of the Leon E. Bloch Law Library have embraced this transformation in a variety of ways. The new Courtney Turner Trust Collaborative Technology Classroom will allow for creative use of technology using laptops and cutting-edge software in both a classroom setting and for student group study. Stand-alone computers that allow access for research on the Internet, printing, and numerous database services are also available. A fee is charged for some law student printing and for all other patron printing. The library also provides a scanner and a dedicated workstation for the visually impaired. In addition, each law student receives a password free of charge for accessing law school and university databases from home or at other locations on campus. Wireless access to the Internet is provided to students throughout the law school and the library. Perhaps a unique feature among law schools, the newly renovated lower level of the library hosts a free laptop clinic, where law students can go with computer and technology problems, many of which can be fixed at the clinic.
Housing
UMKC is located in a metropolitan area with numerous housing opportunities including the university's Oak Place Apartments.
Living in Kansas City
The UMKC campus is located in a thriving city with active ethnic communities and many cultural opportunities, and it is an ideal place to experience American culture while studying American law. International students who have attended UMKC universally praise it for its friendliness and special attention to the needs of international students.
Career Services
The Law School Career Services Office (CSO) assists students and alumni in obtaining professional employment. Law firms, government agencies, businesses, the judiciary, and other employers seeking law graduates for permanent positions use the CSO's resources to hire UMKC School of Law graduates. The CSO also assists students seeking part-time and summer clerking opportunities. The CSO maintains a library of employment materials for the use of law students and alumni. We have a strong on-campus interviewing program allowing many employers to come to the Law School to recruit our students for positions with prosecutors' and public defenders' offices, legal service organizations, and federal and state government agencies, in addition to law firms. Branches of the United States military come on campus to recruit lawyers for service in the Judge Advocate General's Corps.
The CSO provides individual career counseling to students and alumni, as well as advice and assistance in résumé preparation and interviewing skills. The CSO sponsors a series of programs to introduce students to a variety of career opportunities. We offer mock interviews with practicing attorneys. We sponsor an annual Volunteer Fair to provide students with information about service opportunities in the community. UMKC students have been placed at the Public Interest Litigation Clinic, the Missouri Public Defender's Office, and the Kansas City, Missouri, City Attorney's Office, as well as other organizations.
Career Opportunities
UMKC Law School graduates have a wide variety of job opportunities available. The largest number of graduates join law firms, ranging in size from one to more than 500 attorneys. Some of these firms specialize in specific areas of law practice. Many firms offer a general practice that spans corporate, civil, and criminal law.
Some law graduates do not want to practice law in a traditional law firm setting, desiring instead to use their legal skills in the business world as executives, bankers, and corporate tax experts. Therefore, corporations, accounting firms, title companies, banks, and insurance companies recruit them. The legal departments of state and municipal government agencies also employ graduates. Prosecutors' offices, public defenders, and legal service organizations recruit at the school. Branches of the United States military recruit lawyers for service in the Judge Advocate General's Corps, and federal government agencies, such as the Department of Labor and the Environmental Protection Agency, hire graduates to staff their legal departments. Other graduates become law clerks for judges or administrators in law schools. Some become professors of law.
The Career Services Office assists our students and alumni in many ways with planning careers and obtaining positions.