University of Nebraska College of Law
The information on this page was provided by the law school.

Official Guide to LLM, Master's, and Certificate Programs
---
Introduction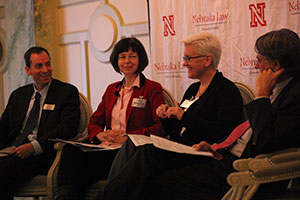 The University of Nebraska College of Law is a community-focused institution with an international reach. The faculty and students at Nebraska Law come from around the country and the world to interact in a close-knit community that offers a wide-ranging curriculum and many other learning experiences.
Our students bridge the gap between law and technology. As technology continues to evolve and humans continue to reach upward, the laws and regulations that protect citizens and serve industries must change too.
Since 2008, Nebraska Law has been the only law college in the nation to offer a 24-credit-hour LLM degree in Space, Cyber, and Telecommunications law. Our alumni are at the forefront of this wave of change. Graduates of the program have gone on to careers working for private companies like SpaceX, for civilian agencies like the NASA Jet Propulsion Lab, for military operations such as the US Cyber Command and Space Operations at Vandenberg Air Force Base, as well as for think tanks and law firms. The LLM program is available on campus and as a part-time synchronous online program. Online students attend class live and in real time on screen. This program is available to persons with a degree in law from universities outside the United States and anyone with a law degree from an ABA-accredited law school.
Nebraska Law also offers a Global Legal Practice LLM program. The Global Legal Practice LLM is open to persons with a degree in law from universities outside the United States. Graduates are trained to meet the demands of legal practice in our globalized world by attending their courses side-by-side with JD students.
Class Size
We pride ourselves in our small and exclusive LLM classes. Generally there are 7–9 students admitted per year into the Space, Cyber, and Telecommunications Law programs and 1–3 students are admitted into the Global Legal Practice LLM program.
Opportunities
Nebraska Law offers several LLM degree options:
LLM in Space, Cyber, and Telecommunications Law (24 credit hours/2 semesters)
Online LLM in Space, Cyber, and Telecommunications Law (24 credit hours/3–6 semesters)
LLM in Global Legal Practice (24 credit hours/2 semesters)
LLM Application Information
Application deadline: We accept applications at all times. Semester start times are based on our rolling admissions and the requested semester start. To begin during fall semester, starting in mid-August, we suggest submitting all materials by April.
Application fee: $50
Letters of recommendation: two required, will accept up to three
Transcripts required from all applicants. Applicants should use the LSAC LLM Credential Assembly Service.
Résumé
Personal statement
Minimum TOEFL: 90 Internet-based/233 computer-based/577 paper-based. If the Internet-based (or comparable) score is below 100 an interview is required. The Internet-based exam is preferred.
Contact Information
For additional information, please visit the College of Law website, or contact
Elsbeth Magilton
Executive Director
PO Box 830902
Lincoln, NE 68583-0902
USA
Phone: 402.472.1662
Email: elsbeth@unl.edu
Student Services and Organizations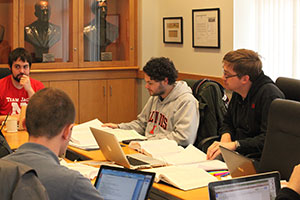 Nebraska Law students support each other throughout their time on campus and throughout their careers. Nebraska Law students are extremely diverse in their life experiences, and they freely share these different points of view in and out of the classroom. While attending Nebraska Law, students can participate in a wide range of activities, including the Lachs Space Law Moot Court competition, the Student Bar Association, and the International Law Society. In addition, Space, Cyber, and Telecommunications LLM students participate in multiple conferences hosted by the program that feature professionals from each field of study.
Career Services
The Career Services Office (CSO) at Nebraska Law is dedicated to providing students and alumni with the information and tools necessary for successful career development. Of our 52 Space, Cyber, and Telecommunications LLM alumni, 48 are currently employed in JD-required or preferred positions. Thirty-nine of those alumni are in space, cyber, and telecommunications fields or in positions they consider adjacent to that field or their studies here. So, roughly 80 percent of our LLM alumni are employed and in a position that they characterize as related to their work in the program.
Career sectors in the space and cyber realms range from private industry (launch providers, satellite manufacturers), to policy (State Department, FAA, think tanks), to national security (military, civilians working for the Department of Defense, defense contractors). Telecommunications also opens a broader door, as larger companies and law firms are already entrenched in that regulatory scheme.
Physical Facilities
Nebraska Law recently completed a renovation of nearly all of its facilities. The result is one of the most student-centered, technological law schools in the country. LLMs have their own dedicated office suites, located off the student lounge that include office space, interview rooms, a student work room, and even a community pantry.
Student lounges invite students to take a break and interact with each other outside the walls of the classroom. Study rooms offer privacy, quiet, and a place to study in small groups. New classrooms and clinic additions provide spacious and welcoming spaces to learn. And, a newly renovated auditorium provides Nebraska Law with the ability to bring in speakers of interest to the entire college.
In addition to these features within the Law College campus, Nebraska Law students also have access to university-wide resources, including campus recreation and workout facilities, Husker athletic events, and numerous fine arts performances.
Housing
The majority of students choose to live off campus, but some limited campus options are available.