The University of New Mexico School of Law
The information on this page was provided by the law school.

Official Guide to LLM, Master's, and Certificate Programs
---
About the University of New Mexico School of Law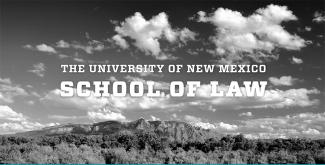 The University of New Mexico (UNM) School of Law is the state's only law school and is located on UNM's North Campus. It is surrounded by a 9-hole golf course and is next door to the New Mexico Court of Appeals, which has a special viewing room designated specifically for our students. It is in Albuquerque, the state's largest city, which sits at an altitude of 5,000 feet between the Rio Grande River and the Sandia Mountains, offering residents an abundance of outdoor recreational activities year-round. Our small and supportive community and diverse faculty consistently rank high in clinical programs, environmental law, diversity, student to faculty ratio, popularity with non-traditional students, and educational value – our students graduate with their career options less constrained by debt.
The Master of Studies in Law Program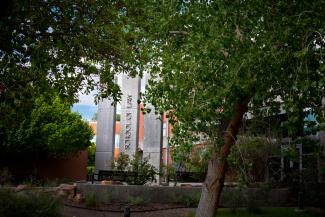 The Master of Studies in Law (MSL) is a graduate degree program that offers a condensed legal education for those who do not need or want a law degree. It's designed for mid-career professionals and recent college graduates who want to enhance their career with legal education relevant to their field or interests. Employers from a variety of sectors in New Mexico strongly support the new MSL degree program. They agree that the MSL offers valuable and practical training.
Investing in a graduate degree is both a personal and a financial commitment. Our Law School is garnering incredible rankings and enthusiastic high marks from current students, graduates and employers. Why would you pay $50,000 or more in tuition when you could pay much less and get everything you're looking for in a MSL degree program?
The MSL requires 30 hours of course credit that can be taken either full-time or part-time.
Study the law and analyze cases, learn about the legal system and how legal principles apply to your particular areas of interest.
Gain a better understanding of how the law works and how to use it in your job.
The only required class is a four-credit course called "Introduction to U.S. Law, Procedure and Legal Education" that is intended to provide MSL students with sufficient background in the U.S. legal system and the study of law to prepare them for upper-division law courses. The course addresses the roles and procedures of the legislative, judicial, and executive branches (including administrative agencies) in the U.S. legal system, and the interpretation of judicial decisions and statutes. This course is the proper forum for students' basic questions about reading legal authority, the structure of the legal system, etc.
You select the remaining 26 credit hours (approximately 9 courses) depending on your course preference, area of focus, or optional concentration in Indian Law or Natural Resources and Environmental Law.
MSL Admissions Requirements
Applicants are admitted to the MSL program based on their ability to thrive in a demanding, competitive academic atmosphere, as evidenced by their academic record and professional accomplishments. The program accepts applications from individuals with baccalaureate degrees and no LSAT or GRE exam is required. Beginning MSL students will be admitted to start in the fall semester only.
Beginning late in the fall semester, the Admissions Office will assign completed applications to the Admissions Committee for review on a weekly basis. Once an application is complete it may take between three to four weeks for a decision and during peak times may take between six to eight weeks for a decision. All completed files submitted by the priority deadline will receive a decision no later than June 15. Applications will be postmarked on the day they are electronically submitted. No file is reviewed until it is completed.
Application Checklist
Bachelor's degree from a regionally accredited institution of higher education in the U.S. or its equivalent in another country
Official transcript from each institution of higher education attended in the U.S. or abroad (with certified English translation, if applicable) demonstrating a cumulative grade point average of at least 3.00 (B) or its equivalent in (a) the last two undergraduate years and in the major field or (b) in a graduate-level degree program.
Application for admission and nonrefundable $50 application fee ( https://os.lsac.org/Release/Logon/Access.aspx)
$185 LSAC Credential Assembly Service (CAS) fee
Personal Statement, which allows the Admissions Committee to get to know you beyond your academic record while demonstrating your ability to communicate effectively and concisely in writing. Each statement is unique and should address at least the following points:

Your reasons for needing or wanting an MSL degree,
How you expect to apply legal education to your current or future job, and
Why you wish to study law at the University of New Mexico.
Other topics you may want to cover include family background, obstacles you have overcome, and/or educational, volunteer, and/or work experiences. Personal statements typically range between two to three double-spaced pages.
Current résumé that complements and supports the other sections of the application. Include your educational background (honors, scholarships, extracurricular activities, etc.) work history, military service, public/community/volunteer service, publications, foreign language proficiencies, and any other significant achievements and involvement.
At least two letters of recommendation are required; however, up to two additional letters will be accepted. Overall, a recommendation letter should be from a person in a position to make a critical and informed appraisal of your qualifications from an academic and/or professional perspective.

An academic letter should be from a professor who has personal knowledge of your academic work, preferably in a small class or seminar.
A professional letter should be from an employer or business associate who has personal knowledge of your work performance. Recommendations can also come from professionals in mentor or supervisory roles in your community and/or volunteer experience.
Letters of recommendation must have been written within one year of the date of application. Recommendations that are more than one year old as of the date of application will not be accepted. Recommendations from family members or personal acquaintances are strongly discouraged
MSL applicants are required to apply through the Law School Admission Council's (LSAC) online application service. It's easy to set up your account and begin the application process.
The LSAC online application is designed for Juris Doctor applicants, so be sure to follow these specific instructions for use of this online application by MSL applicants:
After setting up your account, go to the "account type" dropdown list and select "Future JD Student" (see next instruction).
Application question 1: Select "MSL" from the dropdown list.
Application question 8: Ignore the LSAT field. Ignore the TOEFL field unless you have taken the Test of English as a Foreign Language and need to report your score.
Application question 13: Not applicable
Once an application is submitted to UNM, no additional materials can be processed online except for any transcript additions to the Credential Assembly Services (CAS) file.
You may submit any supplemental academic, experiential, and reference materials to your application for consideration by the Admissions Committee. Neither the LSAT nor the GRE is required, but if you have taken these exams you may submit those scores and/or your GMAT, MCAT, SAT, and ACT scores, as applicable.
An interview may be required if deemed necessary by the Admissions Committee.
Financial Aid
To apply for financial aid:
Need-based scholarships are available through the UNM School of Law. Please complete and submit the MSL Need-Based Scholarship Application to financialaid@law.unm.edu by the deadline.
Assistantships, Graduate Fellowships, and Scholarships are available through the UNM Graduate Studies Office. For more information or to apply please visit http://grad.unm.edu/funding/index.html
Federal Financial Aid: To apply for work-study and student loans all U.S. citizens and permanent residents must submit the Department of Education's Free Application for Federal Student Aid (FAFSA). The school code for UNM is 002663.
In addition to federal student loans and work-study, eligible students may also apply for Alternative Student Loans and Veterans Benefits.
For more information on the MSL Program, please go to https://lawschool.unm.edu/academics/degree-programs/msl/index.html
or
Ph.: 505-277-2146
msl@law.unm.edu