University of Pittsburgh School of Law
The information on this page was provided by the law school.

Official Guide to LLM, Master's, and Certificate Programs
---
Introduction
The University of Pittsburgh School of Law (Pitt Law), founded in 1895, is a leader in the world of legal education. It features a broad and varied curriculum, an internationally accomplished faculty, state-of-the-art physical facilities, and a talented and diverse student body hailing from all over the globe. The School of Law is located in its own modern six-story building on campus in Oakland, the cultural and educational center of Pittsburgh. State and federal courts, major corporate headquarters, and hundreds of law firms are located nearby in downtown Pittsburgh, only minutes from campus. The dynamic Oakland area is home to four colleges and universities; the world-renowned, multihospital University of Pittsburgh Medical Center; numerous scientific and high-tech offices and research centers; museums; art galleries; coffee houses; and libraries. The Pitt campus abuts a beautiful 429-acre city park. Desirable and affordable residential areas are situated nearby. Quality housing is readily available, and all mass transit in the city is free to Pitt students with ID cards.
Library and Physical Facilities
The recently renovated Barco Law Library is an attractive, 450,000-volume, open-stack research facility, housed on three floors of the School of Law building. Full of natural light, it contains two computer labs and ample carrel and seating space. Faculty offices ring the perimeter of the first and third floors of the library, encouraging ease of interaction between students and faculty. Classrooms with state-of-the-art technology are located on the first and ground floors of the School of Law building. A spacious and comfortable student lounge and the elegant Teplitz Memorial Courtroom are also located on the ground floor.
Housing
The University of Pittsburgh, being an urban campus, does not provide any graduate housing. However, the Center for International Legal Education (CILE) will assist LLM students by providing contact information for potential housing providers. Students can also take advantage of the University of Pittsburgh's Housing Resource Center to find potential locations.
LLM Programs/Areas of Specialization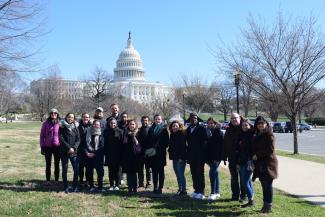 The University of Pittsburgh's Master of Laws (LLM) Program for Foreign Law Graduates provides lawyers who have obtained their law degree outside the United States with an opportunity to study common law in a US context. Students pursue their goals with the help of a close-knit community of intelligent and energetic scholars who are at the forefront of domestic and international legal research and scholarship.
Because interaction with US lawyers is integral to understanding US law, the program allows students to study the US legal system and institutions along with American students who are enrolled in the university's Juris Doctor (JD) program. This permits students to participate in the full social and intellectual life of the law school, establishing relationships that extend beyond the classroom.
Within the scope of the overall LLM program, each student can pursue a personalized course of study and experiences. LLM students at the University of Pittsburgh benefit from inclusion in the entire Law School community, while at the same time enjoying the advantage of a separate small community of global scholars dealing with common experiences. Special opportunities are arranged for the LLM class to visit important legal institutions in order to see the practical side of the laws they study. We also work very hard to assist LLM students in obtaining postgraduation internships that match their professional interests and needs.
The relatively small size of each year's LLM class allows faculty members to deal with student needs on an individual basis. The required LLM courses (Introduction to American Law, US Legal Research and Writing, and the Spring Colloquium) also are kept small enough to allow for substantial discussion and comparison with home legal systems by each student, as well as personal feedback on both written and oral presentations. In addition, Pitt Law has a professional writing specialist who works with LLMs, individually reviewing their written work and teaching them how to produce English that is clear and effective.
LLM Admission
Applicants are admitted to the LLM program based on their ability to thrive in a demanding, competitive academic atmosphere, as evidenced by their academic record and professional accomplishments. The program accepts applications from lawyers with a law degree from a non-US law school who can demonstrate a proficiency in English, as measured by a minimum score of 90 on the Test of English as a Foreign Language (TOEFL) iBT or a minimum score of 6.5 on the International English Language Testing System (IELTS). Applications are accepted on a rolling basis. We will continue to accept applications until the class has been filled. We suggest that you submit your application by March 31 of the year in which you would like to begin your studies for better consideration.
Contact Information
For additional information, please visit the LLM Degree website, or contact
Richard Thorpe
Executive Director, Center for International Legal Education
3900 Forbes Avenue
Barco Law Building, Room 317
Pittsburgh, PA 15260
USA
Phone: 412.648.6754
Fax: 412.648.2648
Email: richard.thorpe@pitt.edu
Center for International Legal Education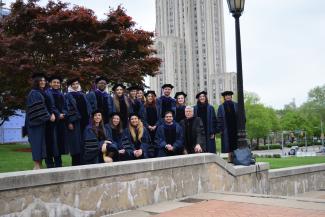 The Center for International Legal Education (CILE) administers the LLM Program for Foreign Law Graduates at Pitt Law. CILE works closely with the LLM students to help them adjust to the American legal education system and to provide them with opportunities throughout their program of study in the United States. In addition to educational and professional development opportunities, CILE works to provide LLM students with the chance to take advantage of social activities at the University of Pittsburgh and in the city itself.
Scholarships
Some financial aid opportunities are available through the CILE for the LLM program.
Student Activities
LLM students are encouraged to take advantage of the numerous student activities open to all law students at the University of Pittsburgh School of Law. More than 30 law student organizations exist under the auspices of the Student Bar Association, reflecting the diverse social and intellectual interests and experiences of our students. These include the Asian Law Students Association, the Black Law Students Association, the Environmental Law Council, the Federalist Society, the Hispanic Law Society, the International Law Society, the Jewish Law Students Association, the Lesbian-Gay Rights Organization (OUTLAW), the Pitt Law Women's Association, and the Pitt Legal Income Sharing Foundation, to name a few.
In addition to these activities, CILE also arranges a weekend trip to Washington, DC, for each year's LLM class to visit key legal and governmental institutions in the nation's capital, including the White House, the Capitol Building, and the National Archives. Each trip also includes a visit to the US Supreme Court to hear decisions read and a private tour of the court followed by a personal visit with the clerk of the Supreme Court. Students are also given the chance to engage in personal sightseeing and CILE pays for a cultural activity, usually a play, concert, or similar event, oftentimes at the Kennedy Center for Performing Arts.
Career Services
The LLM Program for Foreign Law Graduates is designed around graduates who plan to return to their home countries for legal employment. Some students do decide to stay in the United States, but individual students must secure the proper immigration status before seeking employment.
Cost
Estimated LLM Living Expenses: $1,400/month—apartments in Pittsburgh can be very inexpensive. This estimate includes phone, electricity, groceries, and social expenses. You should also include in your annual budget approximately $1,600 for books and $2,500 for health insurance. Your student identification card entitles you to free bus rides throughout the county. See Life in Pittsburgh for more information including links to apartment ads and foreign cultural affiliations such as churches and nationality clubs in Pittsburgh.